One of my favorite quick dinners to cook is fried rice. I love the ease and convenience of it, but also how diverse and tasty it can be. A great sauce is a must for any good fried rice. This is an easy recipe that makes a delicious sauce for fried rice. It will take your next dinner from "eh" to amazing in just a few minutes!
Fried rice and stir fry dinners are a great way to get dinner on the table in about 20 minutes. If you keep a batch of this all-purpose sauce for fried rice on hand, it will make dinner even easier.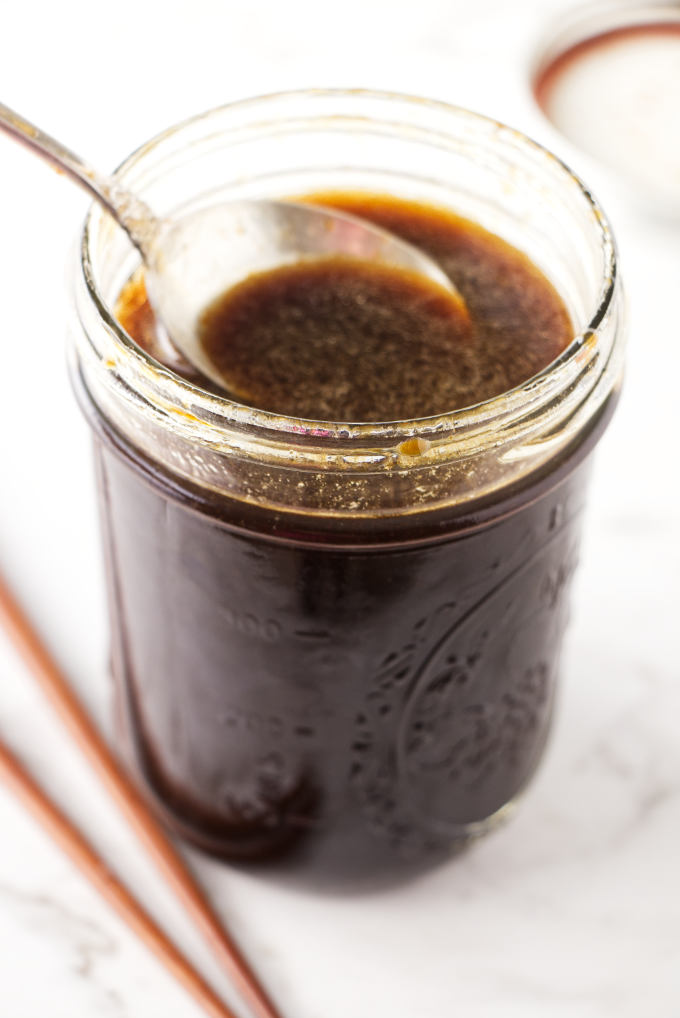 With just a few ingredients it can be made in minutes! This sauce will work on any type of meat or vegetable and even works as a flavorful marinade for whatever protein you choose!
We made this sauce for fried rice but it is so much more.
Makes dinner quick and easy.
Takes less than 5 minutes to make.
All-purpose sauce. Use as a marinade or for stir fry dinners.
Ingredients You Will Need
Here are the ingredients for this fried rice sauce.
Soy sauce. You can use a combination of light and dark soy sauce for a slightly more complex flavor or low sodium soy sauce if you are watching your sodium intake.
Oyster sauce. Oyster sauce has a sweet, salty, unique flavor that really adds depth to this fried rice sauce. If you are allergic to shellfish you can substitute with hoisin sauce.
Mirin. If you can't have alcohol, you can use rice vinegar with a 1/2 teaspoon of sugar.
Sesame oil. Try to purchase toasted sesame oil which has much more flavor than regular sesame oil.
White pepper. White pepper is known for its complex flavor that combines smoky, fruity and spicy notes.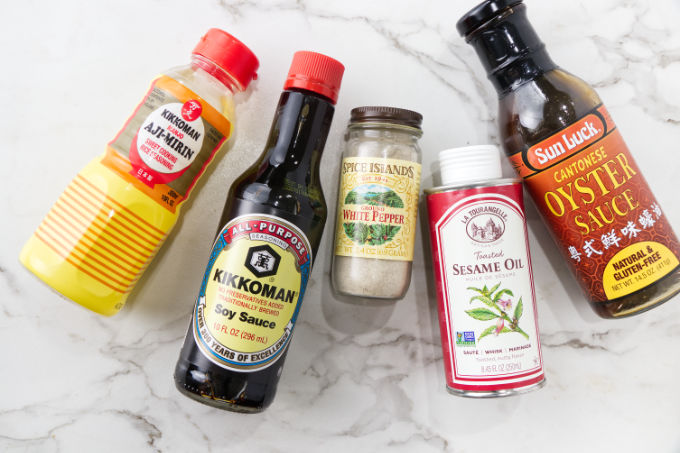 How to Make Sauce for Fried Rice:
All you need to do is combine the ingredients in a jar or bowl and give it a stir. We like the convenience of mason jars because you can just shake the sauce right in the jar before using it in your next batch of pork fried rice or kimchi fried rice.
Storing the Sauce:
Most of the ingredients in this recipe can be stored in the pantry but the oyster sauce and the sesame oil will stay fresher if you store them in the fridge. We recommend storing this fried rice sauce in the fridge for up to 3 months.
How to Use This Sauce:
This isn't just sauce for fried rice. Add it to vegetables like these sesame snap peas or our roasted Brussels and carrots for a pop of umami flavor. Stir it into roasted potatoes or use it as a marinade for grilled chicken or baked pork chops.
It's a quick way to add flavor to any dish.
One of the secrets to great fried rice is a really good sauce, and this recipe will give you that. It's an all-purpose sauce that can be used for stir fry or noodles too, so it's perfect if you're not sure what else to make for dinner tonight. You'll want to keep a batch in your fridge at all times!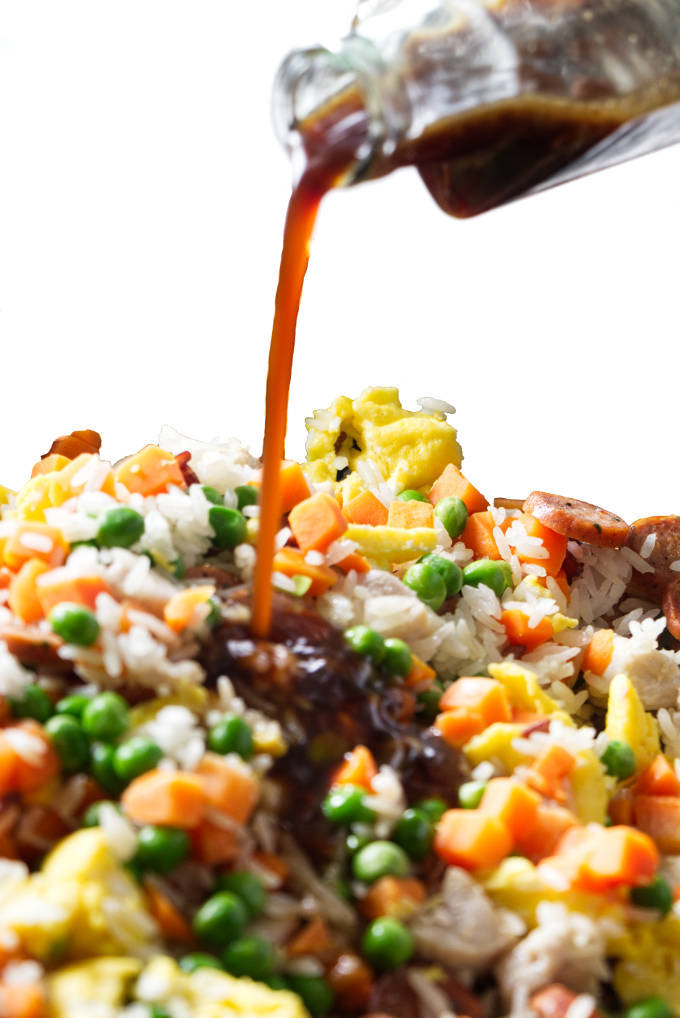 Helpful Tools:
Some of the following links are affiliates. If you click on these links and purchase something, we may receive a small commission. You don't pay any extra but it will help us keep the lights on.
Some Other Recipes We Are Sure You Will Love:
Instant Pot Pork Fried Rice is a simplified version of a traditional take-out favorite. You don't have to use day-old, rice with this recipe. Bacon, fluffy egg pieces, salty pork, and hot rice combine to produce a one-pot dinner.
For a robust garlic taste, make this Garlic Butter Sauce using real butter, fresh garlic, and garlic powder. It's one of those handy sauces that can transform an ordinary dish into something extraordinary. Serve as a dipping sauce for shrimp or lobster, or pour over steaks or fish fillets.
If you're looking for a way to spice up your weeknight dinners, let me tell you about the power of this lemon garlic butter sauce. It's not only a classic wonderful meal addition, but it's also simple to make and insanely tasty!
Connect With Savor the Best:
Please follow us on our social media accounts
Facebook * Instagram * Pinterest * Youtube * Twitter
Did you make this recipe? We would love to hear from you. Drop us a comment below.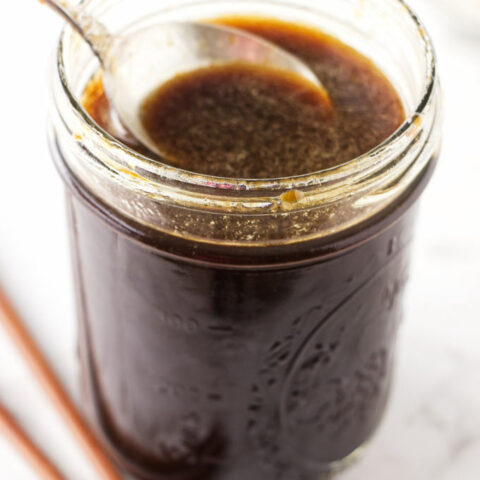 Sauce For Fried Rice
Good fried rice is all about the sauce. You can make any mixture of leftover rice, veggies, and protein turn into a favorite dinner if you get the sauce right. Keep this sauce stored in the fridge and you will always be ready for a quick fried rice dinner.
Ingredients
1/3 cup Soy sauce
1/3 cup Oyster sauce
1/3 cup Mirin
1/4 cup Sesame oil
1 tablespoon white pepper
Instructions
Combine all the ingredients in a jar. Keep sealed and store in the fridge.
Use approximately 1-1/2 to 2 tablespoons of sauce for every cup of rice in your fried rice recipe. Taste and add more if desired.
Notes
Keep stored in the fridge for up to 3 months.
Nutrition Information:
Yield:

20
Serving Size:

1 tablespoon
Amount Per Serving:
Calories:

38
Total Fat:

3g
Saturated Fat:

0g
Trans Fat:

0g
Unsaturated Fat:

2g
Cholesterol:

0mg
Sodium:

361mg
Carbohydrates:

3g
Fiber:

0g
Sugar:

2g
Protein:

0g
Nutrition information is a guideline only, is calculated automatically by third-party software, and absolute accuracy is not guaranteed.
View our Web Story here.