Here's a big taste of Korean cuisine! If you like pork fried rice you should try this kimchi fried rice. It is spicy, zesty and full of flavor! Kimchi adds a delicious pungent flavor to the rice mix giving it a rich umami flavor. You can add as little or as much as you want to increase that flavor.
Forget the chopsticks…dive right into that kimchi fried rice with your fork!
What is Kimchi?
Kimchi is a traditional Korean condiment that is practically 'King' of the Korean cuisine. It is a staple in every household and included in a wide variety of dishes.
This is a fermented food, pungent and garlic-y. Fermented foods are probiotic-rich for gut health. The good bacteria may improve digestion, boost immunity, promote a healthy weight and more.
The most popular kimchi is made by fermenting napa cabbage or bok choy, carrots, and radishes. There are many varieties of kimchi recipes with some that include dried shrimp or fish.
To make your own kimchi is not a difficult process but it does take a little time for the fermenting process. Check out our kimchee recipe and find out how to make an easy, great-tasting kimchee.
Is it Kimchi or Kimchee?
There seems to be a difference of opinion of the spelling of this potent dish, as it is also spelled Kimchee. South Korea takes pride in their national condiment and the spelling which they insist on is Kimchee. Whether you choose to spell it kimchi or kimchee, it does not affect the sharp, spicy taste of this age-old delicacy.
What is the Best Kind Rice For Kimchi Fried Rice?
The best rice is cold, leftover rice. Short-grain rice makes a plumper, better texture to the fried rice than long grain rice, however, this recipe works well with any leftover rice. Sushi rice makes a wonderful dish of fried rice as well as the jasmine and basmati fragrant rice.
Here is an important tip. The secret ingredient to good fried rice is day old rice. Freshly made hot rice will create a mushy texture. If you have made fried rice and wonder why it isn't as good as the fried rice you had in your favorite restaurant, it might be because you started with fresh rice.
Day old rice has time for the moisture to evaporate and to dry out causing the grains to be loose and separate. When the rice is cold it will be a hard lump so it needs to be broken up with a fork first.
If you do make your rice fresh we have a tip that will help you use it right away. Spread it out on a large tray or sheet pan to air-dry. Or, set a fan to blow over it for an hour or so to dry it out. As long as you give it time to dry out, your fried rice will cook with the right texture.
How to make Kimchi Fried Rice:
If you do not have homemade kimchi you can purchase it in the refrigerator sections of most grocery stores or Asian markets. There may be different options to choose from but the most popular kimchi is made with napa cabbage and daikon radishes.
The jar of kimchi will be in it's fermenting juice with large pieces of the cabbage. For our kimchi fried rice we will squeeze the juice out so the kimchi is as dry as possible. It keeps the fried rice from being soggy.
Start by scooping some kimchi from the jar and place it in a fine-mesh strainer set over a bowl to catch the juices. Press down with a spatula to squeeze out as much of the juice as possible. You can also use your clean hands to squeeze out the juice. Add enough of the squeezed kimchi to a measuring cup to get one full cup. Reserve one-third cup of the juice and chop the squeezed kimchi into smaller pieces.
Stir-fry the chopped kimchi until it is a little caramelized, then transfer it to a plate or dish. Cook the pork and vegetables in the same skillet and add the rice and stir-fry to heat it up. Whisk the reserved kimchi juice, soy sauce and gochujang together and toss with the rice. Then….stir in the browned kimchi and stir-fry, tossing to combine everything well. Serve it up in bowls garnished with sliced scallions and with a fried egg on each serving. Don't forget to serve a side dish of kimchi!
What is Gochujang?
Gochujang is a potent Korean chile paste with a texture similar to miso. You can find it in a bright red plastic tubs or jars in the condiment aisle or in Asian stores. After opening the container, and after each use, press a piece of plastic wrap down on top of the paste to keep it from drying out and changing color, then store it in the refrigerator. It has a long shelf life and will keep refrigerated for years.
Korean gochujang consists of chile peppers, sticky rice, fermented soybeans and salt. It is thick, gooey, hot and spicy with a bit of sweetness to it. It is an essential condiment of the Korean cuisine and it is so good in this kimchi fried rice.
Use gochujang in marinades for meat dishes like Korean bulgogi or Korean-style spare ribs. Mix it into stir-frys, dipping sauces or to spice up stews or soups.
Make this recipe for kimchi fried rice plain as a side dish or add a fried egg on top and serve it as a full meal. We personally love kimchi fried rice with an egg that has a nice runny yolk.
SOME OTHER RECIPES WE ARE SURE YOU WILL LOVE:
CONNECT WITH SAVOR THE BEST!
Be sure to follow us on our social media accounts
Facebook * Instagram * Pinterest * Twitter * Youtube
Did you make this recipe? We would love to hear from you. Drop us a comment below.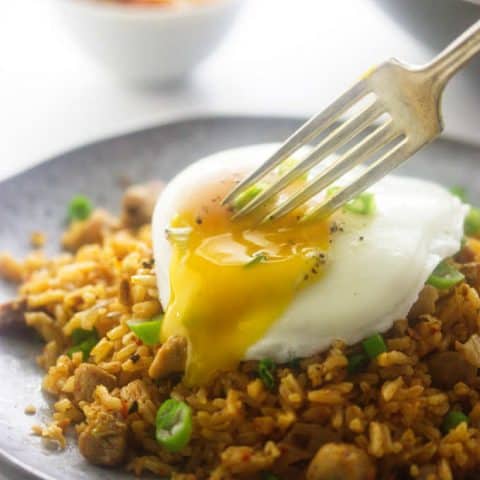 Kimchi Fried Rice
Yield: 6 Servings
Prep Time: 15 minutes
Cook Time: 15 minutes
Total Time: 30 minutes
Kimchi adds a delicious pungent flavor to the Kimchi Fried Rice mix giving it a rich umami taste. Add a fried or poached egg for a full-meal!
Ingredients
1 cup kimchee, squeezed and chopped
2 tablespoons vegetable oil, divided
1- 4-ounce raw boneless pork chop, diced
1 medium onion, chopped
2 cloves garlic, minced
1 tablespoon grated fresh ginger
1/3 cup kimchi juice
1 tablespoon gochujang
1/2 tablespoon soy sauce
2 teaspoons toasted sesame oil
4 cups cooked rice
1 green onion, thinly sliced
4 fried eggs
Instructions
Set a fine-mesh strainer over a bowl and add some of the kimchee. Squeeze the juice from the kimchee to get 1 cup of squeezed kimchee. Reserve the kimchee juice. Chop the kimchee.
Add 1 tablespoon of the vegetable oil to a medium size skillet set over medium high heat, when it is hot add the chopped kimchi and cook, stirring until the kimchee starts to brown and is very fragrant. Remove from the heat, transfer to a dish and reserve.
Add the remaining 1 tablespoon of oil to the skillet and add the diced pork. Cook for 4-5 minutes until the pork is a little brown, then add the onions, garlic and ginger. Sauté until onions are soft and the mixture is fragrant.
While the pork is cooking, add the gochujang paste and the soy sauce to a dish with the 1/3 cup of the reserved kimchee juice. Whisk the mixture until completely dissolved, then reserve.
Add the rice to the skillet with the pork and vegetables, drizzle with the sesame oil. Stir-fry to heat the rice thoroughly, breaking up any rice clumps. Pour the reserved kimchi juice mixture over the rice and stir in the reserved cooked kimchee. Increase the heat to high and stir-fry, tossing the rice until it starts to brown and becomes a little dryer.
Taste it and add additional soy sauce if needed. Plate the kimchee fried rice, garnish each serving with the chopped scallions and a fried egg. Serve with a dish of kimchi.
Notes
Day old rice has time for the moisture to evaporate and to dry out causing the grains to be loose and separate.
If you do make your rice fresh then spread it out on a baking sheet and set a fan to blow over it and dry it out for about an hour.
When the rice is cold from the refrigerator it will be a hard lump so it needs to be broken up with a fork first.
Recommended Products
As an Amazon Associate and member of other affiliate programs, I earn from qualifying purchases.
Nutrition Information:
Yield: 6 Servings
Serving Size: 1 Cup
Amount Per Serving:
Calories: 344
Total Fat: 14g
Saturated Fat: 3g
Trans Fat: 0g
Unsaturated Fat: 10g
Cholesterol: 137mg
Sodium: 420mg
Carbohydrates: 41g
Fiber: 2g
Sugar: 8g
Protein: 13g
Nutrition information is a guideline only, is calculated automatically by third party software, and absolute accuracy is not guaranteed.