Kimchee is a traditional Korean dish that is practically 'King' in the Korean cuisine. When we visited Seoul in 1990, it was a staple on every menu we saw, and it can be included in a wide variety of dishes.
There seems to be some question as to the correct spelling of this pungent fermented side dish is it kimchee or kimchi? However, it is spelled is does not affect the sharp, spicy taste of this age-old delicacy.
There are many variations of kimchee and of the vegetables that are included; some recipes use carrots, radishes, cabbage or bok choy rather than cabbage and there are kimchee recipes that include dried shrimp or fish.
If making kimchee seems intimidating, give it a chance and you will find it is easier than you think. Be adventurous and make up a batch. It isn't a difficult process and it is a fun project.
Our recipe has been adapted from Chowhond, and it is a basic kimchee recipe that includes Napa cabbage, daikon radish, lots of garlic, scallions, dried bonita flakes and a red pepper powder they call kochukaru. A little sugar gives the fermentation process a boost.
I prefer to cut the cabbage and radish rather smallish, so it is easier to eat. The cabbage and vegetables are immersed in very salty water for as much as 12 hours, then drained, rinsed and chopped.
The ingredients are mixed together, put into a crock if you have one, or a glass container with a lid. Just don't use plastic as it stains and the odor is difficult to remove. The mixture will also stain your hands and I use some exam gloves when I mix this up.
The mix is allowed to ferment at room temperature in a dark area for several days. As the mixture begins to ferment it will bubble up and if the lid is not tight, it will bubble over the top. The first time I made kimchee I had a big mess in my cupboard, and I have learned to set the container in a dish with sides.
Our grandson, Aidan, loves kimchee and if I have any in the fridge he will gobble it up. I have seen him fill a cereal bowl half-full and chow down. 🙂 Aidan is living in the area and is at our home often, lucky for him that I had made a batch several weeks ago for this recipe.
In Korea, they ferment the kimchee much longer than I do, plus they use heavy crocks that are buried in the ground during fermentation. I usually let my kimchee ferment for about one week, tasting it frequently until it acquires the taste I want. Then it goes to the refrigerator where it keeps for as long as three months. That is if Aidan doesn't come visiting. 🙂
More preserving recipes:
Have you made Kimchee yet? We would love to hear from you. Tag us on Instagram or send us a comment below.
Yield: 2 quarts
Kimchee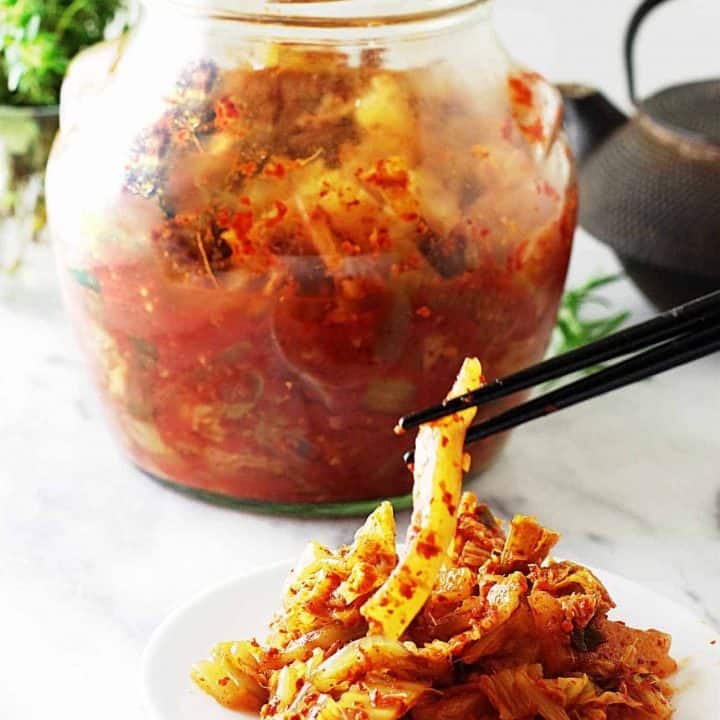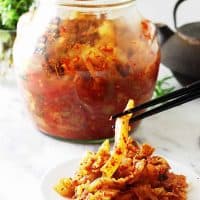 Kimchee is a traditional Korean dish of fermented vegetables such as cabbage, daikon radish, fresh ginger, fish sauce and scallions mixed with a spicy hot pepper known as kochukaru. The longer it is fermented, the better the flavor.
Prep Time 30 minutes
Total Time 30 minutes
Ingredients
1 large napa cabbage, about 3 pounds
1 cup Korean sea salt (see notes)
10 to 12 cups of cold water
8 ounces daikon radish, peeled and sliced into bite-size pieces
6 medium scallions, ends trimmed, cut into 1-inch pieces (use all parts)
1/3 cup Korean red pepper powder, kochukaru (see notes)
2 or 3 packages (2.5g each) of dried shaved Bonita
1/2 cup peeled and grated fresh ginger about a 5-ounce piece
1/3 cup fish sauce
6 to 8 garlic cloves, finely minced
2 tablespoons sugar
Instructions
Cut the cabbage in half lengthwise, cut out and discard the root end. Cut each half the cabbage lengthwise again and then cut crosswise into smaller pieces.
Add the cabbage to a large glass or stainless steel bowl, sprinkle with the salt, and toss with your hands until the cabbage is coated. Add enough cold water to just cover the cabbage.
Cover with plastic wrap and let sit on the counter top at room temperature at least 12 hours and up to 24 hours. It should be looking wilted.
Place a colander in the sink, drain the cabbage, and rinse with cold water. Gently press down on the cabbage to remove as much of the liquid as possible. Transfer the cabbage to a medium-size bowl and set aside.
Place the remaining ingredients in a large bowl and stir to combine. Add the cabbage and toss with your hands until evenly combined and the cabbage is thoroughly coated with the mixture.
Pack the cabbage mixture tightly into a clean glass container, such as a large pickle jar with a tight-fitting lid.
Open the container after 3 days to let the gasses out, and taste the kimchee, returning it to continue fermenting if needed.
When fermenting is complete, it is ready to eat but will taste much better if it has refrigerated for at least 48 hours. It will slowly continue fermenting in the refrigerator.
Notes
Korean sea salt is available in most Asian markets
The red pepper powder, kochukaru, is available in most Asian markets
Nutrition Information
Yield
16
Serving Size
1
Amount Per Serving
Calories 35
Total Fat 0.1g
Saturated Fat 0g
Cholesterol 1mg
Sodium 1000mg
Carbohydrates 7g
Fiber 2g
Sugar 4g
Protein 2g