Kimchee is a traditional Korean dish that is practically 'King' in Korean cuisine. When we visited Seoul in 1990, it was a staple on every menu we saw, and it can be included in a wide variety of dishes. Fast forward 20 years later and kimchee is popular in almost every culture and is especially trendy in the States.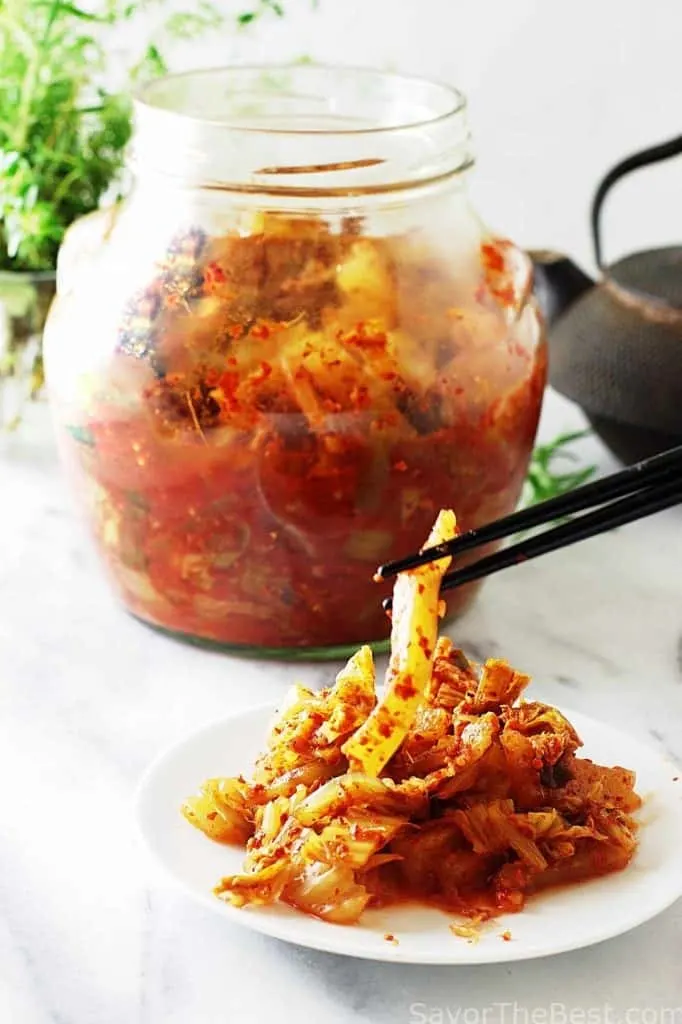 There seems to be some question as to the correct spelling of this pungent fermented side dish is it kimchee or kimchi? However, it is spelled, it does not affect the sharp, spicy taste of this age-old delicacy.
Variations of Kimchee (Kimchi)
There are many variations of kimchee and of the vegetables that are included; some recipes use carrots, radishes, cabbage or bok choy rather than cabbage and there are kimchee recipes that include dried shrimp or fish.
If making kimchee seems intimidating, give it a chance and you will find it is easier than you think. Be adventurous and make up a batch. It isn't a difficult process and it is a fun project.
Our recipe is a basic kimchee recipe that includes Napa cabbage, daikon radish, lots of garlic, scallions, dried bonita flakes and a red pepper powder called gochugaru. A little sugar gives the fermentation process a boost. It is an easy recipe that gives you mind-blowing, authentic flavors of Korean Kimchee.
What is Kimchi (kimchee) made of?
Kimchi is made primarily from Napa cabbage and salt but several other ingredients are added to give it layers of flavor and complexity. Here are the ingredients in this kimchi.
Napa cabbage
Korean sea salt
Water
Daikon radish
Scallions
Korean red pepper powder (gochugaru)
Dried shaved Bonita
Fresh ginger
Fish sauce
Garlic
Sugar
What does Kimchi taste like?
The flavor of kimchi (or kimchee) will vary depending on the recipe you use. Typically, kimchi has a strong, sharp, fermented, and spicy flavor. It has a similar texture to sauerkraut but it is spicier and more complex tasting than sauerkraut.
What is Gochugaru?
Gochugaru is also known as kochukaru. It is a finely ground red pepper that has a unique sweet and smokey flavor. It is quite popular in Korean cuisine and an essential ingredient for authentic kimchee. You can certainly make kimchee without gochugaru but the flavor won't be authentic.
This spicy red pepper is available in just about every Asian market as well as some local grocery stores and online. If you don't have gochugaru and want to substitute it then we suggest using a combination between chipotle powder, red pepper flakes, and sweet paprika. But if you're looking for wholesome traditional flavors, spend some extra time getting the real stuff. You won't regret it.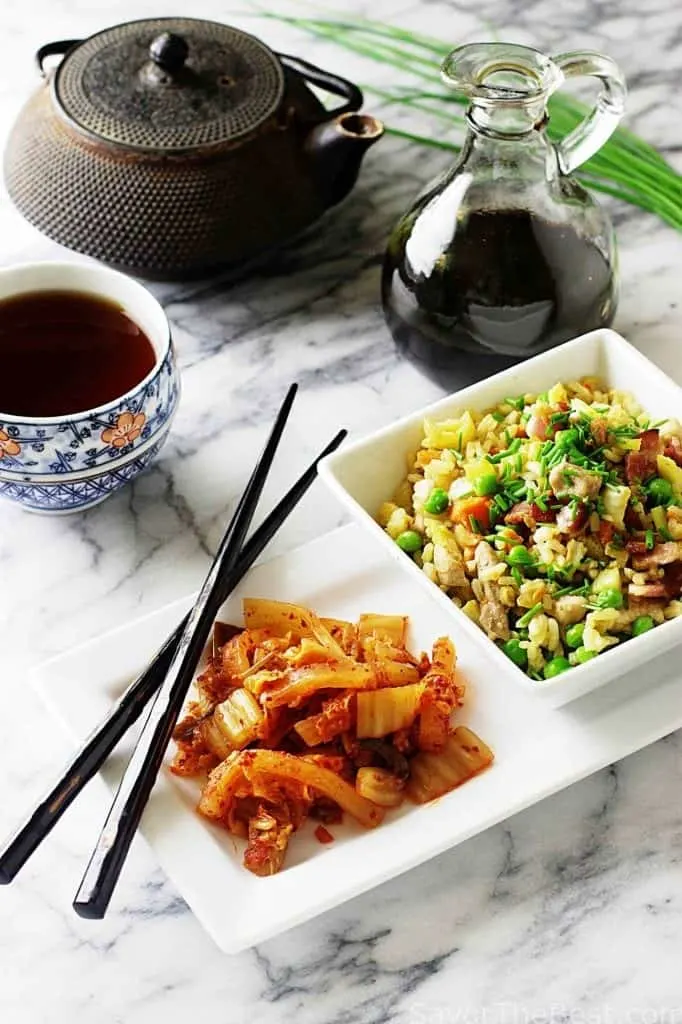 How to Make Kimchee (Kimchi)
Step 1:
The cabbage and vegetables are immersed in very salty water for as much as 12 hours, then drained, rinsed and chopped. I prefer to cut the cabbage and radish rather smallish, so it is easier to eat
Step 2:
The ingredients are mixed together, put into a crock if you have one, or a glass container with a lid. Be sure to leave the lid loose so the fermenting gasses can escape. Just don't use plastic as the red pepper powder is what gives kimchee its distinctive color and it will stain the plastic. The strong odor is difficult to remove from plastic. The mixture will also stain your hands and I use some exam gloves when I mix this up.
Step 3:
The mix is allowed to ferment at room temperature in a dark area for several days. As the mixture begins to ferment it will bubble up and over the top. The first time I made kimchee I had a big mess in my cupboard, and I had learned to set the container in a dish with sides.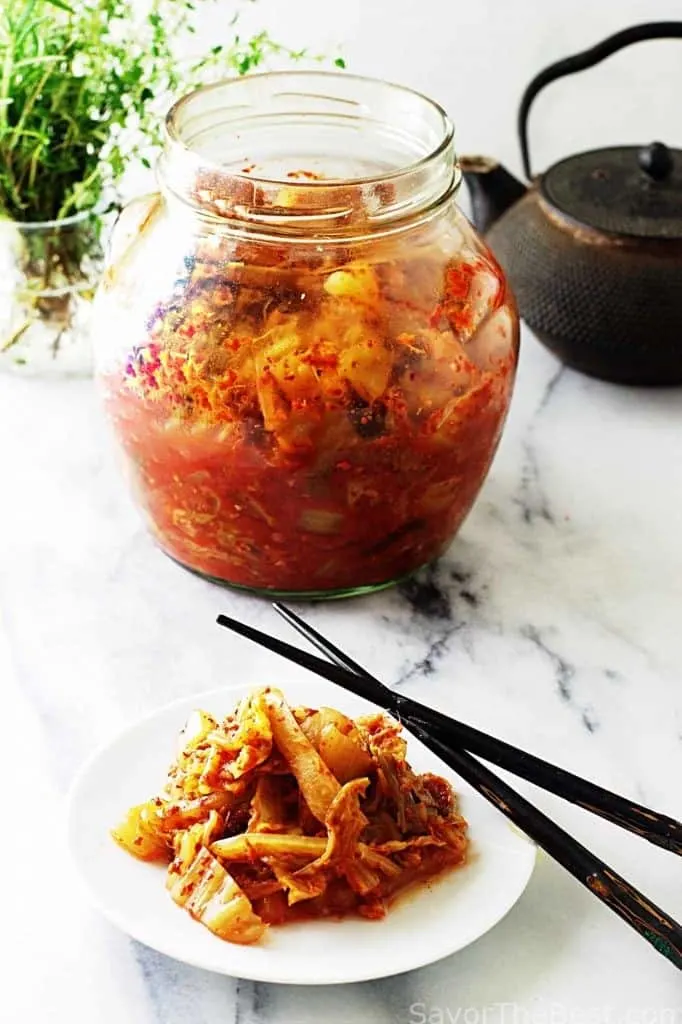 Is Kimchee good for you?
Kimchee is a fermented food that can help boost healthy digestion. Fermented foods have healthy probiotics that have various health benefits. Some of the benefits that Healthline lists are:
Improved digestion
Boosts your immune system
Increases absorption of beneficial nutrients
Helps with weight loss
Lowers the risk of heart disease
One thing we know for sure is that kimchee is GOOD stuff. It is delicious in these appetizers of Kimchee-Pork Pancakes. We love the spicy mix of veggies and we add it to fried rice, salads, soups, and even sandwiches.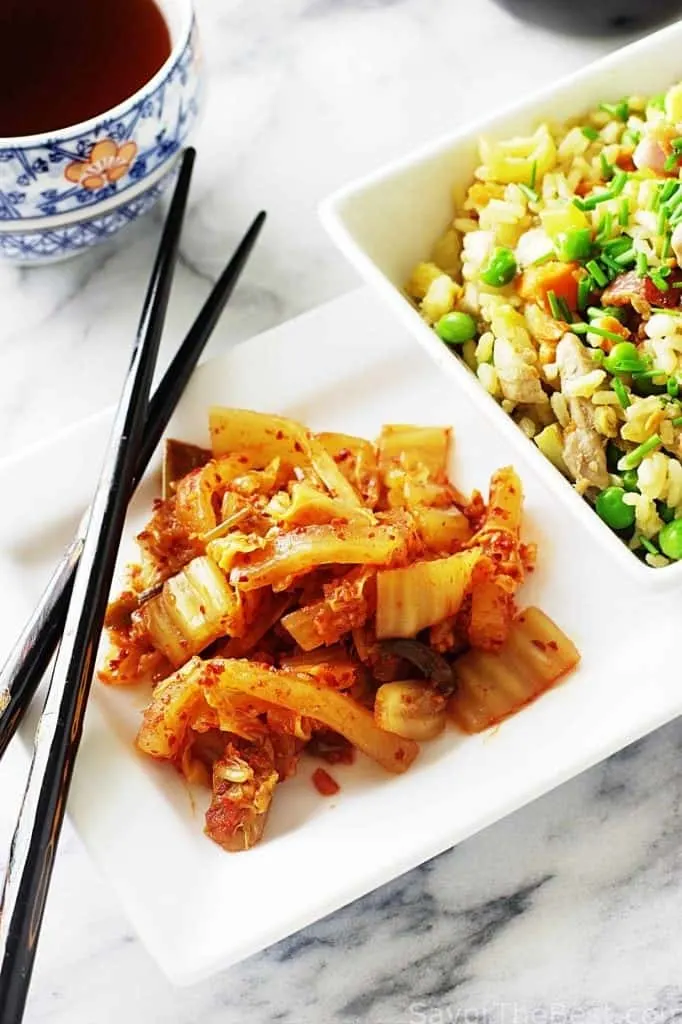 In Korea, they ferment the kimchee much longer than I do, plus they use heavy crocks that are buried in the ground during fermentation. I usually let my kimchee ferment for about one week, tasting it frequently until it acquires the taste I want. Then it goes to the refrigerator where it keeps for as long as three months.
Get the temperature right for best results:
The flavor, texture, and crunchiness of kimchee will vary a great deal based on the temperature you ferment the vegetables in. If the room temperature is too warm, it will ferment faster and the vegetables will be soft or even mushy. Conversely, if you ferment the kimchee in a cold environment, it will take much longer to ferment and may not develop all the flavors that kimchee is known for.
The best temperature to ferment kimchee in is between 60°F to 65°F. If you can find a place in your garage, basement, or crawlspace that stays in that temperature range, you will get the best-flavored kimchee.
Frequently asked questions:
Can kimchi go bad?
Yes. Even though kimchi is a naturally fermented food, it can go bad. If you notice mold or a foul odor toss it out. To help it last longer, make sure you store it in the fridge after you ferment it to your liking.
Can kimchi be frozen?
Yes. You can freeze kimchi but it will change the texture and make it less crunchy.

Will kimchi explode?
Yes. Gas will produce as a natural by-product of the fermentation process. Make sure you do not seal the container tightly or gas will build up and the container will explode.
Will kimchi help me lose weight?
Maybe. Kimchi is a healthy, low-calorie probiotic food that makes a great addition to a healthy diet and lifestyle.
More preserving recipes:
Have you made Kimchee yet? We would love to hear from you. Tag us on Instagram or send us a comment below.
Connect With Savor the Best:
Please follow us on our social media accounts
Facebook * Instagram * Pinterest * Youtube * Twitter
Did you make this recipe? We would love to hear from you. Drop us a comment below.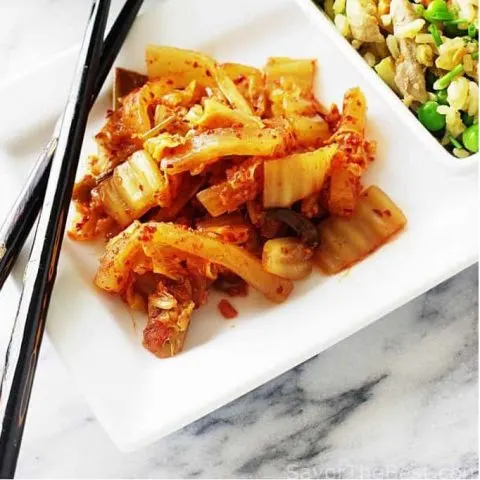 Kimchee
Kimchee is a traditional Korean dish of fermented vegetables such as cabbage, daikon radish, fresh ginger, fish sauce and scallions mixed with a spicy hot pepper known as kochukaru. The longer it is fermented, the better the flavor.
Ingredients
1 large napa cabbage, about 3 pounds
1/2 cup Korean sea salt (see notes)
10 to 12 cups of cold water
8 ounces daikon radish, peeled and sliced into bite-size pieces
6 medium scallions, ends trimmed, cut into 1-inch pieces (use all parts)
1/3 cup Korean red pepper powder, gochugaru (see notes)
2 or 3 packages (2.5g each) of dried shaved Bonita
1/2 cup peeled and grated fresh ginger about a 5-ounce piece
1/3 cup fish sauce
6 to 8 garlic cloves, finely minced
2 tablespoons sugar
Instructions
Cut the cabbage in half lengthwise, cut out and discard the root end. Cut each half the cabbage lengthwise again and then cut crosswise into smaller pieces.
Add the cabbage to a large glass or stainless steel bowl, sprinkle with the salt, and toss with your hands until the cabbage is coated. Add enough cold water to just cover the cabbage.
Cover with plastic wrap and let sit on the counter top at room temperature at least 12 hours and up to 24 hours. It should be looking wilted.
Place a colander in the sink, drain the cabbage, and rinse with cold water. Gently press down on the cabbage to remove as much of the liquid as possible. Transfer the cabbage to a medium-size bowl and set aside.
Place the remaining ingredients in a large bowl and stir to combine. Add the cabbage and toss with your hands until evenly combined and the cabbage is thoroughly coated with the mixture.
Pack the cabbage mixture tightly into a clean glass container, such as a large pickle jar with a tight-fitting lid.
Open the container after 3 days to let the gasses out, and taste the kimchee, returning it to continue fermenting if needed.
When fermenting is complete, it is ready to eat but will taste much better if it has refrigerated for at least 48 hours. It will slowly continue fermenting in the refrigerator.
Notes
Korean sea salt is available in most Asian markets
The red pepper powder, gochugaru, is available in most Asian markets
Recommended Products
As an Amazon Associate and member of other affiliate programs, I earn from qualifying purchases.
Nutrition Information:
Yield:

16
Serving Size:

1
Amount Per Serving:
Calories:

35
Total Fat:

0.1g
Saturated Fat:

0g
Cholesterol:

1mg
Sodium:

1000mg
Carbohydrates:

7g
Fiber:

2g
Sugar:

4g
Protein:

2g