Our homemade apple curd recipe is a delicious, luxurious dessert spread with a silky-smooth texture and a rich apple flavor. It's like a cross between apple pie filling, apple butter and a thick custard, with the sweet flavor of fresh apples and a little bit of warmth from a touch of cinnamon and nutmeg.
Similar to other types of fruit curds, this delicious spread makes a great topping for a variety of goodies. Try it on our einkorn English muffins, barley biscuits, sourdough pancakes, or oat groats.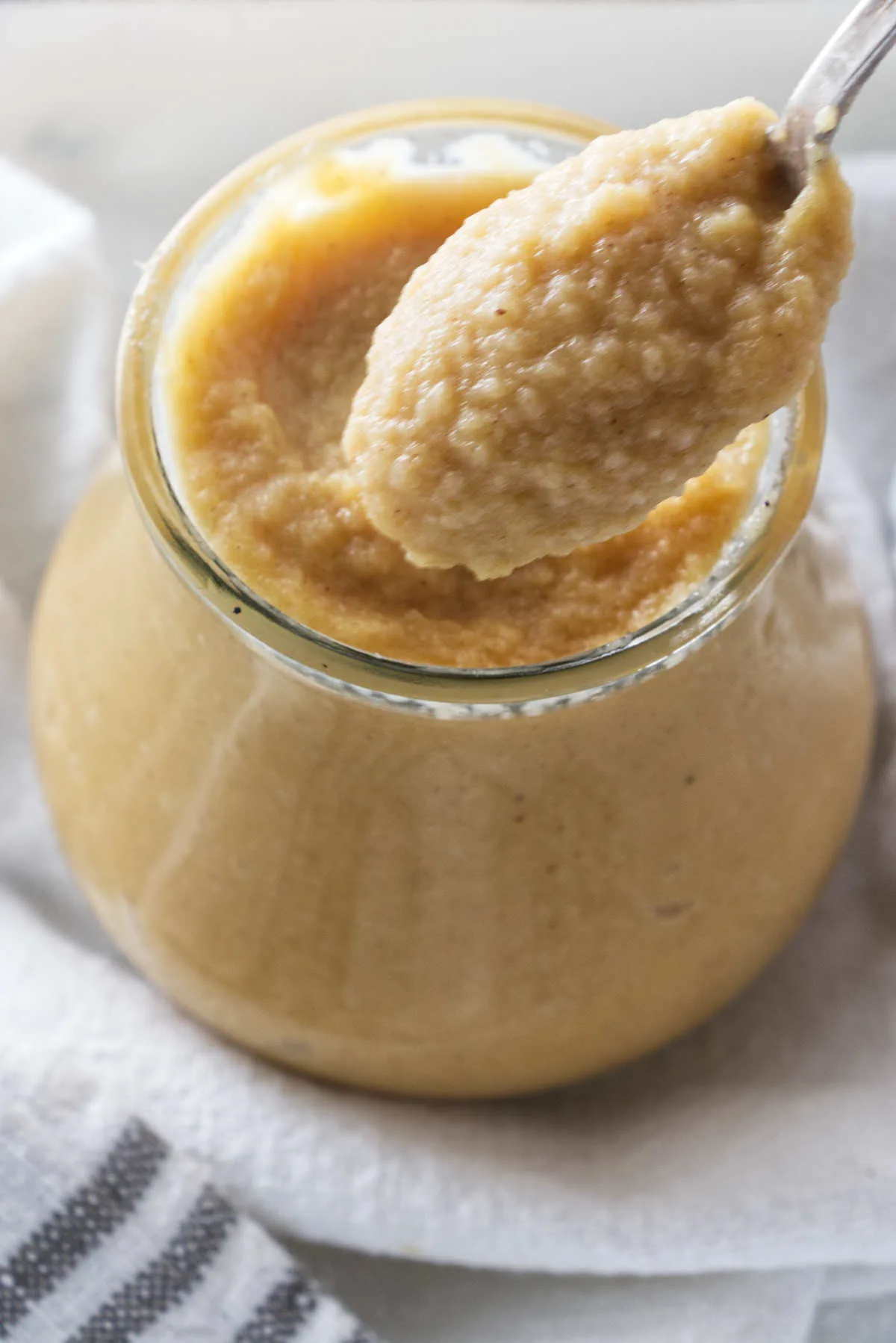 Whether it's apple season or not, you can enjoy this rich spread as long as you have sweet apples on hand!
While fruit curds made with citrus fruits are typically a bit more common (like our velvety egg yolk lemon curd!), this apple cinnamon curd is just as simple and versatile.
With a concentrated apple flavor and smooth texture, apple curd is a great way to add a sweet touch of fruitiness to breakfast items like sourdough scones, yogurt, or ricotta pancakes, or even savory dishes like a grilled cheese sandwich.
There are so many great options for enjoying apple curd, and best of all, it's so easy to make!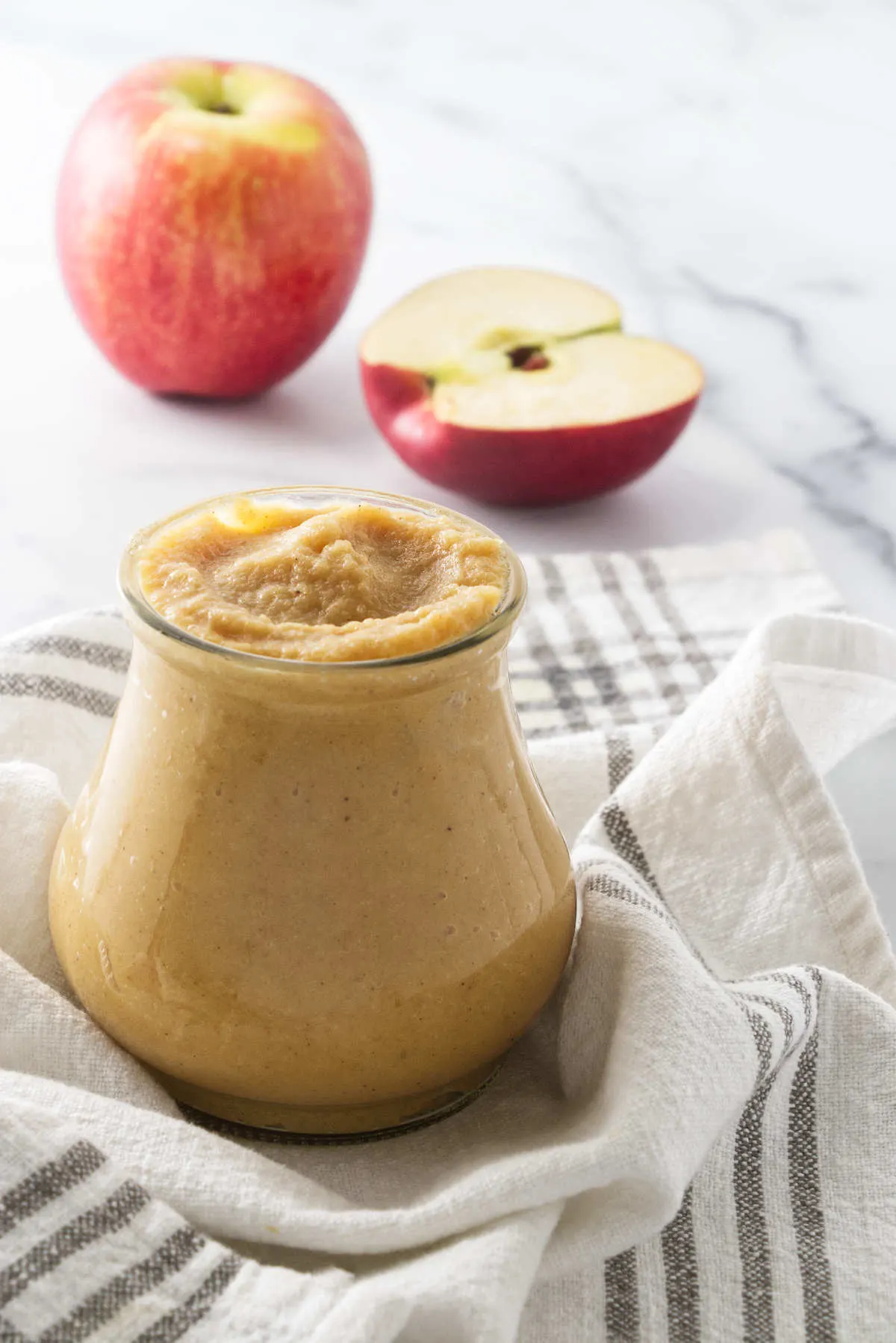 Why This Recipe Works
The combination of ingredients results in a decadent apple curd that will remind you of autumn and apple pie. 🙂
If you have extra apples on hand and just a few other simple ingredients, you're well on your way to making your own apple spice curd right at home! Bonus: your entire house will be filled with the incredible aroma of sweet apples and cinnamon cooking on the stovetop.
Our apple curd is:
easy to make
a great way to make use of fresh apples
smooth, rich and flavorful
versatile- enjoy it in a variety of ways!
Ingredients for Homemade Apple Curd
Just 10 basic ingredients are all you need to make your own apple and cinnamon curd, no "special" ingredients required! And if you're making it without the optional cinnamon and nutmeg, you will need even less.
Here's a look at the ingredient list:
apple juice. Using apple juice instead of water will give the curd a more concentrated apple flavor.
lemon juice. Adds a bright flavor and helps prevent browning.
​apples. Any type of apple will work in this recipe, sweet or tart.
unsalted butter. Adds a rich, creamy flavor.
sugar. We used granulated sugar and brown sugar.
egg yolks. Using egg yolks instead of whole eggs will make a richer, thicker apple curd.
spices: We used ground cinnamon and nutmeg. You can also use cloves, ginger, allspice, or cardamom.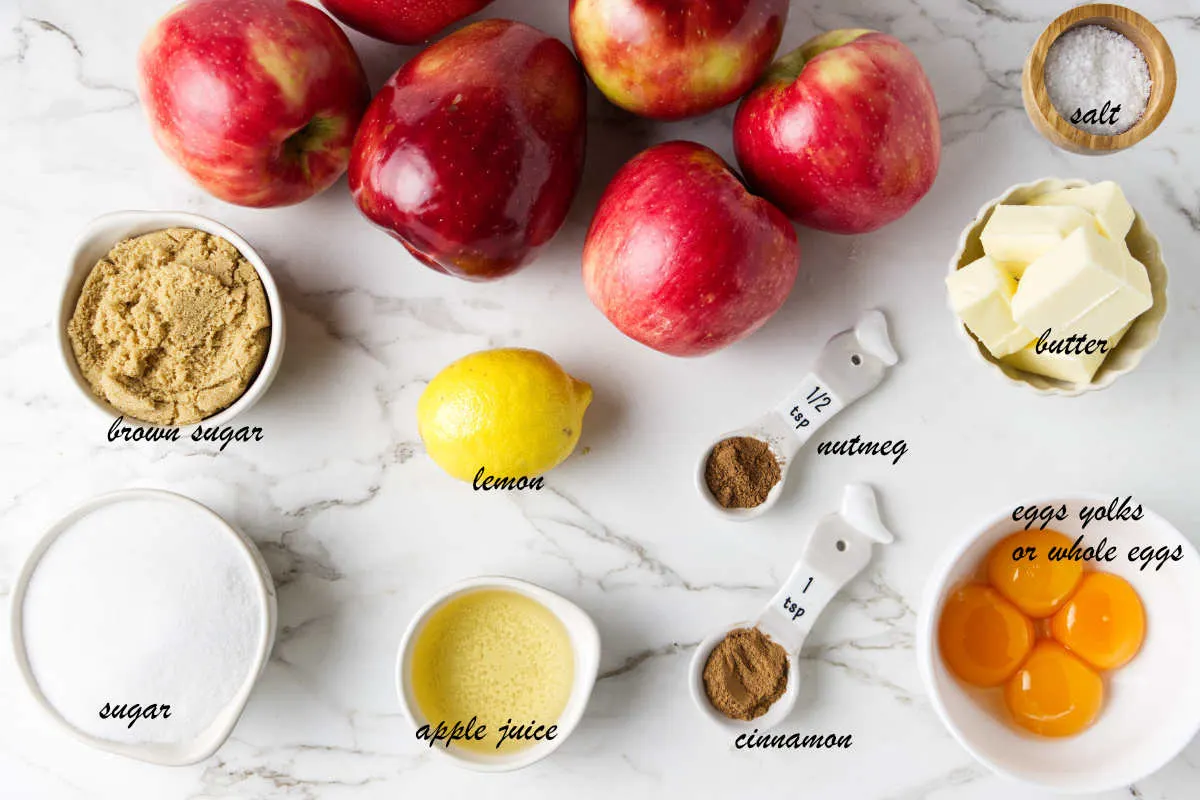 How to Make Apple Curd
This simple recipe is one to save and revisit time and time again! We're sharing a look at the steps below but make sure to check out the printable recipe card at the bottom of the page for all of the details and ingredient amounts.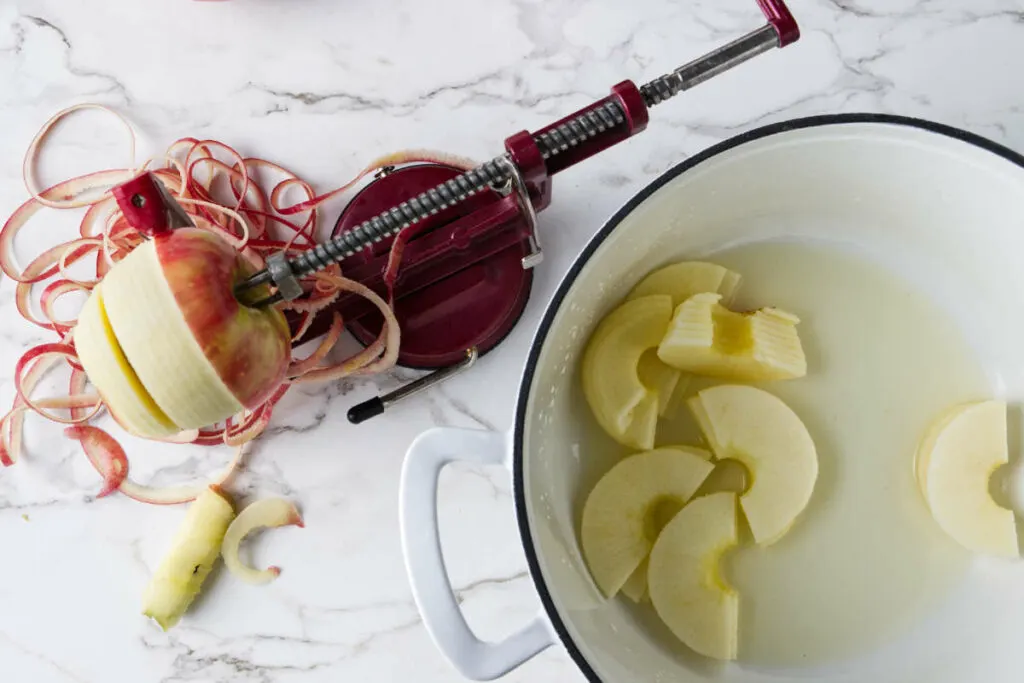 Peel, core, and slice the apples thinly or dice them into small cubes. We love using an apple peeler which helps speed up the peeling process.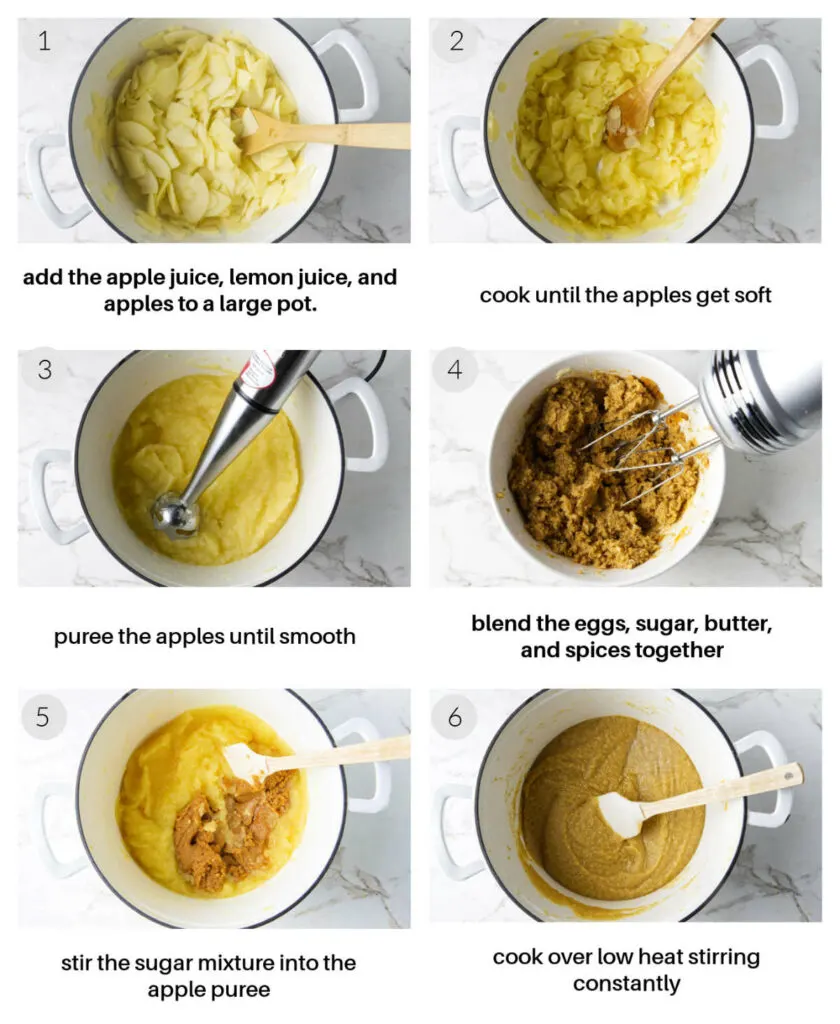 When cooking the apple mixture, stir it constantly for about 10-12 minutes or until it is thick and a bit glossy. You can use an instant read thermometer to cook the curd to 170°F.
After it is done cooking, pour the apple curd into a large bowl and cover it with a layer of plastic wrap. Place the curd in the fridge and chill it for at least four hours (it will thicken up as it gets cold).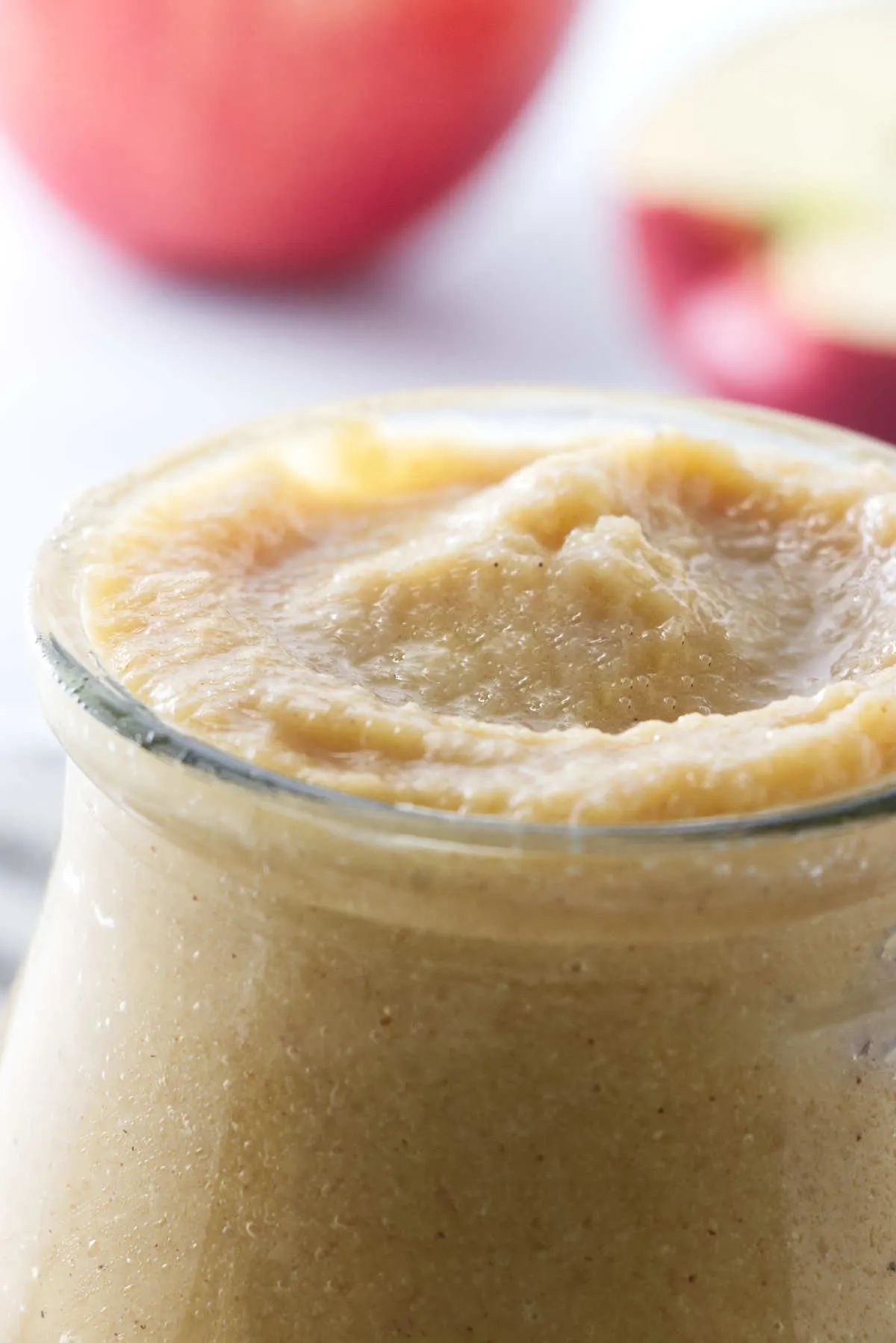 Tips for the Best Results
This apple curd recipe works with either four egg yolks or two whole eggs. We consider egg yolks to be the "secret ingredient" to make an apple curd with a richer flavor and more luxurious texture. Make sure to save the leftover egg whites for another use, like our lemon meringues, resurrection cookies, or Italian meringue buttercream.

If you want to save some time and a few steps, you can use an alternative to cooking down chopped apples. Instead, start with 4-1/2 cups of unsweetened applesauce and proceed with step 5.

For apple cinnamon curd with a silkier texture, place a fine mesh sieve over a bowl and pour the apple purée through the strainer while it is still warm. Chill it in the fridge. A food processor will also make the curd smoother than an immersion blender.

Store apple curd in an airtight container in the refrigerator. It should not be stored at room temperature. You can also store the curd in jam jars with a sealable lid.
How to Use Apple Curd
If you're looking for a few good options to enjoying this homemade apple curd, here are a few delicious ideas: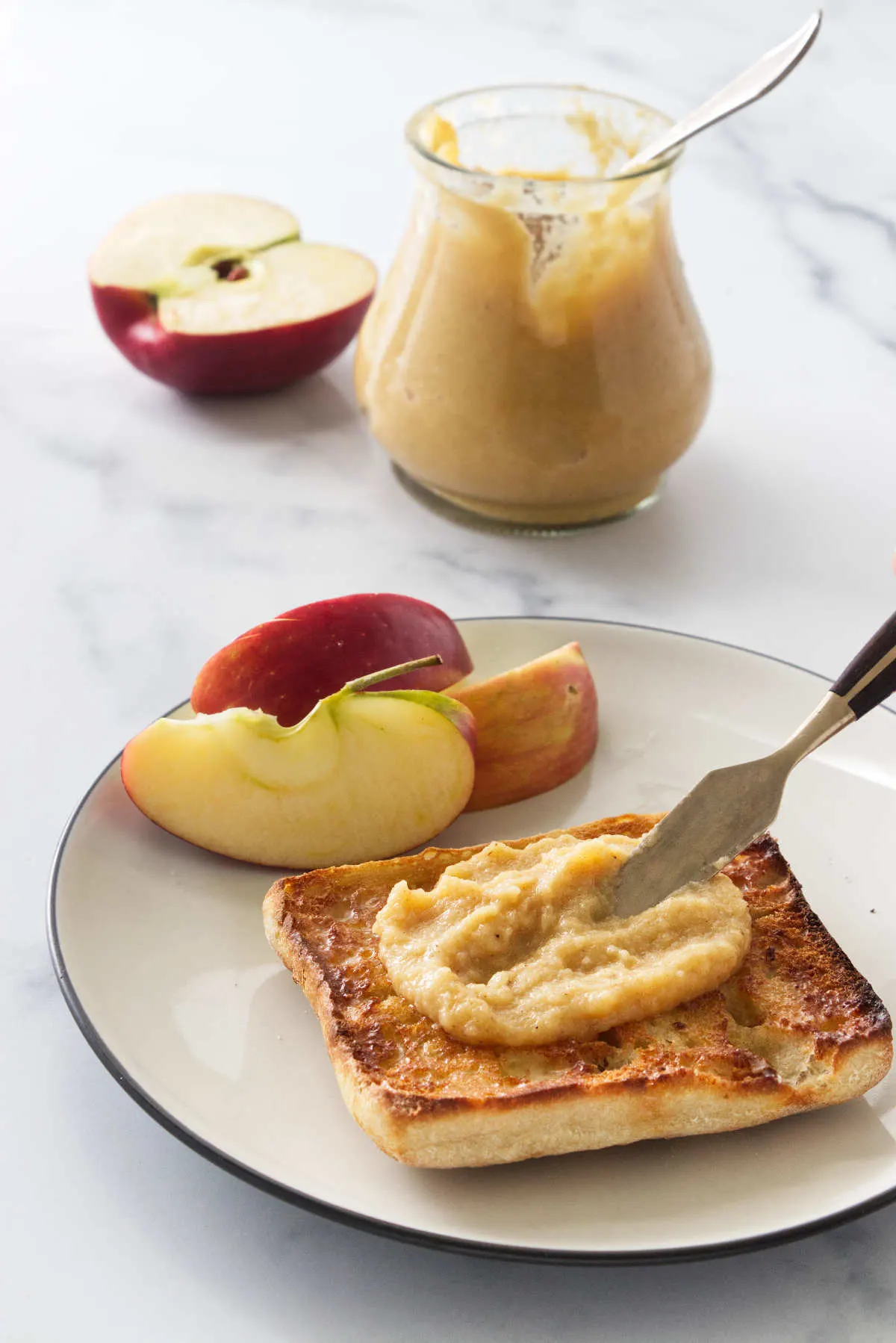 ⭐️ Helpful Tools
Some of the following are affiliate links. We may receive a small commission if you click on these links and purchase something. You don't pay any extra, but it will help us keep the lights on.
😋 More Recipes You Will Love:
Granola Butter is rich and nutty with a smooth, spreadable consistency. It's an oat butter spread that will take your toast and yogurt to the next level! This naturally-sweetened granola butter is easy to make and tastes even better than the store-bought stuff.
This Cranberry Curd Tart is strikes the perfect balance of rich, tangy and sweet. A thick cranberry curd base sits on top of a pecan brown sugar crust. The combination makes this an irresistible holiday treat, from its vibrant cranberry color to the tart and tangy flavor.
Lemon Curd Cake is the ultimate dessert for lemon fans! A moist lemon sponge cake, rich lemon curd and a fluffy Italian meringue buttercream come together to create decadent layers of lemony deliciousness.
Connect With Savor the Best:
Please follow us on our social media accounts
Facebook * Instagram * Pinterest * Youtube * Twitter
Did you make this recipe? We would love to hear from you. Drop us a comment below.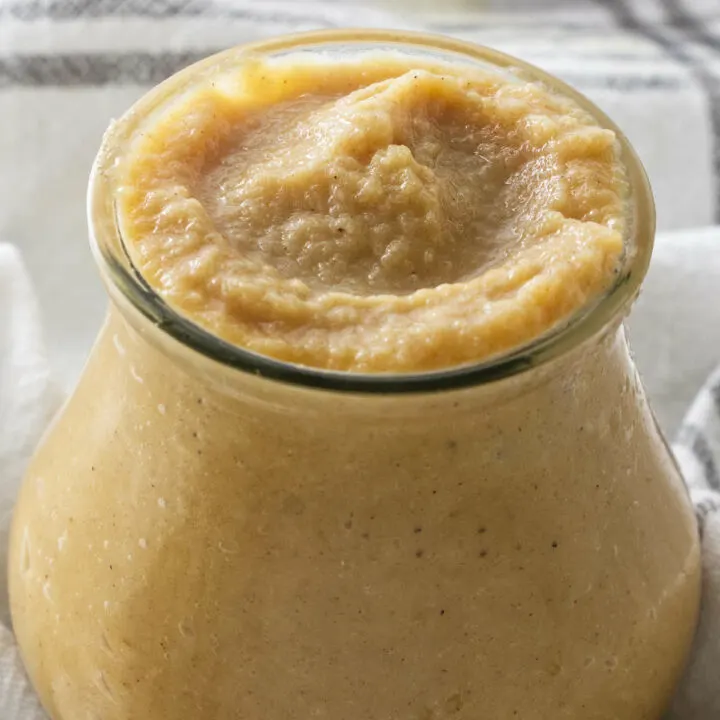 Apple Curd
Apple curd is a delicious, decadent dessert spread that is a cross between an apple pie filling and a custard. It is easy to make at home with a few simple ingredients and is a great topping for toast, pancakes, ice cream, or oatmeal.
Ingredients
¼ cup apple juice (60 grams)
2 tablespoons lemon juice
6 medium apples
8 tablespoons butter (1 stick), softened
1 cup granulated sugar (200 grams)
½ cup brown sugar (105 grams)
4 egg yolks (or 2 whole eggs)
1 teaspoon ground cinnamon (optional)
½ teaspoon ground nutmeg (optional)
½ teaspoon salt
Instructions
Add the apple juice and lemon juice to a large Dutch oven or saucepan.
Peel, core, and slice the apples thinly or dice them into small cubes. Place them in the saucepan with the juice.
Place the lid on the pot and heat over medium heat until it reaches a low simmer. Cook, stirring occasionally for 25 to 30 minutes or until the apples get soft.
As an alternative, you can pour the mixture into a food processor or blender to puree it before transferring back into the saucepan.
In a medium sized bowl, combine the butter, sugar, brown sugar, egg yolks, spices (if using) and salt. Beat with an electric mixer until creamy (this step coats the egg proteins in butter fat and helps prevent the eggs from getting scrambled in the apple curd).
Add the sugar/egg mixture to the apple puree and whisk well.
Place the saucepan back on the stove over medium-low heat. Cook, stirring constantly for 10 to 12 minutes or until it looks thick and slightly glossy. If you have an instant read thermometer, cook the curd until it reaches 170°F.
Pour the apple curd into a bowl and cover with a layer of plastic wrap. Place the curd in the fridge and chill for at least 4 hours (it will get thicker as it chills).
Notes
You can make this recipe using either four egg yolks or two whole eggs. If you use egg yolks, the curd will have a richer flavor and more luxurious texture.
For a quicker alternative to cooking down the apples, begin with 4-½ cups of unsweetened applesauce (then proceed with step 5).
If you want the apple curd to have a silkier texture, place a metal strainer over a bowl and pour the apple curd through the strainer while it is still warm, then proceed with chilling it in the fridge. A food processor will also make the curd smoother than a hand blender.
Store apple curd in an airtight container.
Nutrition Information:
Yield:

88
Serving Size:

1 tablespoon
Amount Per Serving:
Calories:

31
Total Fat:

1g
Saturated Fat:

1g
Trans Fat:

0g
Unsaturated Fat:

0g
Cholesterol:

11mg
Sodium:

21mg
Carbohydrates:

5g
Fiber:

0g
Sugar:

5g
Protein:

0g
Nutrition information is a guideline only. It is calculated automatically by third-party software, and absolute accuracy is not guaranteed.