What's for breakfast tomorrow morning? Coconut Oil Granola! This granola is crisp, crunchy, lightly sweetened with honey and full of bits of fruit and nuts. Serve it with icy-cold milk or sprinkle it over a dish of yogurt, and I double-dare you to confine your serving size to half a cup.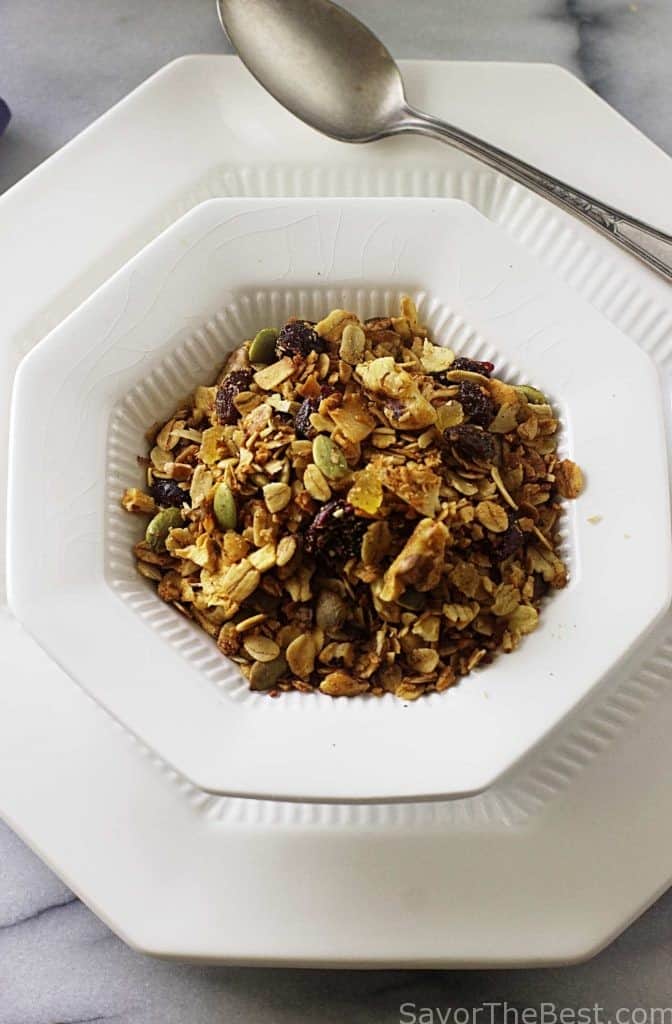 I know you are probably thinking, "another granola recipe?" Everybody has a favorite granola recipe so this is my version. This is an easy granola recipe that makes a huge batch.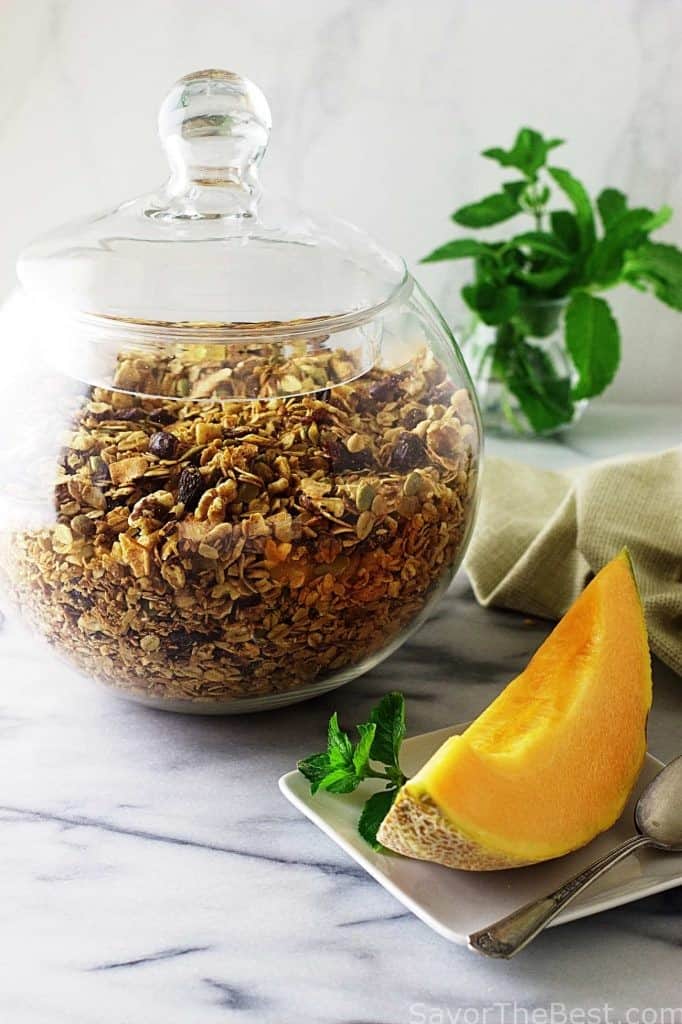 As compared to store bought, granola is economical to make and you probably already have the basic ingredients in your kitchen cupboards. It is a fun recipe to twist and tweek with different nuts and dried fruit. I have made many versions of this coconut oil granola and I don't always keep notes of what gets added but I have yet to make a variety of granola that we did not like.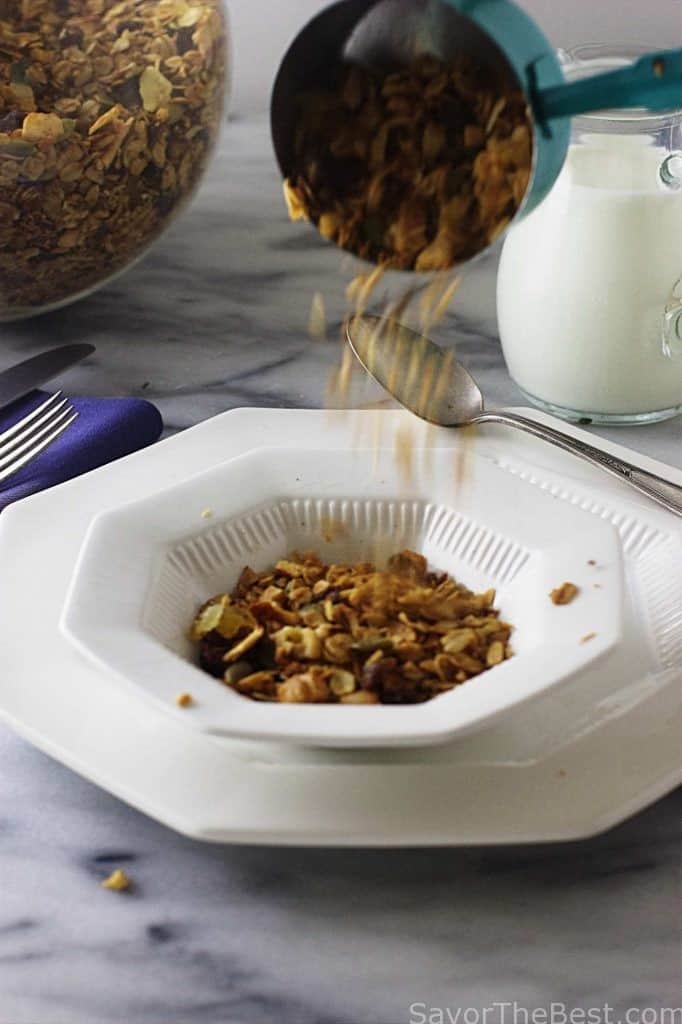 How to make this Coconut Oil Granola:
To make the basic granola we use six cup of gluten-free oats, four cups of flaked coconut, lots of walnuts and some cinnamon. The half-cup each of coconut oil and honey is just enough to coat the mixture lightly and not be sugary-sweet.
Here are the basic steps but make sure you scroll down to the printable recipe card to read the detailed instructions.
Combine the dry ingredients in a bowl.
Melt the coconut oil and honey then mix into the dry ingredients.
Divide the mixture between two baking sheets and bake in a 325°F oven until golden.
Transfer the granola from the oven and allow it to cool, then add whatever dried fruit you choose.
Make sure to add the dried fruit AFTER the granola comes out of the oven. If you add it too soon then the fruit will burn.
Most granolas are high calorie, high-fat delicious mixes and this granola is that…. but it is soooo good! If I can control myself to a quarter-cup sprinkled on yogurt I'm doing good.
How To Use Coconut Oil Granola
My favorite way to eat this coconut oil granola is as a snack and spoon it up dry, right into my mouth! If it sits in the fridge or in the cupboard it is too tempting to not snack on it. For that reason I keep it stashed in the downstairs freezer. It is much less convenient there and I don't over-indulge.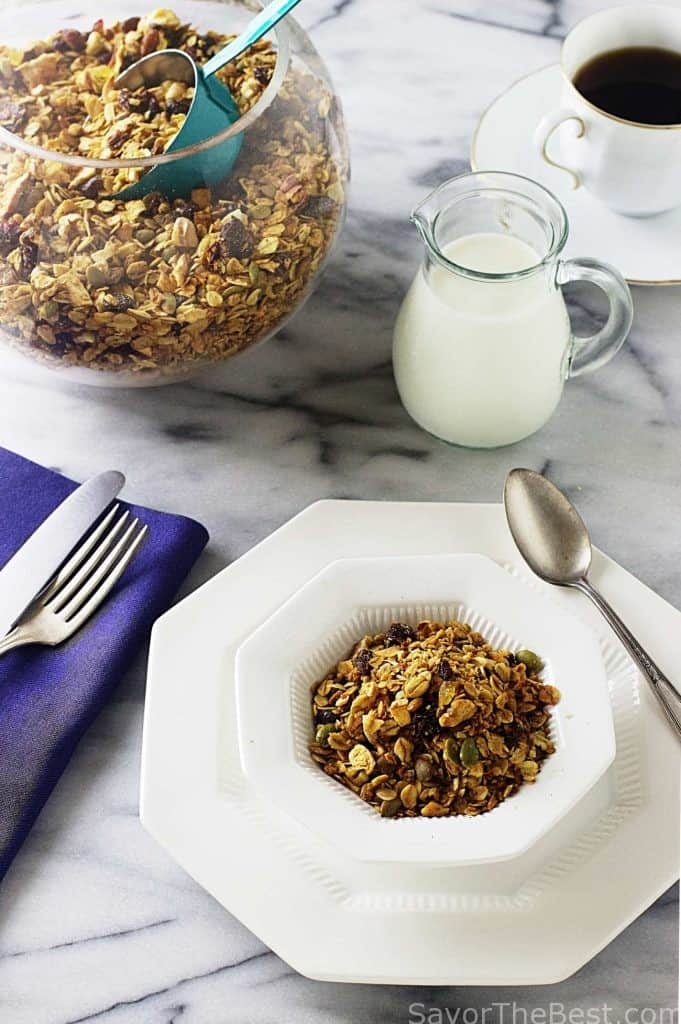 In the past, I have spent many a-dollar on boxes of breakfast cereal and it was not only a breakfast food but the kids loved cereal and milk for an after-school snack as well.
I never realized that those boxes of cereal were so un-healthy and full of sugar, preservatives and bad fats. Granola was a cereal that I never bought on a regular basis, partly because it was so pricey but also it was usually a small container and was gobbled up so quickly!
About Coconut Oil:
I adapted this recipe for coconut oil granola from the book, "The Coconut Oil Miracle, by Bruce Fife, C.N., N.D. I have reduced proportions of the coconut oil as well as the honey and added my own variety of dried fruits and nuts.
About five years ago I read the book "The Coconut Oil Miracle" and I know that all my friends and family must have become so weary of me raving about the virtues of coconut oil.
The information I gleaned from this book changed the way I cooked and it had a huge impact on what oils and fats I now use.
I already knew that coconut oil is a saturated fat. I also learned that coconut oil is one of the good oils like avocado oil and olive oil and I love the taste of it. Out went the hydrogenated, bad oils of crisco, margarine, canola oil and a few other of the popular oils that I had been using.
Now the only oils and fats in my kitchen are butter, coconut oil, avocado oil, olive oil and sometimes specialty oils such as the walnut and hazelnut oils that I like to use for salads.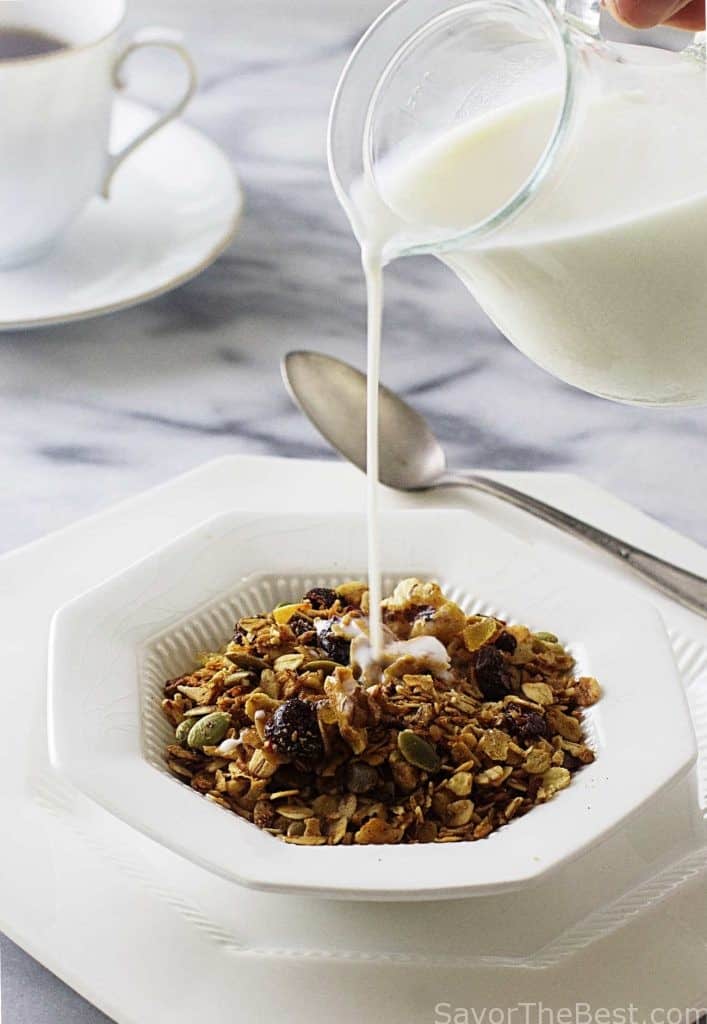 If you are interested in learning some exciting and surprising information about coconut oil, I really do recommend this book by Bruce Fife. In the meantime, make up a batch of this granola and enjoy !…… 🙂
More breakfast ideas: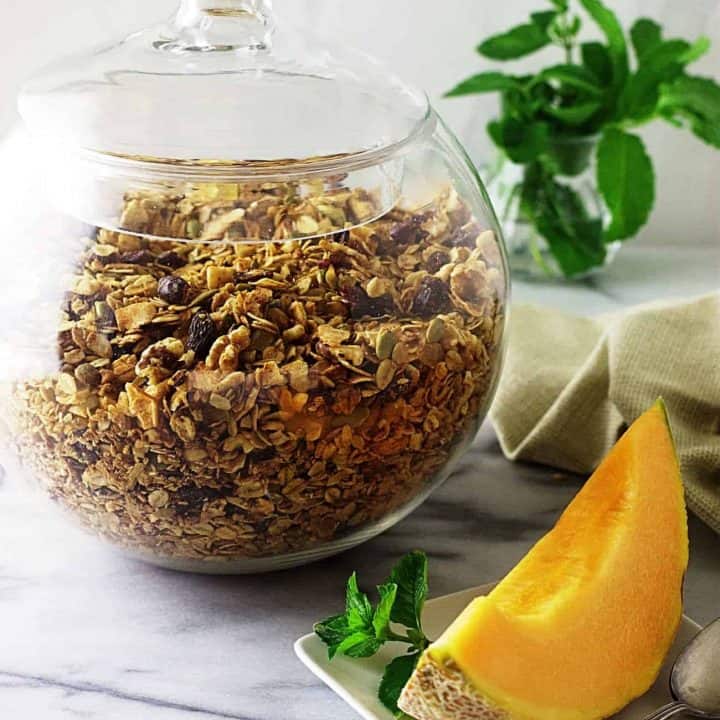 Coconut Oil Granola
Yield: 30 servings (1/2 cup each)
Prep Time: 20 minutes
Cook Time: 30 minutes
Total Time: 50 minutes
This granola is crisp, crunchy, lightly sweetened with honey and full of bits of fruit and nuts. Granola is one of those recipes that can be tweeked and twisted by adding whatever fruits, seeds and nuts that you have in the pantry and that suit your fancy. Try this sprinkled on yogurt or as a topping to a baked fruit dessert.
Ingredients
6 cups old-fashioned oats *
1 tablespoon ground cinnamon
1 cup shredded or flaked coconut
2 cups walnuts, chopped
1 cup pepitas
1/4 cup coconut oil
1/2 cup honey
1 teaspoon sea salt
2 tablespoons vanilla extract
1 cup raisins
2 cup dried cranberries
1 cup dried apple slices, crushed
1/2 cup preserved ginger chips
Instructions
pre-heat the oven to 300°F Line 2 baking sheets with parchment paper, reserve
In a large bowl combine the oats, cinnamon, coconut, walnuts and pepitas.
Heat the coconut oil and the honey in a saucepan just until warm and liquid. Remove from the heat and add the vanilla.
Drizzle the warm mixture over the oats. With clean hands, toss the mixture together to combine and coat the oats thoroughly.
Divide the mixture evenly between the two baking sheets and transfer to the oven. Bake 15 minutes, remove from the oven and stir each baking sheet. Return the baking sheets to the oven, switching positions on the racks and bake an additional 15 minutes, or until golden brown.
Remove from the oven and allow to cool completely. Add the raisins, cranberries, crushed apples and ginger chips. Store in an airtight container.
Notes
If you need to be strictly gluten-free, then make sure the oats are from a gluten-free facility so there is no chance of contamination.
I use my largest soup pot to mix a double batch of this granola and keep it in air-tight containers in the freezer.
Nutrition Information:
Yield: 30
Serving Size: 1
Amount Per Serving:
Calories: 287
Total Fat: 15g
Saturated Fat: 4g
Trans Fat: 0g
Unsaturated Fat: 9g
Cholesterol: 0mg
Sodium: 98mg
Carbohydrates: 37g
Fiber: 4g
Sugar: 20g
Protein: 6g
Nutrition information is a guideline only, is calculated automatically by third party software, and absolute accuracy is not guaranteed.