These chewy oatmeal raisin cookies are THE BEST oatmeal raisin cookies in our opinion, and I will proudly say we are self-proclaimed cookie experts (meaning we've eaten lots of cookies).
This classic oatmeal raisin cookie recipe is simple and homestyle comfort baking, basically what you'd envision when you hear the phrase "my grandma's oatmeal cookie recipe." It's that good. Chewy and soft with the perfect ratio of oatmeal to raisins and a hint of warm spices in every bite. Let's bake some!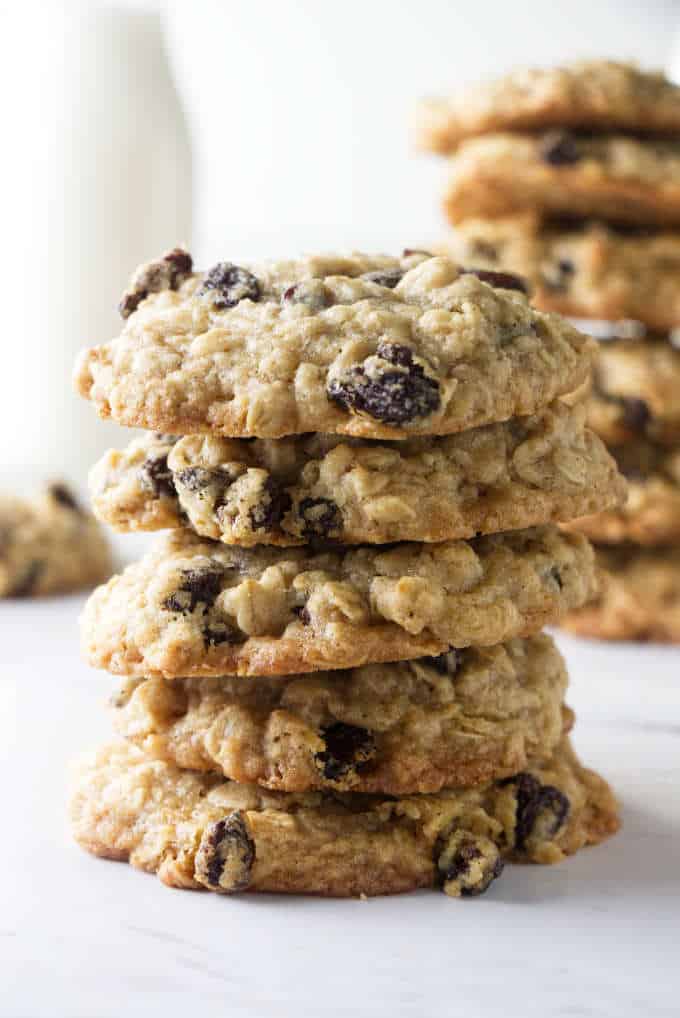 Soft and chewy! Buttery flavor! Dense with raisins! And lightly crisp around the edges. This is one cookie recipe you will bake again and again!
why we love these cookies
What's not to love when it comes to this classic oatmeal cookie recipe? They are:
Soft
Chewy, but still melt-in-your-mouth good
Packed with oatmeal
Flavorful (hello, butter)
Not too sweet
Easy
Versatile- swap in chocolate chips (or other add-ins) for raisins if you prefer!
let's make them!
Baking from scratch is easy. If you have some "distractibaking" on the agenda soon, please try these. They're quick and delicious and best of all, this all-purpose cookie can be a sweet snack or breakfast or really, any meal of choice. We're A-OK with that and won't judge because, hey, they're oatmeal.
Here's what you'll need:
Softened butter
Brown sugar
Granulated sugar
Eggs
Vanilla extract
All-purpose flour
Salt
Baking powder
Cinnamon
Ground nutmeg
Old-fashioned rolled oats
Raisins
Here's how you make them:
After you've gathered your ingredients, you'll have these soft and thick oatmeal raisin cookies ready to enjoy in no time! The cookie dough comes together easily. Make sure to scroll down to the printable recipe card for detailed instructions:
Preheat the oven and prepare two baking sheets by lining them with parchment paper or a Silpat mat.
Add the butter and sugars to a mixing bowl and cream them together until they're light and fluffy.
Beat in the eggs, one at a time, then mix in the vanilla.
Sift the flour, salt, baking powder and spices into the cookie dough and combine.
Stir in the raisins and oatmeal, then scoop out cookie dough balls and place onto the baking sheet.
Bake, and then transfer the cookies to a cooling rack.
It's an easy recipe and the oatmeal raisin cookie dough takes only a few minutes to make!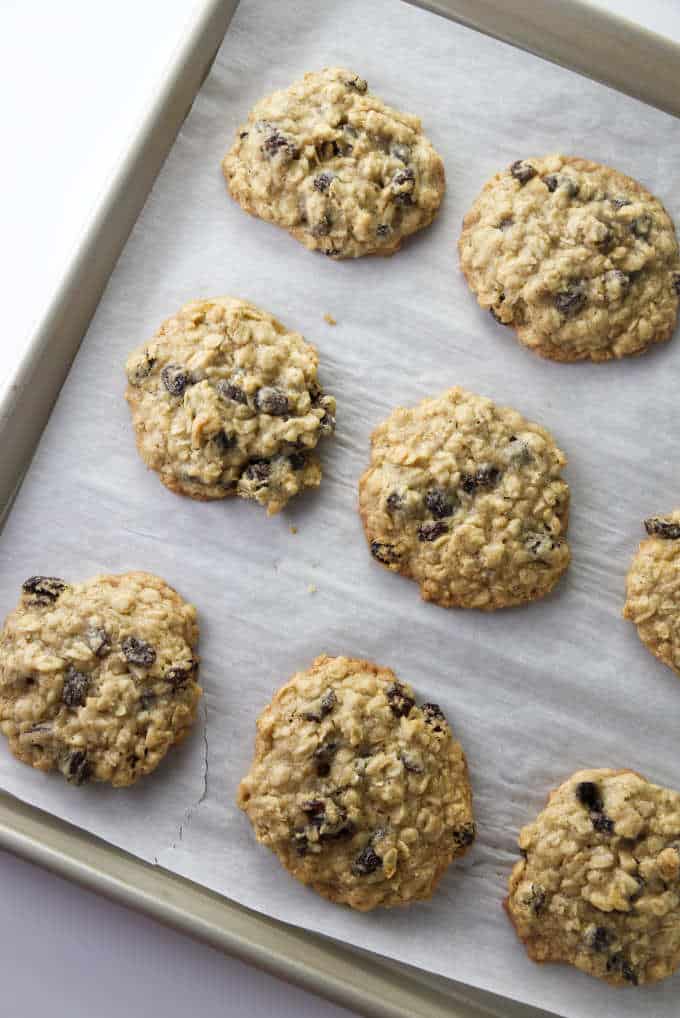 how to get perfect oatmeal raisin cookies
Here are a few cookie-making tips you'll want to follow to get the best oatmeal raisin cookies:
Use a cookie dough scoop or ice cream scoop to get the same size of dough balls. If they're uneven, some will end up either under-baked or over-baked and not soft and tender.
You'll know the cookies are done baking when the edges are lightly browned. Remove them from the oven at that time, they'll continue baking a few minutes on the cookie sheet before you transfer them (the trick for getting CHEWY oatmeal raisin cookies!).
If you want to make large, thick oatmeal raisin cookies, scoop 3-1/2 to 4 tablespoons of dough for each dough ball. These large cookies will have to bake a tad longer- about 20 to 23 minutes.
Cookies are always crumbly when they're hot, so make sure to allow enough cooling time for these. They'll firm up and have that perfect, chewy consistency.
How long do oatmeal raisin cookies last? These cookies will be good for 7-10 days stored in an air-tight container at room temperature. Alternatively, you can keep the oatmeal raisin cookie dough in an air-tight storage bag in the freezer for up to two months.
Use old-fashioned oats instead of instant oats. The old fashioned oats will make the cookies thicker and chewier than the instant oats.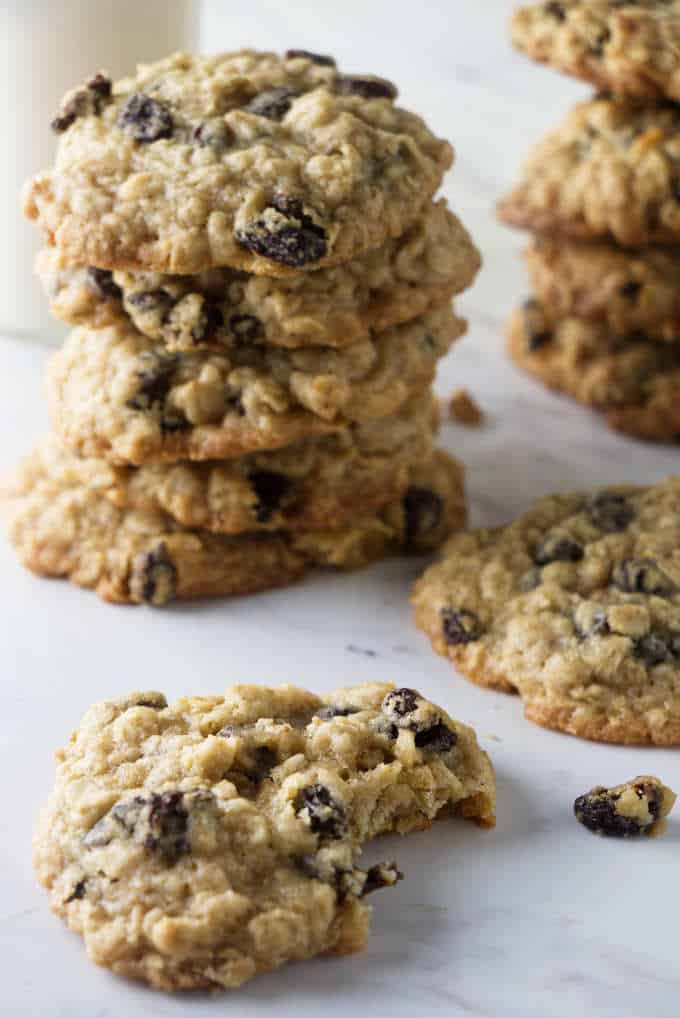 I know you'll love these oatmeal raisin cookies, and if you try the recipe, let us know! There's nothing quite like a warm, soft cookie, right? Just make sure you have plenty of milk ready because oatmeal raisin cookie dunking is a must.
While you have the box of old-fashioned oatmeal out, make some chocolate chip oatmeal cookies while you're at it. And if you like baking with spelt flour, our oatmeal raisin spelt cookies are fabulous.
SOME OTHER RECIPES WE ARE SURE YOU WILL LOVE:
Potatoes Au Gratin are a traditional, French-inspired recipe that we can't get enough of. Layers of potatoes, cream, and extra cheese make this dish, but the crunchy breadcrumb topping makes it extra special!
Our Chocolate Cake with Chocolate Buttercream is the best and only chocolate cake recipe you'll need! And, it only takes less than 10 minutes to get the cake batter in the oven. So there's really no excuse for not making it, if you ask me. 😉
This Lemongrass Chicken Satay is a light and simple appetizer or main course! The Thai flavors and tender, grilled chicken will be a hit. Pair it with this Instant Pot Basil Lime Rice for an easy, complete meal.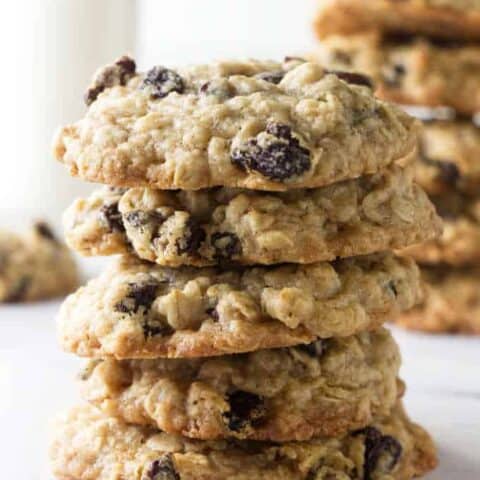 Chewy Oatmeal Raisin Cookies
Yield: 2-1/2 dozen cookies
Prep Time: 10 minutes
Cook Time: 12 minutes
Total Time: 22 minutes
These oatmeal cookies are soft and chewy and packed with wholesome oat flavor. They are studded with plenty of plump raisins and just a hint of warm spices.
Ingredients
8 ounces butter (16 tablespoons), softened
1 cup light brown sugar
1 cup granulated sugar
2 eggs
1 teaspoon vanilla extract
1-1/2 cups all-purpose flour
1/2 teaspoon salt
1/2 teaspoon baking soda
1/2 teaspoon cinnamon
1/4 teaspoon ground nutmeg
3 cups old fashioned rolled oats
1-1/2 cups raisins
Instructions
Heat oven to 350°F and prep 2 baking sheets with non-stick spray or parchment paper.
Add the butter and both sugars to a mixing bowl. Beat on medium speed until light and fluffy (2 to 3 minutes).
Beat in the eggs one at a time then add the vanilla and beat well.
Sift the flour, salt, baking powder, cinnamon and nutmeg over the butter and stir well.
Stir in the oats and raisins. The dough will be stiff.
Scoop 1-1/2 tablespoon balls of dough and place on the baking sheets. Leave approximately 1-1/2 inches between the dough balls.
Bake 12 to 14 minutes or until the edges are light golden brown. Do not over bake.
Transfer cookies to a cooling rack.
Notes
Do not over bake the cookies. Remove them from the oven when the edges are lightly browned
You can make large, thick cookies if you scoop 3-1/2 to 4 tablespoon per dough ball. Bake the larger cookies for 20 to 23 minutes.