You are in for a treat with this classic, French-inspired Potatoes Au Gratin. Layers of thinly sliced potatoes, cheese, cream, garlic and fresh thyme are all baked together to a creamy, deliciousness. And to top it off, there is a crunchy breadcrumb-cheesy crust!
You will definitely be wanting a second helping of these addictive potatoes!
This simple potato dish is like the little black dress that goes with everything. Serve them as a side dish with your holiday roast turkey, prime rib roast or the everyday favorites like meatloaf and pork chops. Reheat leftovers for breakfast with an egg on top and crispy bacon rashers alongside.
What is the difference between Potatoes au Gratin and Scalloped Potatoes?
First off….They are both delicious and make an impressive addition to the table as a side dish. Both dishes begin with thinly sliced potatoes as their main ingredient. You will find a huge variance in recipes though. Some recipes include onions, ham, bacon bits and even chopped greens.
Scalloped potato casserole: This is a combination of thinly sliced potatoes layered in a baking dish with butter and seasoned with salt and pepper and baked with milk or cream.
This is how my mom prepared the dish. It was a budget-friendly meal-stretcher with readily available ingredients. My dad loved potatoes and we ate a lot of them when I was growing up. I can still vision that casserole dish of scalloped potatoes with the brown crust around the edges of the dish.
Potatoes au Gratin: This is a classy version of scalloped potatoes. It is almost the same as scalloped potatoes. The distinguishing factor between the two dishes is cheese and a crusty topping of breadcrumbs.
This is a richer, creamier dish with grated cheese between the layers of potatoes. The ingredients may also include garlic and/or fresh herbs. Gratin is a French word that refers to a crust on top made with breadcrumbs or cheese. The crust is usually toasted to a golden brown.
What are the best potatoes to use for Potatoes Au Gratin?
A high-starch floury potato is the best. A starchy potato will release it's starch and create a deliciously creamy sauce to either potatoes au gratin or scalloped potatoes. My choice are those big, brown Russets, which are also called Idaho potatoes. The waxy Yukon Gold is also a high starch potato that is excellent in this dish.
How to make potatoes au gratin:
This casserole is made with thinly slice potatoes, layered with butter bits, grated cheese and fresh thyme leaves and seasoned with salt and pepper. A mixture of cream and garlic, is poured over the top then baked until the potatoes are tender. It is topped with a golden crust of crunchy toasted Panko breadcrumbs. Toasted Panko breadcrumbs mixed with Parmesan cheese creates a crunchy, golden crust on top of the casserole.
Spread the breadcrumbs onto a rimmed baking sheet and bake in a 400°F oven until lightly toasted. Remove from the oven and reserve.
Mix up the cream and grated garlic in a pitcher or jar and set aside.
Measure the salt and pepper into a small dish and stir to combine.
Peel the potatoes and slice them very thinly at 1/8-inch. A mandolin works well as the slices are all uniform in thickness. You can also use the 3mm slicing blade of a food processor or a sharp knife.
Arrange one-third of the potatoes in a layer on the bottom of a two-quart casserole dish. Be sure to first give the dish a coating of non-stick oil spray.
Dot the potatoes with bits of butter, sprinkle with the salt and pepper mixture and a little fresh thyme leaves then distribute one-third of the cheese on the layer and add 1/2 cup of the cream mixture.
Continue the layering process for a total of three layers finishing with the cream mixture.
Baking the Potatoes Au Gratin:
Spray a piece of foil with oil and cover the casserole dish. Transfer to a preheated 350°F oven and bake for 1-1/4 hours until the potatoes are tender.
Transfer the potatoes from the oven and remove the foil. Combine the breadcrumbs and the Parmesan cheese together and sprinkle over the top. Return to the oven and bake an additional 5-10 minutes until the cheese is bubbly and the crumbs are a deep golden brown.
We love our potatoes au gratin, as a matter of fact we just plain love potatoes. This is one of those all-time comfort foods and they are always welcome at the table.
SOME OTHER RECIPES WE ARE SURE YOU WILL LOVE:
Potatoes Anna: The simple potato is transformed into a crisp, golden cake of thinly sliced, layered potatoes, clarified butter, salt and pepper.
Roasted Sweet Potatoes: Oven-roasted sweet potatoes become even more sweet as they roast. The natural sweetness is enhanced and the roasted cubes have, caramelized edges and creamy inside.
Fondant Potatoes: Braised Fondant Potatoes have a crusty, golden brown on the top and a smooth creamy interior with the rich flavor of garlic, butter and thyme.
CONNECT WITH SAVOR THE BEST!
Be sure to follow us on our social media accounts
Facebook * Instagram * Pinterest * Twitter * Youtube
Did you make this recipe? We would love to hear from you. Drop us a comment below.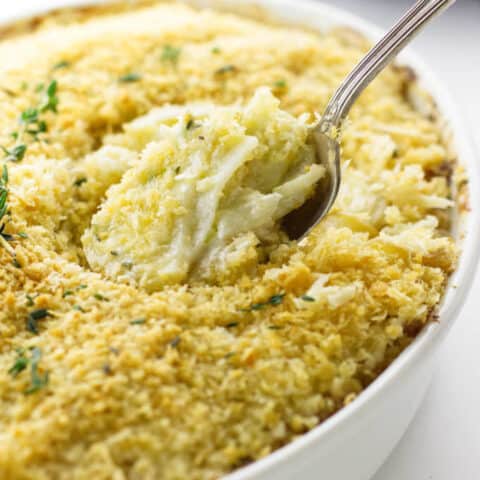 Potatoes Au Gratin
Yield: 10 servings
Cook Time : 1 hour 30 minutes
Prep Time: 20 minutes
Total Time: 1 hour 50 minutes
This rustic potato dish is made with hinly sliced potatoes layered with Gruyere cheese, butter, fresh thyme. Each layer is drenched with a mixture of cream, garlic and seasonings. This is the perfect side dish for any occasion.
Ingredients
To toast the Bread Crumbs
For the Cream Mixture:
1-1/2 cups heavy cream
2 garlic cloves, grated
1-1/2 teaspoon table salt
1/4 teaspoon freshly ground white or black pepper
For the Potatoes;
2-1/2 pounds Russet potatoes
8 tablespoons (1 stick) butter cut into small bits
1 tablespoon fresh thyme leaves
1-1/2 cups grated Gruyere cheese (6 oz. chunk)
1/2 cup grated Parmesan cheese (3 oz. chunk)
Instructions
To toast the Bread Crumbs:
Preheat the oven to 400°F
Spread the breadcrumbs out evenly on a rimmed baking sheet and place on the middle rack of the oven.
Toast the bread crumbs to a light golden brown. Remove from the oven to the workspace, when cool transfer to a small dish and reserve.
Reduce the oven temperature to 350°F. Coat a 2-quart oven-proof casserole dish with non-stick oil spray.
For the Cream Mixture:
Combine the cream and garlic in a pitcher or canning jar and set aside.
For the Potatoes:

Measure the salt and pepper into a small dish and set aside.
Peel the potatoes, and slice them 1/8-inch thick, using a mandolin or thin-bladed knife.
Arrange 1/3 of the potato slices on the bottom of the casserole dish. Dot the potatoes with 1/3 of the butter bits. Sprinkle with 1/3 of the salt/pepper mix and a teaspoon of thyme leaves. Distribute 1/2 cup of cheese over the layer. Pour 1/2 cup of the cream mixture over the layer. Continue layering the potatoes, butter, salt/pepper, thyme, cheese and the last of the cream mixture. You will have a total of 3 layers.
Rip off a sheet of foil large enough to cover the dish and coat one side with oil spray and cover the dish, oil side down. Transfer to the oven and bake for 1 hour 15 minutes.
Remove the foil, insert a knife into the center of the casserole, if there is a resistance, re-cover with the foil and continue baking for an additional 10 minutes until the potatoes are tender.
When the potatoes test tender, transfer the dish to a workplace, remove and discard the foil. Combine the bread crumbs and Parmesan cheese and distribute them evenly over the top of the potatoes. Return to the oven and bake an additional 5-10 minutes until the cheese is bubbly and the crumbs are a deep golden brown.

Notes
Toast the bread crumbs just until they begin to color as they will continue to darken when mixed with the cheese and returned to the oven.
Whole milk can be substituted for the heavy cream to make a lighter version.
We used Gruyere cheese. Cheeses like fontina, gouda, asiago and taleggio are all really awesome choices.
Nutrition Information:
Yield: 10
Serving Size: 1/2 Cup
Amount Per Serving:
Calories: 378
Total Fat: 21g
Saturated Fat: 13g
Trans Fat: 1g
Unsaturated Fat: 7g
Cholesterol: 66mg
Sodium: 546mg
Carbohydrates: 34g
Fiber: 3g
Sugar: 3g
Protein: 13g
Nutrition information is a guideline only, is calculated automatically by third party software, and absolute accuracy is not guaranteed.