After all the holiday cooking you will appreciate this quick and easy Chipotle Pork Chop Sheet Pan Dinner. Juicy and tender pork chops, fingerling potatoes and sweet apple wedges all roast together on one sheet pan. This simple dinner can be on the table in thirty minutes.
During the holidays I have spent way too much time in the kitchen and I'm ready for some simple dinners like this. Roasted on one pan making an easy clean-up, sheet pan dinners can change your life and add a new dimension to your cooking.
Chipotle Sauce for Chipotle Pork Chop Sheet Pan Dinner:
Each side of the pork chops was brushed with a smoky chipotle sauce before roasting. Our spicy chipotle sauce is a blend of sour cream, mayo, canned chipotle peppers and a touch of liquid smoke. Besides contributing an amazing flavor to the pork chops this sauce was served with the chops on the side to dip every bite of chop.
Chipotle sauce can be made in advance as it will keep in the refrigerator for several days. It is good as a dip with chicken or fish, a spread on a burger or sandwich and is especially delicious as a dipper for fries. As chipotles have a good amount of heat you should experiment by adding only a portion at a time. We like it hot and used two small chipotles.
If you are not familiar with chipotles they are smoked dried jalepeno peppers. Chipotle actually means 'smoked chili pepper'. They are canned in a blend of tomatoes, spices and vinegar and sold in most grocery stores.
Potatoes and the sweetness of apples compliment any pork dishes and we included them in this dinner. We roasted the pork chops and the fingerling potatoes together for ten minutes. Then we added wedges of Gala apples and continued roasting for an additional twenty minutes.
Accompanying vegetable ideas for roasting pork chops:
Slices of sweet potatoes
Onion wedges
Baby red potatoes
Green beans
Asparagus spears
Cooking time will vary depending on the size of your pork chops. We used thick, bone-in, center cut chops for our recipe and roasted them for twenty-five minutes plus a few minutes under the broiler. For accurate doneness an instant-read thermometer should read 145°F.
Sheet pan dinners are for those days when you don't have time or energy to put a complicated meal together. This chipotle pork chop sheet pan dinner is a great choice. We also have a sheet pan chicken dinner that I think you will love!
More one-pot meals:
Yield: 4 servings
Chipotle Pork Chop Sheet Pan Dinner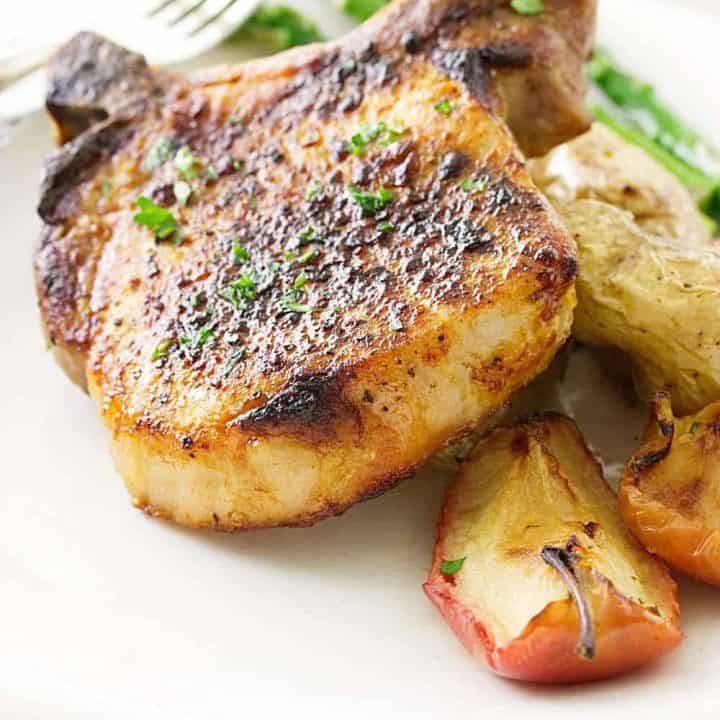 Chipotle Pork Chop Sheet Pan Dinner! Juicy, tender pork chops, fingerling potatoes and sweet apple wedges all roast on one sheet pan. Dinner in 30 minutes!
Prep Time 20 minutes
Cook Time 30 minutes
Total Time 50 minutes
Ingredients
For the chipotle sauce:
1 1/2 cup sour cream
1/2 cup mayonnaise
1-2 chipotle peppers, packed in adobo sauce
1/4 teaspoon liquid smoke (optional)
1 garlic clove, finely chopped
2 tablespoons fresh squeezed lemon juice
Salt/pepper to taste
For the Chipotle Pork Chop Sheet Pan Dinner:
4 pork chops, we used 3/4-inch thick, bone-in, center cut
8-12 teaspoons chipotle sauce
1 1/2 pounds fingerling potatoes
2 tablespoons olive oil
Salt and freshly ground black pepper
2 Gala apples, quartered into wedges
2 tablespoons chopped parsley (for garnish)
Instructions
For the chipotle sauce:
Add sour cream, mayonnaise, chipotle pepper, liquid smoke, garlic and lemon juice to a food processor or blender and process until thoroughly combined and smooth. Taste and add salt and pepper accordingly.
For the Chipotle Pork Chop Sheet Pan Dinner:
Preheat the oven to 425°F. Lightly spray a rimmed, large sheet pan with oil spray.
Using paper towels, pat the chops dry on both sides, brush one side of each pork chop with chipotle sauce and place on the baking sheet, sauce side down. Brush the top side of each chop with additional sauce.
Place the potatoes in a large bowl and drizzle the olive oil over them, toss to coat well. Remove the potatoes and add to the baking sheet. Leave space for the apples which will be added after 10 minutes. Add the apples to the same bowl and toss in the remaining oil. Reserve.
Sprinkle the pork chops and the potatoes with salt and pepper. Transfer to the oven and roast for 10 minutes.
Add the apple wedges to the sheet pan and continue roasting for 20 minutes or until 145°F.
Turn the oven setting to 'broil' and cook a couple minutes more to brown the pork chops.
Transfer the sheet pan from the oven and plate by dividing pork chops, potatoes and apples equally. Garnish with chopped parsley and serve immediately.
Notes
The chipotle sauce will make approximately 2 cups of sauce and will keep in the refrigerator 5-7 days. Nutrition values for the 2 tablespoons of chipotle sauce per serving: Calories 77, fat 7, Sat Fat 3.2 and Carbs. 3
A store-bought chipotle sauce may be substituted.
Nutrition Information
Yield
4
Serving Size
1
Amount Per Serving
Calories 374
Total Fat 19g
Saturated Fat 5g
Cholesterol 43mg
Sodium 627mg
Carbohydrates 35g
Fiber 4g
Sugar 8g
Protein 14g
Nutrition information is a guideline only, is calculated automatically by third-party software, and absolute accuracy is not guaranteed.