This Chili Relleno Casserole is one of our favorite Mexican recipes. It has all the flavors of a classic chili Relleno without all the prep work. This recipe is always a big hit whenever it is served. It is cheesy! Spicy! And delicious! You are going to love it!
Don and I do love Mexican food and he is especially partial to chili rellenos. They are not easy to make at home, at least not for me.
Basically, chile rellenos are roasted poblano chiles stuffed with as much cheese as you can get into them. Then they are dipped in an eggy batter, giving them a thick coating. Finally, they are fried until crispy. Every time I cooked them they turned out not quite right (NQR) and rather disappointing. It has been a very long time since my last chili relleno event so when I saw this recipe from epicurious.com it sounded doable. It almost sounded too easy! Naturally, I had to play around with the recipe to put my own spin on it.
Chili Relleno Casserole
The first time I made this recipe I bought some fresh poblano chilies and roasted them myself. Well, that really took the 'quick and easy' out of this recipe and I confess, all that extra effort and it did nothing for improving the taste. Since that experiment I just buy the cans of chilies.
This chile relleno casserole has been adapted from epicurious.com and is one of Don's favorite Mexican recipes. Don thought it needed a little more 'zing' to it so I have added a little pepper jack cheese and a tomato/salsa topping. He loves it! And, I am happy he is happy. 🙂
This chili relleno casserole is easy and quick to put together, the most difficult part is waiting for it to bake.
With a simple tomato/avocado salad and chips that is all we need for dinner. Umm, I guess Don would say he needs a beer with it.
Watch our video:
Check out our video and see how easy it is to make this chili relleno casserole.
You may also want to check out these recipes:
CONNECT WITH SAVOR THE BEST!
Be sure to follow us on our social media accounts
Facebook | Twitter | Youtube | Pinterest | Instagram
If you make one of our recipes, snap a photo and tag it @savorthebest on Instagram and hashtag it #savorthebest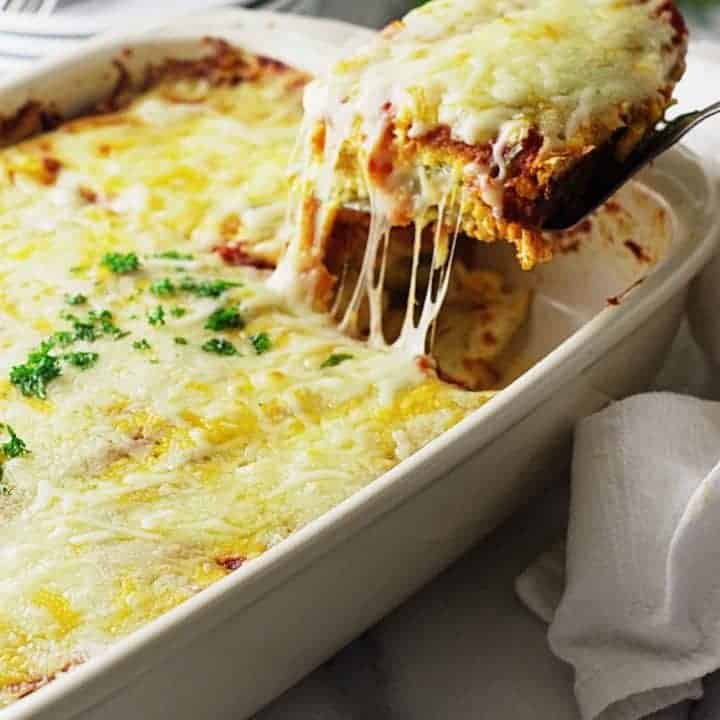 Chili Relleno Casserole
Yield: 12 servings
Prep Time: 20 minutes
Cook Time: 1 hour 30 minutes
Total Time: 1 hour 50 minutes
Easy no-fry chili rellenos made into a casserole with a little heat from pepper jack cheese and spicy salsa.
Ingredients
4 eggs, separated
1-1/2 cups milk
3 tablespoons all-purpose flour
1/2 teaspoon kosher salt
1/4 teaspoon fresh ground pepper
4 cans (7-ounces each) whole green chiles, split open and any seeds removed
3 1/2 cups shredded cheddar cheese (1 pound), reserve 1/2 cup
4 cups shredded Monterey Jack cheese (1 pound), reserve 1/2 cup
1/2 cup shredded pepper jack cheese
1-6 ounce can of tomato paste
1/2 cup prepared salsa
1/4 cup water (optional)
Instructions
Preheat the oven to 300°F and prepare a 9x13-inch casserole dish with non-stick spray.
In a mixing bowl add the egg yolks, milk, flour, salt and pepper and beat together. In a separate bowl whip the egg whites to soft peaks. Fold the egg whites into the egg yolk mixture and set aside while you assemble the casserole.
Arrange 1/2 of the peppers on the bottom of the casserole dish. Sprinkle with 1/2 of cheddar and 1/2 of the monterey jack cheese. Create the next layer with the remaining chilies and cheese. Pour the egg mixture over the cheese and let stand for 30 minutes.
Transfer the casserole to the middle rack of the oven and bake for 1 hour and the center does not jiggle.
While the casserole is baking: in a medium size bowl, toss the reserved cheddar, the reserved monterey jack cheese and the pepper jack cheese. In another small dish, mix the tomato paste and the salsa together until smooth. It may be necessary to add a small amount of tap water to get a spreadable consistency. Reserve the cheese and tomato topping in the refrigerator until the casserole has baked for the one hour.
Remove the casserole from the oven and spread the tomato/salsa over the casserole and distribute the reserved cheese over the top. Return to the oven and bake for an additional 15-20 minutes or until the cheese is melted and a little bubbly on the edges.
Transfer the casserole to a wire rack and cool for 20 minutes before serving.
Recommended Products
As an Amazon Associate and member of other affiliate programs, I earn from qualifying purchases.
Nutrition Information:
Yield: 12
Serving Size: 1
Amount Per Serving:
Calories: 430
Total Fat: 31g
Saturated Fat: 19g
Cholesterol: 170mg
Sodium: 1820mg
Carbohydrates: 10g
Fiber: 2g
Sugar: 7g
Protein: 28g