Our copycat Chipotle Corn Salsa is fresh and full of zing, made with crisp white corn, jalapeño, and Poblano peppers. This easy corn salsa recipe is simple to make and is full of flavor. Spoon it onto tacos, serve it with a side of tortilla chips, or top a Tex-Mex tortilla chip casserole with this deliciously spicy salsa that makes the most of fresh corn on the cob!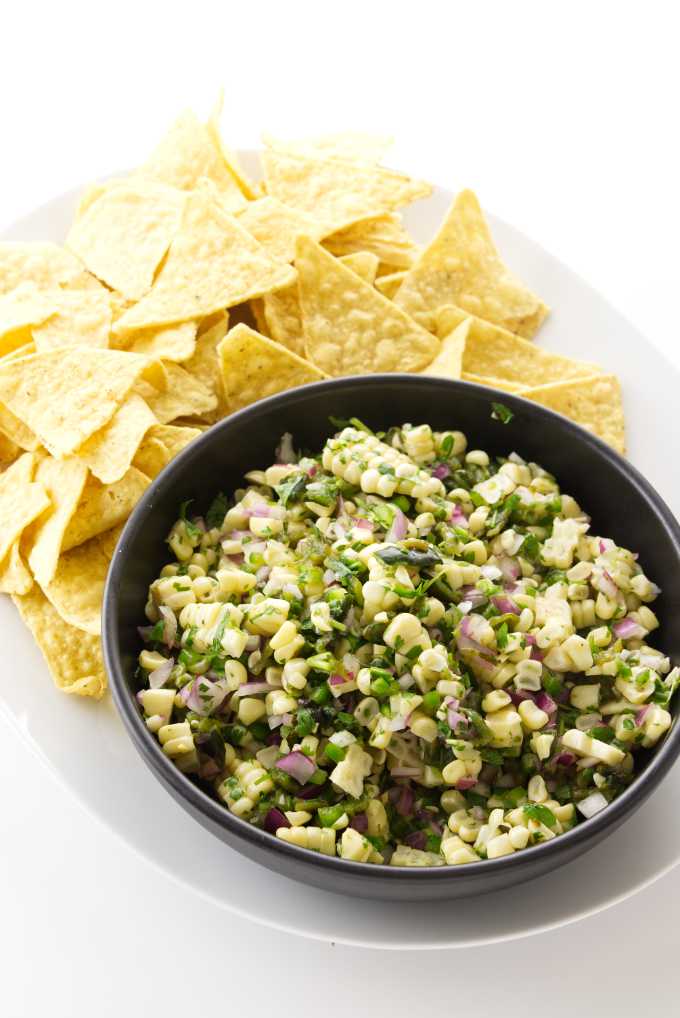 If you've ever enjoyed the corn salsa from Chipotle, we're excited to share that it's simple to make at home! And, as always, homemade is even better. We take it up a notch from Chipotle, making our copycat Chipotle corn salsa recipe with fresh corn on the cob (and not frozen), and still keeping the recipe as easy as ever.
The corn is cooked in the microwave and tossed with roasted Poblano pepper, red onion, cilantro and a mix of fresh citrus juice. Jalapeños add even more heat and flavor. It's a gluten-free, dairy-free and flavorful recipe to complete your next backyard barbecue or Taco Tuesday dinner.
The Ingredient List:
Chipotle corn salsa requires less than 10 ingredients and about 20 minutes to prep. We do prefer it with fresh corn and freshly-roasted Poblano pepper (roasted, seeded, and chopped small), but you certainly can substitute frozen corn and canned Poblano too.
Fresh white corn, unshucked
Jalapeño peppers, seeded and diced
Red onion, diced
Roasted Poblano pepper, seeded and diced
Cilantro, chopped
Lime juice
Lemon juice
Salt and pepper
This corn salsa recipe is a mix of simple, fresh and flavorful ingredients that will elevate any taco or corn chip situation!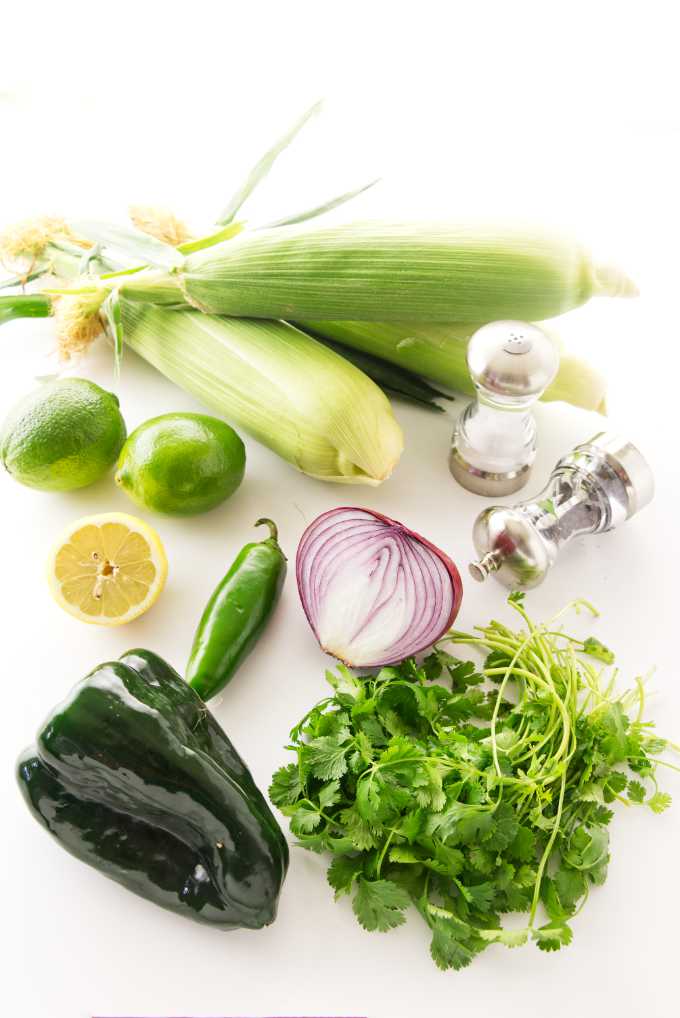 How to make Chipotle Corn Salsa:
The mix of poblano and jalapeño peppers packs a flavor punch in this Chipotle Corn Salsa, but feel free to add more or less of the peppers to fit your own taste preference. When it comes to heat, I'd say this corn salsa has a mild-medium level of spiciness depending on your jalapeños.
Here's how to make it:
Cook the corn: Prep the corn by snipping off the top tassel of each ear (but keep the husks on). Drizzle a tablespoon of water into the cut area and microwave the corn on high for 8 minutes.
Cut the corn: Once the corn has cooled to room temperature, slice the kernels off of the cob.
Mix the salsa: In a large bowl, mix together the corn kernels, jalapeños, onion, Poblano, and cilantro. In a separate jar or dish, combine the lime and lemon juice, then pour it over the corn mixture and toss. Add salt and pepper to taste.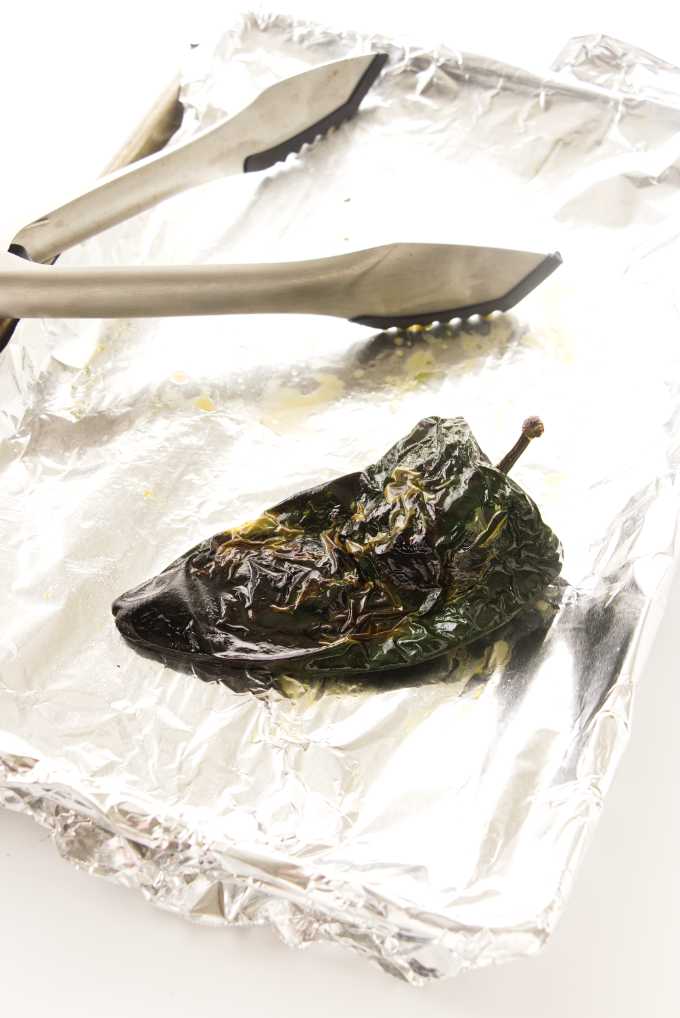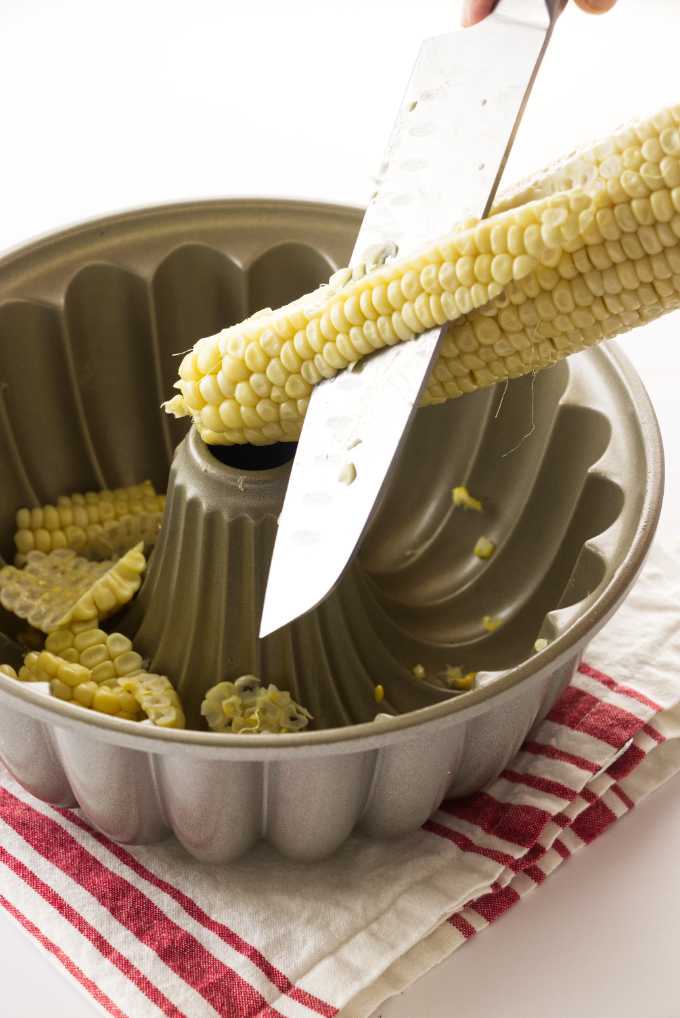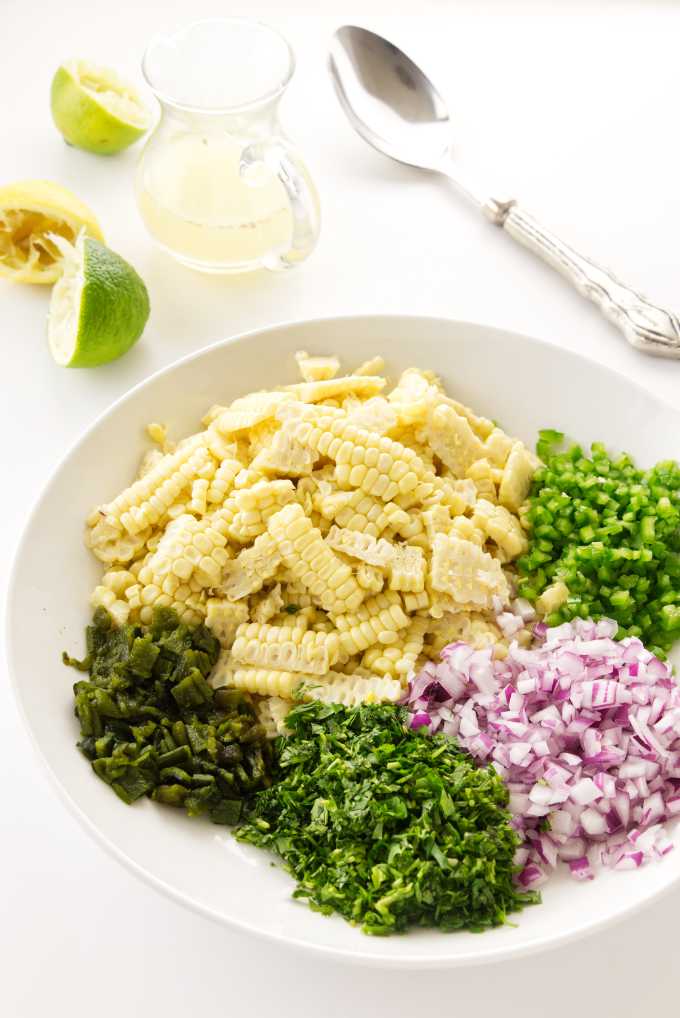 Recipe Tips and FAQs:
For microwaving the corn: For one ear of corn, cook for four minutes on high. To cook three ears of corn together, increase the cook time by 2 minutes per each additional ear.
Boiling corn: If you would prefer to boil the corn instead of microwaving it, you can boil it for 5 minutes in a large pot of salted water. Remove with tongs and let it cool.
For frozen corn: To substitute fresh corn with frozen corn, use 2 cups of frozen and thawed corn.
Is chipotle corn salsa spicy? This salsa has a little kick to it, but it's not too spicy. You can reduce the amount of jalapeños to make it more mild, or increase it if you'd like more heat.
Is Chipotle corn salsa vegan? Our copycat Chipotle corn salsa recipe is vegan, dairy free, gluten free and paleo friendly! It works for a variety of eaters and makes a great side or appetizer- don't forget the tortilla chips!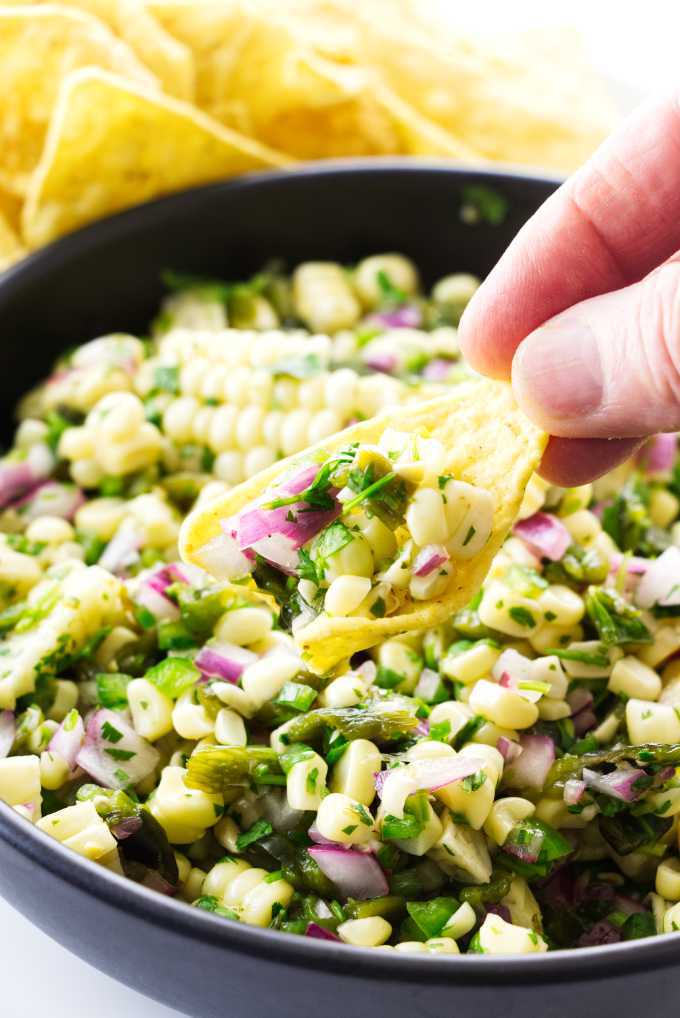 How to Serve Corn Salsa:
Fresh corn is abundant right now and this is a tasty, seasonal, Chipotle favorite that we've adapted to make our own! Here are a few other Savor the Best recipes you can serve this with:
Fresh and seasoning eating made with whole foods never looked so good. Enjoy!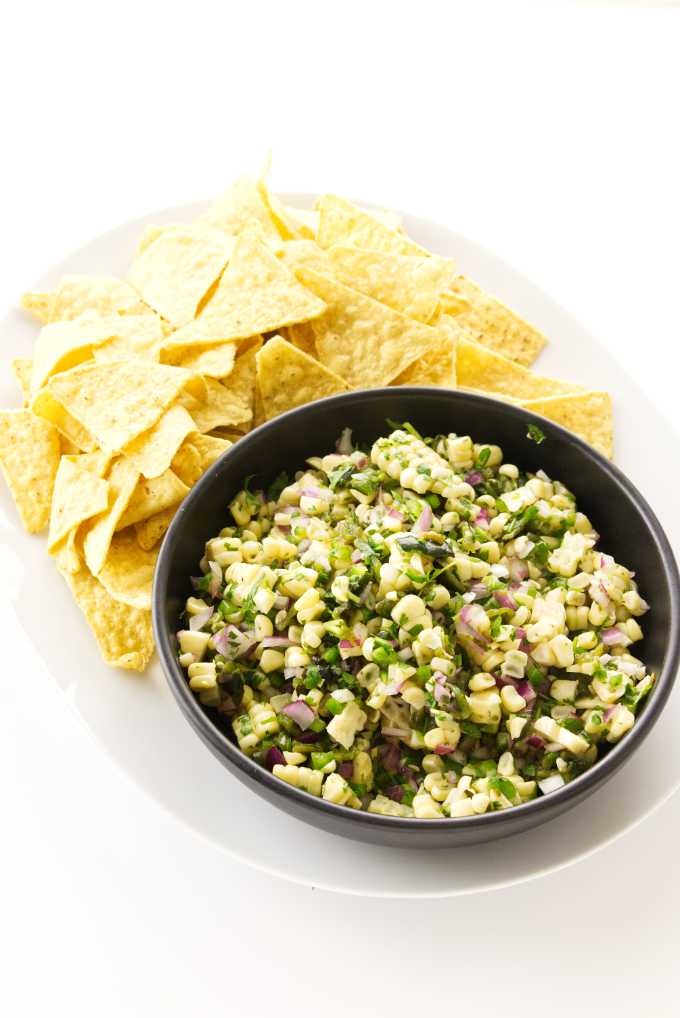 Some Other Recipes We Are Sure You Will Love:
Fresh Mango Salsa Fresh mangos and pineapple add a little sweetness to this easy, great-tasting salsa. There's some heat from jalapeño and serrano chilies but you can adjust the amounts according to how much you can handle.
Chimichurri Sauce: Argentina's national chimichurri sauce is one of our favorites to drizzle on meat, vegetables or whatever you like. This zesty sauce is made with fresh parsley, garlic, a touch of red pepper flakes and good olive oil.
Pomegranate Salsa: Take advantage of this seasonal fruit with a sweet, crunchy salsa. Spoon it over, fish, pork or use as a chip dip. You will be glad you did! ♥️
Connect With Savor the Best:
Please follow us on our social media accounts
Facebook * Instagram * Pinterest * Youtube * Twitter
Did you make this recipe? We would love to hear from you. Drop us a comment below.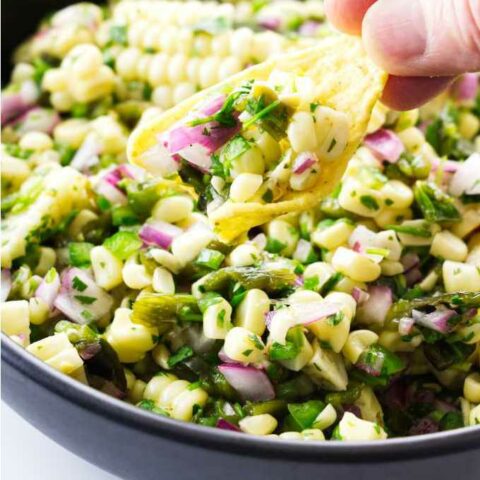 Chipotle Corn Salsa
Yield: 8 Servings
Prep Time: 15 minutes
Total Time: 15 minutes
Chipotle Corn Salsa is Chipotle restaurant copycat! Fresh corn, jalepeños, onion, Poblanos, cilantro and citrus give it big, spicy flavor.
Ingredients
3 large ears of fresh white corn, unshucked
2 jalapeño peppers, stemmed, seeded and diced
1/2 of a medium size red onion, diced
1 Poblano pepper, roasted, seeded and diced (see notes)
1/2 cup cilantro, chopped
2 limes, juiced
1/2 lemon, juiced
Salt and pepper to taste
Instructions
For the Corn:
With kitchen scissors, snip off and discard the top tassel of each ear of corn but do not remove the husks. Dribble a tablespoon of tap water into the cut area. Place the three ears of corn in the microwave and zap it on high for 8 minutes.
Use a kitchen towel or pot holder to transfer the corn from the microwave. Cut off the end of the corn just above the stem and slide the husk and silk off the corn.
When the corn has cooled to room temperature, slice the kernels off of the cob using a sharp knife. Tip….To keep the corn from flying all over the work area, place the corn on the tube-top of a Bundt pan and let the sliced kernels fall into the pan.

For the Salsa:
Place the corn, jalapeños, onion, Poblano and cilantro into a large bowl. Combine the lime and lemon juice in a pitcher or jar, pour over the corn mixture and toss to combine.
Taste and add salt and pepper accordingly.
Notes
For 1 ear of corn cook for 4 minutes on the high setting. To cook 3 ears of corn at the same time, increase the cooking time by 2 minutes for each additional ear of corn.
Another option to cook corn is to bring a large pot of salted water to a boil, plunge the shucked corn into the water, and boil for 5 minutes, then remove with tongs.
Two cups of frozen corn (thawed) may be substituted for the fresh corn
Canned Poblano peppers may be substituted for fresh Poblano peppers.
For instructions on how to roast Poblano peppers, see our post for roasting Poblano peppers in the oven.
Nutrition Information:
Yield: 8
Serving Size: 1
Amount Per Serving:
Calories: 25
Total Fat: 0g
Saturated Fat: 0g
Trans Fat: 0g
Unsaturated Fat: 0g
Cholesterol: 0mg
Sodium: 38mg
Carbohydrates: 6g
Fiber: 1g
Sugar: 2g
Protein: 1g
Nutrition information is a guideline only, is calculated automatically by third-party software, and absolute accuracy is not guaranteed.