Argentina's national condiment is Chimichurri Sauce, a savory fresh herb sauce that includes lots of parsley and garlic. This sauce adds a zesty flavor to grilled meats, vegetables and so much more. If you have not tasted Chimichurri sauce yet, now is the time! Mix up this recipe and discover why the Argentinians love this stuff.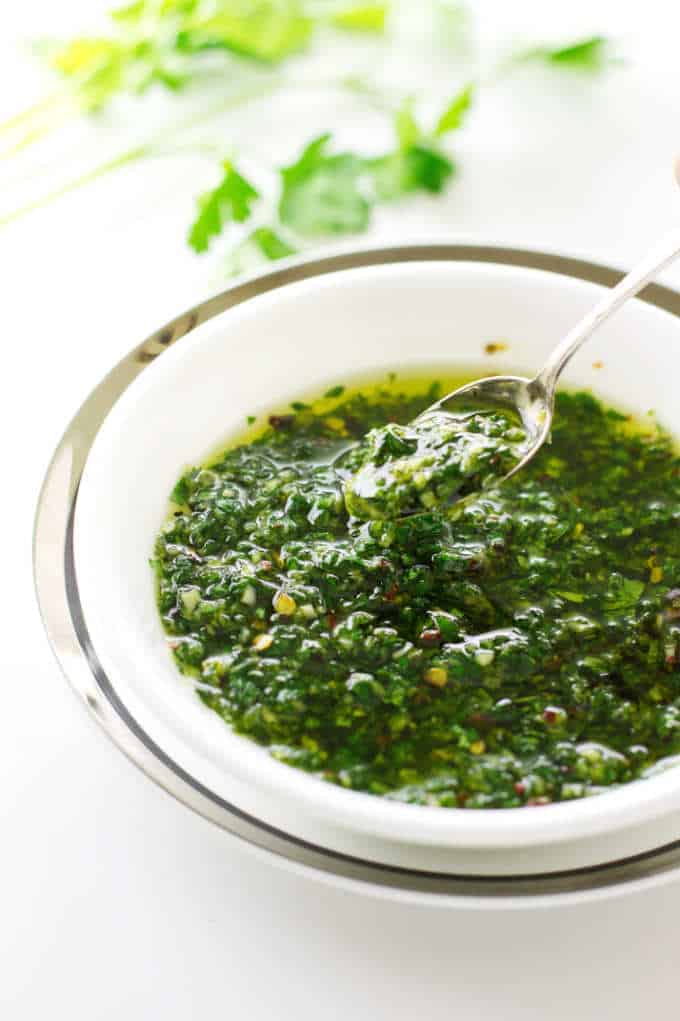 Chimichurri sauce is both a cooking sauce and a condiment. It is not a salsa and not a pesto. Chimichurri sauce is in a league of its own!
What is in chimichurri sauce?
Not only is this the national condiment of Argentina, but you will always find bowls of chimichurri on the table to be served with their national food of asado. Asado is grilled meat, what Americans call a barbecue. Here's what you need to make a batch of this multi-use, magical sauce:
Fresh flat-leaf parsley. This is the main flavor ingredient and the reason for the vibrant color.
Fresh oregano. It gives an earthy and slightly minty flavor.
Garlic. Lots of garlic,
Red pepper flakes add some zesty heat.
Red-wine vinegar to balance the flavors.
Olive oil. This will pull it all together.
This is an authentic Chimichurri sauce and it is so simple to make. Add the parsley, oregano, garlic, red pepper flakes, vinegar, salt and pepper to a blender or food processor and process. Tip into a dish and stir in the olive oil. Boom! Chimichurri sauce in five minutes!
Tips for great chimichurri sauce.
Don't puree the leafy greens too much. If they get over-processed then they will turn bitter.
Chop or mince the garlic before adding it to the food processor. That way you won't have large chunks of garlic in the sauce.
Choose a good quality olive oil. The fruity flavors of olive oil is what makes this sauce so fabulous.
Don't process the olive oil in the food processor. Whisk the oil in by hand to prevent over-processing the sauce and making it bitter.
This traditional recipe does not have any cilantro or other herbs and flavorings but you can switch it up a bit if you want a twist from tradition.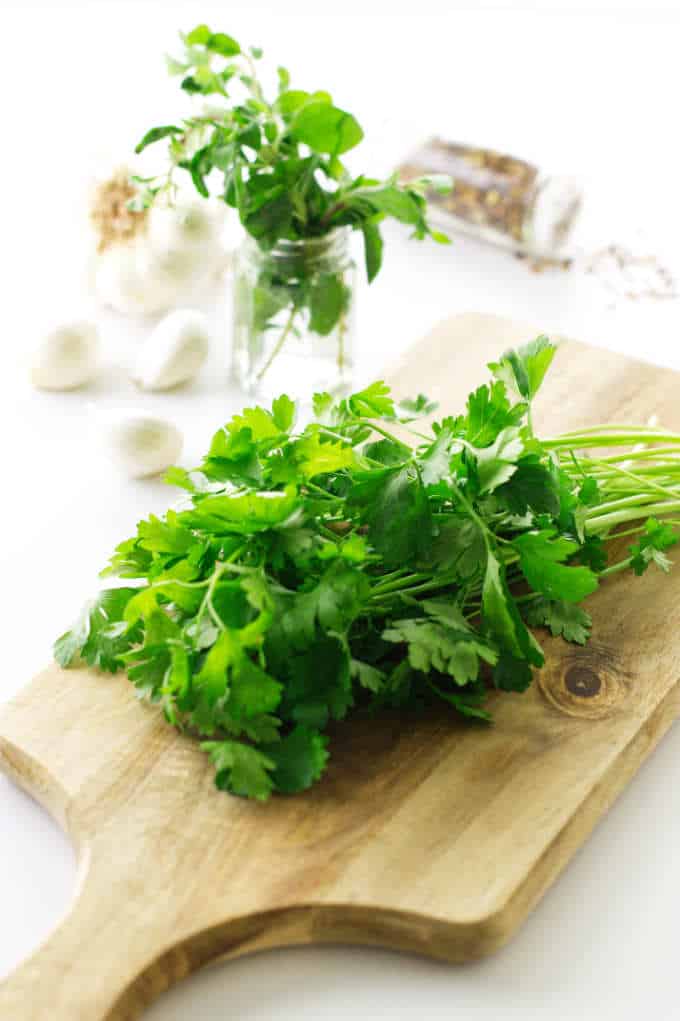 What can I use chimichurri sauce with?
This sauce is so versatile it is wonderful with grilled beef, chicken, pork and lamb. It is also great on seafood like grilled octopus or tuna steak and salmon. We loved it with our sous vide ribeye steak.
This sauce is also terrific with vegetables. Serve it with steamed broccoli or green beans for a nice pop of flavor.
This amazing sauce can also be used as a marinade, a dip for bread, crackers or fresh vegetables. Serve it on top of sliced, grilled bread as a bruschetta appetizer. Add a dollop to your plain scrambled eggs and kick up the flavor.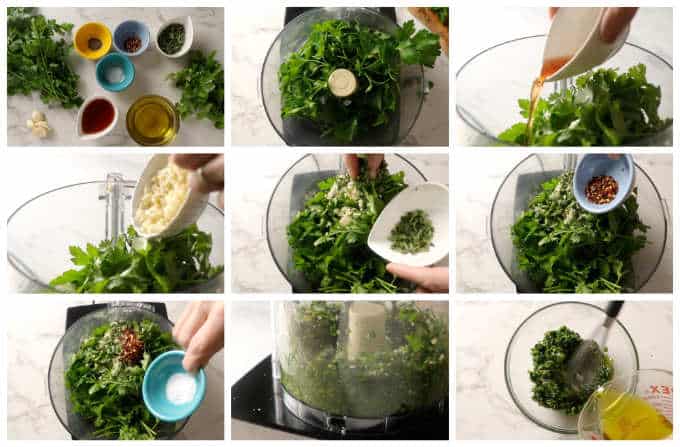 How long will chimichurri sauce keep?
In a covered container the sauce will keep for two or three weeks. Remove it from the refrigerator before serving and let it come to room temperature, stir and enjoy.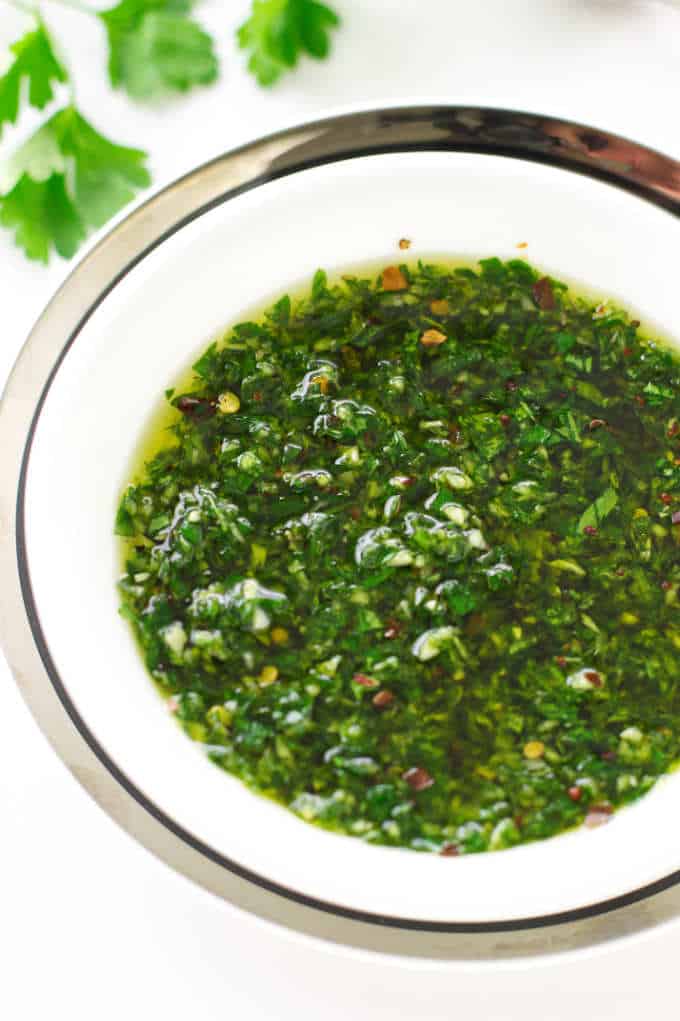 Can chimichurri sauce be frozen?
Yes, you can freeze chimichurri sauce for up to three months. Thaw overnight in the refrigerator. To serve remove and allow to come to room temperature, stir and enjoy!
I am betting that once you have a taste of this sauce you will find many ways to incorporate it into your menus.
SOME OTHER RECIPES WE ARE SURE YOU WILL LOVE:
Roasted Asparagus with Curry Sauce: These asparagus spears are a quick 5-minute roast in a hot oven. The make-ahead creamy curry sauce is made with low-fat mayo and no-fat Greek Yogurt. The dish is topped off with curry dusted cashews.
Garlic Butter Sauce: This Garlic Butter Sauce uses real butter, fresh garlic, and garlic powder for an intense garlic flavor. It is one of those magical sauces that will turn a boring dish into something special. Keep a supply of this in your fridge for an emergency.
Spanish Romesco Sauce: Romesco sauce is a super-flavorful sauce made with sweet red peppers, tomatoes, mild chilies, garlic and onions. But the one ingredient that is key to this flavorful sauce is the smoked paprika! It really puts the Wow! in this sauce!
CONNECT WITH SAVOR THE BEST!
Be sure to follow us on our social media accounts
Facebook * Instagram * Pinterest * Twitter * Youtube
Did you make this recipe? We would love to hear from you. Drop us a comment below.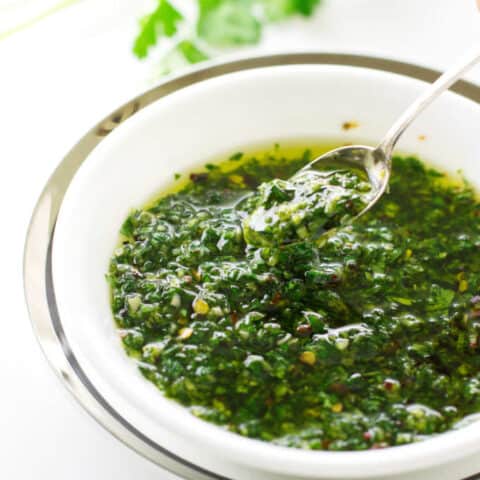 Chimichurri Sauce
Yield: 1 cup
Prep Time: 5 minutes
Total Time: 5 minutes
Argentina's national condiment is Chimichurri Sauce, a savory fresh herb sauce made with parsley, garlic and red pepper flakes. This sauce adds a zesty flavor to grilled meats, vegetables and so much more.
Ingredients
1 bunch Italian flat-leaf parsley, roughly chopped
3 tablespoons red wine vinegar
4 large garlic cloves, minced
2 tablespoons roughly chopped fresh oregano leaves
3/4 teaspoon red pepper flakes
1/2 teaspoon salt
1/4 teaspoon ground pepper
1/2 cup extra-virgin olive oil
Instructions
Add all the ingredients except the olive oil to a food processor. Pulse several times until it is coarsely chopped. Stop the motor occasionally to scrape down the sides.
Pour the mixture into a bowl and whisk in the olive oil. Taste and add additional red pepper flakes according to taste preference.
To Serve:
Let the sauce sit for 30 minutes before serving for the flavors to meld together.
Notes
Use flat-leaf parsley and not the curly-leaf parsley.
Parsley is a mildly bitter herb. Over-processing in the blender causes the chimichurri sauce to be more bitter.
Stir the oil into the blended herb mixture. If adding the oil to the processor, use the pulsing action. Over-processing the mixture with the olive oil will make it bitter.
Chimichurri sauce will keep in the refrigerator for 2 weeks in a covered container.
This sauce can be frozen in a covered container for up to 3 months
Recommended Products
As an Amazon Associate and member of other affiliate programs, I earn from qualifying purchases.
Nutrition Information:
Yield: 16 Tablespoons
Serving Size: 1 tablespoon
Amount Per Serving:
Calories: 63
Total Fat: 7g
Saturated Fat: 1g
Trans Fat: 0g
Unsaturated Fat: 6g
Cholesterol: 0mg
Sodium: 19mg
Carbohydrates: 1g
Fiber: 0g
Sugar: 0g
Protein: 0g
Nutrition information is a guideline only, is calculated automatically by third-party software, and absolute accuracy is not guaranteed.