Our whole grain einkorn chocolate chip cookies are incredible! The mildly sweet and nutty flavor of einkorn flour makes an incredibly delicious and uniquely flavored cookie while the whole grain keeps it moist and gives it depth and texture.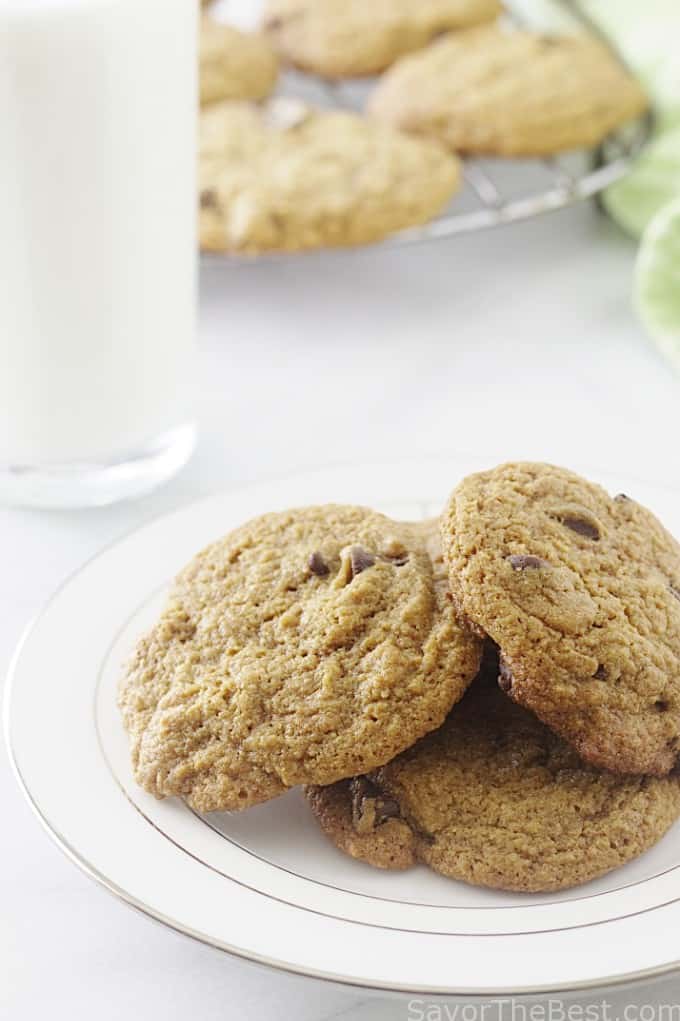 I love whole wheat because of its texture and flavor but I am especially fond of einkorn wheat. Whole grain einkorn wheat is easily my favorite grain. It has a sweet nutty flavor that gives baked goods depth and complexity. It is a uniquely delicious grain that I have always enjoyed baking with as well as adding it to my savory cooking.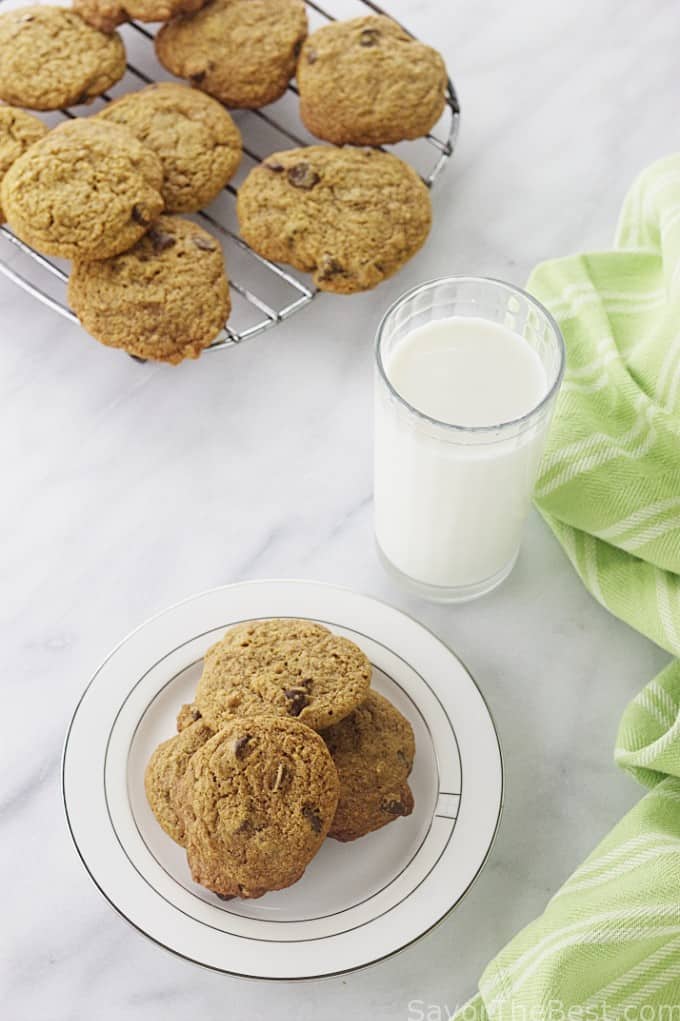 A truly ancient grain, einkorn wheat is the first wheat known to be cultivated and has never been cross breed or altered. Not only is it more flavorful than modern day wheat, it is more nutritious and easier to digest. It is higher in protein, lutein, riboflavin, vitamin A, and carotene. Although it has gluten, the gluten has a different composition and molecular size than that of modern day wheat making it more tolerable and easier to digest. It is wheat in the purest form, the way God intended wheat to be….. healthy, wholesome, unaltered, delicious.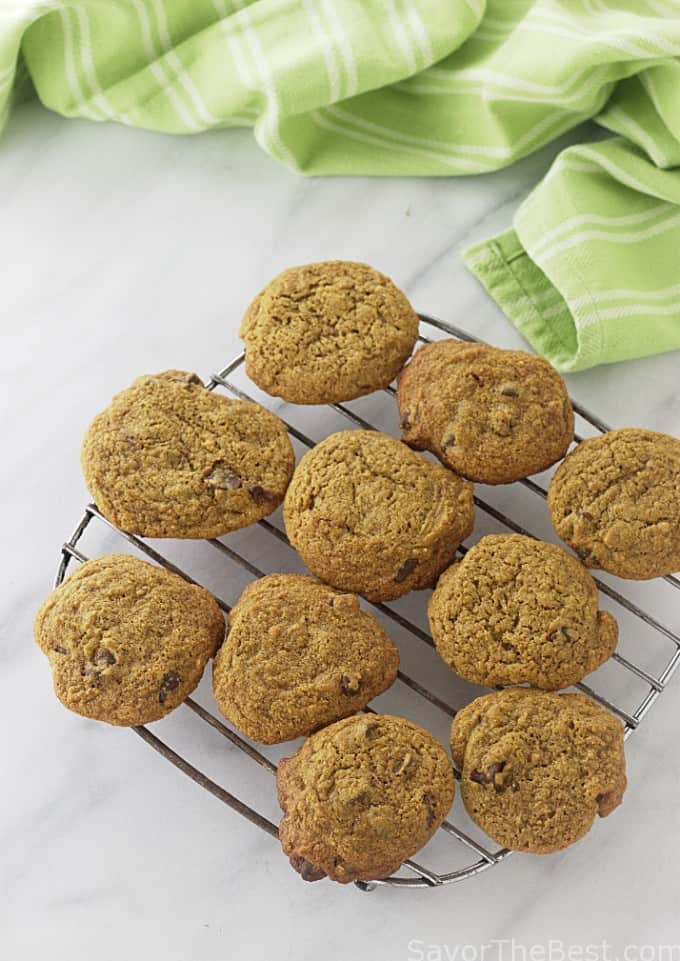 This recipe was adapted from Jovial Foods. I added a bit more chocolate chips and a tad more salt to enhance and compliment the chocolate. I also used coconut sugar in place of brown sugar because it has more nutrients and a lower glycemic index than brown sugar but a delightful caramelized flavor, plus it just makes me feel a little better about eating something sweet.
You will need to grind the wheat berries but it is a fast and easy process if you have a blender or top loading coffee grinder. If you aren't using a high speed blender, you will want to feel the motor and let it rest if it starts to get warm so you don't overheat the motor.
You might also like our oatmeal raisin spelt cookies or our ancient grains granola
CONNECT WITH SAVOR THE BEST!
Be sure to follow us on our social media accounts
Facebook * Instagram * Pinterest * Twitter * Youtube
Did you make this recipe? We would love to hear from you. Drop us a comment below.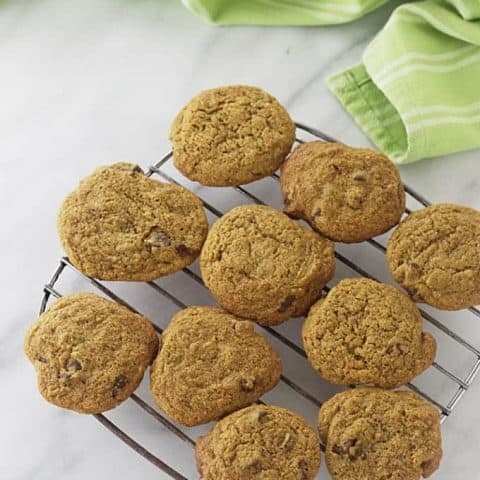 Whole Grain Einkorn Chocolate Chip Cookies
Yield: 2 dozen cookies
Prep Time: 10 minutes
Cook Time: 8 minutes
Total Time: 18 minutes
The mildly sweet and nutty flavor of einkorn flour makes a delicious and uniquely flavored cookie while the whole grain keeps it moist and gives it a lovely texture.
Ingredients
1 1/4 cups einkorn wheat berries (240 grams) *see notes
3/4 teaspoon salt
½ teaspoon baking soda
8 tablespoons softened butter
¾ cup coconut sugar (150 grams)
1 teaspoon vanilla
1 egg
3/4 cup chocolate chips (112 grams)
Instructions
Pre-heat the oven to 350°F and line a cookie sheet with parchment paper or spray with cooking spray.
Use a high speed blender or a coffee grinder (or a grain mill) to grind the einkorn wheat berries until it is the consistency of flour. Add the salt and baking soda and give the blender another quick burst to blend the dry ingredients.
In a stand mixer, cream the butter and coconut sugar on high speed until creamy. Add the vanilla and egg and beat on medium speed for another minute until well incorporated.
Add the flour mixture and blend on medium speed until well blended. Stir in the chocolate chips
Drop 1 tablespoon sized balls of dough onto the cookie sheet (I use a cookie scooper that looks like an ice cream scooper to make the task fast and easy)
Bake for 6 to 8 minutes, remove from the oven and let cool for 5 minutes on the cookie sheet.
Notes
It takes about 1 minute to grind a cup of the wheat berries in my high speed blender. If you use a standard blender it will take about 3 to 4 minutes but you should rest the blender half way through the grinding time so you don't overheat the motor.
If you are using pre-ground whole grain einkorn flour, you will need 1 3/4 cups plus 2 tablespoons of the flour (1 1/4 cups of the wheat berries will make slightly more volume when milled into flour but the weight will be the same. Using a scale is the fastest, easiest and most accurate way to measure your flour and wheat berries)
Nutrition Information:
Yield: 24
Serving Size: 1
Amount Per Serving:
Calories: 102
Total Fat: 6g
Saturated Fat: 3g
Trans Fat: 0g
Unsaturated Fat: 2g
Cholesterol: 18mg
Sodium: 127mg
Carbohydrates: 13g
Fiber: 1g
Sugar: 9g
Protein: 1g
Nutrition information is a guideline only, is calculated automatically by third-party software, and absolute accuracy is not guaranteed.