You don't have to go to New York to taste a famous Levain Bakery chocolate chip cookie. Make jumbo cookies that taste just like the famous Levain bakery cookies right in your own kitchen.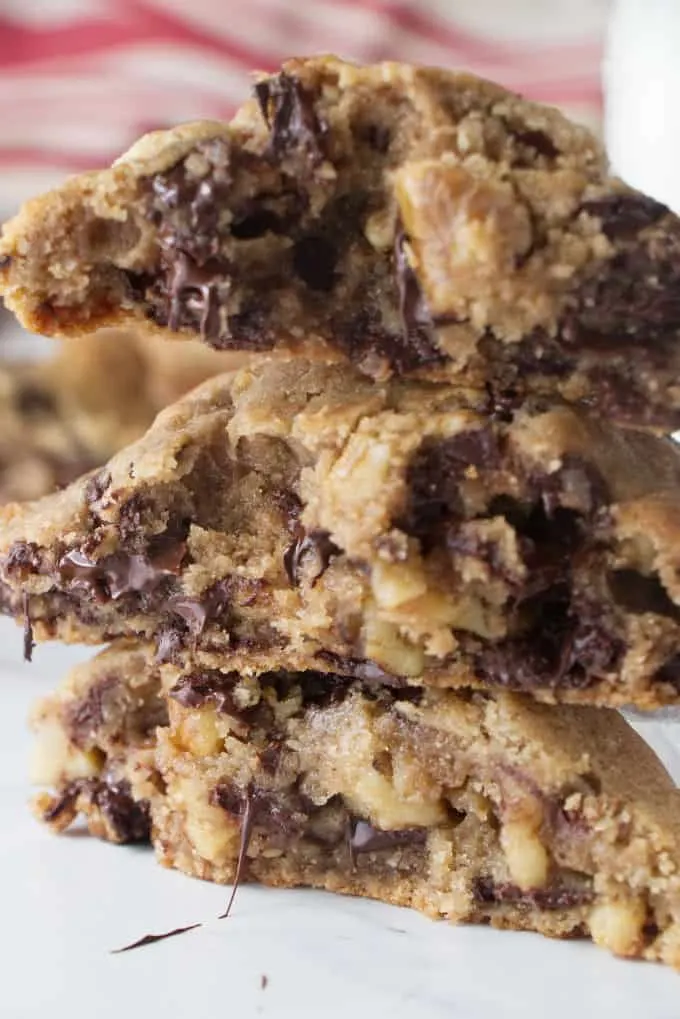 Oh, the legendary Levain Bakery Chocolate Chip Cookies. Even if you have never had one, you are very likely to have heard about these jumbo sized cookies. One cookie is large enough to share with four or five of your closest friends.
What makes these cookies so special?
The cookies have a lot going on with them. They are loaded with a double dose of dark chocolate that oozes out of the cookie when you take a bite.
The edges of the cookies are tender, buttery, and crisp. As you eat your way in a bit from the edges, the cookie becomes dense, soft, and chewy.
Then when you get to the very center, you hit a lava of melted chocolate and gooey, under-baked cookie dough madness.
It's a medley of textures and everything you need in a chocolate chip cookie.
Where Can I find the Recipe for the Levain Bakery Chocolate Chip Cookie?
Are you in a hurry for the recipe and want to skip all the helpful tips and tricks? No problem. All you need to do is scan down to the bottom of the page.
You will find the recipe for these copycat Levain bakery chocolate chip cookies in a convenient, printable recipe card at the bottom of the post.
However, if you want some indispensable baking tips, helpful information, and other suggested recipes, then stick around and peruse through the entire post. Who knows? We might answer a question that could come up as you bake these fabulous cookies.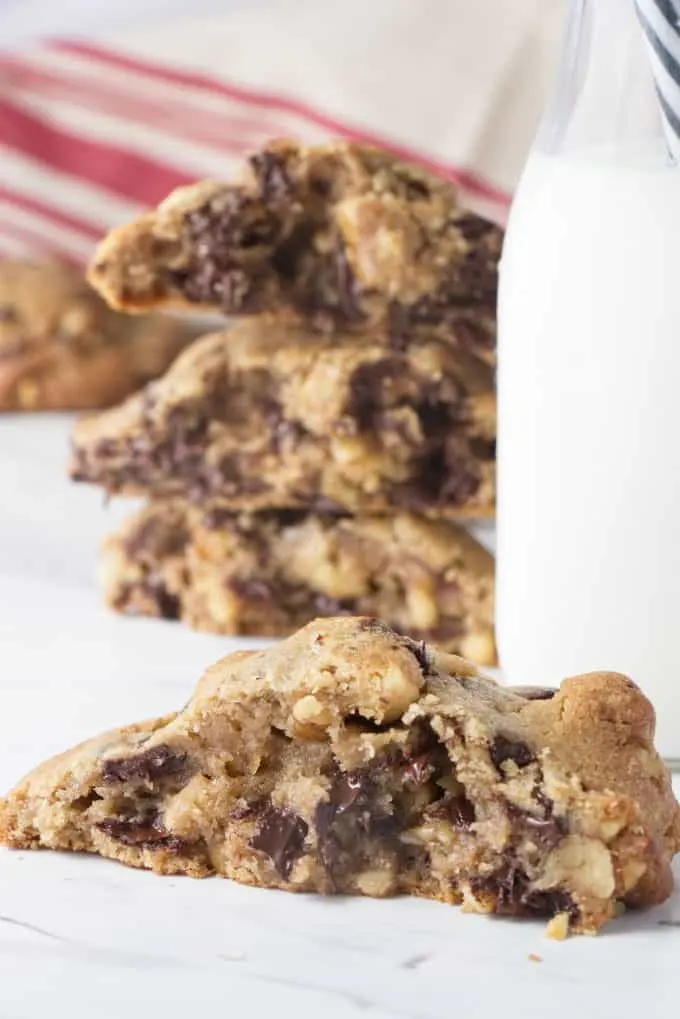 Copycat Levain Bakery Chocolate Chip Cookies Have to be BIG
The first thing you need to know is that these cookies are large. By large, I mean jumbo, colossal, massively over-sized and just plain too much cookie for one person.
You can make smaller cookies but then you won't have a replica of the Levain Bakery chocolate chip cookie. And that is what you came here for. Right?
Wanna know the secret to Levain Bakery cookies? The secret to getting that 'crisp, chewy, doughy' texture starts with the size of the cookie.
These cookies weigh in at six ounces! Less than six ounces will diminish the wonderful cookie dough lava in the center and more than six ounces will make too much of the cookie remain under-baked.
If it's underbaked, you might as well just eat some warm cookie dough. And if it's overbaked, you miss out on that perfect three-in-one texture that the Levain bakery chocolate chip cookies are known for. So for the perfect copycat Levain bakery Chocolate chip cookies, weigh the cookie dough before you bake them.
You gotta go big for this recipe!
Tips to Make the Copycat Levain Bakery Chocolate Chip Cookie
Use REAL butter! Not margarine!
Butter is going to give these cookies the right texture and the right amount of spread while it bakes. Besides that, butter tastes better and these cookies won't taste like Levain Bakery chocolate chip cookies if you use margarine.
Make them big!
When you scoop the cookie dough, fill a 1/2 cup measuring cup until it is mounding over the top then add some more. Better yet, if you really want them to turn out just like the cookies at the Levain bakery, get a scale and weigh out 6-ounce portion sizes. Because that is how much these cookies weigh.
Trust me, I weighed them. I don't live in New York but I love to visit that city and frequently get inspired by the amazing food. Like the time I discovered chocolate chip cookie shots in the Dominique Ansel Bakery. But I am digressing. To get back on topic, let me re-assert that these cookies should weigh 6 ounces if you want to replicate the Levain Bakery chocolate chip cookie.
Use bread flour.
This recipe calls for a combination of all-purpose flour and bread flour. Bread flour is higher in gluten which gives these cookies that dense, chewy texture. The bread flour will also absorb more moisture. Since this recipe has a bit more moisture in it, the cookies will stay moist.
Do not over-mix the dough
If you over mix the dough, it will make your cookies tough. You can use an electric mixer to mix the butter, sugar, and eggs but when you add the flour, switch to a spoon. Stir the flour, the chocolate chips, and the nuts in by hand. If you stir the dry ingredients by hand, it will prevent you from over mixing the dough. Soft, tender and chewy cookies are the goal.
Space them out on the baking pan
Give the cookies plenty of room to bake and spread out. You don't want the cookies to spread out too much so make sure you chill the dough for at least 30 minutes. However, the cookies will spread out just enough to give you some crunchy, perfectly baked edges.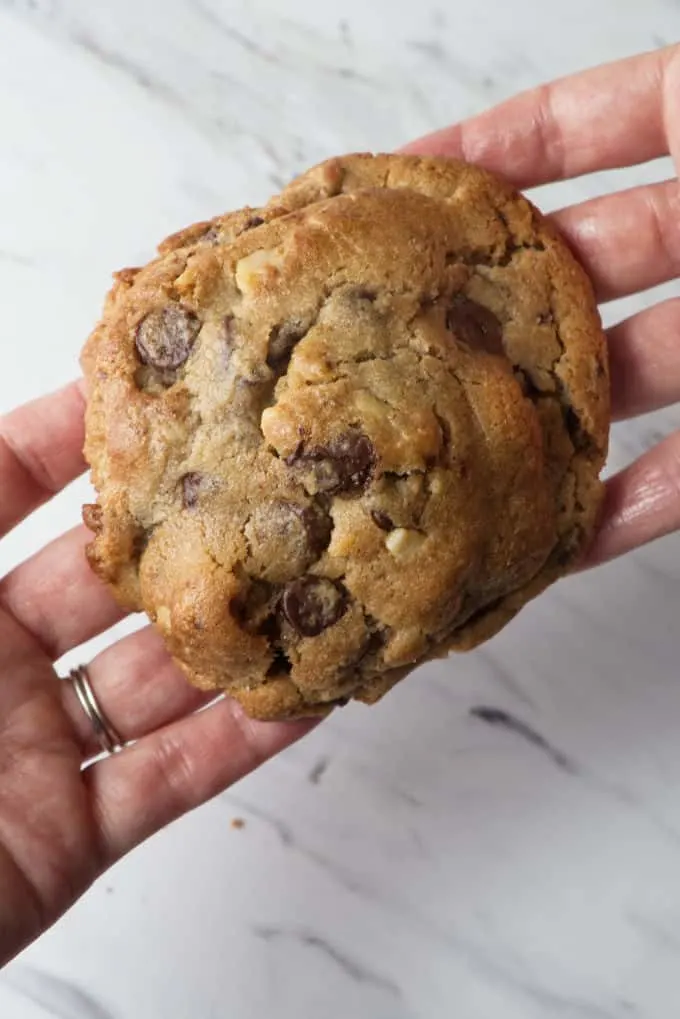 Consider your oven temperature
Your oven is different than ours. Some ovens run a bit hotter and some run a bit cooler. The cooking time might vary if your oven is not calibrated. So keep an eye on the cookies. Start checking them a couple minutes before the allotted time.
If the edges and tops of the cookies look nice and brown, they are done. Pull the cookies out while the centers are still gooey.
Make the cookies lumpy
The Levain bakery chocolate chip cookie has lumpy and bumpy mounds of deliciousness. They are not perfectly smooth. To get that lumpy, jagged surface, break the ball of dough in half, rotate the two pieces, then stick them back together.
Melt the butter
Melted butter makes dense, chewy cookies. On the flip side, creaming butter will make cakier cookies. The Levain Bakery chocolate chip cookie is dense and chewy so melt your butter to get that texture.
Add extra egg yolks
The extra egg yolks in this recipe will help give the cookies that dense fudgy texture. A higher proportion of egg yolks will also increase the emulsified fat which in turn adds moisture and a fudge-like texture. That is what the Levain Bakery chocolate chip cookies have going for them, so add the extra egg yolks.
Toast the Walnuts
The Levain Bakery chocolate chip cookie has walnuts in it. I'm not normally a fan of walnuts in my chocolate chip cookie. I guess I'm a little ole fashioned in that way. But walnuts work in these cookies. You gotta have the walnuts… but toast them first.
Toasted nuts taste better than raw ones. Ok, go ahead and snicker. You're not the only one laughing. But seriously, when you toast nuts you intensify the flavor and eliminate any bitterness that raw walnuts sometimes have.
It is easy to toast the walnuts. Just spread them in an even layer on a baking sheet and stick them in a pre-heated oven at 350°F for about 3 to 5 minutes. Don't walk away because just as soon as you do, those babies will burn.
Serve These Cookies Warm!
Oh, a warm chocolate chip cookie is AMAZING! And a warm Levain Bakery Chocolate Chip Cookie is mind-blowing. You have to experience these cookies while they are warm. The double dose of chocolate will ooze out of the cookies so prepare to lick your fingers.
And that warm underbaked cookie dough lava in the center of the cookie? It HAS to be warm to ooze out like molten cookie dough lava. Besides that, when you visit the Levain Bakery, they will serve you the cookie fresh out of the oven while it is still warm.
So for the complete experience of eating a Levain Bakery chocolate chip cookie, eat them while they are still warm. If you save some for later then warm them up in the microwave for a few seconds or stick them in a warm oven for a couple of minutes.
Calories in a Levain Bakery Chocolate Chip Cookie
Wondering how many calories are in just one cookie? It's a lot! I'm not gonna spoil it right here for the folks that just want to eat the cookie without the guilt. But if your dying to know, scroll to the bottom of the recipe card and check out the nutrition label.
If you just want to bake, eat, and enjoy the cookie without being guilted by the calories, then don't look at the nutrition label. You have been warned. 🙂
Items you will need for this recipe:
A large baking sheet pan.
Shopping List for the Levain Bakery Chocolate Chip Cookie recipe:
Here is a quick shopping list of the groceries you will need to make these jumbo sized Levain Bakery chocolate chip cookies. If you do much baking, you probably already have most of these items. The only thing I had to buy when I made these cookies were the walnuts.
All-Purpose Flour
Bread flour
granulated sugar
brown sugar
salt
baking powder
baking soda
butter
eggs
vanilla extract
chocolate chips
walnuts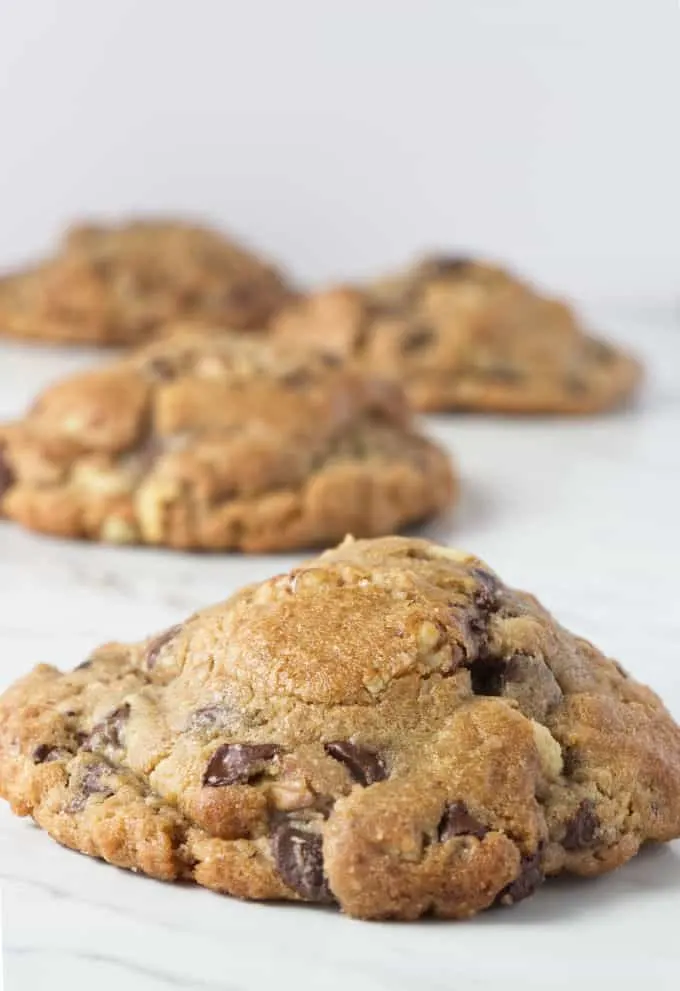 Watch our video:
Check out our video and see how easy it is to make these jumbo chocolate chip cookies that taste just like the famous New York Levain Bakery cookies.
Some other recipes we are sure you will love:
Our Chocolate Chip Cookie Cake with Cream Cheese Frosting is an insane triple layer cake of GINORMOUS chocolate chip cookies. You have to make this cake!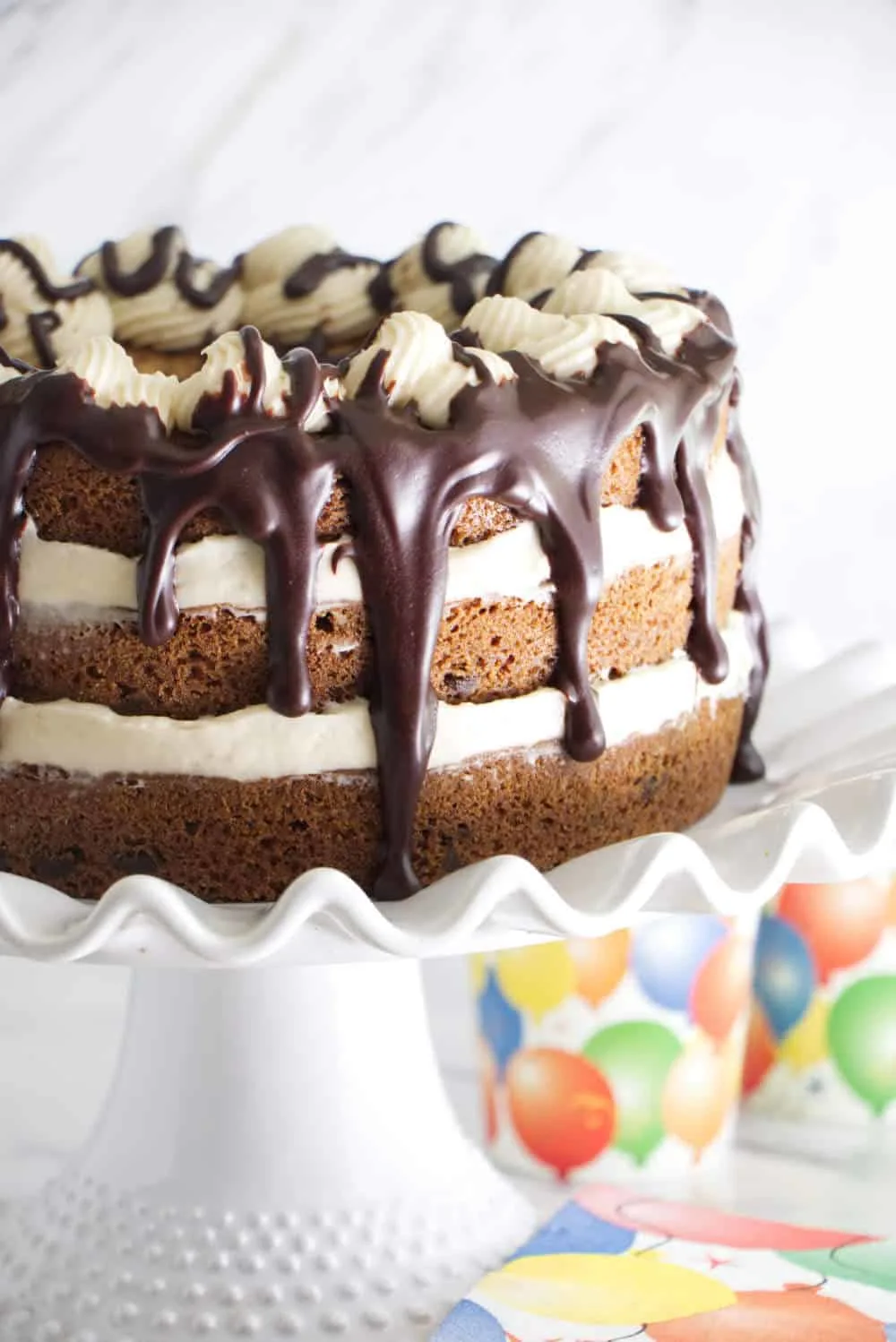 These Chocolate Chip Cookie Shots are so much fun. We think they are the perfect way to eat your cookies and drink your milk all at the same time. But don't stop with milk. You could fill these edible shots with anything your heart desires.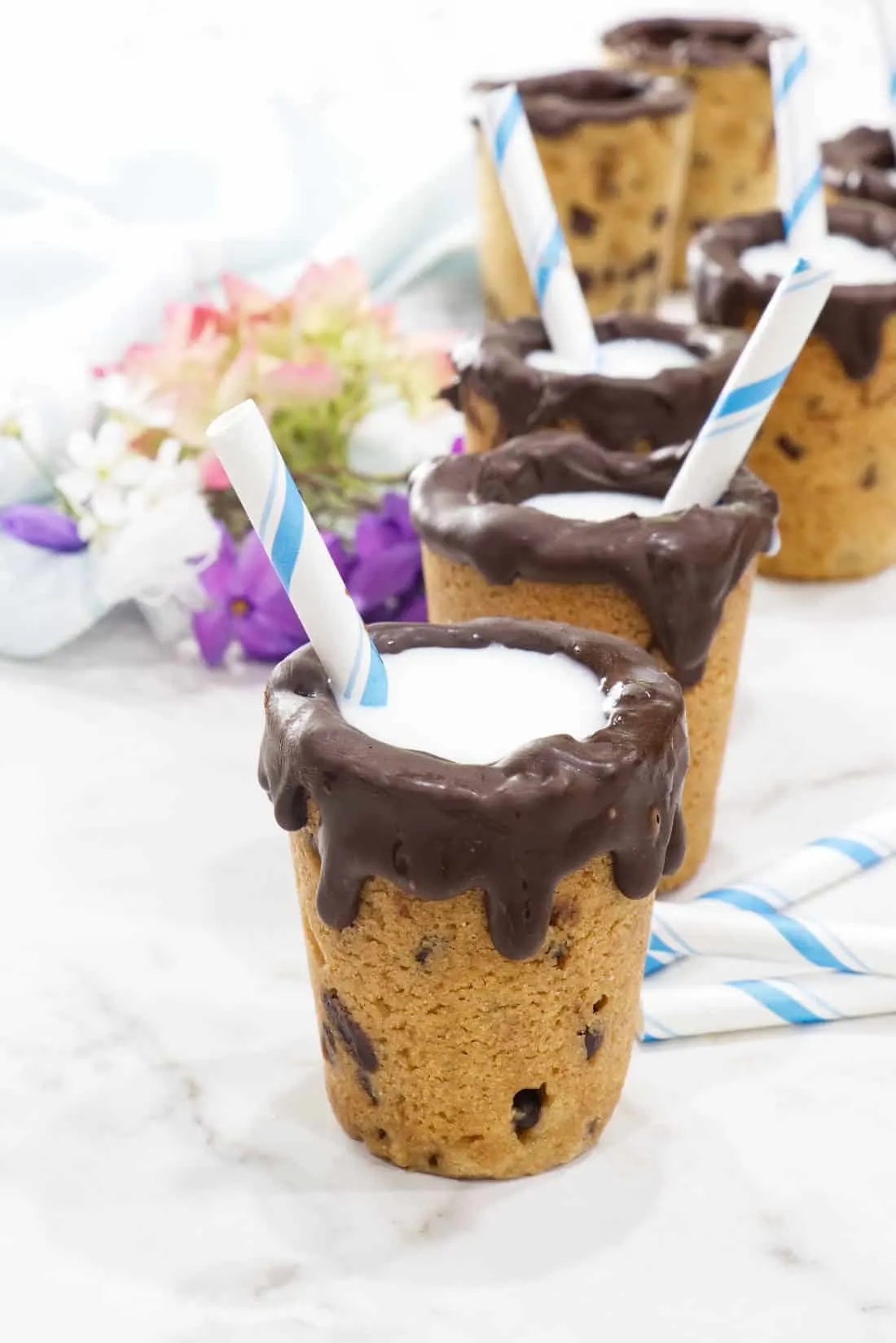 Our Crispy Double Chocolate Cookies are all about the chocolate. These cookies taste like crisp brownie bites. Perfection!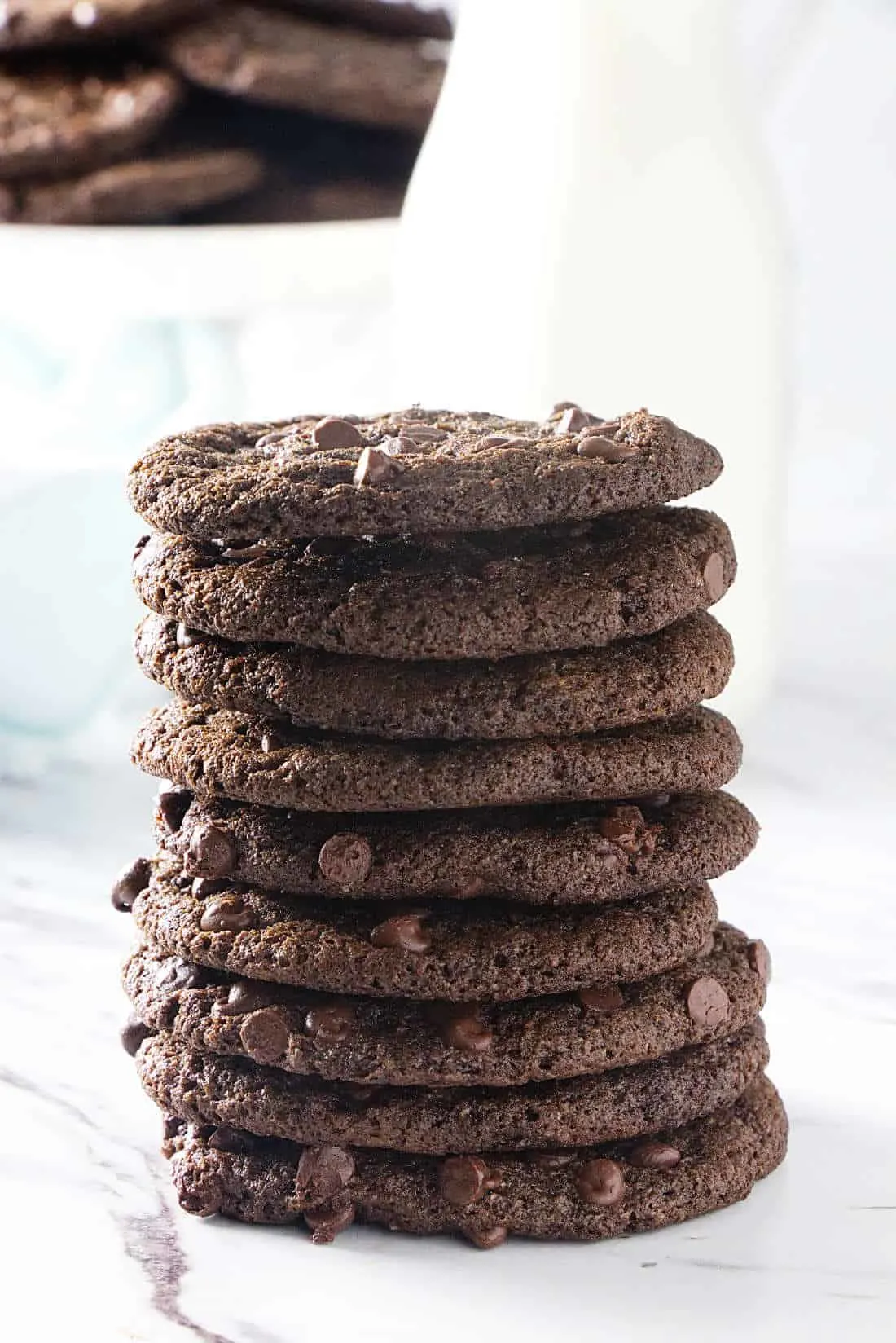 Connect With Savor the Best:
Please follow us on our social media accounts
Facebook * Instagram * Pinterest * Youtube * Twitter
Did you make this recipe? We would love to hear from you. Drop us a comment below.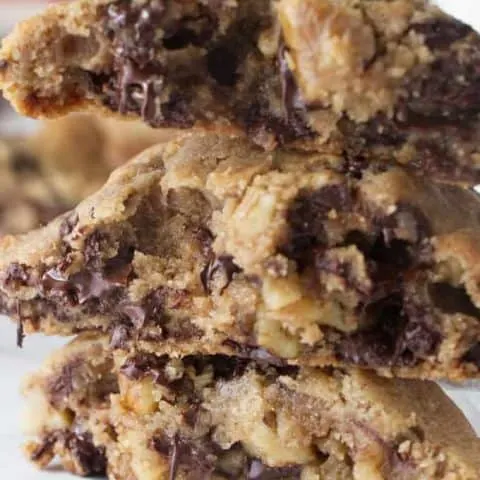 Copycat Levain Bakery Chocolate Chip Cookie Recipe
You don't have to go to New York to taste the famous Levain Bakery chocolate chip cookies. These jumbo cookies taste just like the famous Levain bakery cookies and you can make them right in your own kitchen,
Ingredients
2 cups all-purpose flour (240 grams)
2 cups bread flour (240 grams)
1-1/4 teaspoon salt
1 teaspoon baking powder
1 teaspoon baking soda
1-1/2 cups butter (3 sticks) melted
2 cups brown sugar (420 grams)
1 cup granulated sugar (200 grams)
2 eggs
2 egg yolks
1 tablespoon vanilla extract
3-1/4 cups chocolate chips (553 grams)
1-1/2 cups roasted, chopped walnuts (170 grams)
Instructions
Heat the oven to 350°F and line a large baking sheet with parchment paper.
Mix the two flours, salt, baking powder and baking soda together in a bowl then set aside.
Using an electric mixer, beat the butter, brown sugar and granulated sugar for about 2 minutes. Beat in the eggs, egg yolks, and vanilla extract.
Stir in the flour mixture either by hand or on the lowest setting of an electric mixer.
Stir in the chocolate chips and walnuts. Chill the dough for at least 30 minutes.
Use 1/2 cup measuring cup to scoop out large balls of dough (the dough balls should weigh 6 ounces). Break the balls of dough in half then rotate each half and press them together again. This technique will give the cookies that lumpy jagged texture.
Place the balls of dough on a cookie sheet, spacing them 2 inches apart.
Bake for 15 to 18 minutes
Notes
You can freeze this cookie dough after you shape them into ready-to-bake portions. If you freeze them then add 2 to 3 minutes to the bake time.
Nutrition Information:
Yield:

12
Serving Size:

1
Amount Per Serving:
Calories:

797
Total Fat:

40g
Saturated Fat:

24g
Trans Fat:

1g
Unsaturated Fat:

14g
Cholesterol:

123mg
Sodium:

576mg
Carbohydrates:

110g
Fiber:

4g
Sugar:

72g
Protein:

9g
Nutrition information is a guideline only, is calculated automatically by third party software, and absolute accuracy is not guaranteed.