Steamed green beans makes a healthy side dish that goes well with any meal. There are only 35 calories in a generous serving and they are packed with nutrients. Learn how to steam green beans so they stay vibrant green and tender-crisp. You can serve them at any time of the year as a side to a casual dinner or an elaborate holiday meal.
How do you prepare green beans?
The stem end should be trimmed off before you cook green beans. You don't have to trim the opposite end but it certainly can be trimmed if you want. I actually like leaving the tip end intact.
The best way to trim the end of the green beans is to arrange them so the stem ends are all facing the same direction. Tap them on the counter so they line up evenly then trim them with a knife.
Green beans, string beans or snap beans?
Green beans are also called string beans or snap beans. The names are used interchangeably. They are often called string beans because heirloom varieties usually have a fibrous string that runs down the seam. Modern varieties usually do not have that string.
The reason they are sometimes called snap beans is that you can hear a snapping noise when you break the raw beans in half.
Tips for how to steam green beans.
Trim the stem ends of the beans.
Use a large pot so the green beans are not packed tightly and the hot steam can circulate around the beans.
Bring the water to a boil before you add the beans.
Cover the pot so the steam stays in and they cook faster.
All you need is a large pot with a lid and a steamer basket. A collapsible steamer basket works great and it is very affordable. Other options include:
How do you steam green beans without a steamer basket?
The easiest way to steam green beans without a steamer is to use the microwave. All you have to do is put the green beans in a bowl along with a small amount of water. Seal the bowl with plastic wrap or a saucer then give it a blast in the microwave.
Using the microwave is fast, easy, and convenient but I really think the flavor is better when they are done on the stovetop. I mentioned that with steamed broccoli as well. It might sound odd to some people but I can detect a difference.
If you want to steam the beans on the stovetop but you do not have a steamer basket there are a few different options:
Or simply add them directly to the pot with water.
The last option will submerge some of the green beans in water which will actually boil them instead of steaming them. However, if the water is shallow enough then most of the beans will get steamed. The green beans on the bottom of the pot will get slightly more cooked than the ones on top that get steamed.
How to prepare green beans in advance.
You can make green beans ahead of time and reheat them when you are ready to eat. If you make them in advance I recommend a quick steam for only 3 minutes. It is similar to blanching them in boiled water but much quicker because you don't have to wait for a pot of water to boil.
After you steam them for 3 minutes, dunk them in ice water to stop them from cooking. This way when it is time to re-heat them, it will only take a few minutes and they will not get over-cooked.
Freezing steamed green beans.
Steamed green beans freeze well. When they cool down you can freeze the leftovers in a freezer-proof container. I usually put them in a re-sealable bag or vacuum-sealed bag and write the date on them. They are best eaten within 6 to 9 months after you freeze them.
If you want to re-heat the leftovers they will not be as crisp and green but they are still good.
Freezing leftover steamed green beans works great but if you know you will not be eating them right away then don't cook them completely. You can freeze green beans while they are still raw or you can blanch them first and freeze them after they cool.
Seasoning suggestions:
Salt and pepper
Butter
Grated parmesan cheese
Crumbled bacon
SOME OTHER RECIPES WE ARE SURE YOU WILL LOVE:
Green beans with Bacon crumbles is a favorite dish. This recipe has you cook the beans in a quick dip of boiling water but you could steam them instead.
If you love pickles then these hot dilly green bean pickles will be right up your alley. They have a bit of zip from the red peppers and garlic.
This green bean salad with bacon and tomatoes starts with a batch of steamed green beans. We dunk the beans in ice water as soon as they are finished cooking so they stay crisp and green for the salad.
CONNECT WITH SAVOR THE BEST!
Be sure to follow us on our social media accounts
Facebook * Instagram * Pinterest * Twitter * Youtube
Did you make this recipe? We would love to hear from you. Drop us a comment below.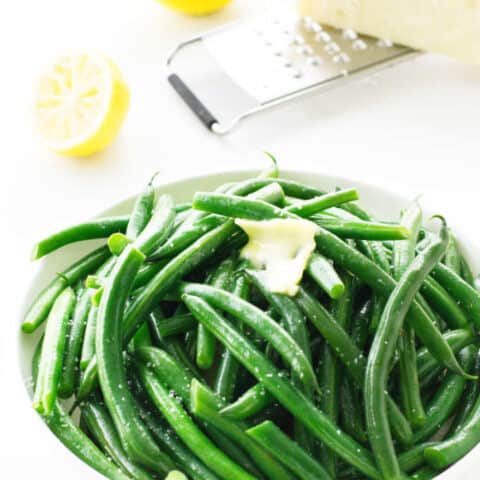 How to Steam Green Beans
Yield: 4 servings
Prep Time: 5 minutes
Cook Time: 6 minutes
Total Time: 11 minutes
This is the healthiest way to cook green beans so they retain all their nutrients.
Ingredients
1 pound fresh green beans
Seasoning suggestions:
Salt and Pepper
Butter
Grated parmesan cheese
Garlic salt
Everything Bagel seasoning blend
Bacon
Instructions
Steaming green beans on the stove-top:
Wash the green beans and trim about 1/4 to 1/2 inch from the stem end (you can trim both ends if you like).
Pour 1-2 inches of water into a large pot, place a steamer basket inside. Bring the water to a boil.
Add the green beans to the steamer basket and cover the pot with a lid.
Cook for 3 to 6 minutes. Check the beans after 3 minutes and cook longer if desired.
When the green beans are finished, transfer them to a serving bowl and season with salt and pepper or your choice of seasonings. See notes for ideas.
Steaming green beans in the microwave:
To steam green beans in the microwave:
Place the trimmed green beans in a microwavable bowl and add 3 to 4 tablespoons of water.
Cover the bowl with plastic wrap or a plate and cook on high for 3 to 6 minutes. Cook until the desired doneness.
Notes
Make sure the water is steaming before you start cooking the green beans.
Perfectly cooked green beans are vibrant green, crisp but tender enough to pierce with a fork. If you want the green beans soft like canned beans, cook them for 8 to 9 minutes. However, If you cook them that long they will lose that vibrant green color.
If you don't have a steamer you can place the green beans directly into the pot with the steaming water but the beans on the bottom will be poached in the water and lose some of the nutrients.
Additional seasoning is not calculated in the nutrition information.
Seasoning suggestions:
salt and pepper
Everything Bagel Seasoning blend
Grated parmesan cheese
Butter
Garlic salt
Crumbled bacon
Recommended Products
As an Amazon Associate and member of other affiliate programs, I earn from qualifying purchases.
Nutrition Information:
Yield: 4
Serving Size: 1
Amount Per Serving:
Calories: 35
Total Fat: 0g
Saturated Fat: 0g
Trans Fat: 0g
Unsaturated Fat: 0g
Cholesterol: 0mg
Sodium: 7mg
Carbohydrates: 8g
Fiber: 3g
Sugar: 4g
Protein: 2g
Nutrition information is a guideline only, is calculated automatically by third-party software, and absolute accuracy is not guaranteed.