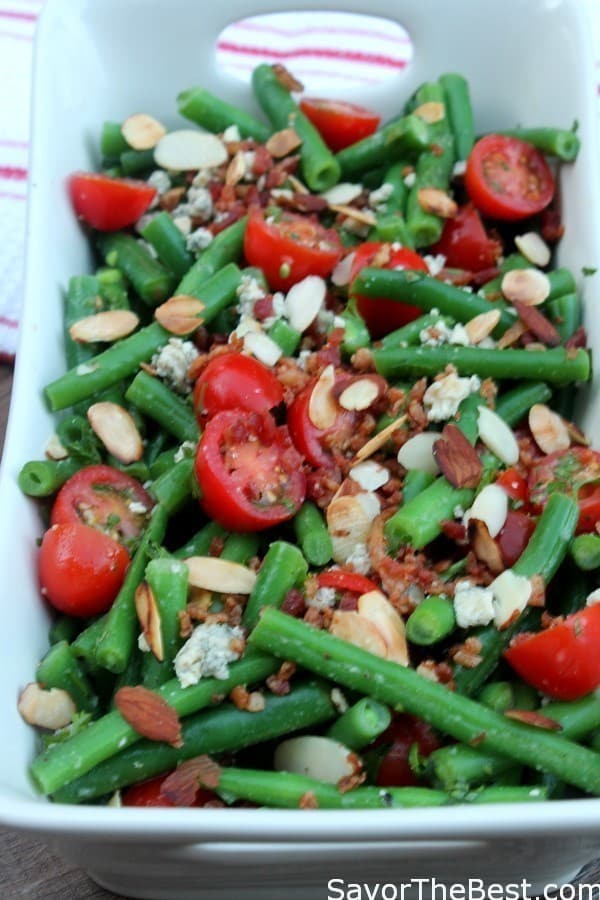 The fresh grown green beans this time of the year are so crisp, tender and sweet, I prefer to eat them raw or just barely blanched. This crisp green bean salad has you blanch the beans in salted water then shock them in ice cold water so they stop cooking and keep their bright green color and fresh flavor.
With the addition of tomatoes, blue cheese, bacon and almonds, the yum factor multiplies. I don't care for heavy dressings so this vinaigrette is a reduced fat dressing but has a lot of flavor and compliments this fresh summer salad very well.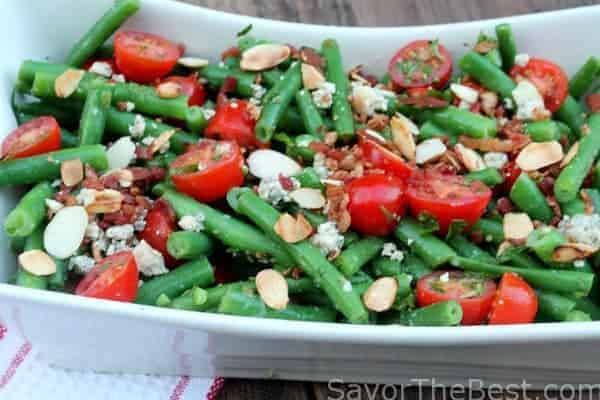 CONNECT WITH SAVOR THE BEST!
Be sure to follow us on our social media accounts
Facebook * Instagram * Pinterest * Twitter * Youtube
Did you make this recipe? We would love to hear from you. Drop us a comment below.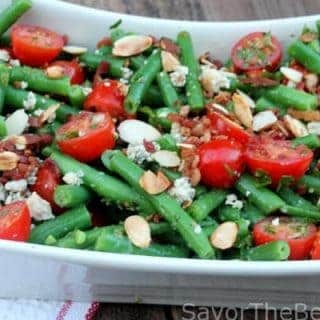 Green Bean Salad with Bacon and Tomatoes
Yield: 6 servings
Prep Time: 10 minutes
Cook Time: 3 minutes
Total Time: 13 minutes
A crisp green bean salad with bacon, tomatoes and blue cheese and topped with toasted almonds.
Ingredients
1 pound green beans, ends trimmed
12 ounces cherry tomatoes, halved
1/3 cup blue cheese crumbles
8 bacon strips, cooked and crumbled
¼ cup toasted almond slivers
Vinaigrette Dressing
3 tablespoons white wine vinegar
1 tablespoons olive oil
2 teaspoons Dijon mustard
1 garlic clove, finely minced
¼ teaspoon salt
¼ teaspoon freshly ground black pepper
Instructions
Pour 1 to 2 inches of water into a large pot and set a steamer basket in the pot. Bring the water to a boil.
Add the green beans to the steamer basket and cover the pot with a lid. Cook for 4 to 5 minutes until tender but still crisp.
While the beans are cooking prepare a bowl of ice water. Once the beans are done, drain them and transfer to the ice water to stop cooking. Pat the beans dry with a towel.
Combine the green beans, tomatoes, blue cheese, crumbled bacon and chopped almonds in a bowl.
In a small bowl, combine the vinegar, olive oil, Dijon mustard, minced garlic, salt and pepper and whisk to combine.
Pour vinaigrette, over the green bean mixture and serve.
Nutrition Information:
Yield: 6
Serving Size: 1
Amount Per Serving:
Calories: 147
Total Fat: 9g
Sodium: 382mg
Carbohydrates: 10g
Protein: 5.8g