Are you looking to shake up your usual salad routine this season? Skip the leafy greens and opt for a satisfying cold green bean salad with bacon. This side salad is packed with protein and green goodness and it is perfect for picnics and adding some fun to your mealtime.

It has some wow factor with crispy bacon, juicy tomatoes, and creamy blue cheese. Toasted almonds add a little more mix to the medley of textures, and a tangy Dijon vinaigrette finishes the salad. It's a fantastic way to use fresh green beans.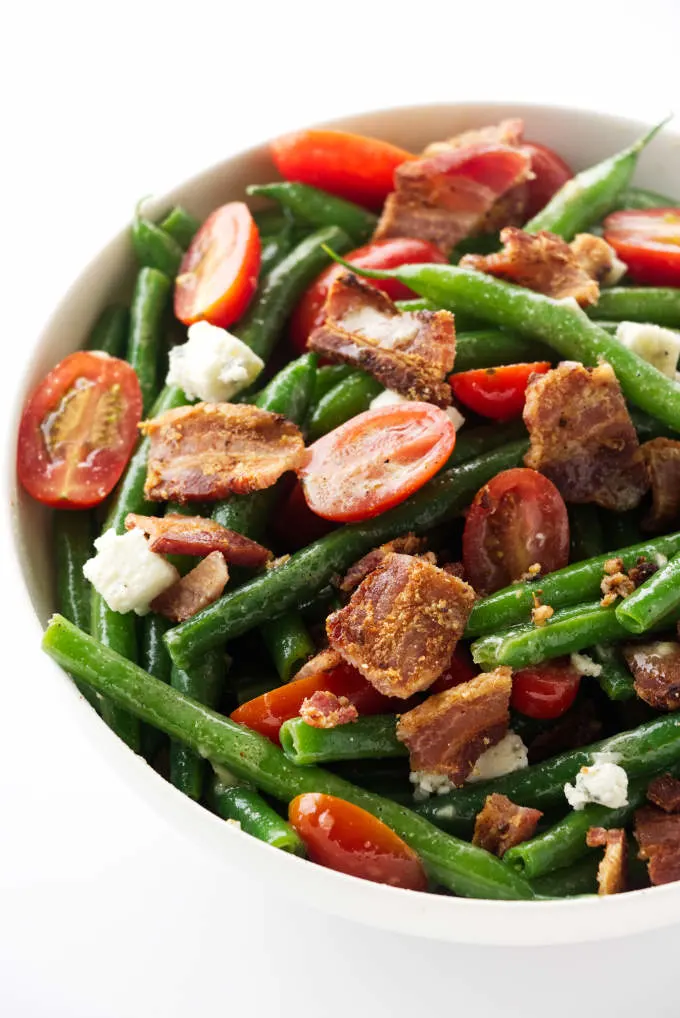 If you want more recipes for green beans, check out our green bean pickles and our Lebanese green beans.
This cold green bean salad has a lot going for it.
It's Gluten-free.
Compatible with a low carb diet.
Easy to prep in advance.
It travels well, which makes it easy to take to your next potluck.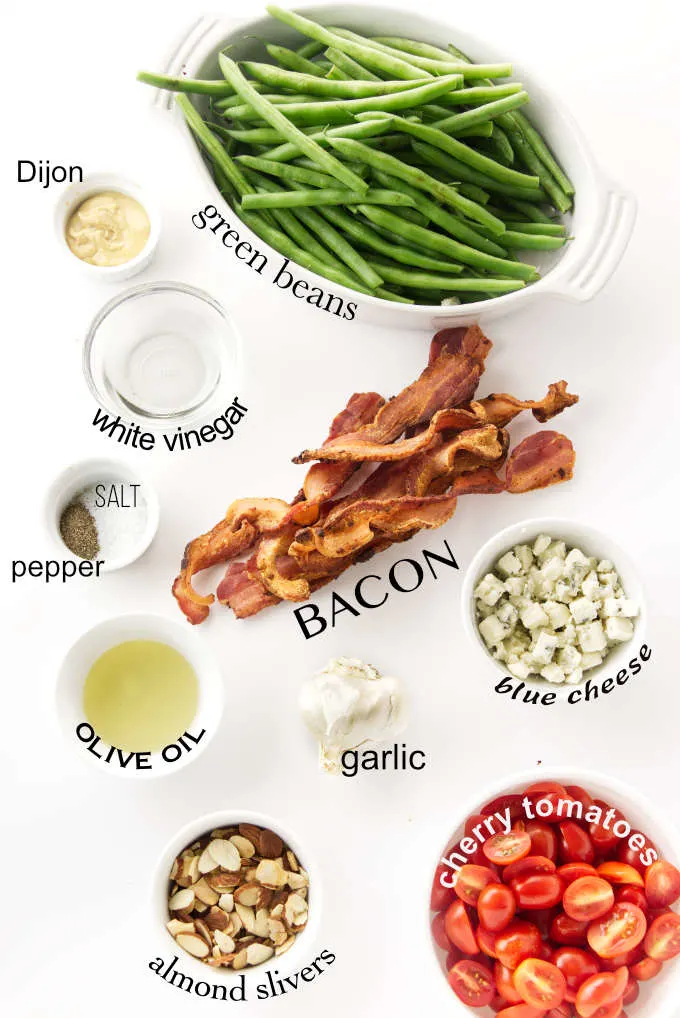 Ingredients for our cold green bean salad:
Recipes with bacon are awesome and this salad is no exception! The green beans with tomatoes and bacon make a fantastic combination.
Green beans. For added color and interest, try a mix of yellow wax and heirloom beans.
Cherry tomatoes. Cherry tomatoes don't release all their juices as quickly as large tomatoes. If you use large tomatoes, de-seed them so they don't water down the dressing.
Blue cheese. For pops of salty, savory flavor. If you are not a fan of blue cheese, you can substitute with goat cheese or grated parmesan cheese.
Bacon. Cook the bacon in advance until it is crispy. We used regular bacon but you can use turkey bacon if you want. Don't throw out our bacon drippings, keep them in a bacon grease container and use it in your cooking.
Almond slivers. Toast the almonds lightly to bring out the nutty flavor. They add a great textural crunch to the salad.
Vinaigrette Dressing:
White wine vinegar. Lemon juice or champagne vinegar are great alternatives.
Olive oil. For an extra pop of bacon flavor, save your bacon grease and use that in place of the olive oil.
Dijon mustard. The Dijon adds flavor and a bit of viscosity so the dressing will cling to the salad.
Garlic cloves. Fresh garlic has a sharper flavor than dried garlic.
Salt and pepper. Essential flavor enhancers. Adjust the amount of salt and pepper to your liking.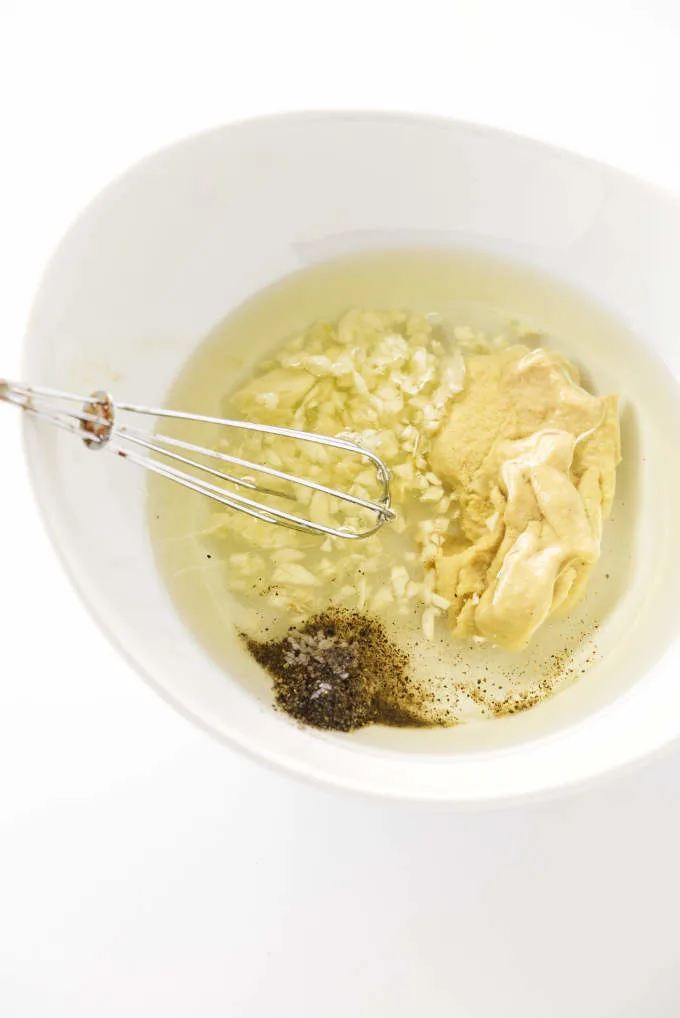 The Process:
Step 1. Bring a couple of inches of water in a large pot to a boil, and add a steamer basket. Toss in the green beans and steam for 3-4 minutes. The beans will be bright green when done.
Step 2. Prep a bowl of ice water. When the beans have steamed, dunk them in water to stop the cooking process. Then take a paper towel and pat the beans dry.
Step 3. Combine the green beans, cherry tomatoes, blue cheese, bacon crumbles, and almonds in a bowl. In a second bowl, mix the ingredients listed under vinaigrette dressing with a whisk. Pour the vinaigrette over the green bean mixture in the bowl and serve.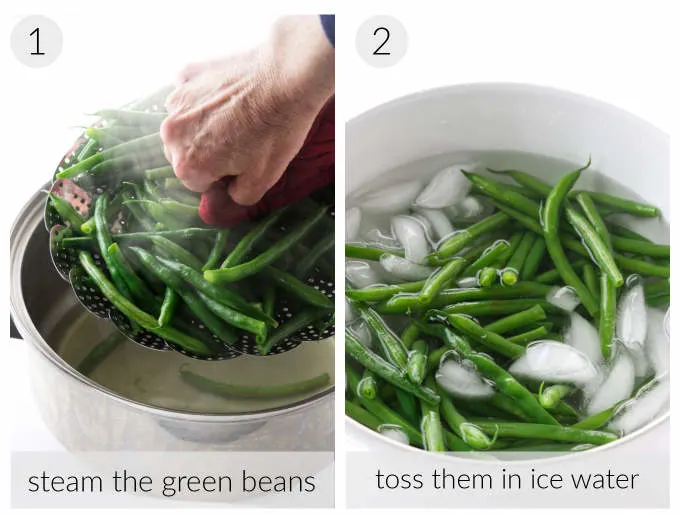 Notes and Cooking Tips:
Blanching or lightly cooking the green beans will give them a bright green color. It also makes them a little more tender while still retaining a crisp texture.
Instead of bringing a large pot of water to a boil, we made the blanching process much quicker and easier with steam. It doesn't take as much time to boil a small amount of water to produce steam and the steam blanches the beans just as well as boiling water.
Don't skip the ice water bath for your green beans. Plunging them in ice cold water will stop them from cooking from the residual heat. For busy chefs, you can cook the green beans up to 3 days in advance. Once you've assembled the salad, it's good in the fridge for 1 or 2 days.
Take the time to toast the almonds yourself. Put them in a skillet on medium heat and stir them until they turn golden brown. Be sure to keep an eye on them because almonds go from brown to burnt in a hot minute!
P.S. Want a perfect pairing? Try this dish with garlic and herb focaccia bread for a power combo that packs a flavorful punch.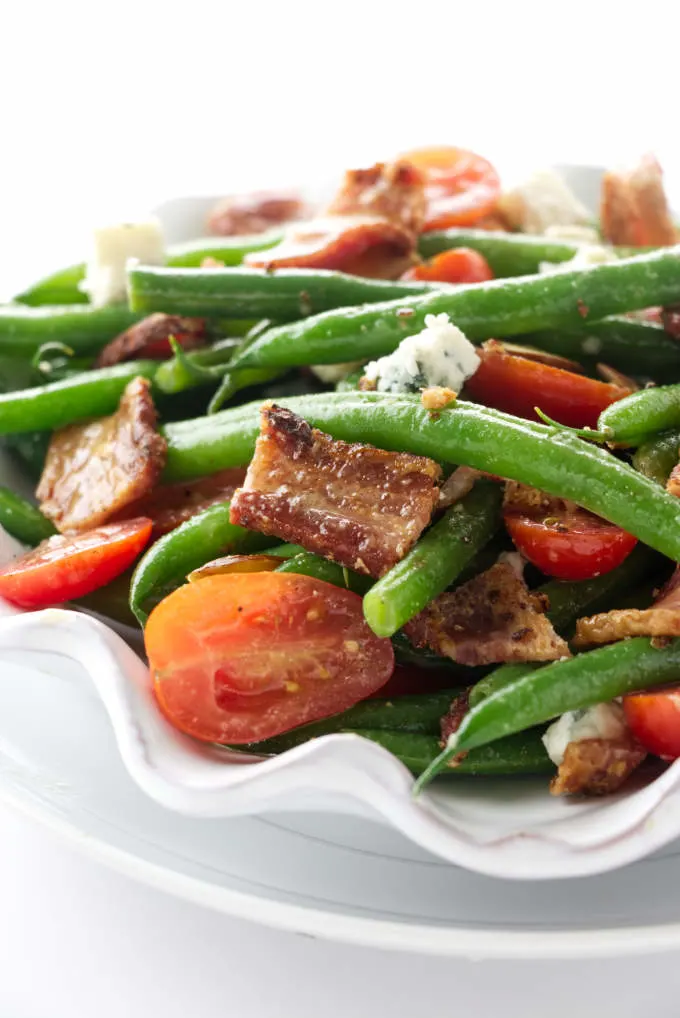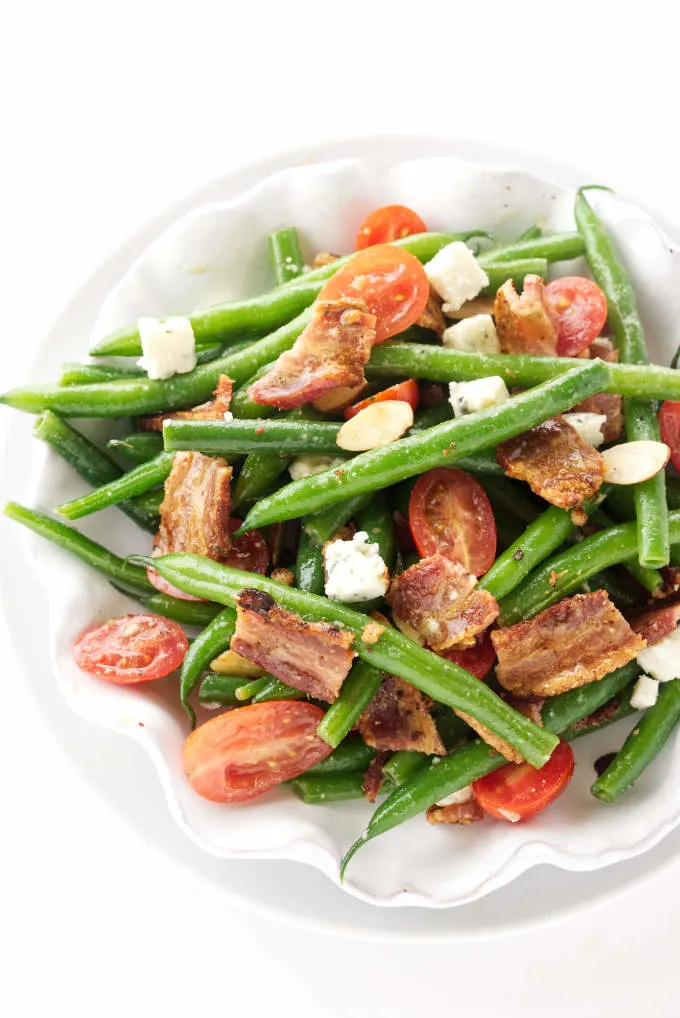 Helpful Tools:
Some of the following links are affiliates. If you click on these links and purchase something, we may receive a small commission. You don't pay any extra but it will help us keep the lights on.
Some More Recipes We Are Sure You Will Love:
Steamed green beans are an easy side dish that goes with any meal.
Green beans with bacon for a hot side dish.
Instant Pot pinto beans with bacon. The Instant Pot is our favorite way to cook pinto beans.
Connect With Savor the Best:
Please follow us on our social media accounts
Facebook * Instagram * Pinterest * Youtube * Twitter
Did you make this recipe? We would love to hear from you. Drop us a comment below.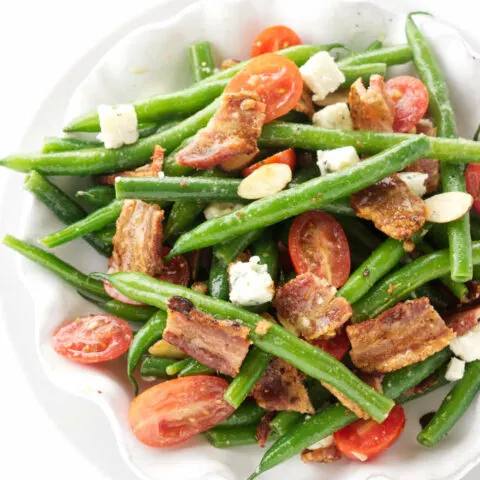 Green Bean Salad with Bacon and Tomatoes
A crisp green bean salad with bacon, tomatoes and blue cheese and topped with toasted almonds.
Ingredients
1-1/2 pounds green beans, ends trimmed
12 ounces cherry tomatoes, halved
1/3 cup blue cheese crumbles
8 to 10 bacon strips, cooked and crumbled
¼ cup toasted almond slivers
Vinaigrette Dressing
3 tablespoons white wine vinegar
3 tablespoon olive oil
2 teaspoons Dijon mustard
1 garlic clove, finely minced
¼ teaspoon salt
¼ teaspoon freshly ground black pepper
Instructions
Pour 1 to 2 inches of water into a large pot and set a steamer basket in the pot. Bring the water to a boil.
Add the green beans to the steamer basket and cover the pot with a lid. Cook for 3 to 4 minutes until tender but still crisp.
While the beans are cooking prepare a bowl of ice water. Once the beans are done, drain them and transfer to the ice water to stop cooking. Pat the beans dry with a towel.
Combine the green beans, tomatoes, blue cheese, crumbled bacon and chopped almonds in a bowl.
In a small bowl, combine the vinegar, olive oil, Dijon mustard, minced garlic, salt and pepper and whisk to combine.
Pour vinaigrette, over the green bean mixture and serve.
Notes
If you want the green beans even crispier, blanch them for only 60 to 90 seconds.
Transfer the beans to the cold ice water so they stop cooking. If you skip this step, they will continue to cook even after you remove them from the heat.
Nutrition Information:
Yield:

6
Serving Size:

1
Amount Per Serving:
Calories:

147
Total Fat:

9g
Sodium:

382mg
Carbohydrates:

10g
Protein:

5.8g
This recipe was first published on August 22, 2014. We updated the photos to give it a fresh look.