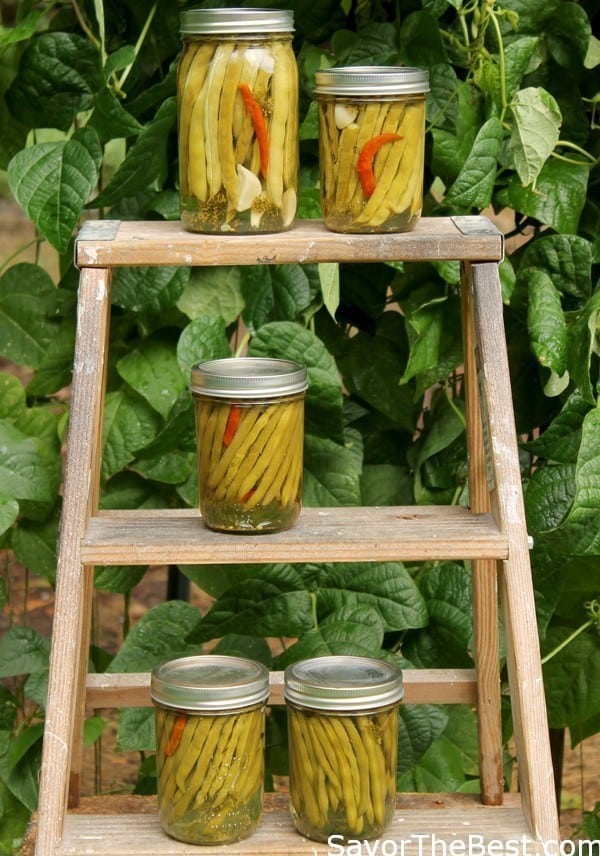 In our back yard we have a small garden area which this year got started a little late in the season. Our carrots and beats did not do well, maybe because the weeds were so prolific that they took over the entire plot. Oh, well….life is too short to spend time pulling weeds. But our green beans just went crazy. We only planted two short rows of Blue Lake Stringless Pole beans but they have produced such a magnificent crop.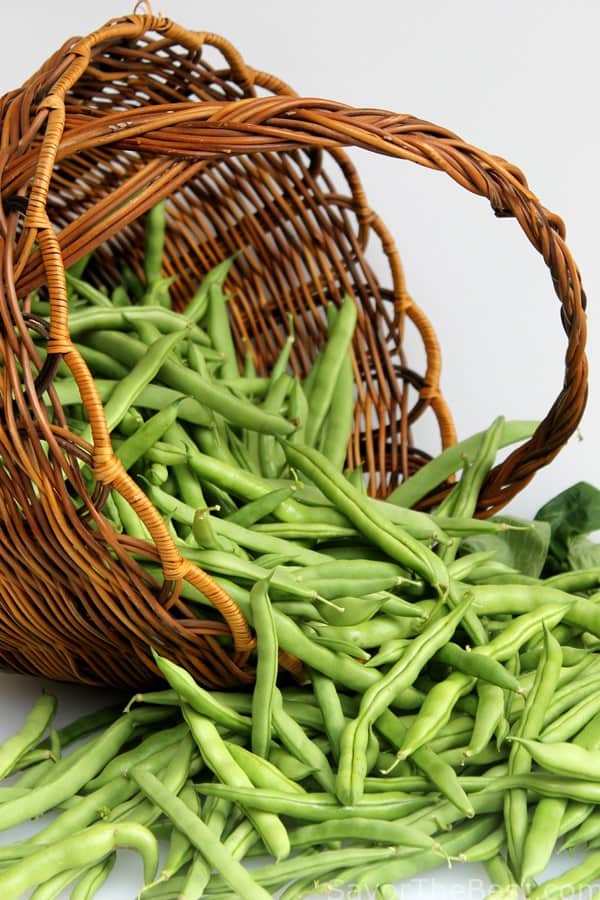 Don and I have been eating green beans so often and are getting our fill of them, I have also been giving bags of them to our friends and neighbors. I did think about freezing some but really don't want to give up my freezer space. When we lived in California I used to can them but my pressure cooker has been long-gone and I have no intention of buying another one. But I remembered my recipe for Hot Dilly Green Bean Pickles in my old recipe box and today I used the five and one-half pounds of fresh beans that Don picked yesterday and now I have one quart jar and eight pint jars of hot dilly greeb bean pickles sitting cooling on the counter top. It will take at least three weeks for them to cure and be ready to eat, they should be great for Thanksgiving time.
These green beans are canned in a hot water bath for ten minutes. Green beans are in the low-acid category for canning and require a pressure cooker to safely can them. We are able to can the green beans in the hot water bath method only because acid in the form of vinegar is being added to the liquid making it a safe method.
I know that there will still be more beans to pick in just a few days but we are hoping that they will start slowing down now that the weather is getting a little cooler. I will have to think of something else for the next couple pickings as today's pickle project was enough for this year.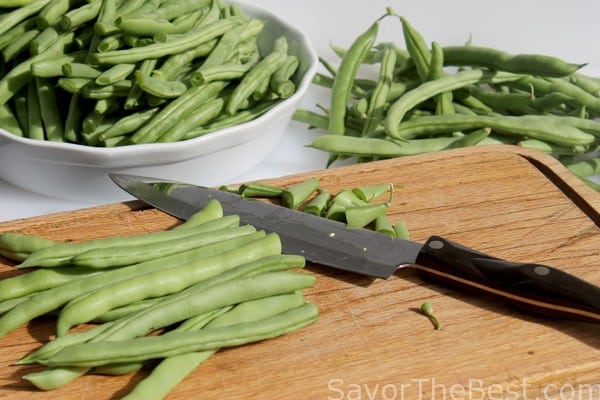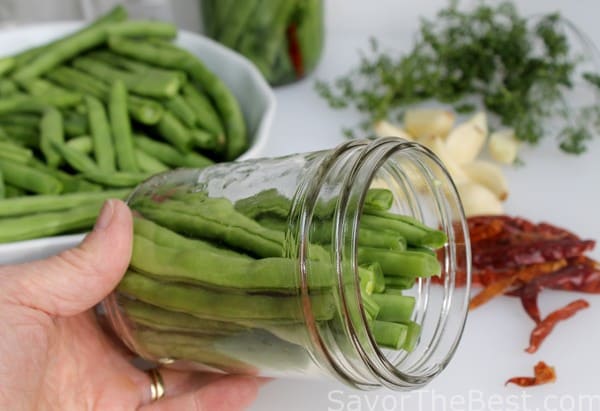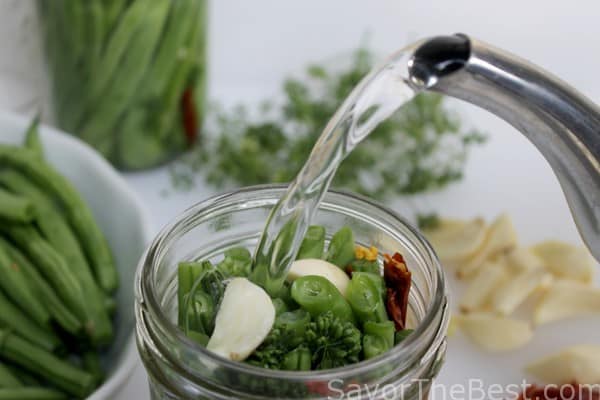 CONNECT WITH SAVOR THE BEST!
Be sure to follow us on our social media accounts
Facebook | Twitter | Youtube | Pinterest | Instagram
If you make one of our recipes, snap a photo and tag it @savorthebest on Instagram and hashtag it #savorthebest
CONNECT WITH SAVOR THE BEST!
Be sure to follow us on our social media accounts
Facebook * Instagram * Pinterest * Twitter * Youtube
Did you make this recipe? We would love to hear from you. Drop us a comment below.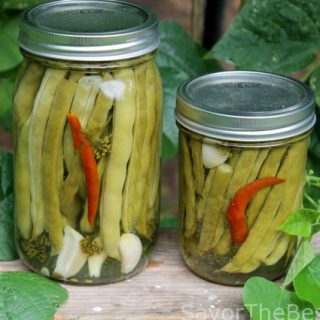 Hot Dilly Green Bean Pickles
Yield: 4 pints
Prep Time: 1 hour
Cook Time: 10 minutes
Total Time: 1 hour 10 minutes
Crisp,crunchy pickled green beans in a dill and garlic brine.
Ingredients
2 pounds fresh green beans
6 cloves fresh garlic, peeled
2-1/2 cups white or apple cider vinegar
2-1/2 cups water
1/4 cup pickling salt
8 heads fresh dill
4 dried small red peppers
4 cloves of garlic
Instructions
Preheat oven to it's lowest temperature
Rinse beans with cold water and drain well. Spread beans out on a clean kitchen towel to dry.
Wash 4 pint canning jars, bands and new lids in hot, soapy water, rinse well. Transfer the jars to the middle rack of the oven to stay hot and sterile till needed. I like the wide mouth jars as they are easier to fill.
Bring a small pot of water to a boil then reduce the heat to simmer, add in lids and bands. Do not boil the lids as the rubber ring will soften.
Fill canning pot halfway with water, bring to a near boil, this is the water bath.
Make the brine by adding the vinegar, water and salt to a saucepan, (I use my stainless steel tea pot as the spout makes it easy to fill the jars), bring the brine to a boil and reduce to a simmer while preparing the beans.
Line up the beans in groups of ten or 12 at a time and cut off the heads. It is not necessary to cut off the tails. If beans are long, cut to jar size. Reserve any cut pieces to saute later for dinner.
Using a jar lifter or tongs, remove the jars from the oven and place them on a clean kitchen towel, add a dill head to the bottom of each jar and fill them with beans, tipping the jars to stack them neatly. When the jars are all filled, add to each jar a dried pepper in between the glass and beans, a garlic clove and another head of dill on top.
Carefully pour hot brine to each jar to cover the beans. Tip the jar slightly and with a standard table knife, slide the knife inside the jar between the glass and the beans to release any air bubbles that are trapped. Add additional brine to the jars leaving one-half inch of headspace. Wipe the rim of each jar with a clean, damp paper towel, place a lid over the jar and add the band and tighten. The band should be just slightly tight.
Turn the burner under the canner pot up to high, place jars in water bath rack, lower rack into the water. The water should cover at least one inch. I like to keep my teakettle full of boiling water handy on a back burner just in case I need more water to cover the jars. Bring to a rolling boil, covered, process for 10 minutes. Turn off the heat, carefully remove jars, placing on a clean dry kitchen towel, away from any drafts, to cool. As the jars cool they will sound a Ping! as they seal. Also, the lid will be slightly con-caved, if it rattles up and down it is not sealed and should be kept in the refrigerator.
Store the sealed jars of pickles in a dark, cool shelf for at least three weeks before eating.
Notes
Process pints and quarts for 10 minutes. Be sure to adjust processing time according to your altitude.Altitude Adjustments for Boiling Water Bath CannerAltitude in Feet- Increase processing time:1001-3000- increase 5 minutes3001-6000- increase 10 minutes6001-8000- increase 15 minutes8001-10,000- increase 20 minutes
Nutrition is based on 10 servings per pint.
Recommended Products
As an Amazon Associate and member of other affiliate programs, I earn from qualifying purchases.
Nutrition Information:
Yield: 40
Serving Size: 1
Amount Per Serving:
Calories: 13
Total Fat: 0.1g
Sodium: 575mg
Carbohydrates: 2.4g
Fiber: 0.9g
Sugar: 0.6g
Protein: 0.6g