If you're a fan of delicious jams, preserves, and pickles, then buckle up! Preserving food doesn't have to be daunting.
Let's take a journey through the world of home food preservation and create something tasty along the way – from pickles to jam – there's something for everyone. In this round up we've collected some of our favorite pickled and preserved recipes to share with you.
Whether you're an experienced preserver or newbie learning how easy it is now – let's get started on our adventure into preserving food!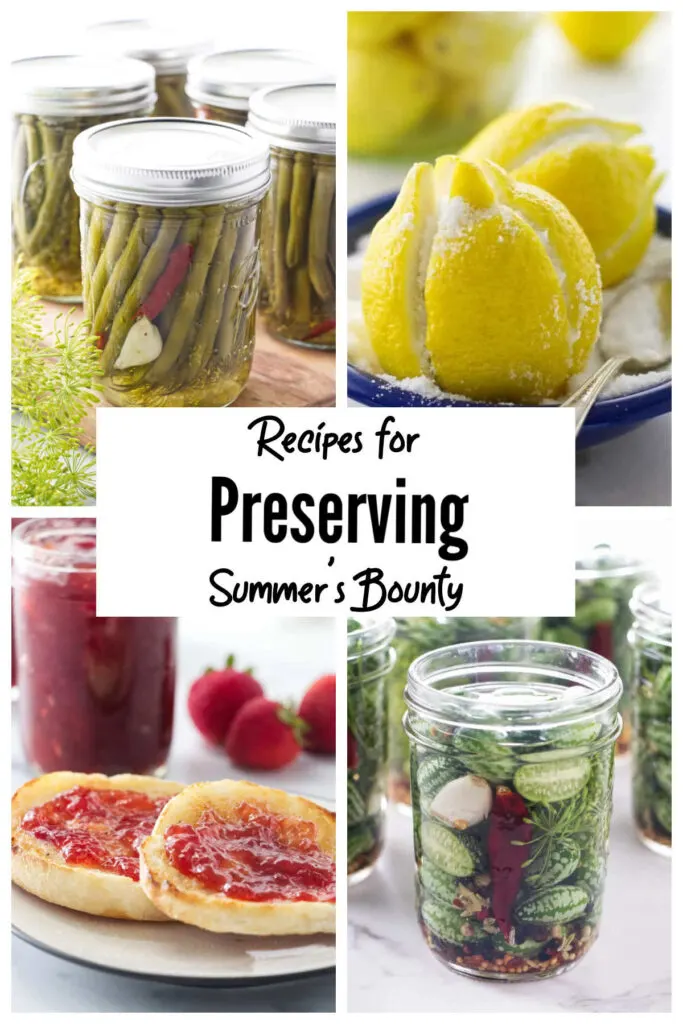 Why You'll Want To Try These Pickle & Preserve Recipes
Not only are these recipes a great way to enjoy summer flavors all year long, but they're also a practical way to save money and reduce food waste. Plus, they're a lot of fun to make!
Here are a few reasons why jams, preserves, and pickles are great recipes for storing summer produce for the winter:
Way to stock up. Preserved foods can be stored for months in the pantry or refrigerator.
Economical. Preserving food is a great way to take advantage of excess produce.
Delicious. From fresh strawberry jam and spicy kimchi to preserved Moroccan lemons and pickled okra, you'll love the myriad of flavors and how they elevate other dishes.
Fun. Preserving food is a fun and rewarding project to do with friends and family.
Hurry And Get Started Preserving
Not only are these recipes a great way to enjoy your favorite fruits and vegetables all year round, but they're also a fun and rewarding way to get creative in the kitchen. And with so many different recipes and food preservation methods to choose from, there's sure to be a way to preserve food that's perfect for you.
There are three main methods of preserving food:
Canning: This is the most common method of preserving food. It involves heating food in a jar to a high temperature, which kills any harmful bacteria.
Pickling: This method involves submerging food in a brine solution, which helps to preserve it.
Fermenting: This method involves allowing food to ferment naturally, which produces beneficial bacteria that can help to improve gut health.
15 Recipes for Preserving Summer's Bounty
Serving Options For Pickles, Relish, And Jam Recipes:
The best time of year to make jams, preserves, and pickles is during the summer months, when produce is at its peak freshness. However, you can also make these recipes year-round using frozen or canned produce.
Serve pickles on sandwiches, burgers, or hot dogs.
Use relish as a topping for burgers, hot dogs, or bratwursts.
Spread jam on toast, bagels, or muffins.
Use jam to make pies, cakes, or cobblers.
Add pickles or relish to salads, soups, or stews.
Start Stocking Up For Winter
With the following tips in mind, you're sure to have success preserving food at home. So get creative and enjoy the fruits of your labor all year round!
Tips for Success
Start by using the freshest ingredients possible. Be sure to remove any blemishes or bruises from produce when washing.

Use clean or sanitized jars or freezer containers.

Follow the food preservation instructions carefully.

Use the proper equipment. Do not use an Instant Pot for pressure canning, it's not safe.

Have fun! And, be patient. It takes time for food to preserve properly.
More Recipes You Will Love
Frequently Asked Questions
Where can I learn more about food preservation, fermenting, and canning?
One of the BEST places to learn how to pressure can, water bath can, and ferment are at the Ball Canning website. They have tutorials, and helplines!
What is the best way to preserve food at home?
You can store your excess products by using refrigeration, freezing, canning, sugaring, salting, and even vacuum packing. All are great! The one you choose to use will be the one that suits the food, your resources, and the time you want to store it.
How do you preserve food in jars for years?
Water Bath Canning for high acid foods, and Pressure Canning for low acid foods.
Food Safety