Quick pickled red onions are the perfect addition to sandwiches, street tacos, and salads. You can also incorporate pickled red onions in mayo-based sauces for an extra kick of flavor.
Pickling the onions transforms them into a sweet and tangy topping that is perfect for so many dishes. If you are looking for a new way to add some flavor to your meals, these pickled onions will become a new kitchen staple.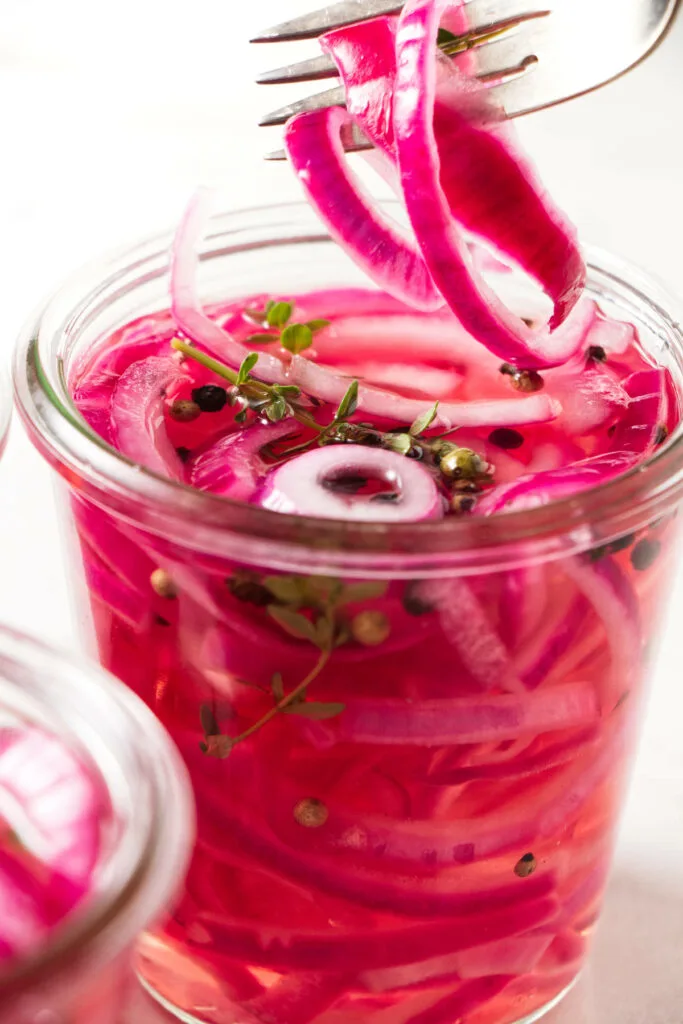 Why This Recipe Works
The pickling process mellows out the sharpness of the onions, making them more palatable.

This recipe is incredibly versatile and can be adjusted to your liking. Experiment with different types of vinegar and spices.

The optional step of blanching the onions will mellow out the onion if you have one that is harsh and sharp (larger onions tend to have a stronger flavor).
Making a batch of quick pickled red onions requires very little time and effort. All you need are a few simple ingredients and some glass jars. It is so convenient to have these on hand in the fridge, and these babies add a nice pop of color to any dish.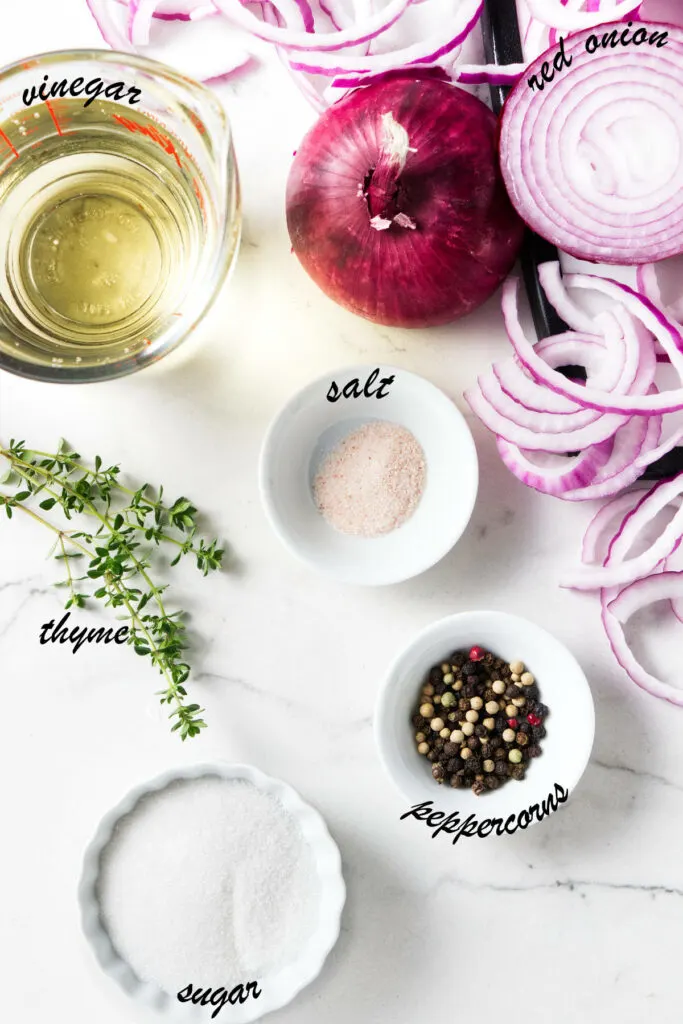 The Ingredients
Here is a list of the ingredients you will need to make quick pickled red onions. Scroll down to the printable recipe card for all the details.
Thinly sliced red onions
Boiling water (if you want to blanch the onions first)
Vinegar
Sugar
Salt
Fresh thyme
Whole peppercorns
Other seasonings to your liking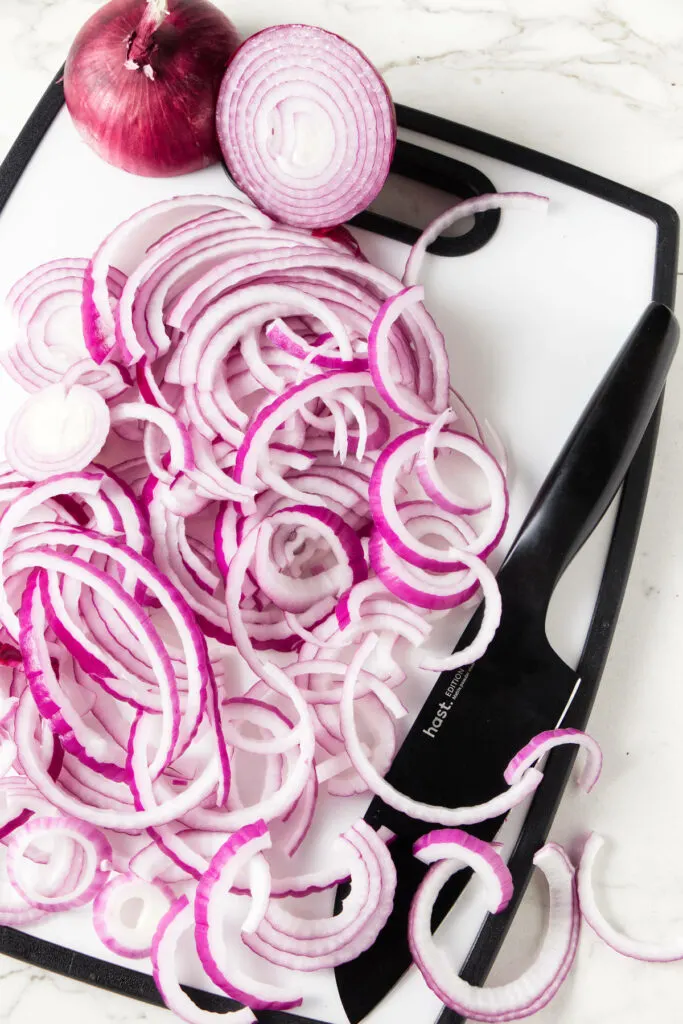 We recently received a Santoku knife from Hast, and we love the minimalist design and the lightweight, ergonomic feel. The sharp blade makes it easy to make super thin onion slices. A good sharp knife makes all the difference.
How to Make Pickled Red Onions
Here is a brief overview of how to make red onion pickles. Scroll down to the printable recipe card for all the details.
Thinly slice a couple of red onions.
Blanch the onions in boiling water for one minute, then drain them. This step tones down the intensity of the raw onion.
Heat the rest of the ingredients in a small pot over medium heat until the salt and sugar dissolve.
Stuff the onion slices into each jar, then pour the vinegar mixture on top until they are fully submerged.
Put a lid on each jar and store the pickled red onions in the fridge.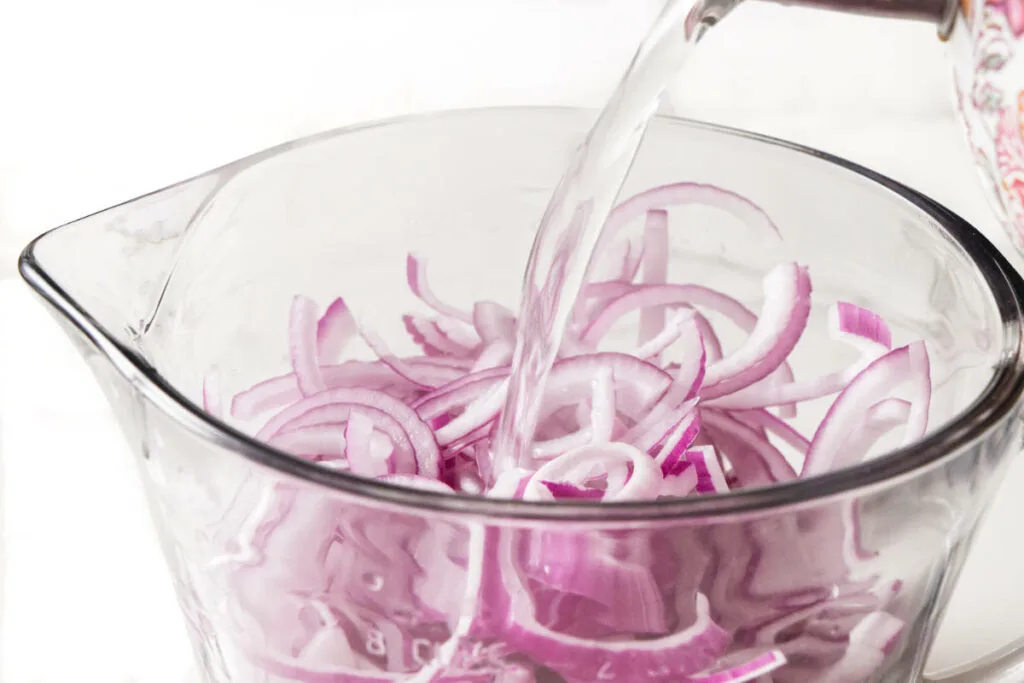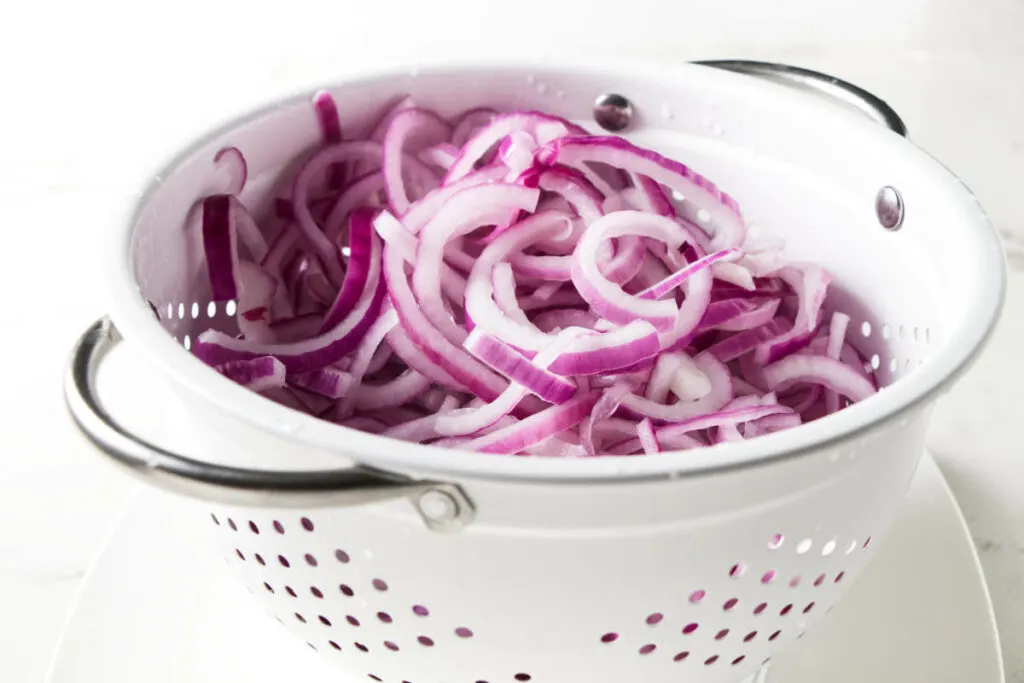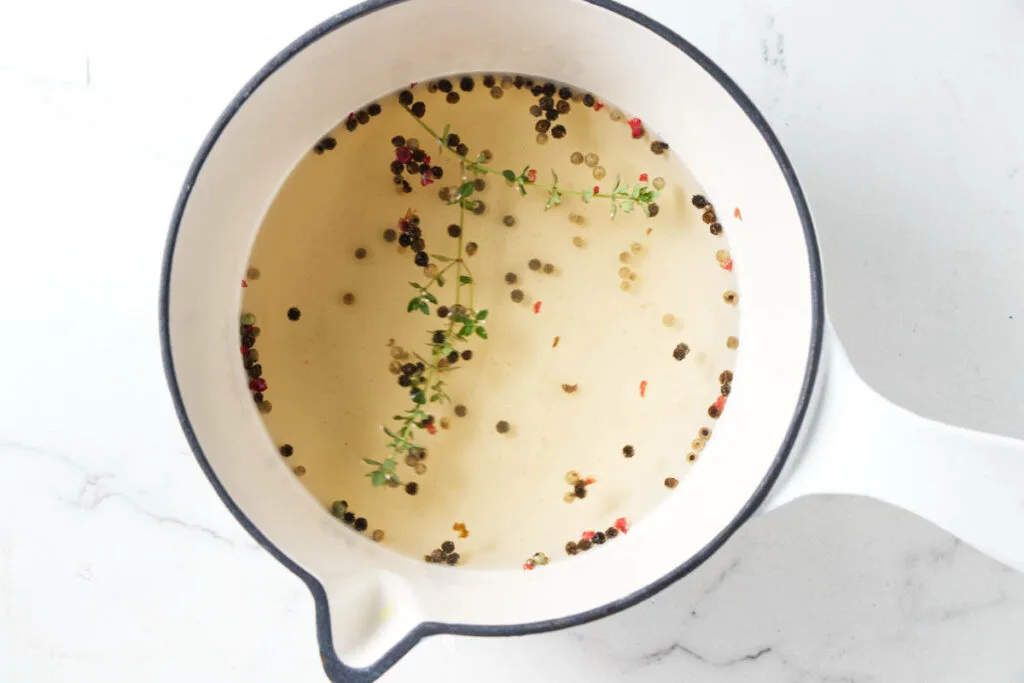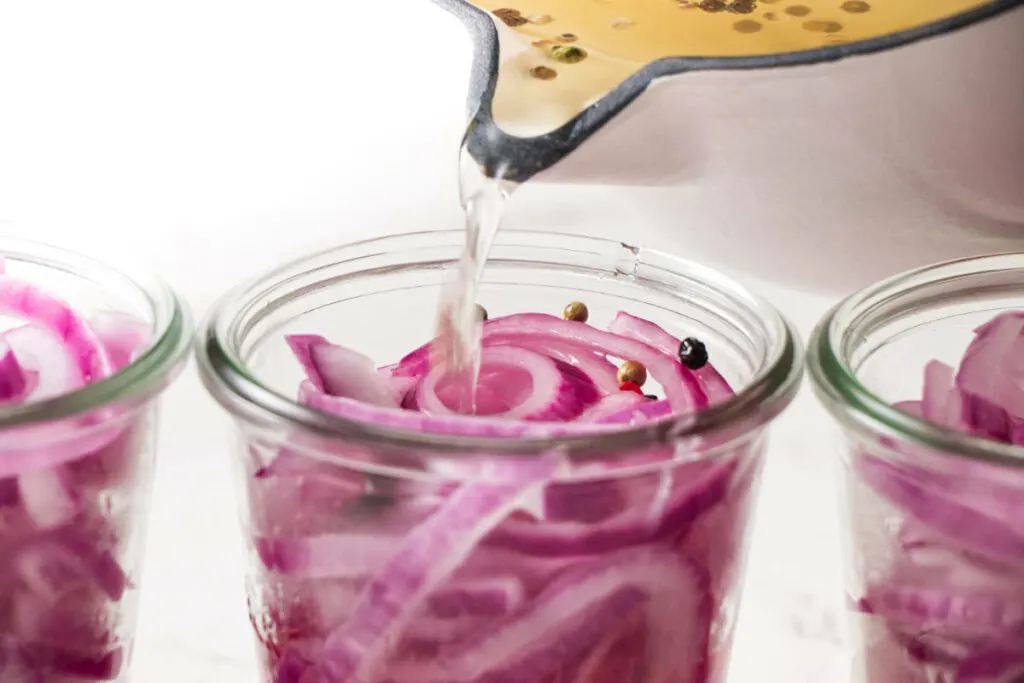 Now go make a juicy hamburger or some hot dogs and stuff it with pickled red onions 😉 They are also great additions to a potato salad.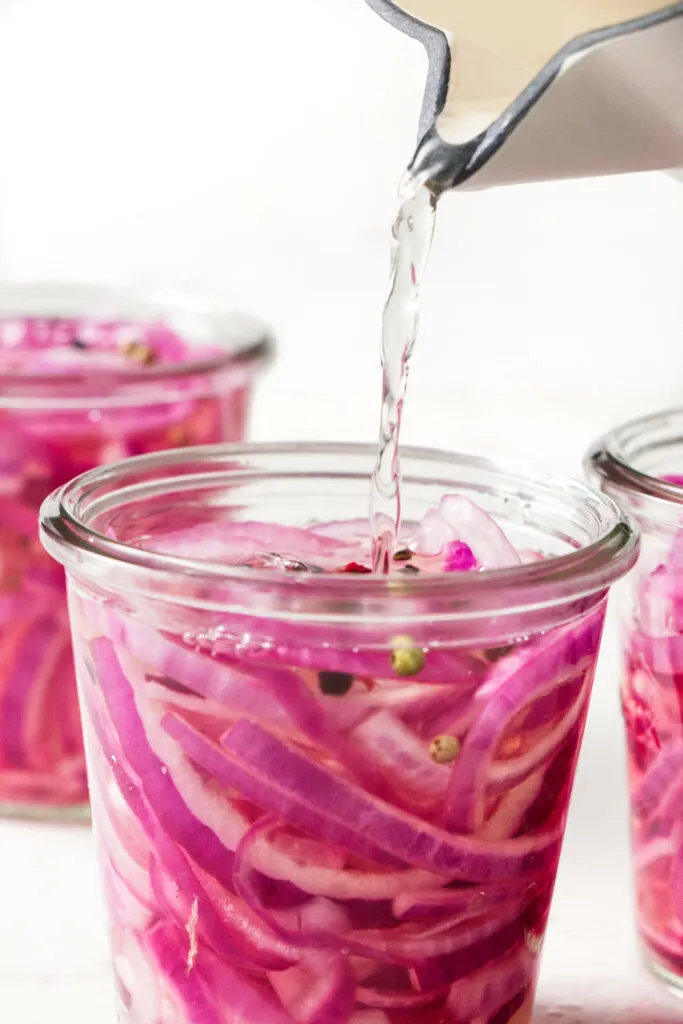 More Condiment Recipes
Tips for success
Use a mandoline or a slicing attachment on a food processor to make even, thin slices. If you have knife skills, a quality chef's knife will work.

If you can only find large red onions, you will want to blanch them because larger onions tend to be more pungent.

Optional add-ins to consider when making quick pickled onions. Include fresh garlic, crushed red pepper flakes, fennel seeds, whole cloves, allspice berries, bay leaf, mustard seeds, or celery seeds.

Use the leftover pickling vinegar in a homemade salad dressing if you'd like.

Store them in the fridge and continue to use them on your favorite sandwiches, tacos, and salads for up to three weeks.
Frequently asked questions
What is quick pickling?
Quick pickling consists of making a vinegar mixture and pouring it over fresh vegetables. It is much faster than a traditional canning process, but the only downside to quick pickling is the products have a shorter shelf life.
How long does it take for pickled onions to be ready?
They are ready to eat after about 30 minutes to an hour, but the longer they marinate, the better they taste.
What kind of vinegar should I use to make quick pickled red onions?
Depending on the flavor profile you're looking for, you can use either distilled white, white wine, rice wine, apple cider, or red wine vinegar in this recipe.
Can you use brown sugar for pickling?
Yes, you can use brown sugar instead of granulated white sugar. The only difference is the brine will be a little bit darker.
Can you use pickled onions in plastic jars?
A glass container is preferable, but if your plastic jars are sealable and food-safe, you can use those instead. We like using Mason jars or Weck jars.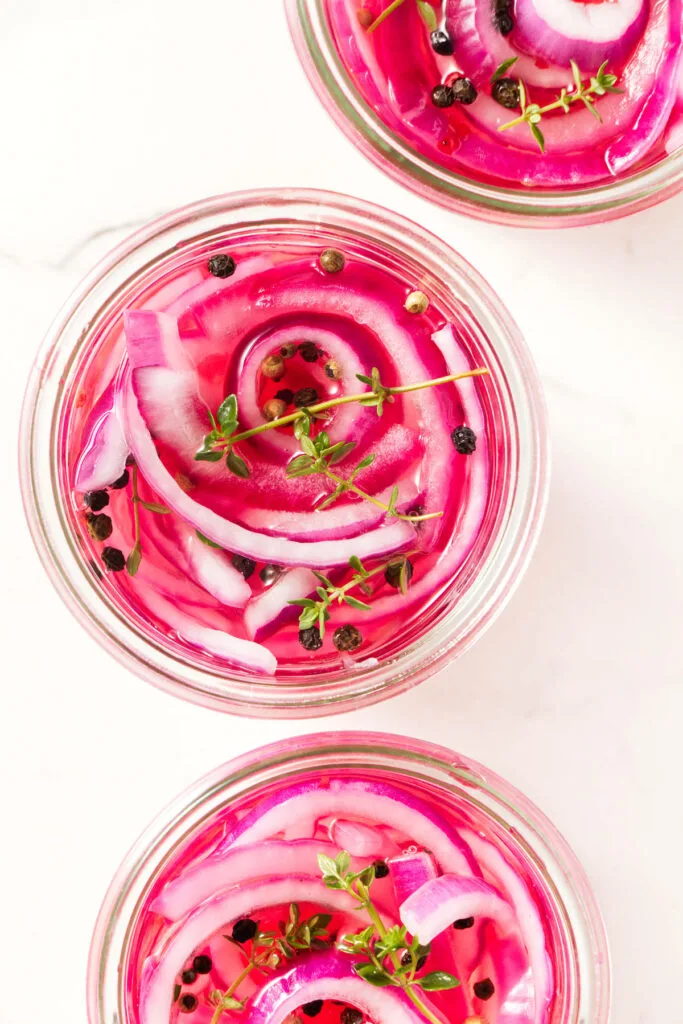 Whether you add these to sandwiches, salads, tacos, deviled eggs, soups, or sauces, there is always a way to utilize quick pickled red onions. We hope you enjoy this colorful condiment as much as we do!
Helpful Tools
Some of the following are affiliate links. We may receive a small commission if you click on these links and purchase something. You don't pay any extra, but it will help us keep the lights on.
Some More Recipes You Will Love:
Add pickled onions to our pinwheel sandwiches or pulled pork appetizers. They are also a big hit on charcuterie boards alongside cheese spreads and meat.
Add some tang to your avocado toast or spinach salad with a few pickled sliced onions. They even taste great in a grain bowl.
Are you ready to try more pickled vegetables? Some of these recipes may also interest you: pickled cucamelons, pickled watermelon radish, or hot dilly green bean pickles.
Connect With Savor the Best:
Please follow us on our social media accounts
Facebook * Instagram * Pinterest * Youtube * Twitter
Did you make this recipe? We would love to hear from you. Drop us a comment below.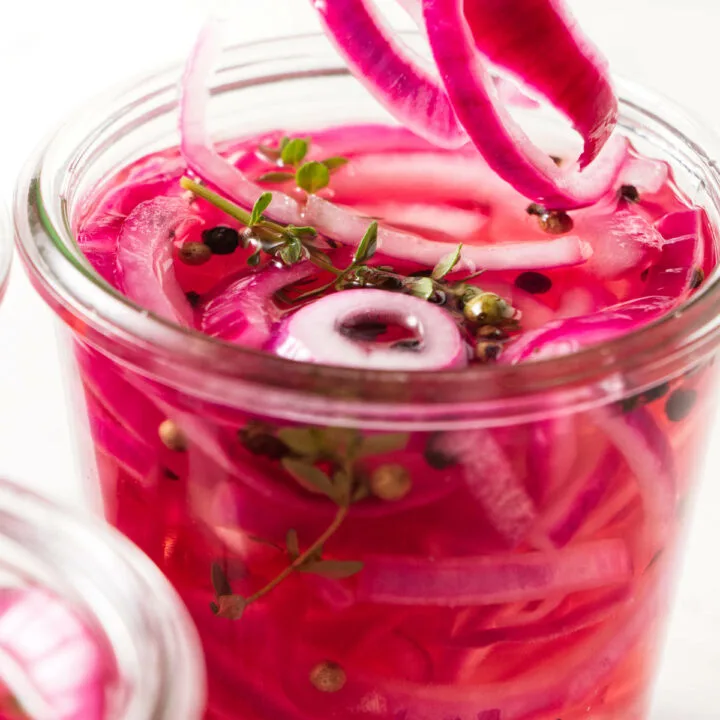 Pickled Red Onions
An easy recipe for quick pickled red onions that comes together in 15 minutes. They are sweet, salty, sour and crunchy. They are delicious on salads, sandwiches, appetizers or as a condiment.
Ingredients
1-2 medium sized red onions
2 cups boiling water (optional for blanching)
1 cup vinegar*
2 tablespoons sugar
3/4 teaspoon salt
3 to 4 fresh thyme sprigs
2 teaspoons whole peppercorns*
Instructions
Peel the red onions and slice them into thin rings.
Optional Blanching Step
Place the onion slices in a bowl and pour boiling water over them.
Let the onions soak for one minute then drain them in a colander.
Pickle The Onions
Place the vinegar, sugar, salt, thyme, and peppercorns in a saucepan. Heat over medium heat until the sugar and salt dissolve. See the notes for suggestions if you want to add additional herbs and spices.
Add the onion slices to glass jars or a bowl. You can push them down to fit if needed.
Pour the vinegar solution over the onions until they are completely submerged. Slide a knife down the inside edge of the jar to release any air bubbles. Add additional vinegar, if needed. Put the lid on the jar or cover the bowl with plastic wrap and store it in the refrigerator.
The onions will be ready to eat in about 30 minutes, but they get better as they age. They will keep for several weeks in the fridge but are best in the first week.
Notes
To get even, thin slices, use a mandoline or the slicing attachment on a food processor.
Blanching the onions is optional. It will reduce some of the sharp, pungent flavors that some onions have. Larger onions tend to have a stronger flavor.
You can use distilled white vinegar, white wine vinegar, rice wine vinegar, apple cider vinegar, or red wine vinegar. The different types of vinegar will change the flavor profile.
Recipe Variations

Add any of the following suggestions to change up the flavor and put your own spin on the recipe.
Smashed garlic cloves (3 to 5)
1 teaspoon crushed red pepper flakes
2 teaspoons fennel seeds
3 whole cloves
3 to 4 whole allspice berries
1/2 teaspoon celery seed
Nutrition Information:
Yield:

8
Serving Size:

1
Amount Per Serving:
Calories:

30
Total Fat:

0g
Saturated Fat:

0g
Trans Fat:

0g
Unsaturated Fat:

0g
Cholesterol:

0mg
Sodium:

202mg
Carbohydrates:

6g
Fiber:

1g
Sugar:

4g
Protein:

0g
Nutrition information is a guideline only, is calculated automatically by third-party software, and absolute accuracy is not guaranteed.
This recipe was originally published on April 24, 2015. We updated the photos and added some helpful tips.