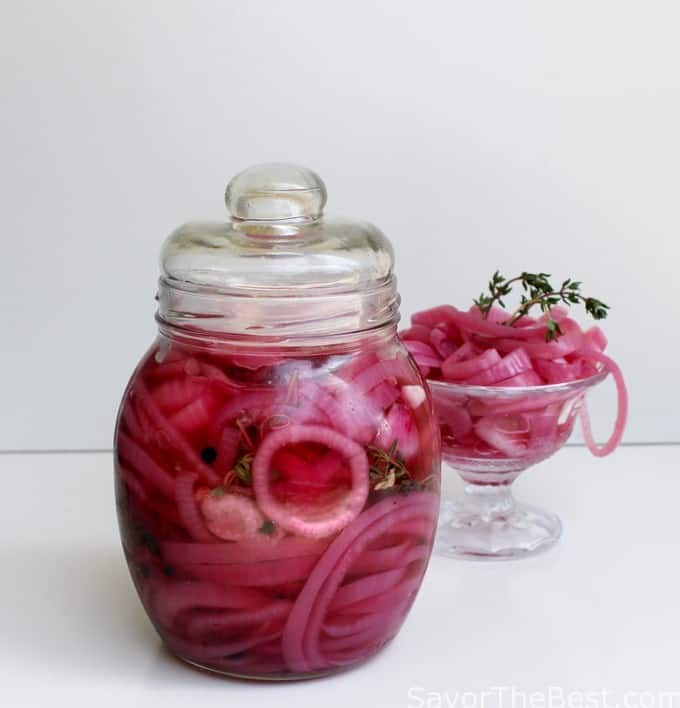 Don and I went to dinner last week in Tacoma to a restaurant called, Smoke + Cedar (no longer open), this was our first visit but we will return. Don had received a gift card for his birthday and this gave us an opportunity to escape from our yard clean-up duty. It was a great dining experience and I was really impressed with my salad which was topped with pickled red onions. They were delicious and it has inspired me to make these pickled red onions at home.
Pickled red onions are refrigerator pickles and pretty easy to make, they will be ready to eat within 30 minutes of putting them in a jar. Just slice the onions into rounds, add them to a clean jar and pour over them a mixture of sugar, salt, vinegar and whatever flavorings you choose. My choice was fresh thyme sprigs and black peppercorns. Those pretty multi-colored peppercorns would have been nice but I didn't have any on hand.
These pickled red onions are a little sweet, a little sour and a whole lot of crunchy. I have already tried them on a taco salad and this bruschetta and now I'm thinking 'sandwiches'. To make the bruschetta I toasted the baguette slices and spread them with some homemade yogurt cheese mixed with fresh herbs and topped the cheese with rings of pickled red onion. Yum!
This recipe has been adapted from The Kitchn which is a web-based food magazine and a site that I love and visit often.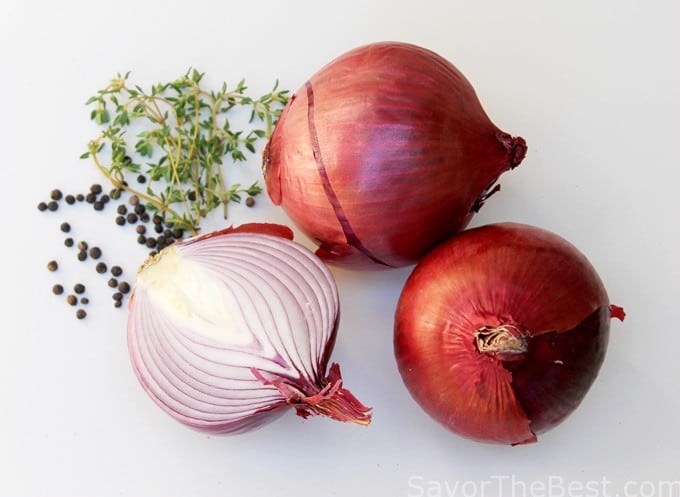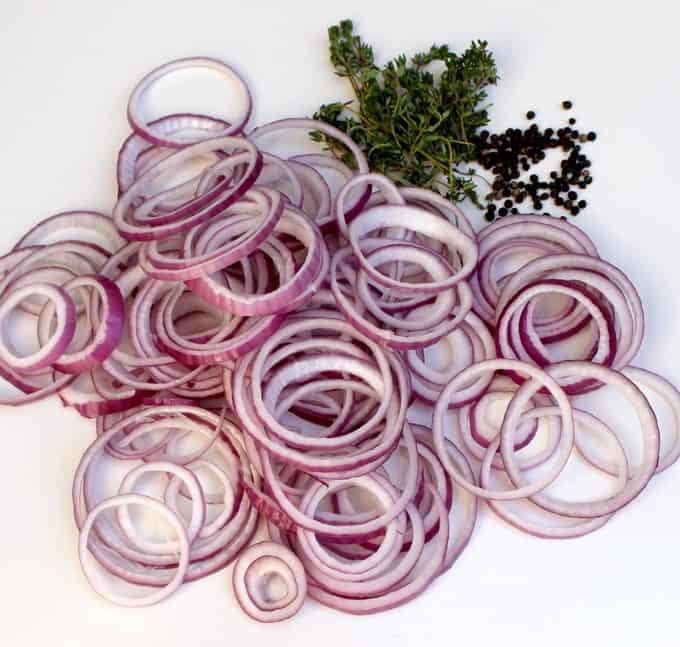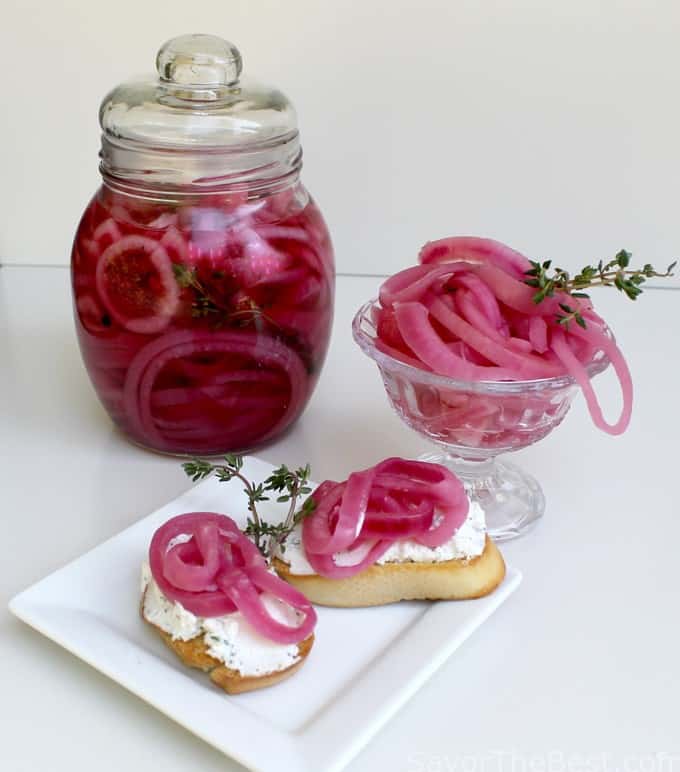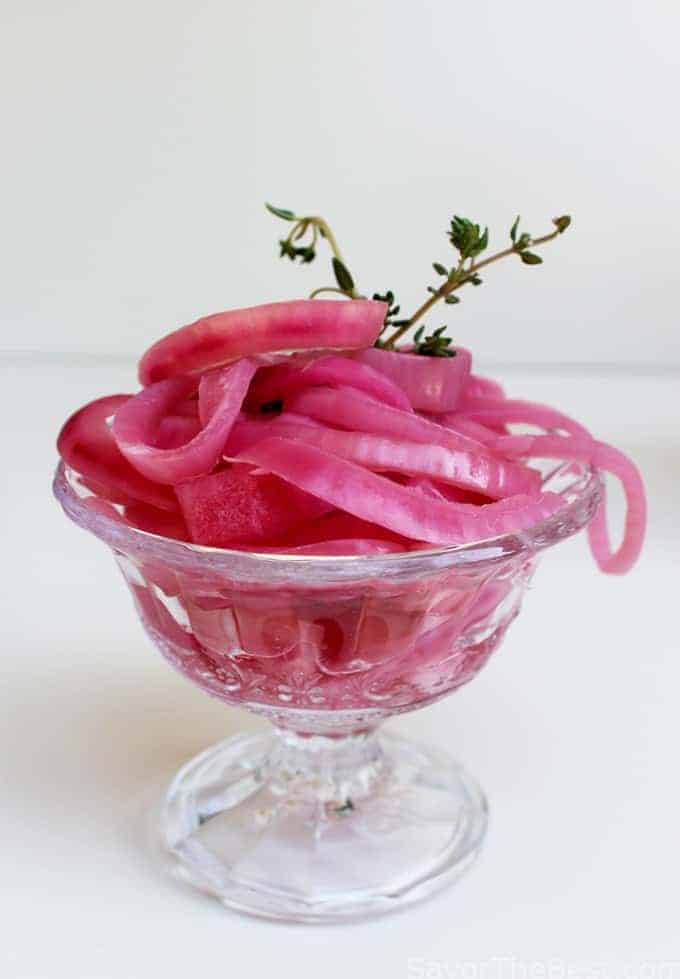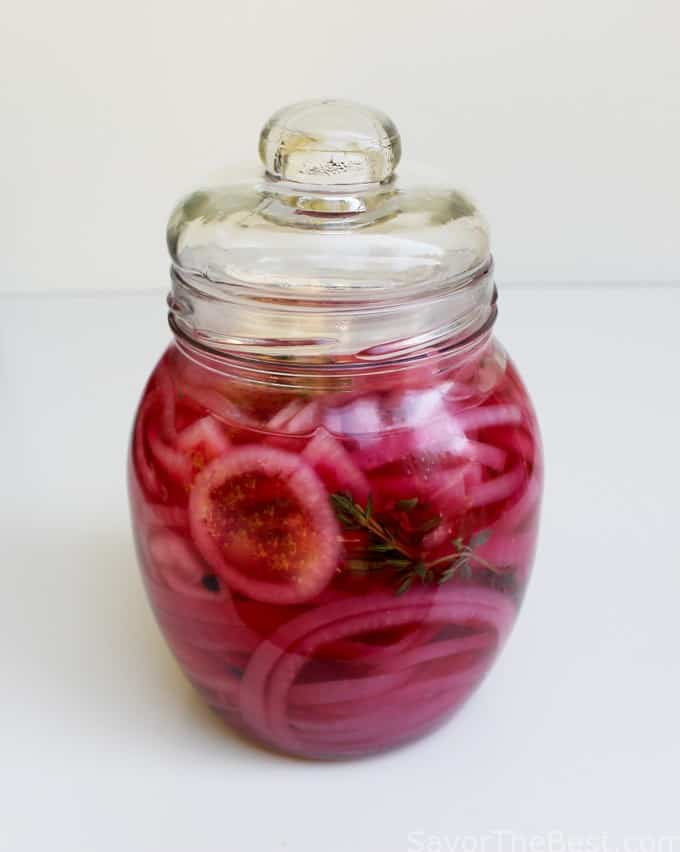 CONNECT WITH SAVOR THE BEST!
Be sure to follow us on our social media accounts
Facebook * Instagram * Pinterest * Twitter * Youtube
Did you make this recipe? We would love to hear from you. Drop us a comment below.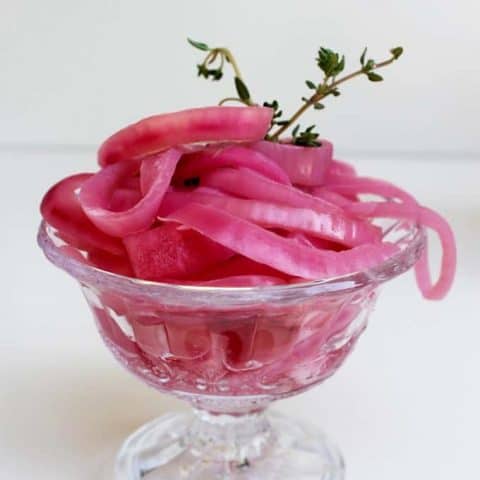 Pickled Red Onions
Yield: 1 pint
Prep Time: 15 minutes
Cook Time: 1 minute
Total Time: 16 minutes
A recipe for pickled red onions that are easy to make. They are sweet, salty, sour and crunchy. They are delicious on salads, sandwiches, appetizers or as a condiment.
Ingredients
1-2 medium sized red onions
1/2 teaspoon sugar
1/2 teaspoon sea salt
3/4 cup white wine vinegar
3-4 sprigs of fresh thyme
Black peppercorns
Instructions
Peel the red onions and slice them into 1/4 to 1/2-inch rings and add them to a large bowl. Pour boiling water over the onions and allow them to soak for one minute. Drain the onions in a colander and allow them to cool enough to handle.
While the onions are cooling, add the sugar, salt and vinegar to a pitcher or bowl (non metallic) stir to dissolve. Add half of the onions to the jar, I used a fork to lift and distribute them evenly, pressing just slightly to settle them in, add the thyme and peppercorns and the remainder of the onions.
Pour the vinegar over the onions and use a knife inserted between the jar and the onions moving around the jar to release any air bubbles. Add additional vinegar, if needed, to cover the onions, put the lid on the jar and store in the refrigerate.
The onions will be ready to eat in about 30 minutes, but they get better as they age. They will keep for several weeks but are best in the first week