Mediterranean Pinwheels make a delicious finger food and easy party appetizer! These Mediterranean-inspired snacks feature healthy ingredients like creamy hummus and crunchy vegetables. They're easy to assemble roll up into a healthy pinwheel sandwich.
We love pinwheels (have you tried our Smoked Salmon Pinwheels or our Olive and Cheese Pinwheels?!) and these veggie pinwheels are fresh and flavorful! Here's why you'll love them too:
They make the perfect healthy finger food and summertime starter!
The pinwheels are vegetarian and vegan-friendly (if you omit the feta)
You can prepare them in 5 minutes!
They only require a few ingredients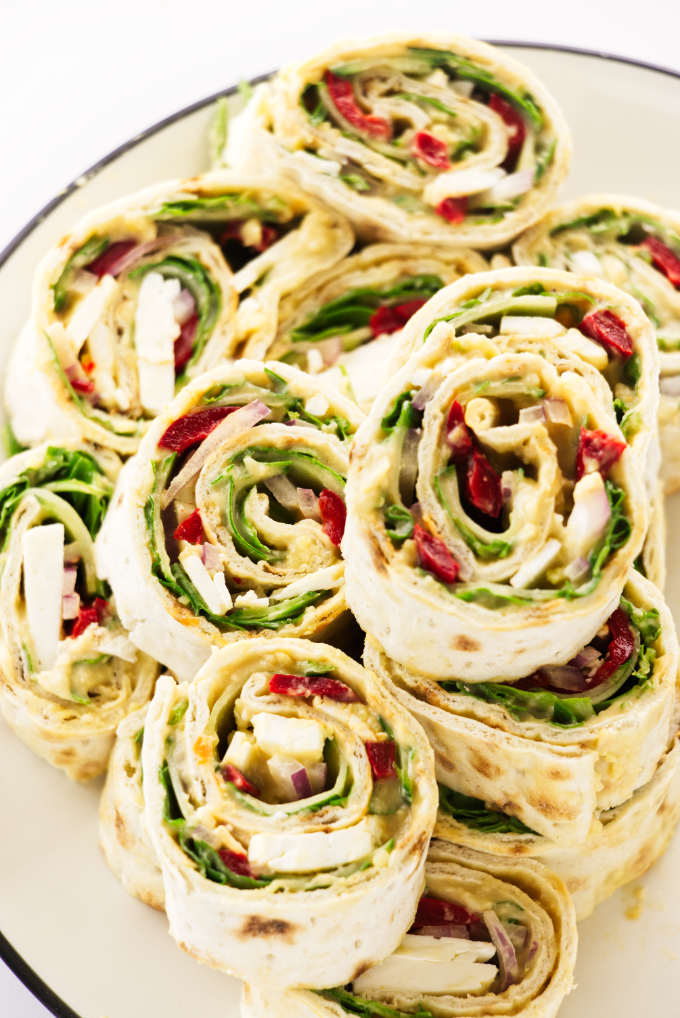 Ingredients for Pinwheel Sandwiches
Tortilla pinwheel sandwiches are tasty little snacks that can also be served as party appetizers. They are so easy to make! Our Mediterranean pinwheels swap the traditional cream cheese spread for a smooth hummus. And the best thing about these is that they're versatile! Keep them vegetarian and use crisp veggies, or add your favorite sliced or cured meat like roast beef or salami for an extra bit of protein!
You will need:
Flour tortillas or Lavash flatbread
Hummus
Arugula
Cucumber, thinly sliced
Feta cheese
Red onion, thinly sliced
Peppadew deli peppers, thinly sliced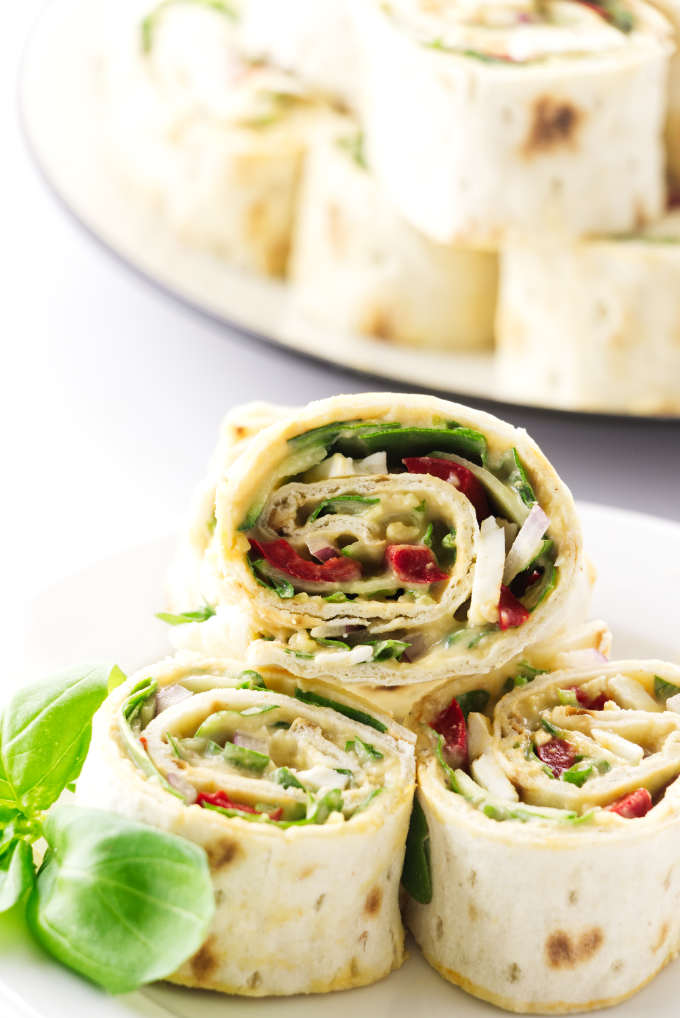 How do you Make Pinwheel Sandwiches?
These Mediterranean pinwheels take only minutes to prep! The crunchy veggies are rolled up into a soft tortilla with a creamy hummus spread that is complimented by the distinct feta flavor. There's so much going on in each little bite, you'll definitely need a second helping!
Spread on the hummus: On each of the tortillas (or flatbread), spread a layer of hummus over the entire surface area (all the way to the edges).
Top with veggies: Scatter arugula over the hummus, then top with the slices of cucumber, red onion and Peppadew peppers. Sprinkle on the feta.
Roll the pinwheel sandwiches: Roll the tortillas or flatbread up tightly, keeping the veggies snug inside. Slice the tortilla pinwheels into 1-inch sections with a sharp knife. Arrange them on a platter.
This Mediterranean pinwheels recipe makes about 20 pinwheel sandwiches.
For more recipes with Mediterranean flavors, try our beef shawarma sandwich or Mediterranean freekah salad.
Expert Tips for the Best Results:
Any type of flatbread will work for this pinwheels recipe, as long as it is soft and flexible. It should be soft enough to roll tightly without breaking.
Since you'll want to roll the pinwheels tightly (and easily), we recommend using a vegetable peeler to shave the cucumber into thin slices. If you don't have one, simply slice the cucumber into thin matchsticks.
FAQs
Can you make pinwheel sandwiches the night before?
Yes, you can, as long as you keep them covered tightly with plastic wrap to prevent the tortilla from drying out and to keep the veggies fresh and crisp!
How do you keep pinwheels from getting soggy?
If the pinwheels are made too far in advance, the hummus could turn the tortilla a bit soggy. While you can make these the night before, we recommend making the Mediterranean pinwheels the day that you plan to serve them. They can easily sit chilling in the fridge (covered with plastic wrap) until your guests arrive.
How long do pinwheels last in the fridge?
Our Mediterranean pinwheels will stay fresh in the fridge for about as long as the sliced veggies remain fresh- about 2-3 days. After that, the veggies will lose a lot of their crispness and may turn a bit soggy. Keep them covered with plastic wrap to make sure the tortilla and the hummus don't dry out.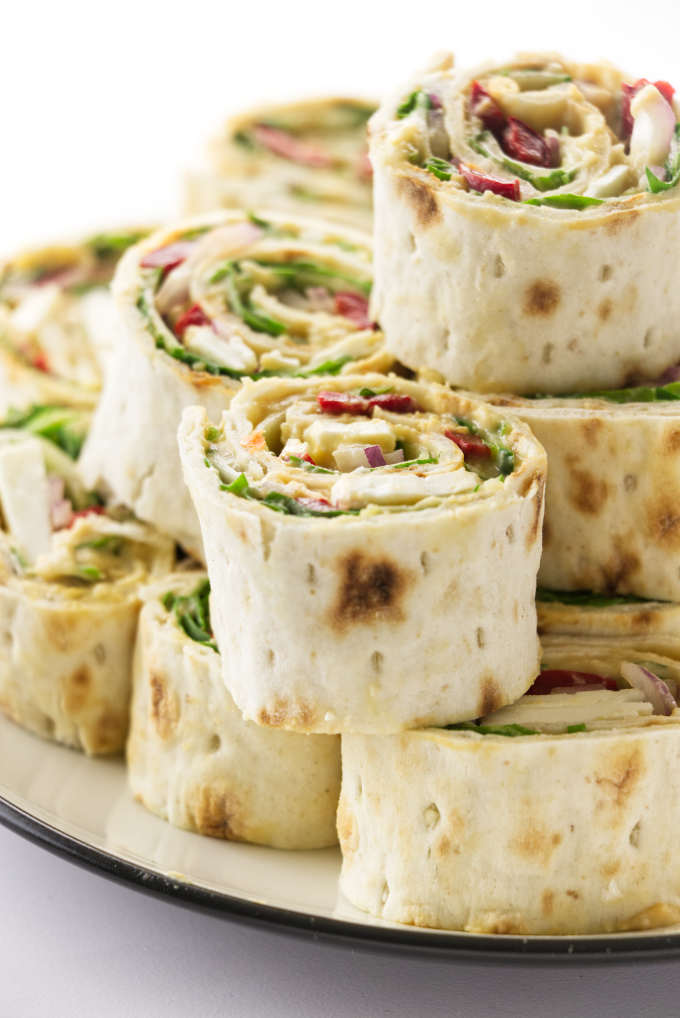 With its Mediterranean flavors and fresh ingredients, this veggie pinwheels recipe is a summery starter that works for any occasion. Best of all, they're an easy, no-fuss party appetizer that requires little effort (and ZERO cook time!). Enjoy!
Some More Recipes We Are Sure You Will Love:
Oysters on the Half Shell: Freshly-shucked oysters are flavored with a fresh squeeze of lemon. It's a simple and irresistible pairing that is so easy to make at home!
Fast and Easy French Onion Soup Dip: There's a reason this is favorite party dip! Our healthier, homemade version uses our French Onion Soup mix and skips out on all the sodium and preservatives! Serve with veggies or your favorite potato chips for a delicious, gluten-free party dip.
Mediterranean Freekeh Salad: This delicious, one-bowl meal combines all the flavors and taste of the Mediterranean in fresh, salad form! Freekeh- a whole grain- adds a subtle smokiness and pleasant chewy texture and texture while the creamy Italian dressing is the perfect finishing touch.
Connect With Savor the Best:
Please follow us on our social media accounts
Facebook * Instagram * Pinterest * Youtube * Twitter
Did you make this recipe? We would love to hear from you. Drop us a comment below.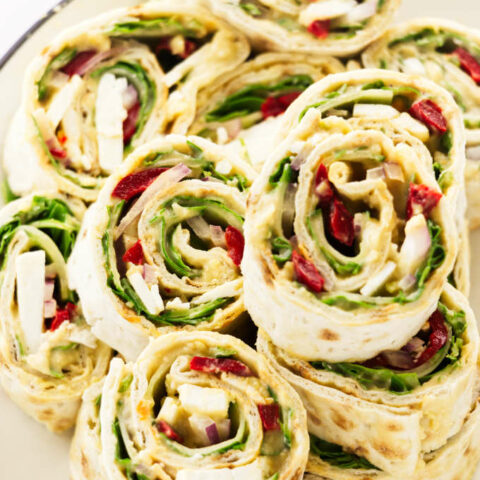 Mediterranean Pinwheels
Yield:
20 pinwheel sandwich rolls
Perfect finger food and party appetizers. Creamy hummus spread and crunchy veggies all rolled up into a delicious and healthy pinwheel sandwich.
Ingredients
2 (10 inch) flour tortillas or Lavash flatbread
10 oz hummus makes
2 handfuls of arugula
1/2 cucumber, very thinly sliced
6 ounces feta cheese
1/2 red onion, thinly sliced
8 Peppadew deli peppers, sliced thinly
Instructions
Spread some hummus over the entire surface of the tortillas or flatbread. Scatter arugula all over the hummus then top with cucumber slices, feta cheese, red onion, and Peppadew peppers.
Roll the tortillas or flatbread up snuggly. Slice into 1-inch sections.
Notes
Any flatbread will work as long as it is soft and flexible.
Use a vegetable peeler to shave thin slices of cucumber that will roll up into the sandwich easily. If you don't have a vegetable peeler, you can slice the cucumber into thin matchsticks.
Nutrition Information:
Yield:

20
Serving Size:

1
Amount Per Serving:
Calories:

93
Total Fat:

4g
Saturated Fat:

2g
Trans Fat:

0g
Unsaturated Fat:

2g
Cholesterol:

8mg
Sodium:

192mg
Carbohydrates:

12g
Fiber:

2g
Sugar:

2g
Protein:

4g
Nutrition information is a guideline only, is calculated automatically by third-party software, and absolute accuracy is not guaranteed.