Serve these stylish smoked salmon pinwheels at your next dinner party. They are easy to make and go great with a cheese and cracker platter.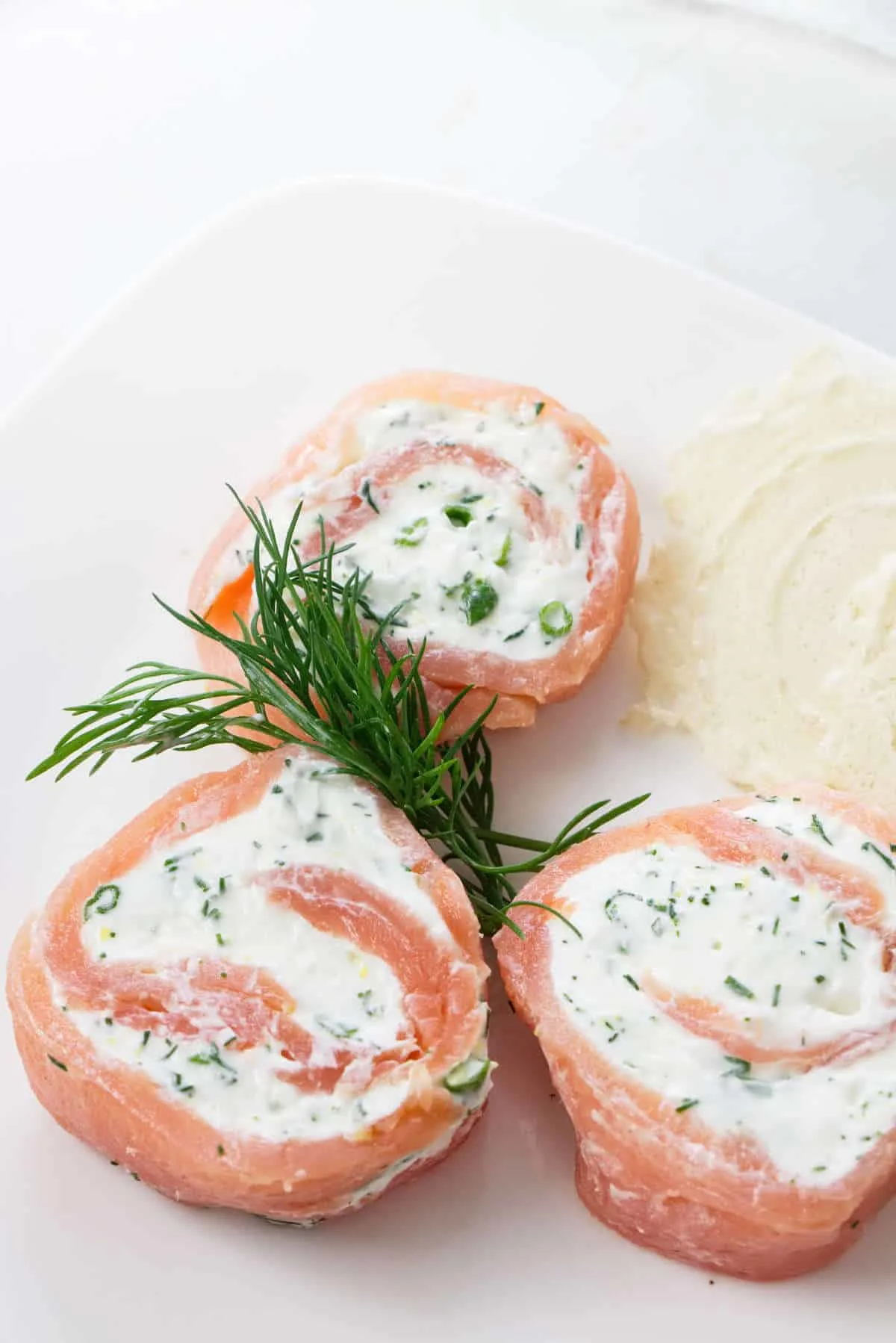 Smoked Salmon Pinwheels
Here's the deal, dinner parties can be stressful and demand a good amount of your time. You can't just throw leftovers on the table or tell your friends to scrounge through the fridge. I mean, you can do that with your kids or spouse. I think. Am I the only one?
Well, you certainly can't do it with your guests.
You gotta please the crowd but you don't want to lose your sanity by making the party planning stressful.
The best tip is to plan the party menu with some items that you make in advance.
Enter, smoked salmon pinwheels! These little party pleasers are a big hit. They look festive and taste fantastic. The best part is that you can make them three days in advance and even longer if you freeze them.
That's right, if you want to make them three weeks in advance then just stick them in the freezer until the party. Pull them out the day before the party and you will have some show-stopping appetizers with minimal effort.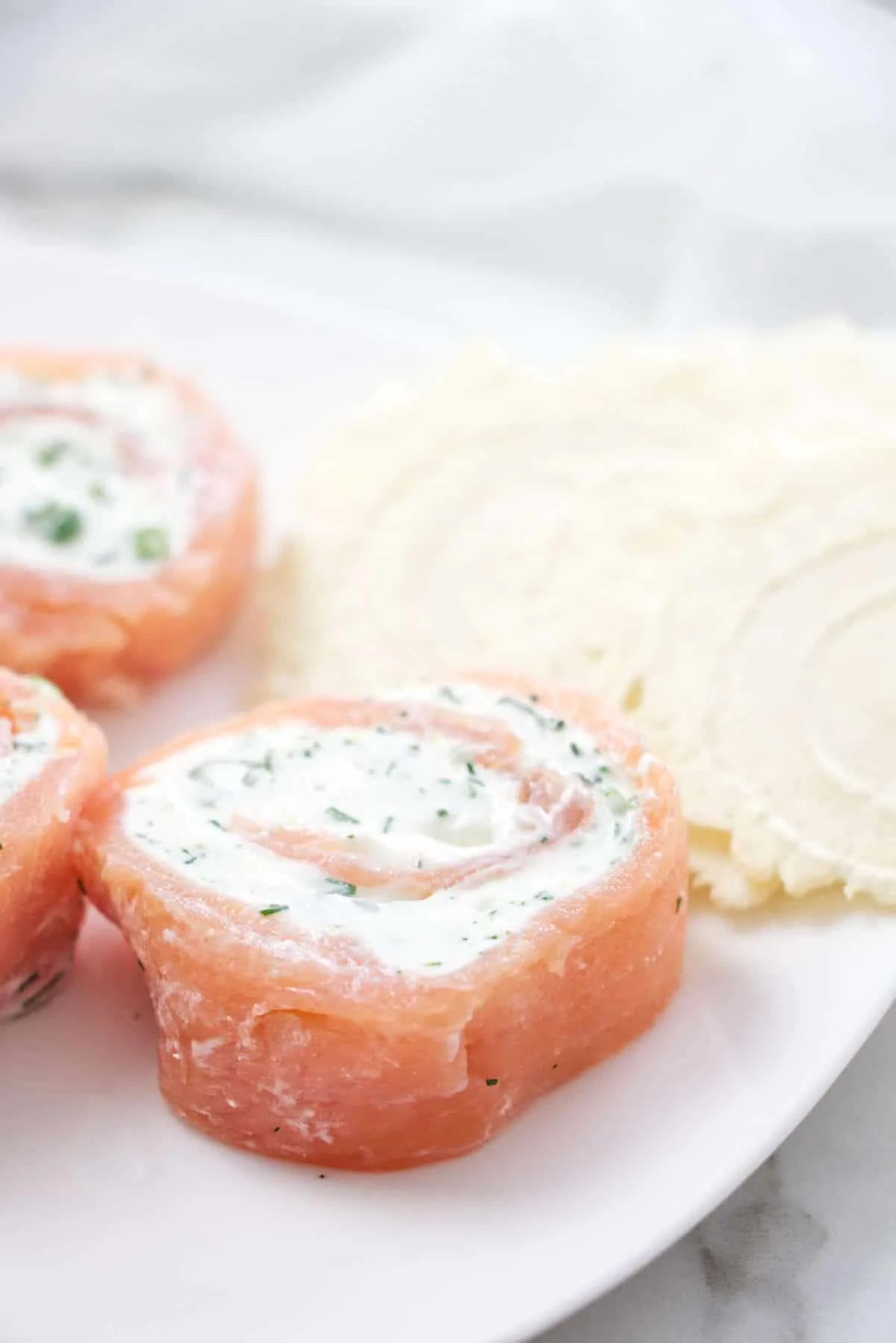 How to make smoked salmon pinwheels
These little delicacies are pretty fun to make. First, you need to use cold smoked salmon. Cold smoked salmon is moist, tender, and flexible. Flexible seems like a strange word choice. Maybe malleable? Either way, cold smoked salmon can be rolled into little pinwheels without cracking and breaking.
Make the cream cheese filling
Next, you make a creamy filling. Mix some cream cheese with a little lemon juice and salt. Make sure to start with softened cream cheese. If you try to blend the cream cheese while it is still cold, you will end up with lumps.
After the cream cheese is smooth and creamy, fold in some fresh dill, chives, and lemon zest.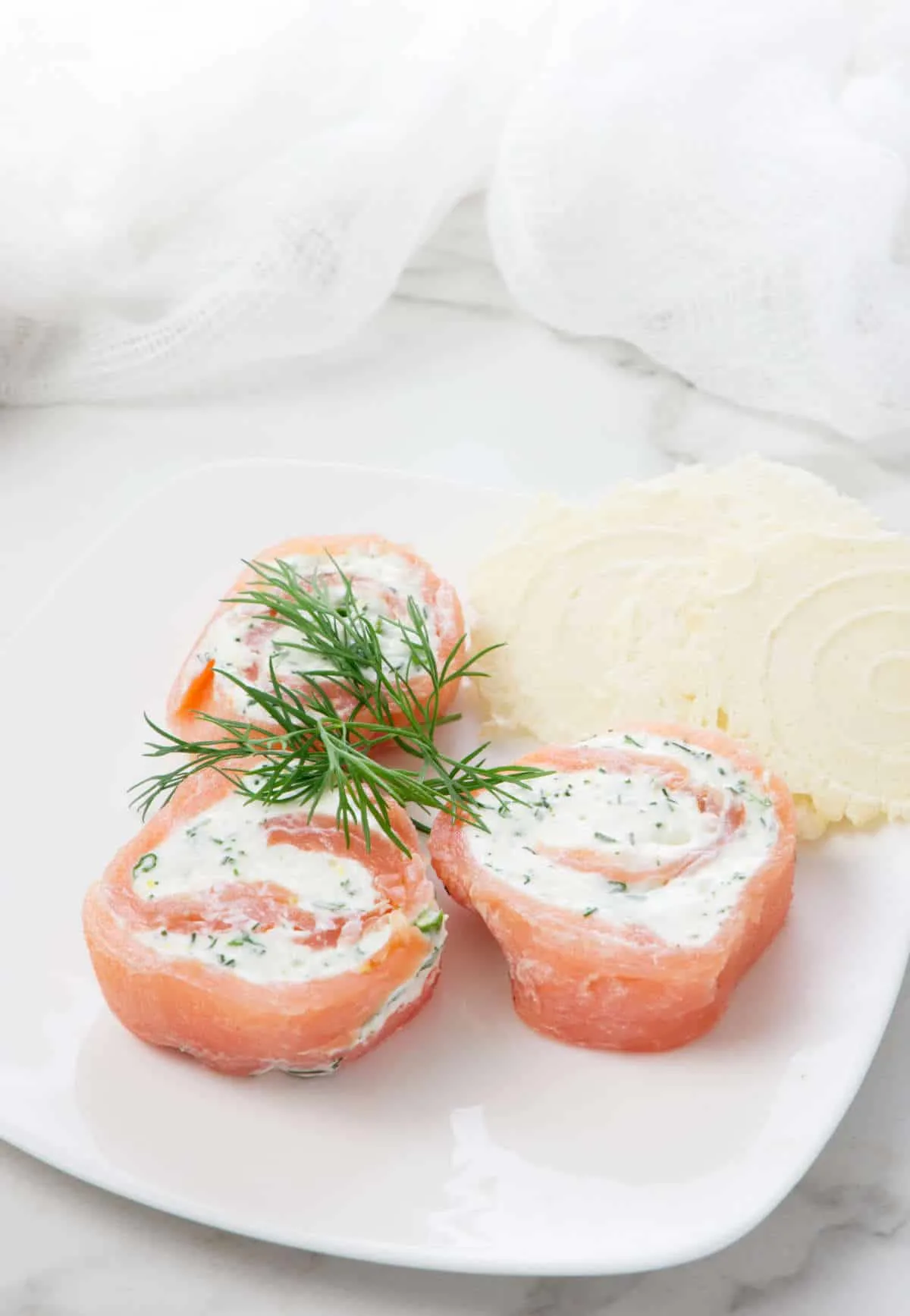 Make the salmon cream cheese roll
Now the fun part. Lay down a sheet of plastic wrap and place slices of smoked salmon on the sheet of plastic. Arrange the smoked salmon in a thin layer. Make sure each slice of salmon is overlapping the next slice. Once you arrange the salmon in a rectangular shape, spread the filling over the top.
Use the plastic wrap to lift the edge of the salmon and roll the whole thing up into a log. Just make sure to peel the plastic away from the salmon as you roll.
Use the plastic wrap to lift the edge of the salmon and roll the whole thing up into a log. Just make sure to peel the plastic away from the salmon as you roll.
Chill and slice
Once you have a log, wrap it snugly in the plastic wrap and chill it in the fridge for a couple of hours. At this point, you can even freeze it for a few weeks. When you're ready to serve it, take it out, remove the plastic wrap then slice it into individual pieces.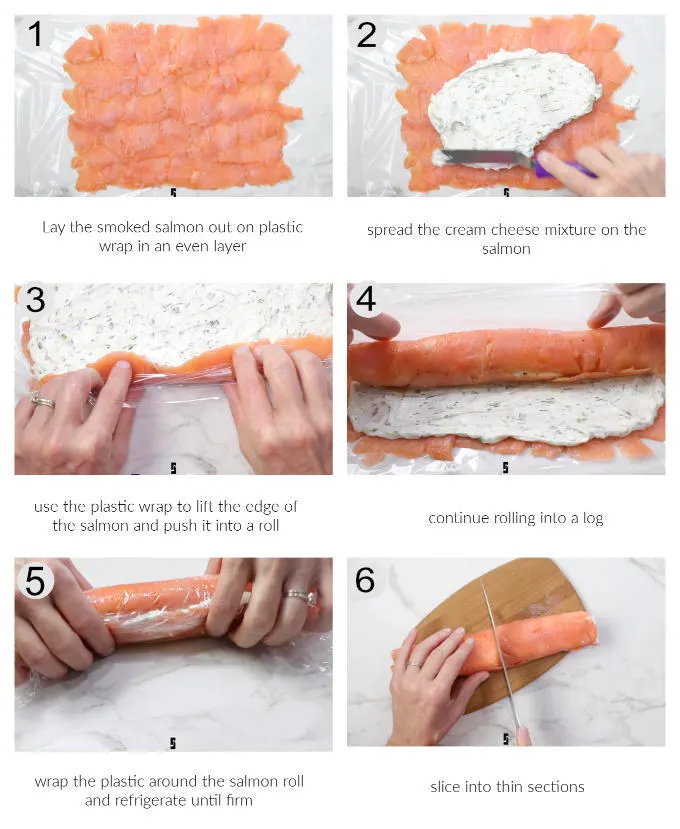 Check out more great party appetizers:
Smoked Salmon Philadelphia Rolls
Mascarpone and Smoked Salmon Bruschetta
If you would like to try making your own smoked salmon, check out this post on How to Cure Salmon – Lox Recipe by Kate at Babaganosh.
Connect With Savor the Best:
Please follow us on our social media accounts
Facebook * Instagram * Pinterest * Youtube * Twitter
Did you make this recipe? We would love to hear from you. Drop us a comment below.
Watch our video and see how easy it is to make smoked salmon pinwheels.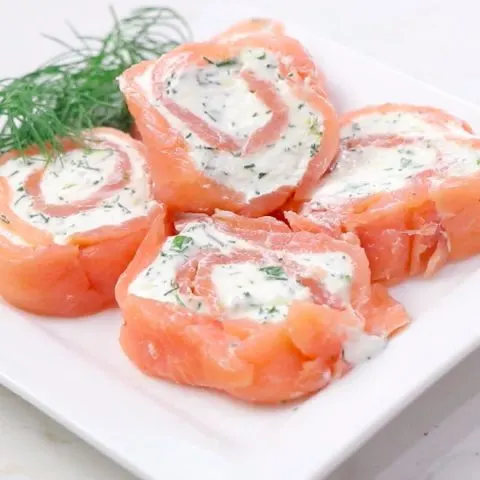 Easy Smoked Salmon Pinwheels
Total Time:
2 hours
15 minutes
These smoked salmon pinwheels have a soft, creamy filling with a hint to fresh dill and lemon. They are a great addition to a cheese and cracker tray. These party pleasers can be made in advance to save you time on the day of your dinner party.
Ingredients
3 ounces cream cheese, softened
2 tablespoons lemon juice
1/4 teaspoon salt
2 tablespoons chopped fresh dill
2 tablespoons chopped fresh chives or scallions
1 teaspoon lemon zest
8 to 10 ounces cold-smoked salmon (see notes)
Instructions
Place the cream cheese, lemon juice, and salt in a bow. Beat well with a mixer until smooth and fluffy, Fold in the dill, chives, and lemon zest.
Lay a 10-inch long piece of plastic wrap on the counter. Spread slices of the smoked salmon on the plastic wrap. Arrange them in a rectangle about 8 inches long and 4 inches wide. Make sure the slices are slightly overlapping and press them down so they stick together.
Spread a layer of the cream cheese mixture over the salmon.
Starting at the long end, roll up the salmon into a log. Use the plastic wrap to get the roll started but peal the plastic away from the salmon as you roll. The plastic should stay on the outside of the log.
Now wrap the log up in the plastic wrap and refrigerate for about an hour.
Transfer the roll to a cutting board, remove the plastic wrap and slice into 1/2-inch slices.
Notes
Use cold smoked salmon to make this appetizer. Hot smoked salmon is drier and will not roll up into a log.
After rolling the appetizer into a log, you can freeze it for up to three months. When you are ready to serve it, allow it to partially thaw before slicing.
Nutrition Information:
Yield:

16
Serving Size:

1
Amount Per Serving:
Calories:

41
Total Fat:

2.7g
Saturated Fat:

1.4g
Cholesterol:

10mg
Sodium:

406mg
Carbohydrates:

0.5g
Fiber:

0.1g
Protein:

4g