Yum! Smoked salmon, creamy cheese, fresh herbs and capers. The perfectly blended flavors! This Smoked Salmon Torta will be a welcomed and wonderful appetizer to serve at your next party or happening.
We have several celebrations coming up….. New Year's Eve is just around the corner! Then we have a couple birthday parties planned for early January. I'm also thinking to include this smoked salmon torta in the appetizer line-up for the kick-off of the annual SuperBowl.
Buttery, thinly sliced Nova Scotia-type smoked salmon blended with smooth cream cheese and fresh herbs begins the first layer of this party pack. Next, is a thick layer of the rich, smoked chopped salmon. Then a layer of chopped capers and a final layer of the creamy cheese-salmon mixture. This torta is all topped off with crushed pink peppercorns and snipped fresh chives.
I like to serve this torta with crisp sourdough toasts. Indulge!
Smoked Salmon Torta:
We used two of the four-inch springform pans to make this smoked salmon torta. However, the torta can be molded into any size or shape you desire. Even one large torta! Some suggestions would be:
Custard dishes

Ramekins

Shallow mini-bowl

Jello molds
About pink peppercorns:
Contrary to what most people believe, these pretty little jewels are not really peppercorns. They are actually dried berries from the Peruvian pepper tree. They have become favored by chefs as a colorful garnish.
Although these little berries have the appearance of peppercorns they are not in the same league as peppercorns. There is a slightly sweet flavor and mild peppery taste to the pink peppercorn. They do not have the snappy bite that the peppercorn has. Pink peppercorns are also softer than a true peppercorn. They are almost hollow and do not grind well in a pepper mill, therefore, they should be crushed with a mortar and pestle rather than in a grinder.
A word of caution:
Pink peppercorns are related to the cashew nut and can have the same allergy effect associated with any tree nuts. Whenever I serve this smoked salmon torta at a gathering I label it with a note indicating 'Nut Allergy', so we all have a happy party.
More Party Food Recipes: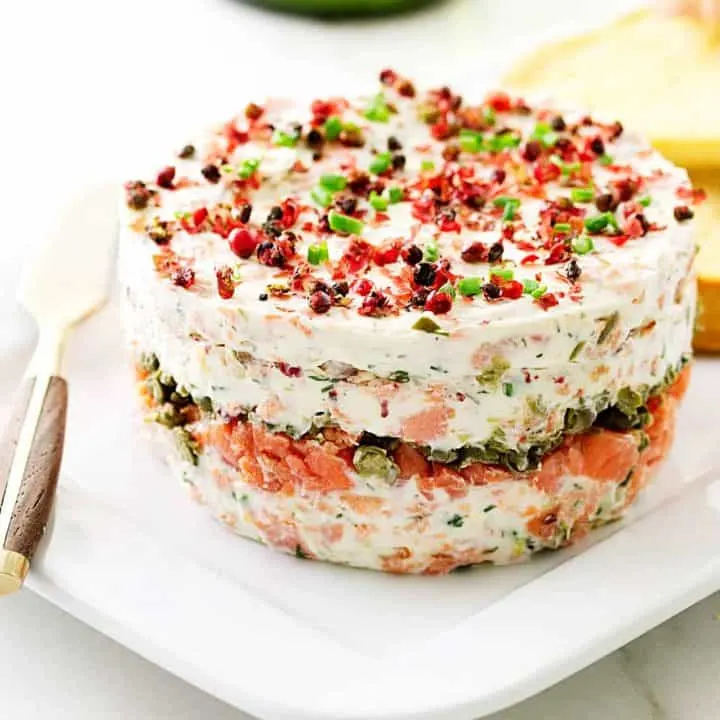 Smoked Salmon Torta
A cheese spread that is layered with smoked salmon and capers. This appetizer is a stunning display at any party. This is low carb and gluten-free.
Ingredients
8 ounces cream cheese, room temperature
1/4 cup sour cream
4 tablespoons freshly squeezed lemon juice (about 1/2 lemon)
4 tablespoons chopped fresh chives, divided
2 tablespoons chopped fresh dill
1 small shallot, finely diced
1/4 teaspoon sea salt
1/4 teaspoon freshly ground white pepper
8 ounces Nova Scotia smoked salmon, chopped and divided
1/2 cup capers, chopped
2 tablespoons pink peppercorns, lightly crushed
Serve with:
Crackers or slices of sourdough toasts
Instructions
Cut 2 parchment paper rounds and fit into the bottoms of 2, 4-inch springform pans. Lightly coat the insides and bottoms with oil spray and set aside.
A hand-held electric mixer works best for this project.
Add the cream cheese, sour cream and lemon juice to a small bowl and blend until soft and creamy.
With a rubber spatula stir in 2 tablespoons of the chives, dill, shallot, salt and pepper, mixing well to combine.
Next, gently fold in one-half of the chopped smoked salmon.
To create the first layer, spoon 1/4 of the salmon mixture into the bottom of each prepared pan.
Divide the remaining smoked salmon equally between the two pans, creating a thick second layer of smoked salmon.
Next, divide the capers between the two pans, spreading evenly on top of each of the salmon, creating the third layer.
Using the remaining cream cheese-salmon mixture add equal amounts on top of the capers. Pressing lightly to remove any air bubbles, and spreading smooth the top.
Finish the torta by sprinkling the pink peppercorns lightly over the top of each torta and garnish with the reserved chopped chives.
Cover each completed torta with plastic wrap and refrigerate for 4-6 hours to firm up.
To serve:
Run a thin-bladed knife around the inside edge to loosen. Flip the hasp on the outside of the pan and remove the side. *(See Notes)
Slide a knife or turner between the parchment paper and the metal bottom and lift the torta. Position the torta on the serving plate and arrange crackers or toasts around the edge.
Notes
An easy way to remove the rim of the springform pan is to first place the pan on a glass, flip the hasp and press down on the rim.
Omit the pink peppercorns for allergy concerns
Chopped dried cranberries can be substituted for the garnish of pink peppercorns
Nutrition Information:
Yield:

10
Serving Size:

1
Amount Per Serving:
Calories:

123
Total Fat:

10g
Carbohydrates:

1.5g
Fiber:

0.4g
Sugar:

0.2g
Protein:

6g