These Asian pear prosciutto appetizers are light and refreshing, made with sweet, crunchy Asian pears, thin strips of prosciutto, soft goat cheese and the zesty tang of radish microgreens.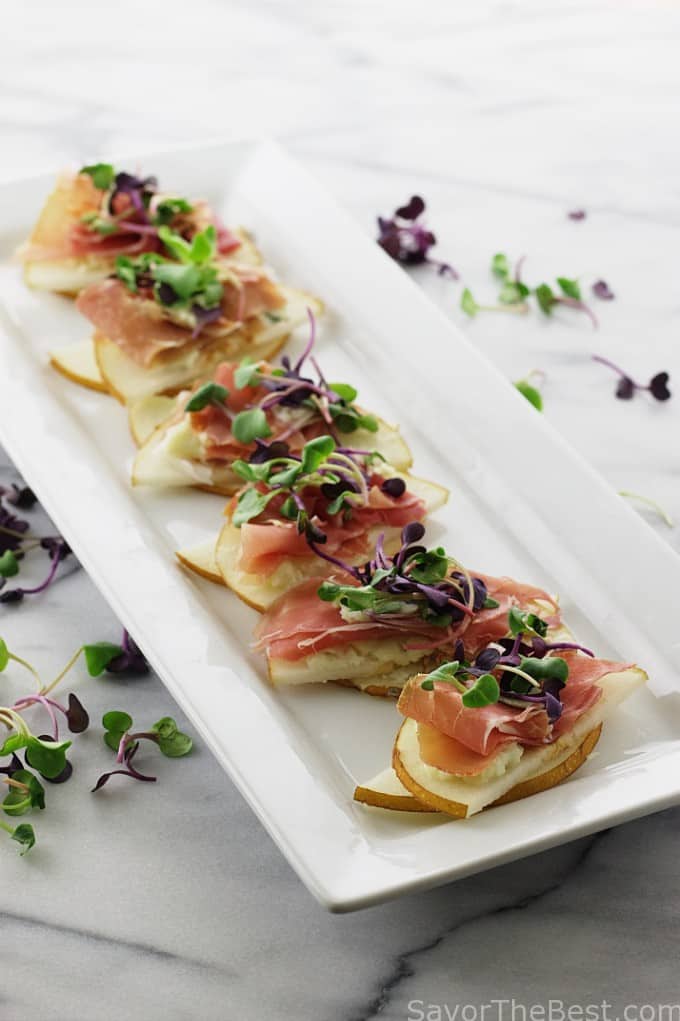 After so much heavy holiday feasting I am ready for something refreshing and healthy. If you are looking for an appetizer to share at a New Year's party and want something that is healthy and light, try these Asian pear prosciutto appetizers topped off with radish microgreens.
The Asian pear slices are sweet and crisp. They are complimented by the soft goat cheese and salty prosciutto but it is the radish microgreens garnishment that not only adds some color to this treat but also a nice peppery crunch.
Microgreens are the baby shoots of salad vegetables that are picked just after the first leaves develop. They are older than sprouts and younger than baby greens. They have higher levels of nutrients than their fully mature plants. Microgreens are available in some produce stores and usually located with the fresh herbs. You can learn how to grow your own microgreens and purchase a variety of seeds at The Sprout People as well as Rodale's Organic Life. In just a matter of days you can be enjoying a crop of microgreens.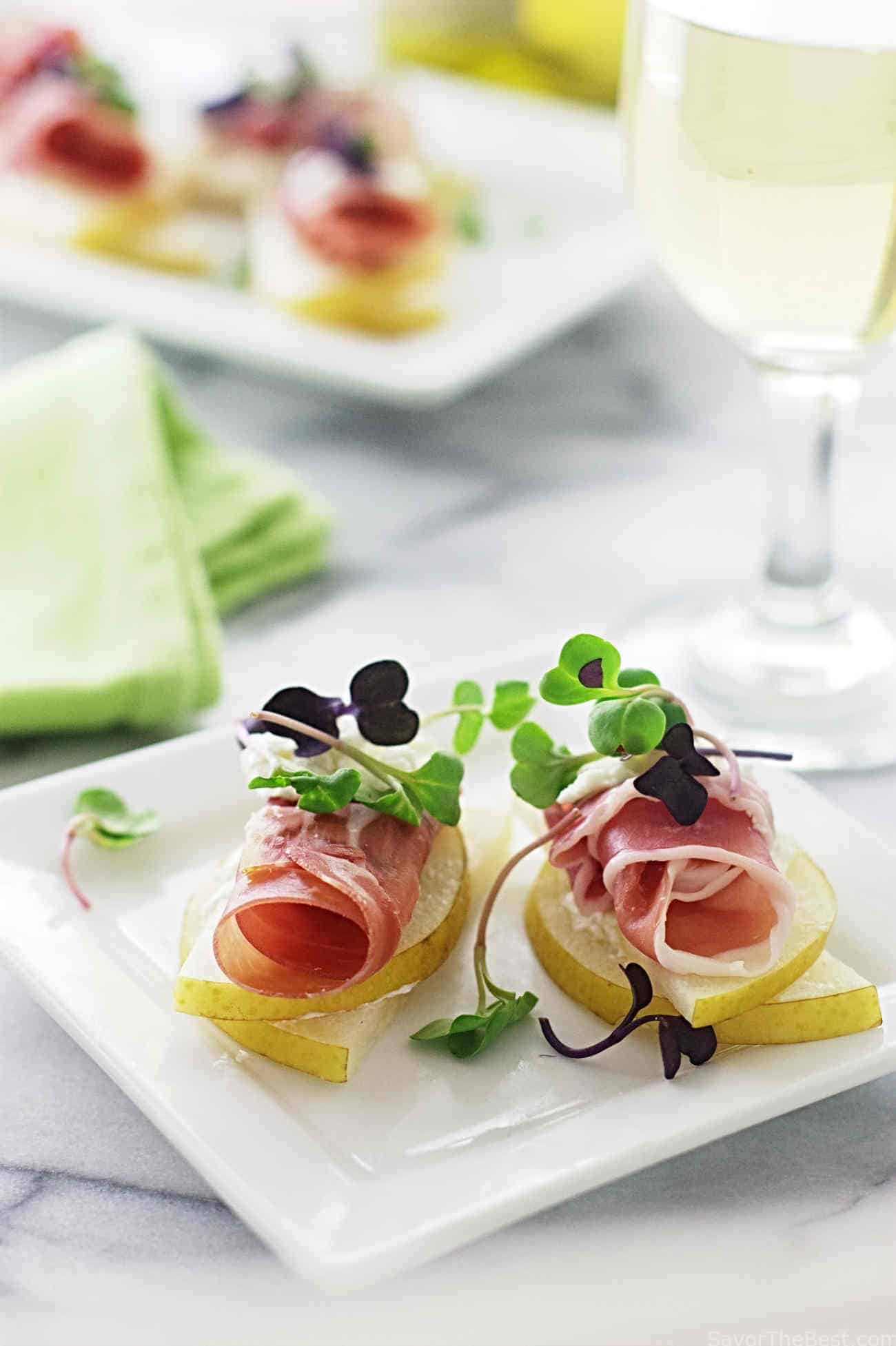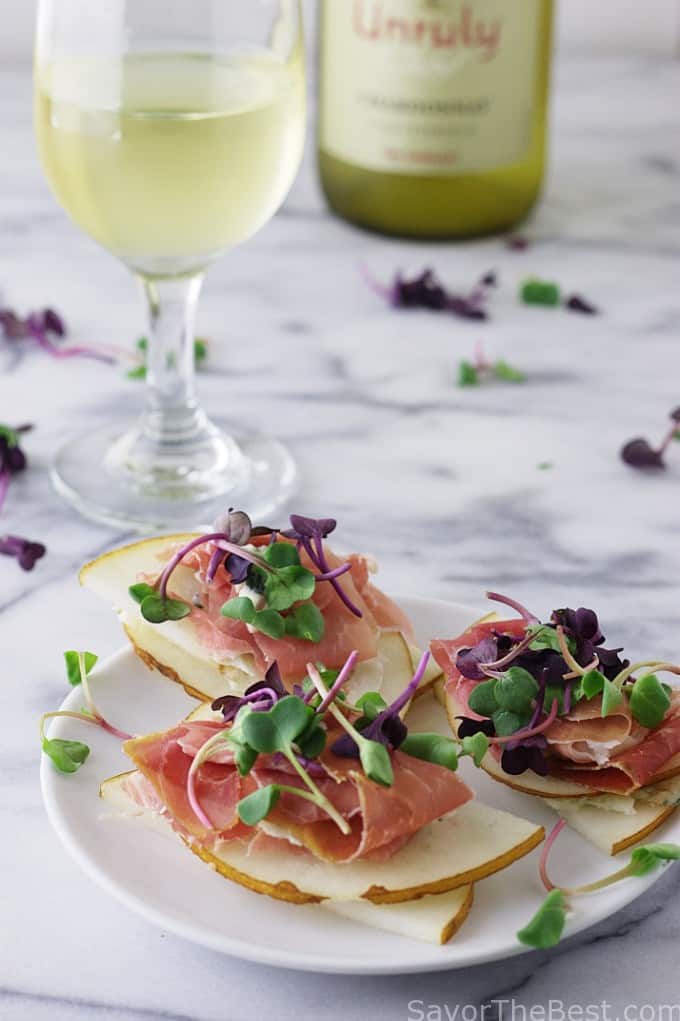 These appetizers are very easy to make and take but a few minutes to slice the pears, spread the goat cheese and add the prosciutto slices. A mandoline makes the process even quicker when slicing the pears but they can be sliced with a knife just as well.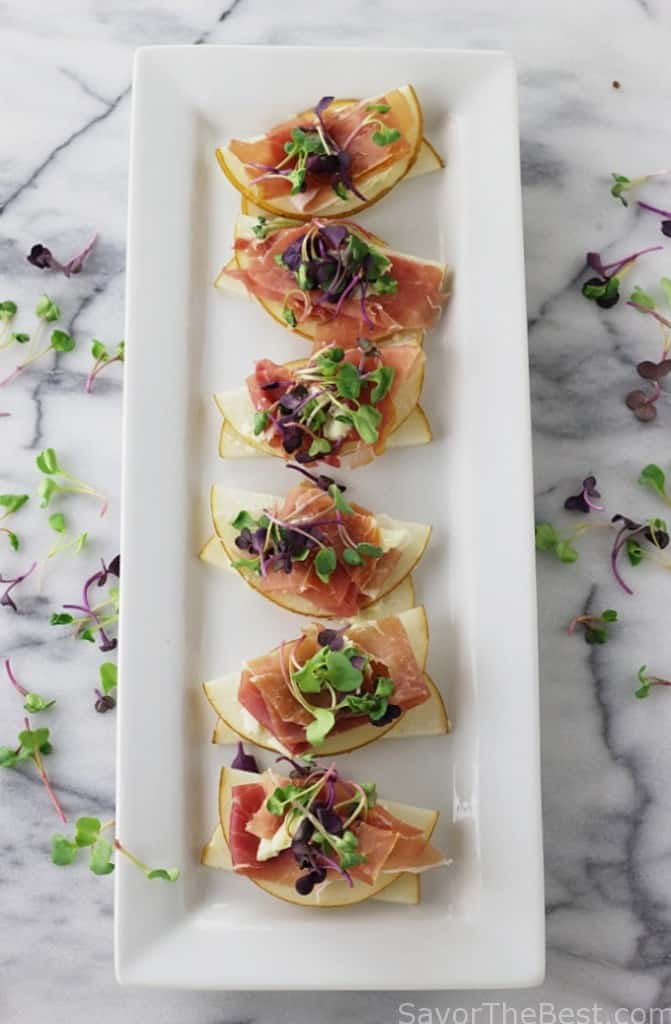 Some other ideas for healthy appetizers: Cucumber-Shrimp Bites Shrimp Cocktail Appetizers Fresh Vegetable Spring Rolls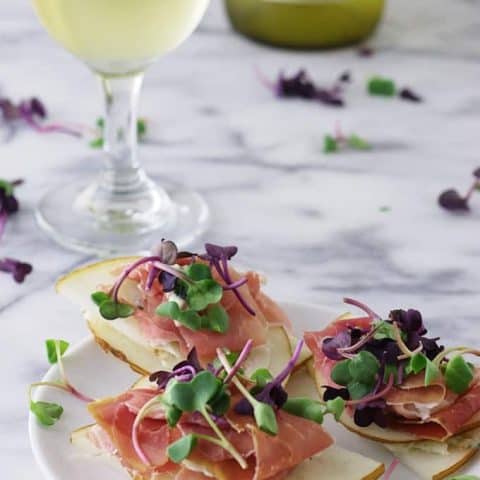 Asian Pear Prosciutto Appetizers
Yield: 18 servings
Prep Time: 15 minutes
Total Time: 15 minutes
An easy appetizer that is light and healthy made with sweet, crunchy Asian pears, thin strips of prosciutto, light, soft goat cheese and the zesty tang of radish microgreens.
Ingredients
1/4 cup freshly squeezed lemon juice
2 Asian Pears, sliced into 1/8-inch rounds
8 ounce log of soft goat cheese, room temperature
6 ounces sliced prosciutto, cut into strips, 1-inch wide by 3-inches long
1 3/4 ounce package radish microgreens
Instructions
Add the lemon juice to a shallow bowl. Wash the pears and slice them in rounds with a sharp knife or mandoline. Dip each pear slice in the bowl with the lemon juice to keep the pears from discoloring.
To assemble the appetizers: Transfer the pear slices to a paper-towel lined plate and lightly blot with another paper towel. Working with one slice at a time, cut the slice in half and spread a 1/4 teaspoon soft goat cheese on one half, add the other half of the pear slice, alternating the direction. Spread another 1/4 teaspoon of soft goat cheese to the top pear slice and top with a folded strip of prosciutto and a dab of the soft goat cheese and finish with the radish microgreens.
Continue assembling the remaining pear slices, add to a serving plate, garnish with additional radish microgreens and serve.
Nutrition Information:
Yield: 18
Serving Size: 1
Amount Per Serving:
Calories: 58
Total Fat: 3g
Saturated Fat: 2g
Trans Fat: 0g
Unsaturated Fat: 1g
Cholesterol: 12mg
Sodium: 314mg
Carbohydrates: 2g
Fiber: 1g
Sugar: 1g
Protein: 5g
Nutrition information is a guideline only, is calculated automatically by third-party software, and absolute accuracy is not guaranteed.