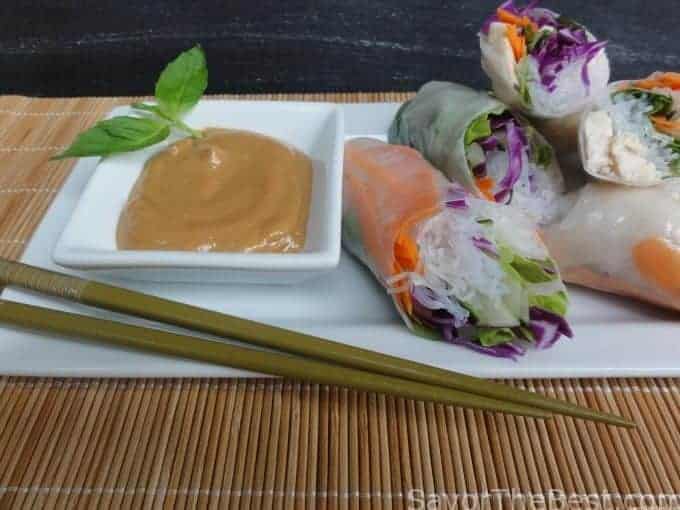 Mom and I went to a ladies event at my church last night. We had a request to bring fresh vegetable spring rolls for the snack that would be served. I had brought spring rolls to previous events with these ladies and was delighted that they were such a big hit and generated requests for a repeat appearance. These are essentially hand held rolls of salad. You can put just about anything in them but my favorite way to make them is to gather a bunch of crunchy vegetables and throw in a handful of flavorful herbs. The herbs are what makes this so wonderful. Not only are they full of flavor but also they are a storehouse of nutrients and have a wide variety of health benefits.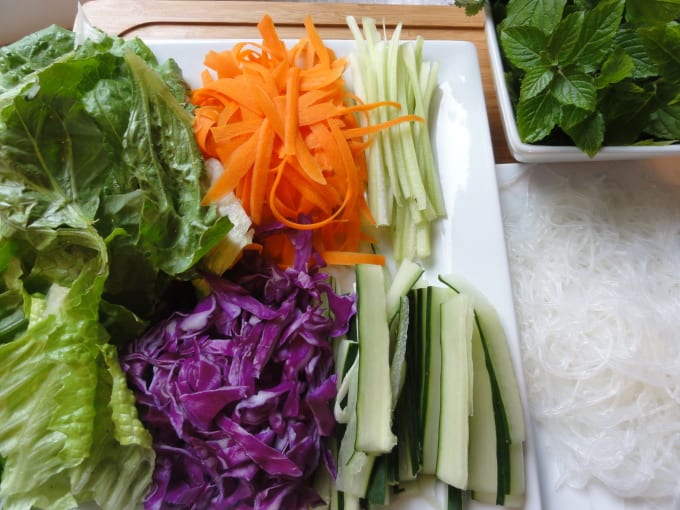 We served these with a wonderful sweet and spicy peanut sauce that really gives them some zing however your favorite salad dressing or vinaigrette would work well too.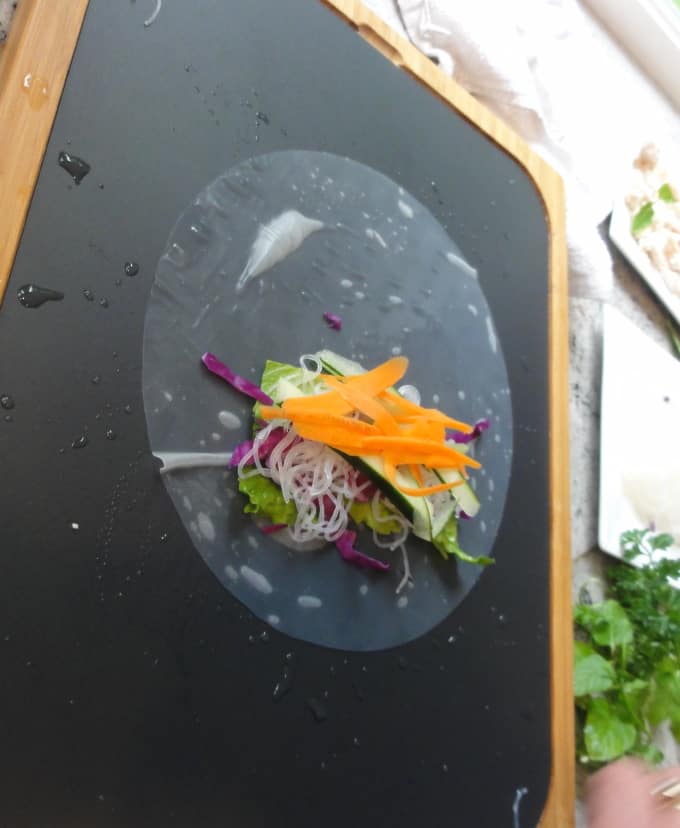 The trick I have found to successfully rolling these is to only give the rice paper a quick dip in water. If you soak the rice paper too long it will get very soft and tear easily. I dip the rice paper for only 3 to 5 seconds. The paper will not be completely soft when you lay it out to fill it but as you assemble the ingredients, the rice paper will eventually soften up and be ready to roll. Place a small amount of the fillings in the rice paper and roll it up like a burrito.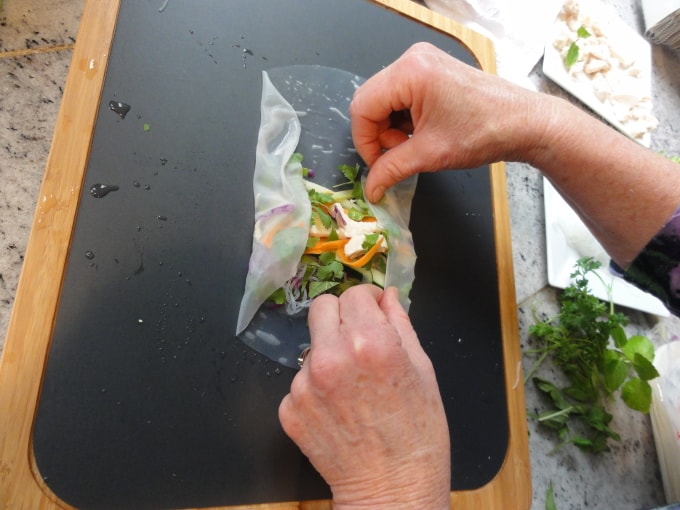 These are a great "make ahead" appetizer. Just wrap them up and keep them in the fridge. If you store them for more than 6 hours the rice paper wrapper will start to dry out and get tough. If this happens just mist them with some water and they will be soft and ready to eat. This trick also works well to get them apart if they stick together. A little mist of water will moisten the wrappers so you can pull them apart without tearing them.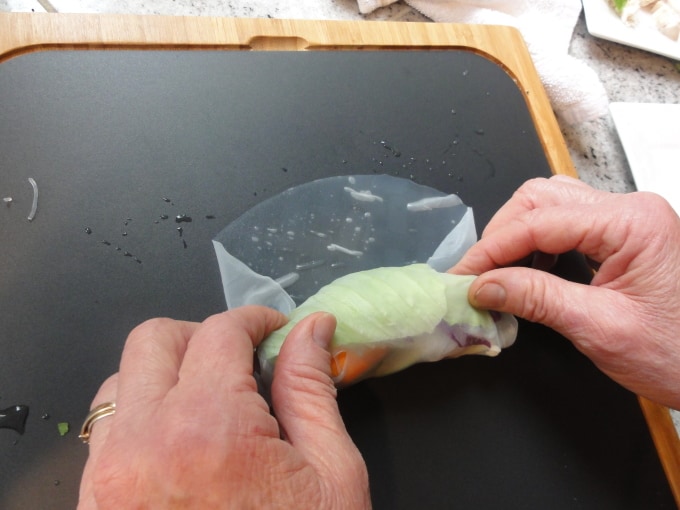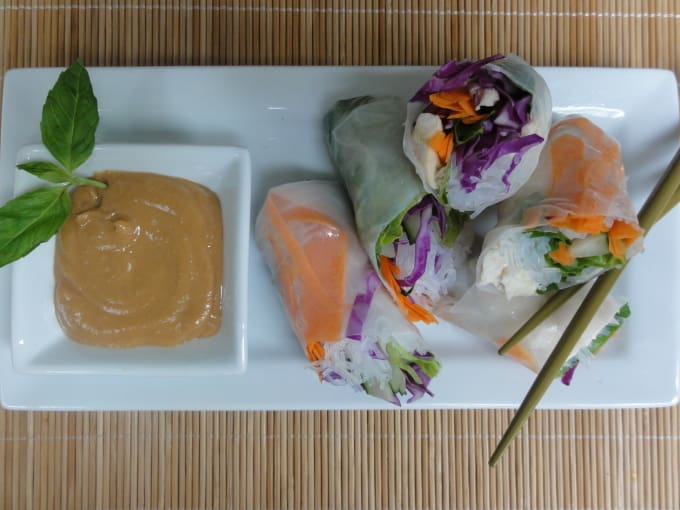 CONNECT WITH SAVOR THE BEST!
Be sure to follow us on our social media accounts
Facebook | Twitter | Youtube | Pinterest | Instagram
If you make one of our recipes, snap a photo and tag it @savorthebest on Instagram and hashtag it #savorthebest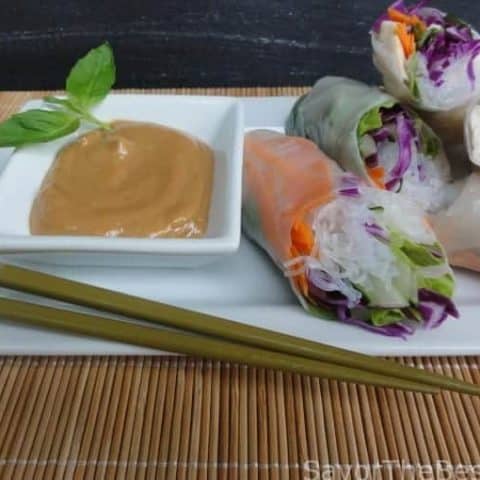 Fresh Vegetable Spring Rolls
Yield: 10 to 12 spring rolls
Prep Time: 40 minutes
Total Time: 40 minutes
Vietnamese style fresh spring rolls
Ingredients
½ package vermicelli rice noodles
10 to 12 sheets of rice paper
1 head romaine lettuce
2 cups shredded purple cabbage
2-3 carrots cut into thin strips or shredded
1 cucumber, seeds removed and cut into thin strips
2 celery stalks cut into thin strips
2-3 cups fresh mixed herbs such as cilantro, basil, mint, and parsley
Dipping Sauce
Instructions
Place the vermicelli noodles in a large bowl and poor hot water over them. Let them sit in the water to soften while you prepare the vegetables.
Once the noodles are soft, drain them. Place all the prepared vegetables and noodles together at your workstation so you can assemble the rolls easily.
Pour a cup of warm water in a pie plate and dip your rice paper in it for 3 to 5 seconds then transfer it to a dish or non- porous surface.
Lay a small amount of each of the prepared ingredients (noodles, lettuce, cabbage, carrots, cucumber, celery, and herbs) in a small bunch near the top of the rice paper.
Roll the rice paper over the vegetables. Tuck the ends of the rice paper over as you roll to close the roll up.
Continue with the remaining ingredients.
Make the spicy peanut sauce and serve as a dip with the Spring Rolls.
Notes
nutrition value does not include the peanut dipping sauce
Nutrition Information:
Yield: 10
Serving Size: 1
Amount Per Serving:
Calories: 73
Total Fat: 0.1g
Carbohydrates: 17g
Protein: 1g