Refreshing and tangy, this Vietnamese green mango salad is fresh, vibrant and an irresistible combination of yummy flavors.
Slightly sweet and sour, green mango is tossed with savory shrimp, mint leaves, and crisp, fried shallots that make this bold and scrumptious! It is light yet filling, and can easily be a standalone main course.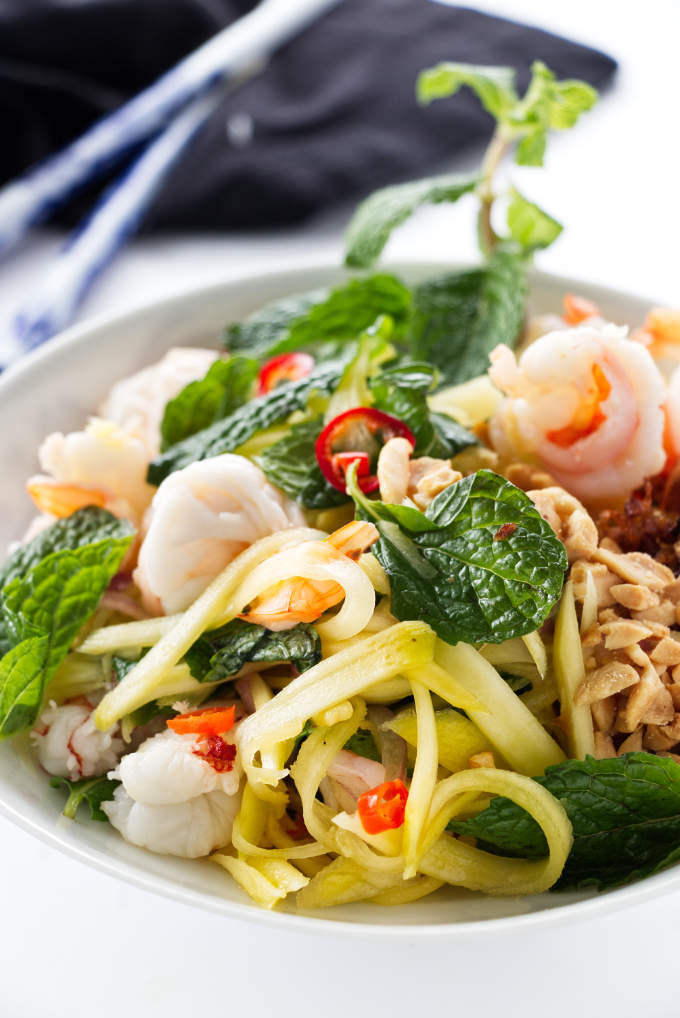 Who can resist classic Vietnamese flavors!? We'll enjoy a Chicken Banh Mi Sandwich or brothy Beef Pho any day, and this green mango salad recipe is just as tasty.
For more Asian flavors, try our pork fried rice or our coconut chicken curry.
Green Mango is Edible:
If you're wondering, "is green mango just unripe mango?" the answer is yes! Have you ever had it? It is harvested early before given the time to ripen.
Perhaps you've seen them and passed them over at the grocery store, choosing a soft and sweet yellow mango instead. But the next time you see them, make sure to snag a few!
Green mango has a delicate, tangy flavor, and each part of the mango is put to good use in a variety of Asian cuisines. From relishes to salads and even dips, there are many uses for green mango and our delicious Vietnamese green mango salad recipe is just one of them!
This Simple Green Mango Salad Is:
Tart and tangy, with juicy shrimp, crispy shallots and crunchy peanuts
A healthy and delicious meal that is also gluten-free
Easy to make
Ready in 30 minutes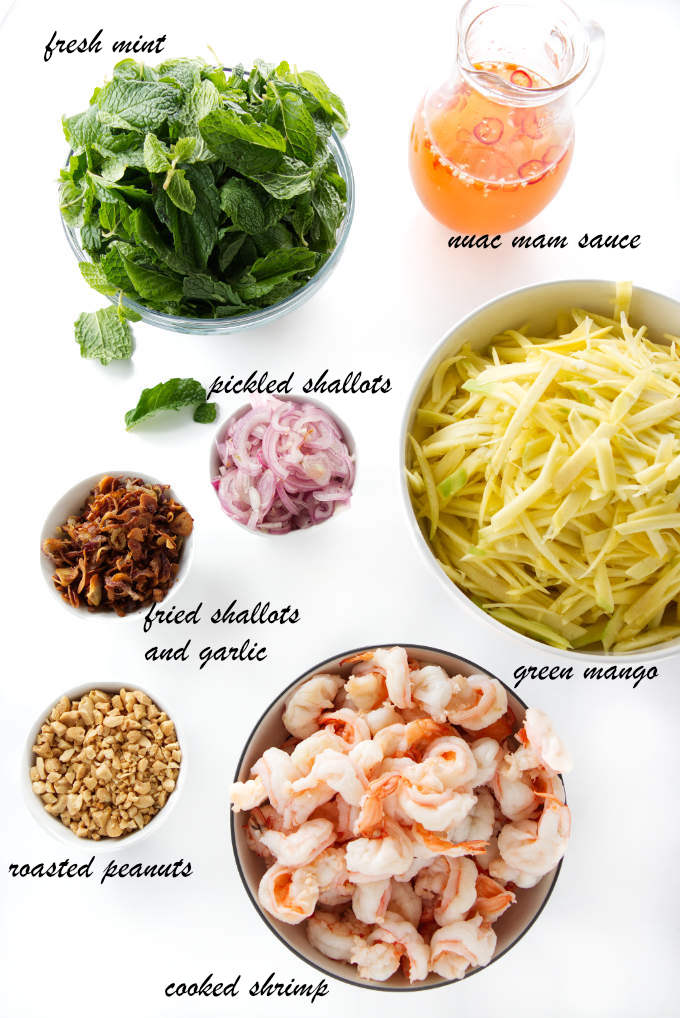 The Ingredient List:
Our Vietnamese green mango salad is the perfect combination of sweet, savory, and tangy, with a combo of pickled shallots, crispy fried shallots and garlic, and tender shrimp. Here's what you'll need to make it:
Pickled shallots. Fresh shallots and your basic pickling ingredients- water, vinegar, sugar.

Crispy shallots and garlic. More shallots, thinly sliced. Plus lots of minced garlic.

Vegetable oil. For making the fried shallots and garlic.

Shrimp. Go with medium-sized shrimp, peeled and deveined. We cut the shrimp in half lengthwise so they would curl into little spirals when cooked. You can leave them whole if you want.

Green mangoes. You'll need two large green mangoes. We choose one that was slightly more ripe than the other.

Mint. This salad is loaded with fresh mint- we use 1 to 2 cups of the herb.

Nuac mam sauce. A type of Vietnamese fish sauce. You can usually find it in the Asian food aisle of your grocery store or at an international market or you can make it yourself.

Roasted peanuts. Chopped roasted peanuts give this green mango salad a nice crunch!
Green Mango Salad Recipe:
This Vietnamese green mango salad recipe comes together quickly, with only 10 minutes of cook time! The shrimp only take a couple of minutes to cook and the remaining time is used to fry the shallots and garlic.
Here's how to make Vietnamese green mango salad, please scroll to the recipe card for the full recipe:
Make the pickled shallots. Make the pickling brine and let the shallots marinate while you prepare the salad.

Fry the shallots and garlic. Cook the shallots in hot oil, stirring to break them up. When the shallots turn a golden color, add the garlic and cook until golden brown. Drain the oil through a sieve and discard.

Cook the shrimp. Add the shrimp to boiling water. Cook for a couple of minutes, then set them aside to cool.

Make the green mango salad. Peel the mangoes and cut them into thin strips. Add them to the shrimp, then add the mint, pickled shallots and the nuac mam sauce. Top the salad with fried shallots and chopped peanuts.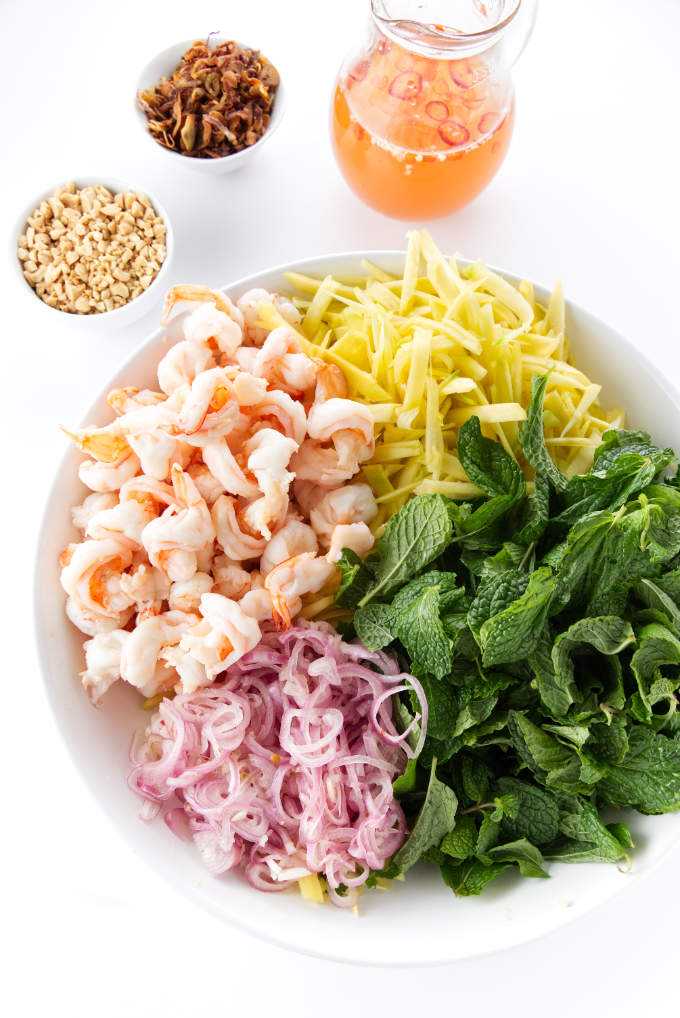 Tips:
You can pickle the shallots in advance. You only need to give the shallots about 30 minutes to pickle but they will be even more flavorful if you let them marinate for several hours or a couple of days.
For cooking shrimp: When cooking the shrimp, they will only need to boil for a couple of minutes. The shrimp will turn opaque when done. Remove them from the boiling water, then immediately submerge them into ice water to stop the cooking process.
Leftover green mango salad will keep refrigerated for 1-2 days or until the salad ingredients wilt.
Frequently Asked Questions:
How did you get your shrimp so curly?
We sliced the shrimp in half lengthwise before cooking them. Thin slivers of shrimp will curl into a spiral as soon as they cook. If you want to cut them the same way we did, you will only need to boil them for about 90 seconds.
How do you peel and cut green mangoes?
We find it is easiest to peel a green mango with a vegetable peeler. We like to cut the mangoes into long, thin strips, sort of like flat noodles. A mandoline slicer works really well for this and makes the slices very thin.
This simple green mango salad is light and refreshing but it doesn't lack in flavor! It works well for brunch, lunch or dinner, and is a unique dish that is sure to be a hit if you're serving guests.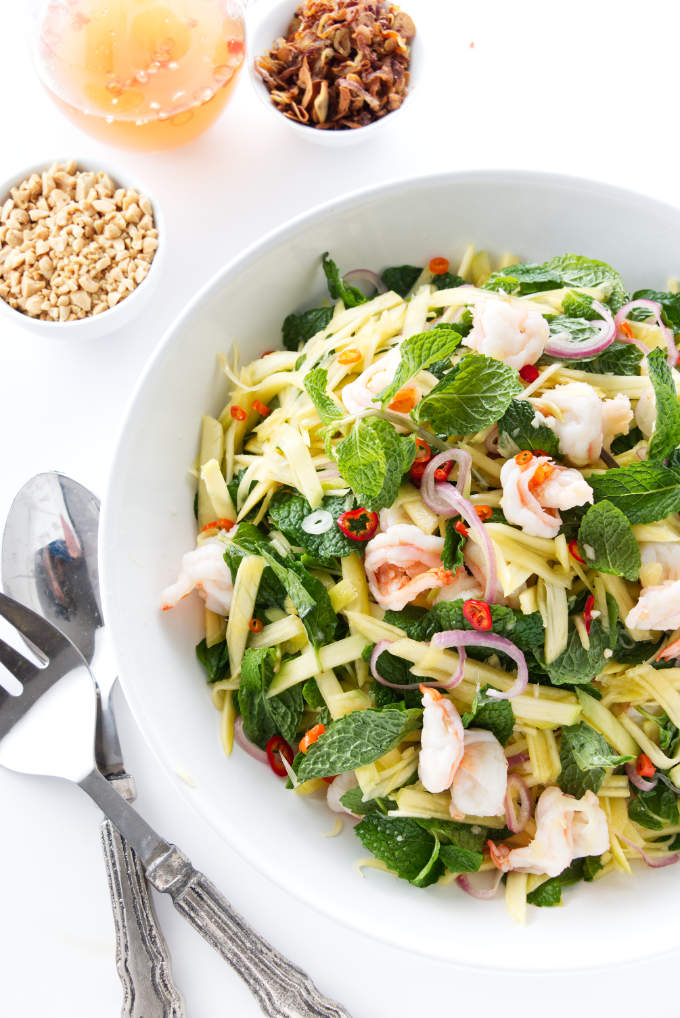 Helpful Tools:
Some of the following are affiliate links. If you click on these links and purchase something, we may receive a small commission. You don't pay any extra but it will help us keep the lights on.
Some Other Recipes We Are Sure You Will Love:
Saigon Chicken Salad: Tender shreds of poached, ginger-infused chicken tossed with crisp veggies, sweet mango slices, and fresh mint with Thai basil.
Asian Teriyaki Meatballs: These beef and pork meatballs are bite-sized but big on flavor! They're oven-baked then drenched in a delicious teriyaki glaze. Serve these meaty bites as a starter or a main course.
Black Rice Salad with Tomatoes and Basil: This nutrient-packed salad is everything you need when it comes to a healthy meal! It's vibrant and tasty! Black rice with juicy cherry tomatoes, red onion, mozzarella, pine nuts, and fresh basil combines for this delicious, wholesome, and hearty dish.
Connect With Savor the Best:
Please follow us on our social media accounts
Facebook * Instagram * Pinterest * Youtube * Twitter
Did you make this recipe? We would love to hear from you. Drop us a comment below.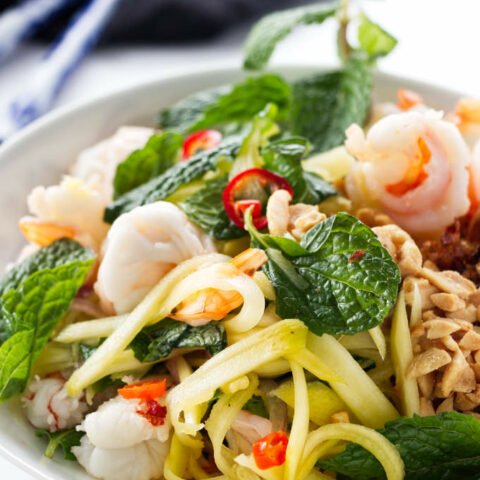 Vietnamese Green Mango Salad
This green mango salad is refreshing, tangy and colorful. The salad is enhanced by crisp fried shallots and garlic along with savory shrimp for an irrestistable meal.
Ingredients
Pickled Shallots
1 cup water
3 tablespoons vinegar
2 tablespoons sugar
3 shallots, thinly sliced
Make the Fried Shallots and Garlic
2 to 3 shallots thinly sliced
5 garlic cloves, minced
vegetable oil for frying
For the Green Mango Salad
1/2 pound medium shrimp, peeled and deveined
1 teaspoon salt
2 large green mangoes
1 to 2 cups fresh mint leaves
1/4 cup nuac mam sauce
1/2 cup roasted peanuts, chopped
Instructions
Make the Pickled Shallots
Add the water, vinegar, and sugar to a medium-sized bowl. Stir until the sugar dissolves then toss in the shallots. Set the shallots aside to marinate while you prepare the salad.
Make the Fried Shallots and Garlic
Place a fine-mesh strainer over a heatproof bowl.
Add enough oil to a small skillet to get it about 1/4 inch deep. Heat the oil over medium heat and add the shallots. Cook the shallots for 5 to 8 minutes, stirring frequently to break them up. When the shallots start to get a light golden color, add the garlic and cook, stirring frequently for 3 to 5 more minutes until medium golden brown.
Immediately pour the oil, shallots, and garlic through the sieve.
Let the oil drain into the bowl and set the fried shallots aside.
Cook the Shrimp
Prepare a bowl of ice water and set it aside.
Bring a pot of water to a boil and toss in a teaspoon of salt. Boil the shrimp for about 2 to 3 minutes or until you see them change color. The timing will depend on the size of the shrimp (see the notes if you want curly, spiraled shrimp, as we have in the photos).
Drain the shrimp and transfer them to the ice water to stop them from cooking. Transfer them to a salad bowl and pat them dry with paper towels.

Make the Green Mango Salad
Peel the mangoes and cut them into thin strips. Add the mango slices to the salad bowl with the shrimp.
Add the mint leaves, pickled shallots, and the nuac mam sauce. Toss the ingredients together.
Top the salad with the fried shallots and chopped peanuts.
Notes
To get curly, spiraled shrimp (as seen in the photos) slice them in half lengthwise before you add them to the boiling water. The thin halves will curl up as soon as they hit the hot water. You will only need to boil them for about 90 seconds. It will depend on the thickness so check for doneness based on the color.
Recommended Products
As an Amazon Associate and member of other affiliate programs, I earn from qualifying purchases.
Nutrition Information:
Yield:

6
Serving Size:

1
Amount Per Serving:
Calories:

265
Total Fat:

10g
Saturated Fat:

1g
Trans Fat:

0g
Unsaturated Fat:

7g
Cholesterol:

80mg
Sodium:

467mg
Carbohydrates:

34g
Fiber:

5g
Sugar:

24g
Protein:

14g
Nutrition information is a guideline only, is calculated automatically by third-party software, and absolute accuracy is not guaranteed.