When you take your first whiff of this fragrant bowl of beef pho you will begin to salivate. You will be able to detect the fragrance of the anise, ginger and cinnamon in that broth. The beef broth is rich and full of flavor, it is the heart and soul of this dish.
Pho is a Vietnamese noodle-based soup and it is considered the national dish of Vietnam. I have been told that this is what they eat for breakfast every morning. And why not?
It is full of protein from the meat, carbs from the noodles, fresh vegetables, herbs, and a delicious flavorful broth. This soup is healthy, nutritious and everything you need for a good start to a day of work.
Pho restaurants have been in most major cities of the United States for a few years and I have eaten some really wonderfully delicious bowls of beef pho. And, I have had a few watery, tasteless bowls of beef pho as well.
Most beef pho bowls are made with pretty much the same ingredients which include beef, rice noodles, fresh vegetables, and herbs. So why are some better than others? The difference is the broth, it is all about the broth.
Use the best broth for beef pho:
With this bowl of beef pho we start with a homemade beef bone broth that has simmered for many hours to extract all the flavors from the meaty bones and aromatics. Then we use that rich, dark brown broth to further simmer it with the unique flavors of fresh ginger root, cinnamon, star anise and a touch of sugar.
How to serve beef pho:
Serve the beef pho in a large, deep bowl layered with hot noodles, green scallions, cilantro and thin slices of beef. The piping hot beef broth is ladled over the beef which cooks it perfectly.
It is served with a large condiment platter of fresh crisp vegetables and herbs including bean sprouts, Thai basil, cilantro, mint, sliced jalepeno peppers and a whole lot of lime wedges. The condiment platter is passed so each guest can make up their own bowl, heaping it full of these delightful textures and flavors.
Dishes of fish sauce and hot Asian chili sauce are also passed for the guests to add to their taste. This is how it is served at the Chinoise Cafe in Issaquah, WA Yum!
I like to squeeze on lots of lime, push those fresh herbs and veggies down into that yummy broth with my chopsticks letting those flavors steep and meld together before I gobble it down. Then, when there is nothing left but broth I pick my bowl up and slurp down that delicious broth! Yum 🙂
Check out these recipes: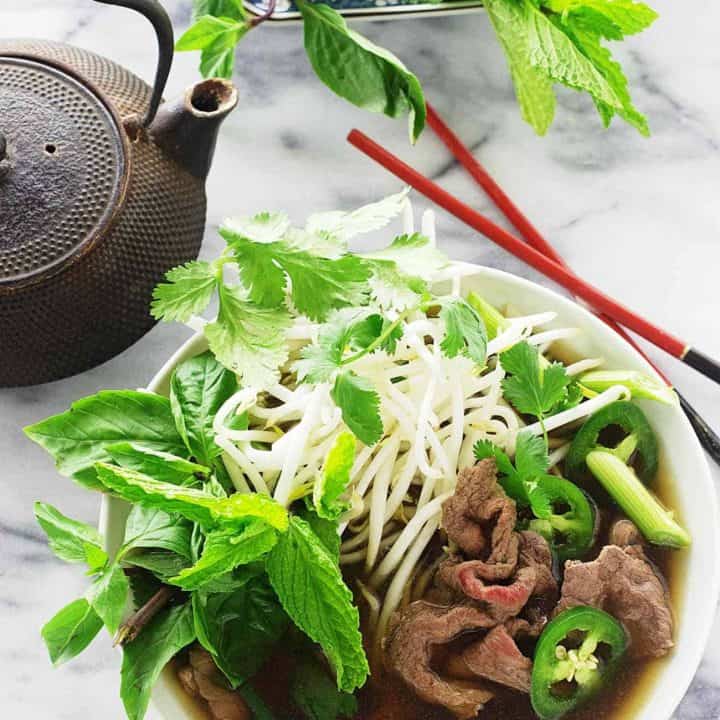 Beef Pho
Beef pho is served in a deep bowl and layered with hot noodles, green scallions, cilantro and thin slices of beef. A rich, hearty, piping hot beef broth is ladled over the beef then condiments of Thai basil, mint, cilantro jalepeno peppers and lime wedges are passed to guests to add and enjoy.
Ingredients
For the Broth:
2 1/2 quarts beef broth, preferably freshly made
3 tablespoons Vietnamese fish sauce
2-3 slices of fresh ginger root
2 cinnamon sticks, 4-5 inches each
5 star anise
1 tablespoon sugar
Prepare the Noodles:
1 package (14-ounces) Thai rice sticks, (noodles) medium
For the Condiment Plate:
1 ounce package Thai basil leaves
1 bunch fresh cilantro
1 bunch fresh mint
2 cups fresh bean sprouts
5 limes, cut into wedges
2 jalapeño chiles, stemmed and thinly sliced
For the Soup Bowls:
1 pound beef sirloin
6-8 green onions
1/2 bunch fresh cilantro, rinsed and dried
Asian chili sauce or Sriracha sauce for serving
Instructions
Using a large stock pot, add the beef stock and bring it to a boil over high heat. Add the fish sauce, ginger root, cinnamon sticks, star anise and the sugar, reduce the heat to low and simmer for 30 minutes.
Arrange the basil leaves,1 bunch of the cilantro, mint, bean sprouts, lime wedges and sliced jalapeño chiles on a platter and reserve as condiments when the pho is served.
Fill a large saucepan with water and bring it to boil over high heat. Add the rice noodles and cook according to the manufacturer's directions.
While the noodles are cooking add the following to a plate and reserve until the noodles are cooked: Slice the beef as thinly as possible…if the beef is partially frozen it will slice easily. Slice the green onions on a diagonal about 1-inch. Cut the 1/2 bunch of cilantro into large pieces.
Drain the noodles and add an equal portion to 4 large bowls, add the green onions and chopped cilantro.
Divide the slices of beef equally among the bowls, placing them in one layer on top of the green onions and cilantro. Remove the ginger root, cinnamon sticks and star anise from the beef broth and ladle the piping hot broth into the bowl. The hot broth will cook the thinly sliced beef.
Serve the bowls immediately and pass the platter of condiments and the chile sauce.
Notes
Most butchers in a grocery store will gladly slice the beef for you, or, it may be available packaged as sukiyaki beef.
Nutrition Information:
Yield:

4
Serving Size:

1
Amount Per Serving:
Calories:

480
Total Fat:

18g
Saturated Fat:

7g
Trans Fat:

0g
Unsaturated Fat:

8g
Cholesterol:

104mg
Sodium:

3436mg
Carbohydrates:

39g
Fiber:

6g
Sugar:

10g
Protein:

43g
Nutrition information is a guideline only, is calculated automatically by third party software, and absolute accuracy is not guaranteed.