Smoky split-pea soup is the perfect comfort food for a chilly winter day. This soup is easy to make and loaded with a smoky, savory flavor. The smoky flavor comes from a smoked ham hock, which gives the soup a delicious depth of flavor. It's also a cinch to whip up, with only one pot to clean afterward.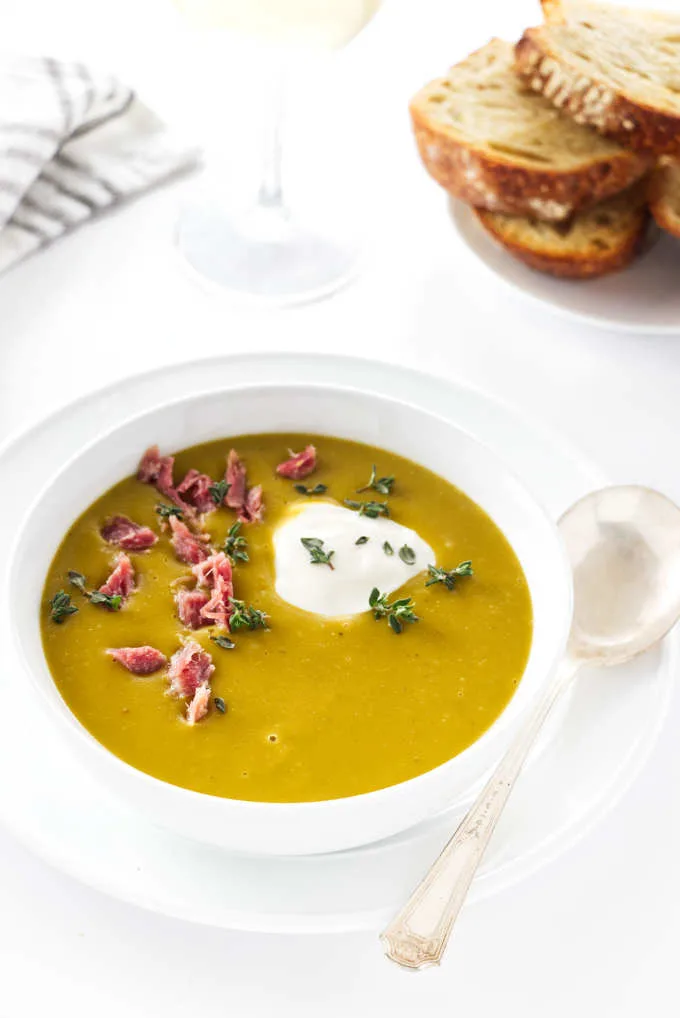 This is an old-time soup that will bring back comforting good memories. Serve a big bowl of this split pea soup as a hot lunch with warm homemade bread or for your main dinner meal with bread and a crispy wedge salad. This easy recipe makes a large, family-size one-pot meal with little clean-up.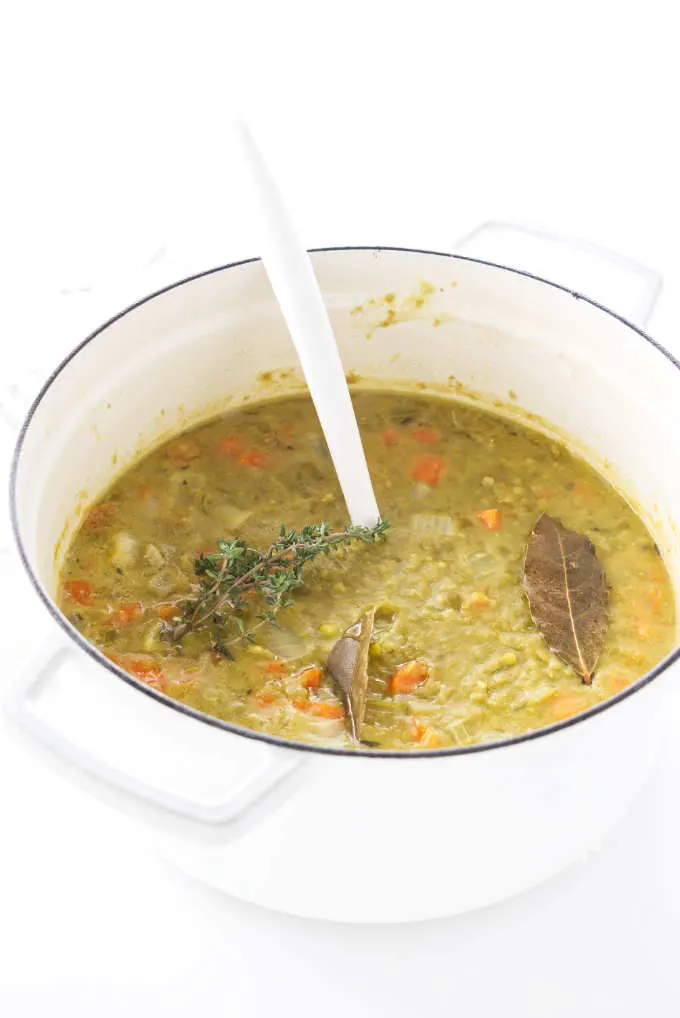 Why This Recipe Works:
Opening a can of storebought soup is definitely an easy way to get your fix of split pea soup but I challenge you to try this "made from scratch" recipe. One bowl of this soup and you will not be buying any more cans of soup!
Smoked ham hocks release a smoky depth of flavor and incredible richness
Low fat, filling and healthy
Budget friendly
One-pot meal
Quick and easy to make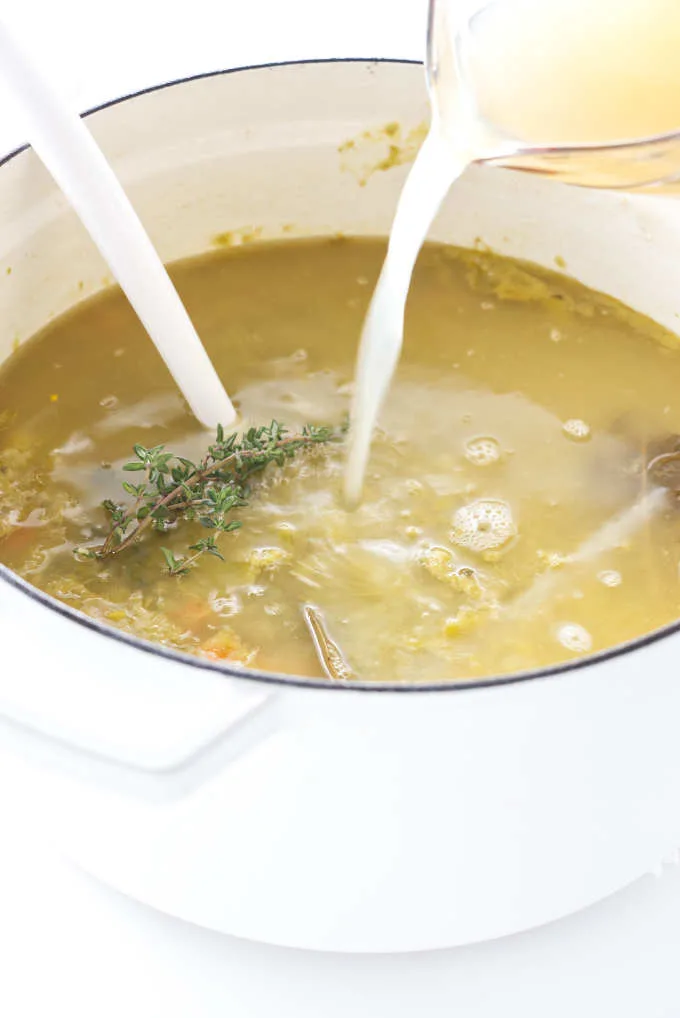 Ingredients Needed to Make Smoky Split Pea Soup:
This split pea soup is a hearty, nutritious, and filling meal that is low-budget and easy to make. Most of the ingredients may already be on hand. This soup is guaranteed to be delicious!
Dried split-peas. Give the peas a rinse and make sure they don't have any pebbles.

Smoked ham hocks. You can find ham hocks fully cooked or uncooked. Smoked ham hocks are fully cooked from the smoking process and they have more flavor.

Fresh thyme and bay leaves. You can also substitute with dried herbs.

Chicken stock

Onions, carrots and celery

Salt and pepper

Sour cream for garnish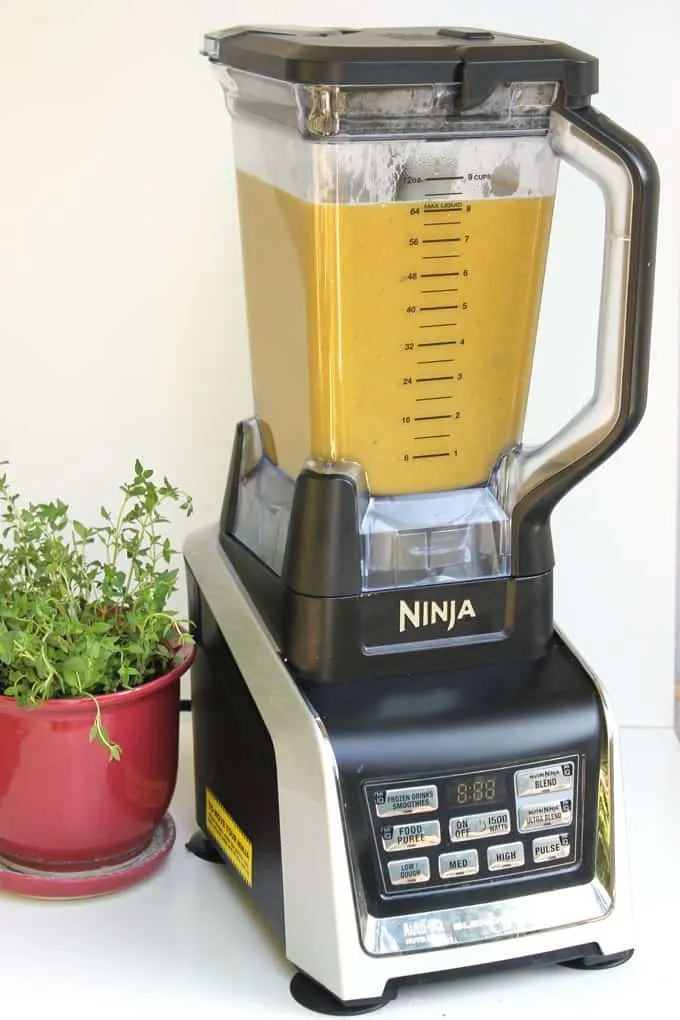 How to Make Smokey Split-Pea Soup:
The smoked ham hock takes an hour to simmer and infuse all the smoky flavor into the water. It turns the water into a smoky, savory broth. Next, the broth gets used to cook the dried peas and vegetables. Here is a brief run-down on how to make this split pea soup. Please scroll down to the printable recipe card for the full instructions.
Cook the ham hocks in water then remove and discard them*.
Add the split peas and herbs. Reduce the heat to low and simmer for one-hour.
Add the chicken stock, carrots and celery and cook until the vegetables get tender.
Optional: Process the soup in a blender until smooth and creamy then return to the soup pot to reheat.
Tips for Success
Cook the ham hock for at least an hour. It takes time to break down all the collogan and extract the smokey flavor.

Add the vegetables last. If you add the carrots and celery too early, they will get mushy.

Save the meat. Ham hocks are cut from the bottom part of a pig's leg and have very little meat. Before discarding the ham hock try to salvage the meat to use as a garnish on each bowl of soup. If you want a lot of ham, check out our recipe for split pea and ham soup.

Serve with a dollop of sour cream and fresh thyme leaves.

Keep it chunky or make it smooth. We used a blender to puree the soup into a thick and creamy consistency. You can also leave the soup thin and brothy, with chunks of vegetables.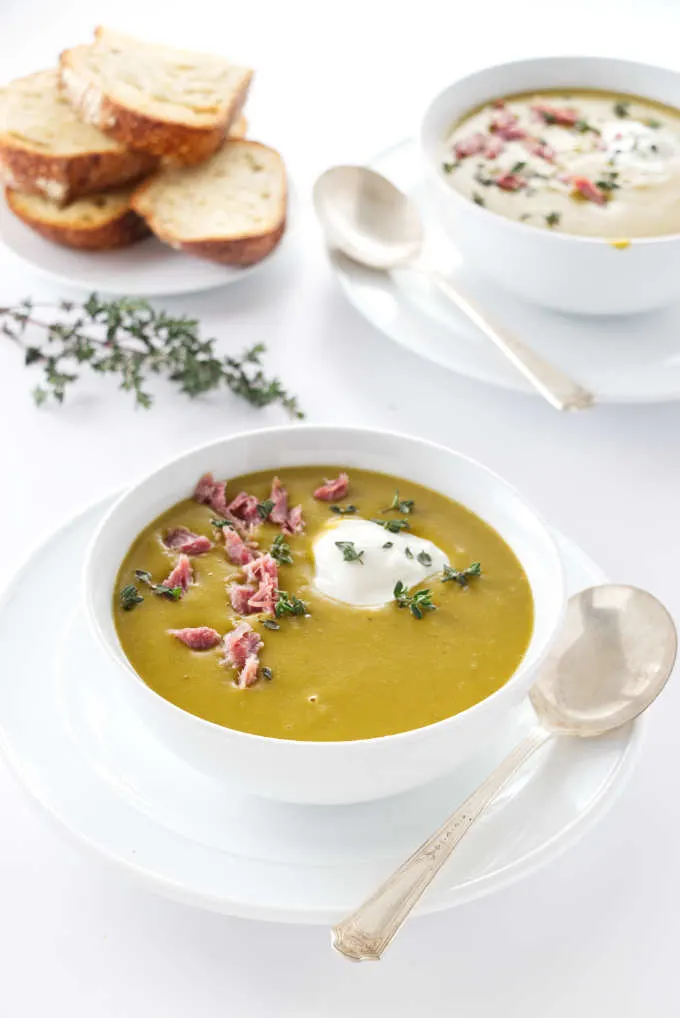 Will Dried Split Peas Cause Flatulence?
Yes, they will. However, there is a product called Beano® that helps eliminate the troublesome effects of foods that produce gas. Dried split peas are not the only offenders that Beano® helps. You can add it to cauliflower, Brussels sprouts, black beans, or any food that is a problem for you.
Can you eat ham hocks?
Yes, ham hocks are edible but there is not a lot of meat on them. We use ham hocks primarily for infusing a smoky, bacon flavor to recipes like bean soup and our yellow pea soup. Most of the ham hock consists of skin and connective tissues. You can eat them if you like that kind of protein.
Some Other Recipes We Are Sure You Will Love:
When making Roasted Cauliflower and chicken Soup, it is the roasting process of the florets that brings out the sweetness of the cauliflower. We added fresh leeks, garlic, seasonings and broth then pureed the soup in a blender. Adding a bit of cream gives this soup a thick bisque-like goodness.
Do you have any recipes that bring up sentimental memories? Our Red Beans and Ham will take me down memory lane. This is a budget-friendly, low fat, one-pot meal. And it is healthy too!
This Fire Roasted Tomato Soup takes that old-fashioned tomato soup to the next level! It is thick and creamy like a bisque and has chunky bits of charred tomatoes. Use canned fire-roasted tomatoes and have a hot bowl of soup in 30 minutes!
Our smoky bacon bean dip is always a favorite at parties. It is fast and easy to make and has a ton of flavor.
Connect With Savor the Best:
Please follow us on our social media accounts
Facebook * Instagram * Pinterest * Youtube * Twitter
Did you make this recipe? We would love to hear from you. Drop us a comment below.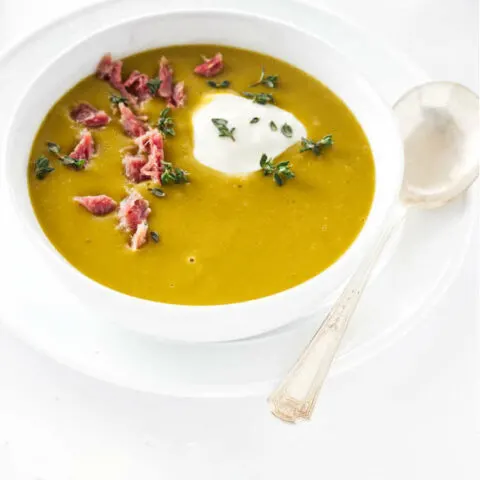 Smokey Split-Pea Soup
Cook Time:
2 hours
30 minutes
A low-calorie, low fat, thick, creamy split-pea soup with flavor from the smoked ham hocks. A dollop of sour cream tops it off.
Ingredients
1 pound dried split-peas
8 cups water
2 smoked ham hocks
1 teaspoon salt
1 large onion, chopped (about 1 cup)
1 bundle of thyme, tied with string
2 bay leaves
4 cups chicken stock
2 medium carrots, cut into 1/2-inch pieces (about 1 cup)
2 stalks celery, cut into 1/2-inch pieces (about 1/2 cup)
Salt and pepper to taste
8 sprigs of fresh thyme for garnish
8 tablespoons sour cream for garnish
Instructions
Check for and discard any pebbles that may have been packaged with the peas and then rinse them in a large strainer and set them aside.
Add the water to a Dutch oven or large heavy-bottomed soup pot and add the ham hock and salt. Bring to a boil, reduce to simmer and cook for 1hour. Remove the ham hock and discard. With a strainer, skim any scum and fat from the broth and measure the remaining broth adding additional water to total 8 cups of liquid.
Add the green peas, onions, thyme bundle, and bay leaves to the measured liquid. Turn the heat to medium-high and bring the soup to a boil. Cook for 10 minutes. Reduce the heat to low and simmer for one hour.
Add the chicken stock and stir in the chopped carrots and celery. Return to a boil, reduce the heat to low, and simmer for an additional 45 minutes. Remove the bay leaves and what is left of the tied thyme bundle and discard.
If you want a smooth, thick soup, puree it in a blender. Working in batches, add the soup to a food processor or blender, being careful not to overfill with the hot soup. When all the soup has been processed to a creamy consistency return it to the soup pot and bring it to a boil.
Remove from the heat and serve with a dollop of sour cream and a sprig of thyme in each bowl as a garnish.
Notes
Check over the cooked/cooled ham hock before discarding as there may be enough salvageable meat to garnish servings of soup.
Another option to ham hocks would be ham shanks which is a cut higher up on the pig's leg and has more useable meat.
If you puree the soup in a blender, add the salvaged meat after the soup gets blended.
Recommended Products
As an Amazon Associate and member of other affiliate programs, I earn from qualifying purchases.
Nutrition Information:
Yield:

8
Serving Size:

1
Amount Per Serving:
Calories:

159
Total Fat:

4g
Saturated Fat:

2g
Trans Fat:

0g
Unsaturated Fat:

2g
Cholesterol:

13mg
Sodium:

567mg
Carbohydrates:

21g
Fiber:

6g
Sugar:

5g
Protein:

10g
Nutrition information is a guideline only, is calculated automatically by third party software, and absolute accuracy is not guaranteed.