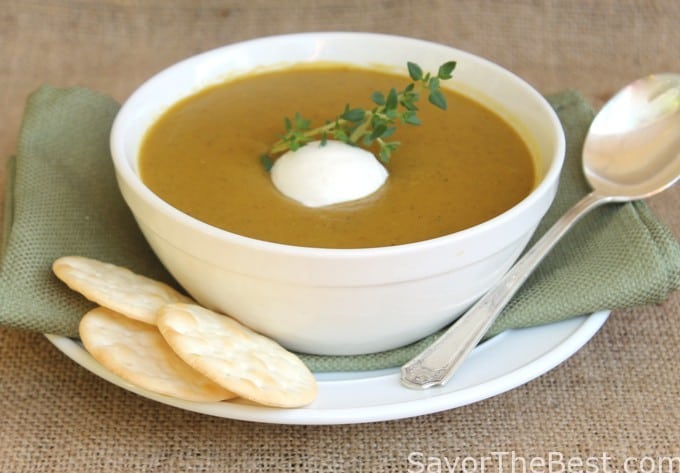 Brrrrr…this is a really cold morning, Jack Frost left us a thick layer of ice last night and I am going to cook up a nice hot batch of smokey split-pea soup. It should be ready by lunch-time when Don comes in from whatever project he is working on in the cold garage. He likes my soups and always says 'this is my favorite soup' to whatever one he is currently enjoying. He's a good guy!
This soup is so easy to prepare and it is just perfect for our cold winter weather. The smoked ham hock takes an hour or so, simmering, to get all the flavor out of it and then the broth is used to cook the dried peas and vegetables. The smokey split-pea soup is thick and full of nutrition, fiber and protein, plus it is low-calorie and low-fat.
There are two versions of split-pea soup, one is chunky with vegetables and tender peas while the other is a thick, creamy version. This recipe is for the creamy version. I will process it in my Nutri-Ninja blender when the vegetables and peas are tender and it will give it a rich creaminess.
This new piece of kitchen equipment is fantastic, it is a blender and food processor all in one and it is powerful!! Dahn and I attended the International Food Bloggers Conference in September where the product was being demonstrated. A week or so later Dahn was asked to review the Nutri-Ninja Blender Duo with Auto IQ. Dahn posted her review of the blender and if you are looking to purchase a new blender or food processor you might like to read her post and her impressions of the performance of this appliance.
The soup was processed in the blender in batches and it made fast work of pureeing and blending this all together, resulting in a delicious creamy soup. A tablespoon of sour cream in each bowl of soup as a garnish adds a few calories but it is worth it as it really tops it off nicely.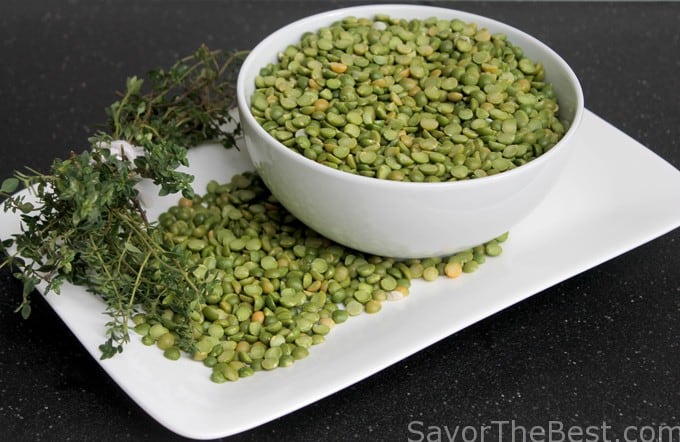 Dried peas for smokey split-pea soup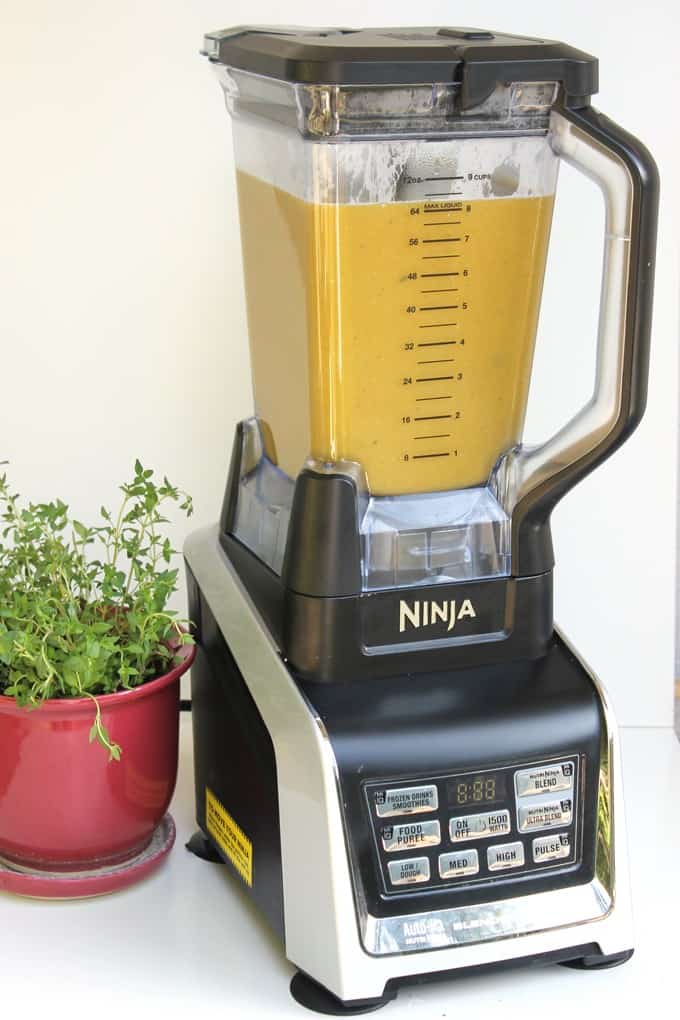 This is a great machine and made fast work of pureeing this soup.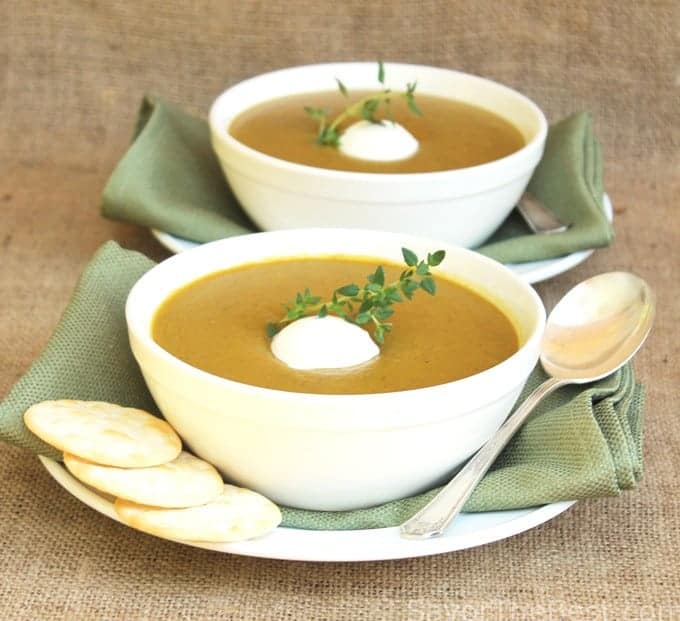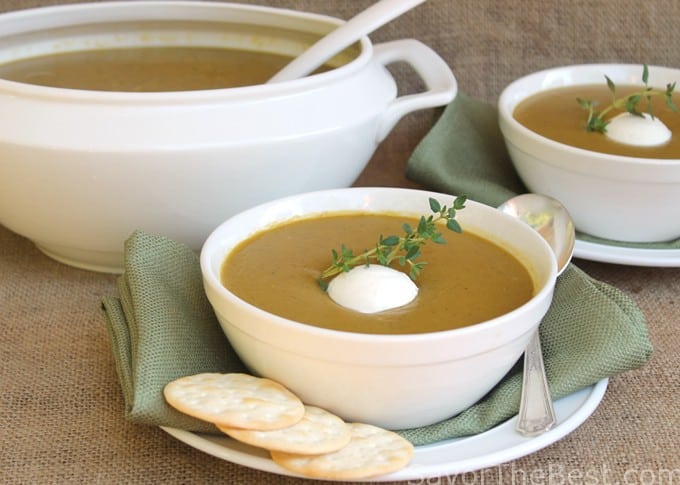 CONNECT WITH SAVOR THE BEST!
Be sure to follow us on our social media accounts
Facebook * Instagram * Pinterest * Twitter * Youtube
Did you make this recipe? We would love to hear from you. Drop us a comment below.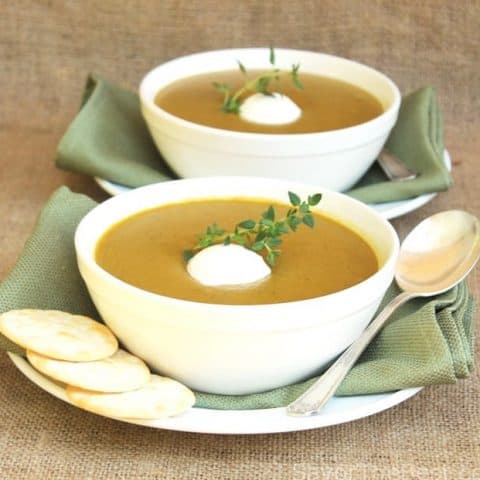 Smokey Split-Pea Soup
Yield: 8 servings
Prep Time: 30 minutes
Cook Time: 2 hours 30 minutes
Total Time: 3 hours
A low calorie, low fat, thick, creamy split-pea soup with flavor from the smokey ham hocks. A dollop of sour cream tops it off.
Ingredients
1 pound dried split-peas
8 cups water
2 smoked ham hocks
1 teaspoon salt
1 large onion, chopped (about 1 cup)
1 bundle of thyme, tied with string
2 bay leaves
4 cups chicken stock
2 medium carrots, cut into 1/2-inch pieces (about 1 cup)
2 stalks celery, cut into 1/2-inch pieces (about 1/2 cup)
Salt and pepper to taste
8 sprigs of fresh thyme for garnish
8 tablespoons sour cream for garnish
Instructions
Check for and discard any pebbles that may have been packaged with the peas and then rinse them in a large strainer and set them aside.
Add the water to a Dutch oven or large heavy-bottomed soup pot and add the ham hock and salt. Bring to a boil, reduce to simmer and cook for 1hour. Remove the ham hock and discard. With a strainer, skim any scum and fat from the broth and measure the remaining broth adding additional water to total 8 cups of liquid.
Add the green peas, onions, thyme bundle, and bay leaves to the measured liquid, and over medium-high heat bring to a boil and cook for 10 minutes. Reduce the heat to low and simmer for one-hour.
Add the chicken stock and stir in the chopped carrots and celery, return to a boil, reduce the heat to low and simmer for an additional 45 minutes. Remove the bay leaves and what is left of the tied thyme bundle and discard.
Working in batches, add the soup to the food processor or blender, being careful not to overfill with the hot soup. When all the soup has been processed to a creamy consistency return it to the soup pot and over medium-high heat bring to a boil. Remove from the heat and serve with a dollop of sour cream and a sprig of thyme in each bowl as garnish. Serve immediately.
Nutrition Information:
Yield: 8
Serving Size: 1
Amount Per Serving:
Calories: 159
Total Fat: 4g
Saturated Fat: 2g
Trans Fat: 0g
Unsaturated Fat: 2g
Cholesterol: 13mg
Sodium: 567mg
Carbohydrates: 21g
Fiber: 6g
Sugar: 5g
Protein: 10g
Nutrition information is a guideline only, is calculated automatically by third party software, and absolute accuracy is not guaranteed.