If your days are as crazy-busy as mine are, you will appreciate a hearty, healthy hot bowl of soup for a quick dinner. Split Pea and Ham soup is an old-time favorite. Thick and nutritious with lots of ham chunks and vegetables, this comfort food will warm your tummy, heart and soul.
If you like this you will want to try our Swedish yellow split pea soup or our smokey split pea soup.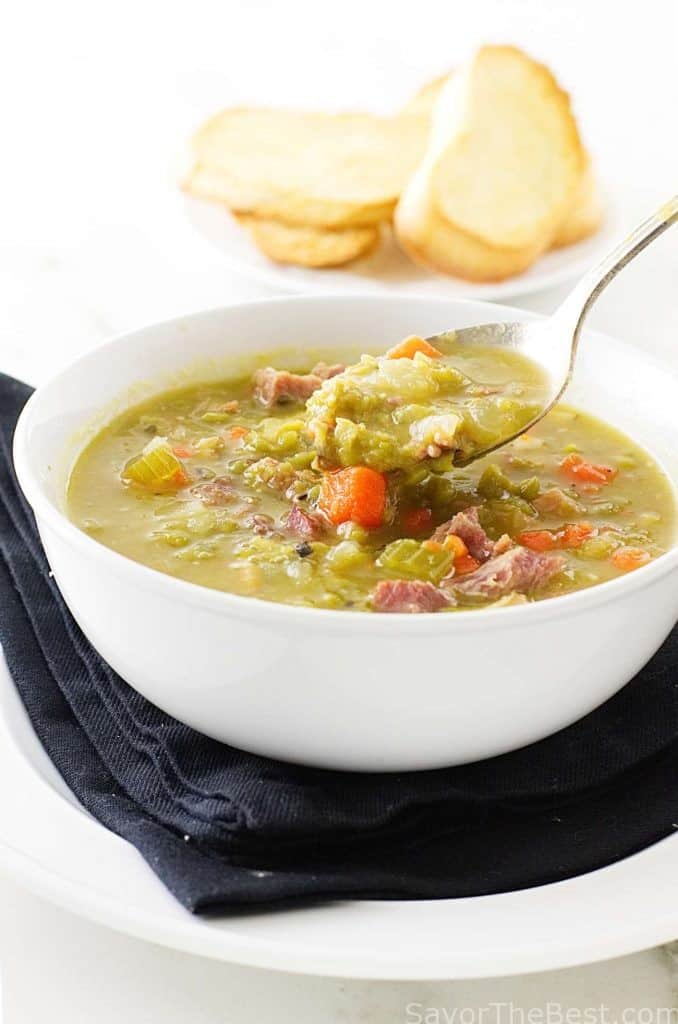 Split pea and ham soup is one of those good ole comfort soups that are extra special in the cold winter months. It is big on flavor and easy on the budget. We like it with a lot of smoky ham chunks for extra flavor.
If you like a good, hearty, full-flavor soup you should try our 15-Bean Soup. It is a meal in itself!
Ingredients You Need to Make This Split Pea and Ham Soup: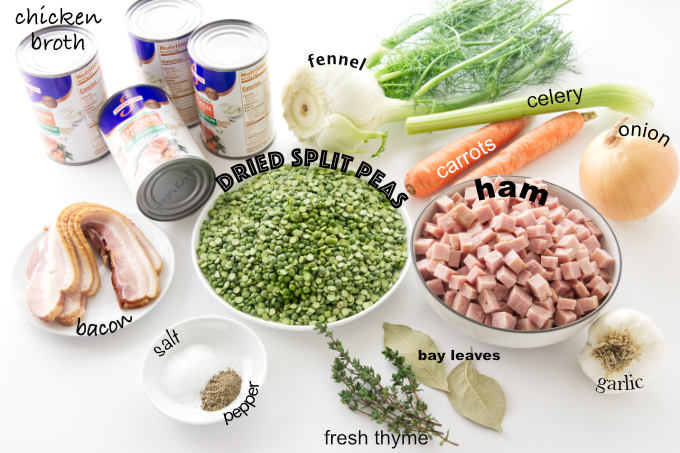 Bacon. The smokey, salty flavor of bacon adds great flavor to this soup.
Onion, celery, and carrots. When this trio of veggies are combined, it is often called a mirepoix and it is a flavor base for many soups.
Fennel. Fennel has a similar texture to celery but it has so much more flavor. Some people say it has an anise-like flavor but I can also detect a sweet, mild onion-like flavor. It makes a great addition to this soup.
Garlic. Fresh garlic has a much more vibrant flavor than dried garlic. Use an extra clove or two if you love garlic.
Dried split peas. There is no need to soak the dried peas before you cook them but you should rinse them in case there dirt and debris on them.
Lean ham. Use leftover ham from a previous dinner or just purchase 1-1/2 pounds of ham from the deli case.
Bay leaves and fresh thyme sprigs. These herbs release additional layers of flavor as the soup simmers.
Here's How to Make This Split Pea and Ham Soup from scratch:
This is a great soup to prepare for a hearty one-pot supper on a cold winter evening! Take a look at the photos of these six easy steps. Here's a brief rundown of how to put this soup together. But be sure to scroll to the bottom of the post for the full instructions in the recipe card.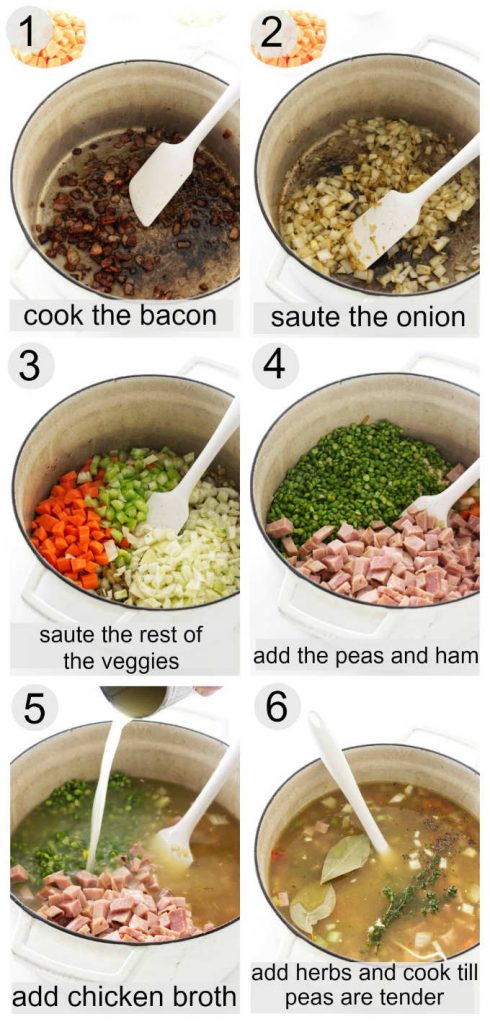 Fry the diced bacon until it is crisp; then remove it and save it for later.
In that same flavor-packed bacon drippings, cook the onions, celery, carrots and fennel for a few minutes until soft; then stir in the garlic.
Add in the rinsed and drained dried peas and the diced ham .
Pour in the chicken broth, and add the salt, pepper, bay leaves and the bundle of thyme sprigs.
Give it all a good stir and cook for about 1 hour until the peas are tender.
Remove and discard the bay leaves. Ladle up the soup and serve hot with the crisp bacon bits on each serving.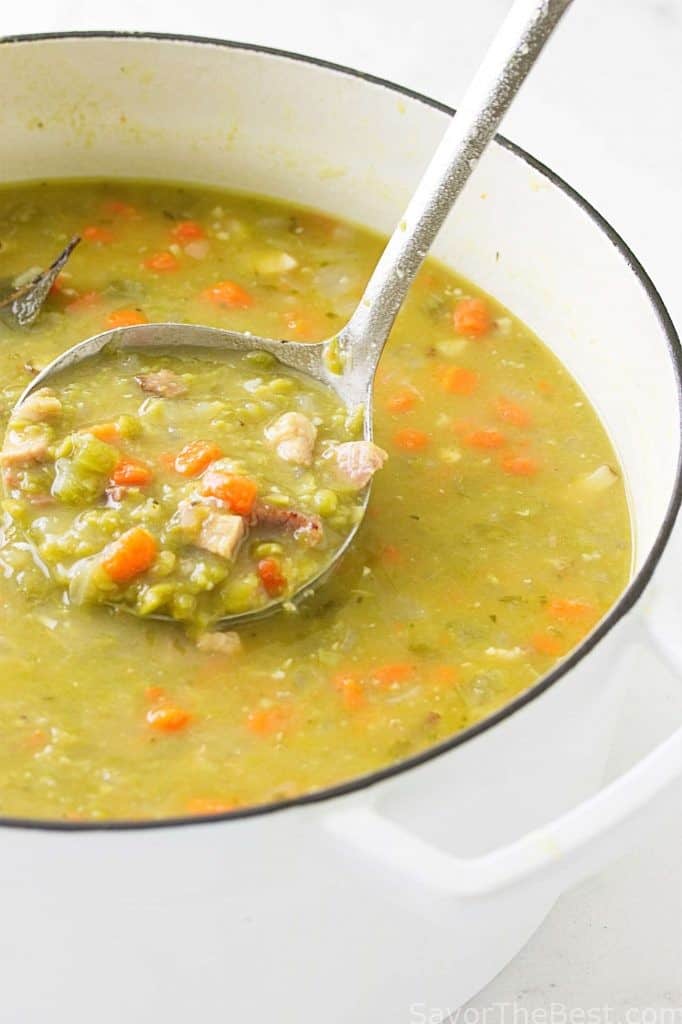 This split pea and ham soup is so rewarding in flavor and nutrition. The dried green peas can also be soaked overnight for a faster cook-off, but honestly? It doesn't take much time at all to soft-cook them in a nourishing, hearty pot of soup. I have never soaked my split peas.
Fennel vs. Potatoes:
We have substituted diced fennel for potatoes in this recipe. The fennel reduces the carbohydrate count and adds great flavor. In addition, it is a much healthier vegetable.
Fennel is a non-starchy vegetable and it is delicious in this soup. Fennel has a unique licorice taste when it is raw It adds a subtle earthiness when added to this soup and complements the vegetables.
This is a healthy, wholesome, hearty soup that is high in fiber and big on taste.
Using dried split peas
Make sure your split peas are stored correctly and they are not too old. If split peas and other legumes are too old or stored improperly, they will not soften up when they cook.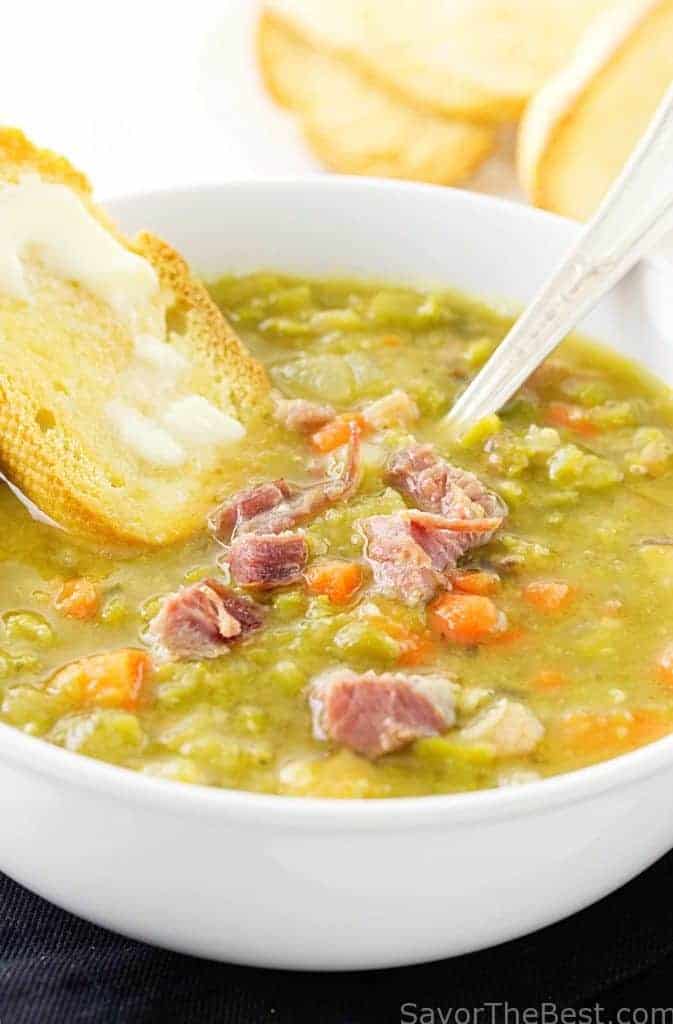 I have included a good amount of smoked ham in this pot of soup as well as some flavorful bacon to sauté the aromatic vegetables with and crumble as a garnish. This is truly a good, old-fashioned comfort food that is perfect for our cold winter weather. Make up a pot and enjoy!
Tips for better soup.
Add extra broth if the split peas absorb too much liquid.
Ham and bacon vary in saltiness. Season the soup lightly when you add all the ingredients then add additional salt at the end if it needs more.
If you want a smooth texture you can puree the soup when it finishes cooking.
The soup will get thicker as it sits. Leftovers are especially thicker. If you want to thin it out, add some chicken broth.
Frequently asked questions:
Can you freeze this soup?
Yes. Freeze the soup in freezer-proof containers for 4-6 months.
How long does split pea soup last in the fridge?
You can safely store this soup for 3 to 4 days in the fridge.
Can I substitute the fennel?
Yes. If you don't want to use the fennel you can either increase the amounts of onion, carrots and celery or you can add some diced potatoes.
Can I use a ham bone in this soup?
Yes. If you have a ham bone then go ahead and toss it into the soup pot to simmer. When the soup is finished cut off any meat attached to the bone and toss the bone out.
Check out these soups:
Connect With Savor the Best:
Please follow us on our social media accounts
Facebook * Instagram * Pinterest * Youtube * Twitter
Did you make this recipe? We would love to hear from you. Drop us a comment below.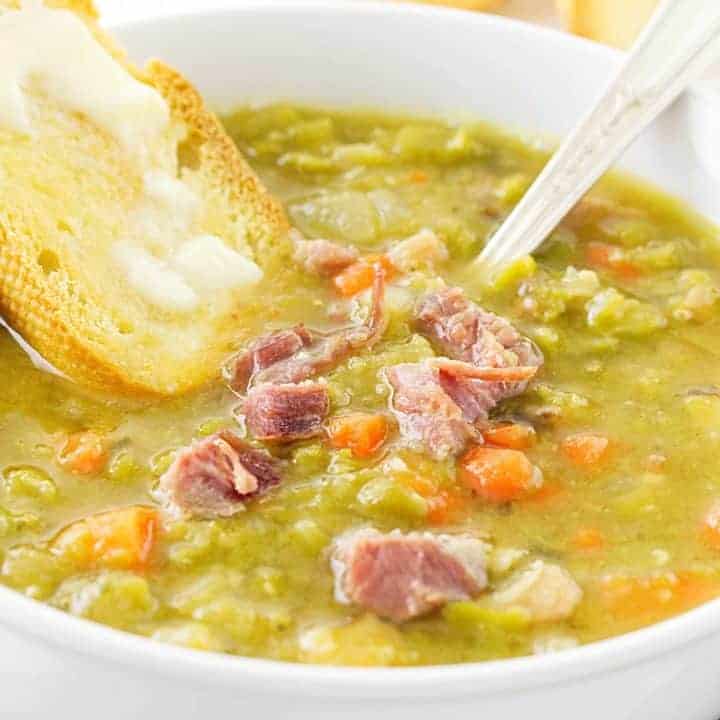 Split Pea and Ham Soup
Cook Time:
1 hour
20 minutes
Total Time:
1 hour
50 minutes
Homemade Split Pea and Ham Soup is a classic, comforting soup, perfect for the cold winter weather. Thick with heart-healthy split peas, chunks of smoky ham and lots of nutritious vegetables. Top with crisp bacon crumbles and serve with chunks of crusty bread.
Ingredients
4 slices of bacon, diced
1 cup chopped yellow onions
1/2 cup chopped celery
1 cup chopped carrots
1 medium fennel bulb, trimmed, core removed and chopped
4 cloves garlic, chopped
1 pound dried split peas, rinsed under cool water and drained
1 1/2 pounds lean ham, diced
8 cups chicken broth
1 teaspoon salt
1/2 teaspoon freshly ground black pepper
2 bay leaf
6 sprigs fresh thyme, tied together
Instructions
In a large pot set over medium-high heat, add the diced bacon and cook until crisp. Remove the bacon and drain on a paper towel lined plate and reserve.
Add the onions and cook, stirring, for 2 minutes then add the celery, carrots and fennel. Cook, stirring, until just soft, about 3 minutes. Add the garlic and cook, stirring, for 30 seconds.
Stir in the drained peas and the diced ham. Pour in the chicken broth and add the salt, pepper, bay leaves and thyme bundle. Cook, stirring occasionally, until the peas are tender, about 1 hour.
Remove and discard the bay leaves and thyme bundle. Adjust the seasoning, to taste, and serve immediately with the reserved crisp bacon bits on top.
Nutrition Information:
Yield:

10
Serving Size:

1-1/2 cups
Amount Per Serving:
Calories:

318
Total Fat:

6.5g
Saturated Fat:

1.9g
Cholesterol:

39mg
Sodium:

1775mg
Carbohydrates:

33g
Fiber:

13g
Sugar:

5.5g
Protein:

31g
This post was originally published January 3, 2018. We have updated the post with new photos and some extra tips.