I just polished off a big bowl of this 15 Bean Soup and it was so delicious and satisfying! Simmered low and slow with a smoky ham hock and a mix of fresh herbs and veggies this flavorful soup is a favorite!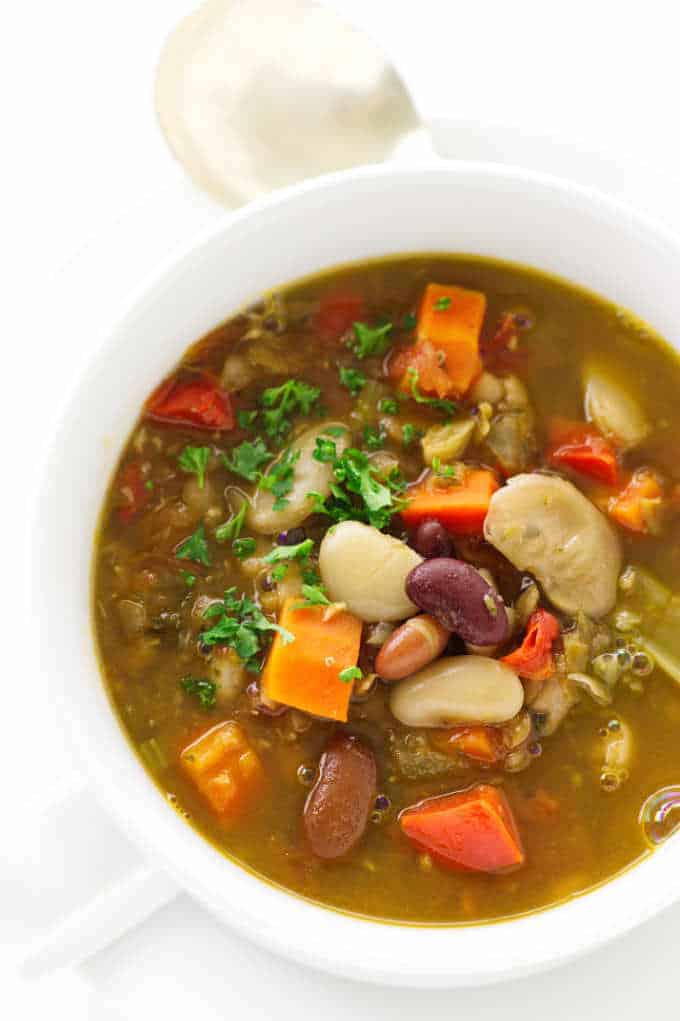 This is a healthy soup, packed with nutrition, low-fat and easy to make! It truly is a 'fill-you-up' soup and with just a slice of crusty bread and a green salad it is a meal.
We recently published a handy list of shelf stable foods to stock up on so you may have a package of 15-bean soup mix in your pantry already. If not, you can buy packages of 15-bean soup mix in the bean/rice section of most grocery stores .
With the exception of the ham hock, most of the ingredients required for this 15 bean soup is on that handy list.
There is a lot of flavor from the veggies, herbs and spices in the soup and the smokiness of the ham hock adds a bonus. If you don't have a ham hock you can substitute it with a ham bone, chunks of ham or even omit it entirely. Don't count on a lot of meat from the ham hock as there is very little of it, but what the smoky flavor contributes to this 15 bean soup is a big Wow! factor.
What Kind of Beans are in a Package of 15 Bean Soup Mix?
This special bean blend includes: Northern, Pinto, Lima, Black-Eyed Peas, Garbanzo, Baby lima, Red, Yellow Split Pea, Lentil, Navy, White Kidney, Green Split, Cranberry, Small White and Black Bean.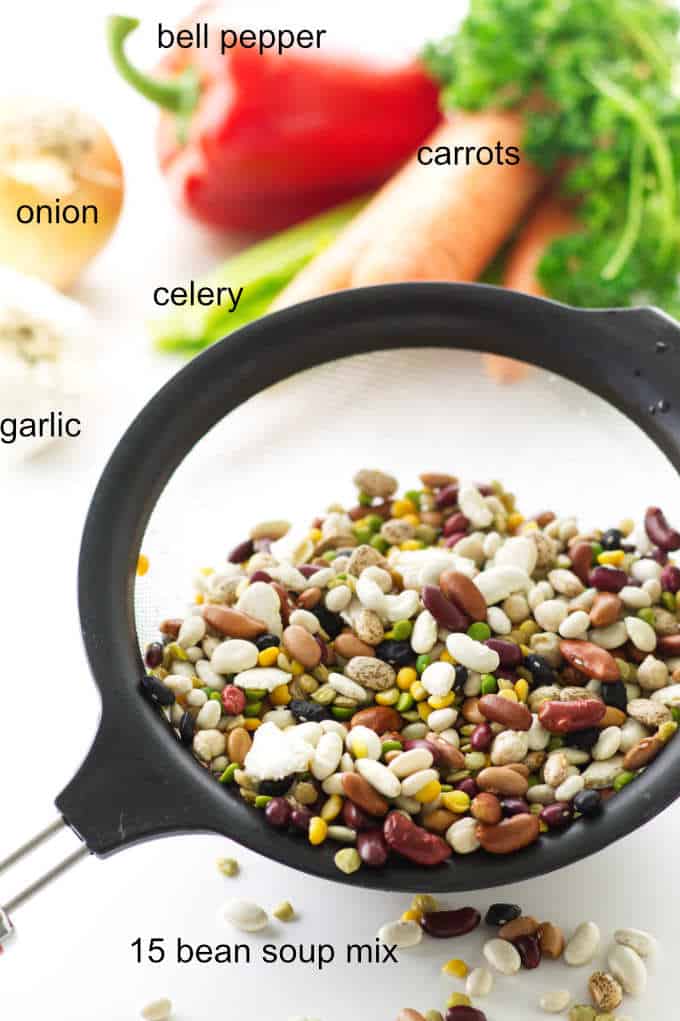 Here's what you need to make a pot of 15 Bean Soup:
15-bean soup mix
ham hock or ham shank
water
chicken broth
onion
canned tomatoes
bell pepper
garlic
celery
parsley
carrots
bay leaves
fresh thyme
salt/pepper
ground coriander
lemon juice, freshly squeezed
There isn't going to be much meat on the ham hock as it's intended mostly for flavor. I like to simmer the ham hock for a couple hours to get the maximum flavor from it. The beans should be soaked for a couple hours so that is a good time to simmer the ham hock to release that flavor.
Let's Make 15 Bean Soup:
This is an easy soup that you will want to put on repeat. I am listing a brief process of the steps involved but please scroll down to the recipe card for full instructions plus additional helpful notes: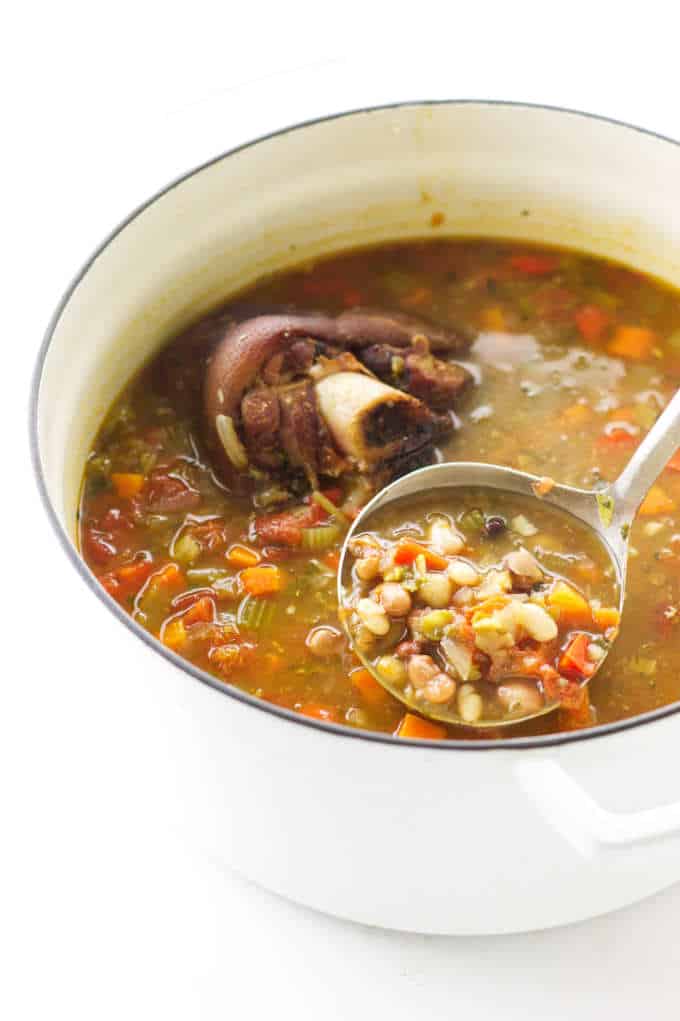 Step 1. Sort through the bean mix, remove and discard any pebbles or clumps of dirt that may have missed the manufactures' processing machines. Rinse the beans in a strainer, place them in a bowl and cover with cold water. Let the beans soak for a couple hours.
Step 2. While the beans are soaking, get out a large soup pot and add the ham hock. Cover with water, bring it to boil then reduce the heat and simmer the ham hock for two hours.
Step 3. Tip the drained, soaked beans into the soup pot with the ham hock and broth and cook gently for an hour. Add the vegetables, herbs, bay leaves and seasonings to the soup and cook for 45 minutes; then remove the bay leaves and herb sprigs.
Step 4. Scoop out about four cups of the beans and put into a food processor or blender. Pulse to a thick mixture then stir it back into the soup pot along with some freshly squeezed lemon juice.
Step 5. Before serving this wonderful soup, remove the ham hock. Cut away as much of the lean ham as possible and stir it into the soup. You also have the option of adding additional ham to the soup or as a garnish on each serving.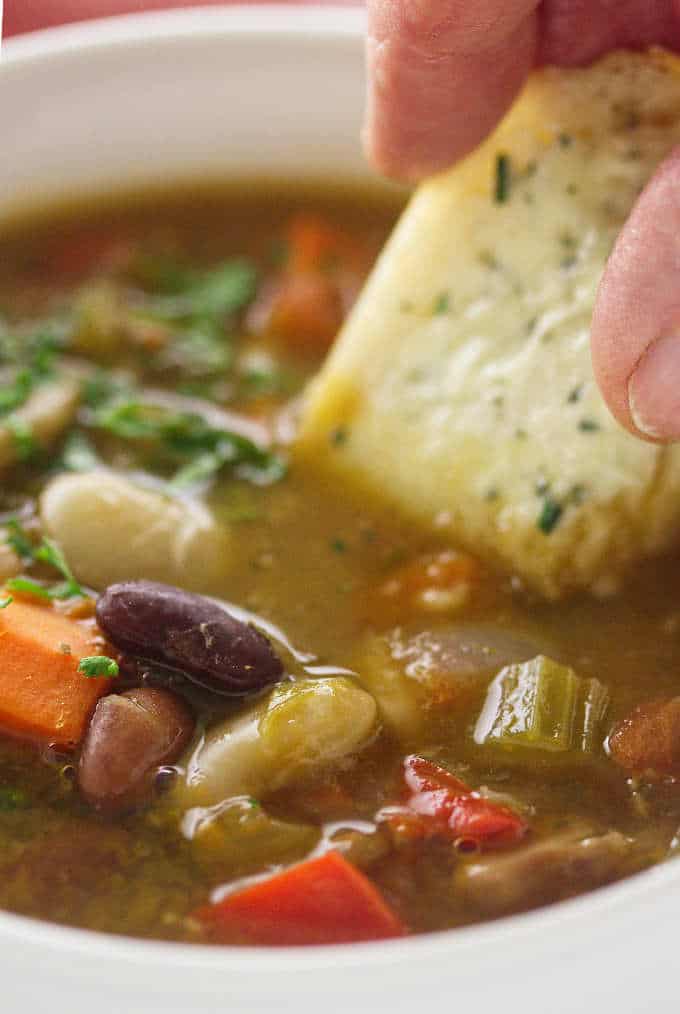 Ladle the soup into serving bowls, garnish with chopped parsley. Serve with crusty slices of bread slathered with herb compound butter or warm garlic bread.
SOME OTHER SOUP RECIPES WE ARE SURE YOU WILL LOVE:
Chipotle Black Bean Soup: A budget-friendly, delicious vegetarian version that gets a little kick from the adobo-style chipotle chiles. It is thick with whole black beans but has a smooth texture to the broth from smashed some of the beans
Beefy French Onion Soup: This classic Beefy French Onion Soup is thick with caramelized onions in a rich, beef and wine broth. Each serving of soup is topped with a slice of toasted bread and gooey melted Gruyère cheese.
Creamy Potato Leek Soup with Chive Blossoms: The delicate flavor of leek is a perfect match for potatoes in this creamy and the luxurious texture of is almost like velvet. A garnish of fresh chive blossoms brightens up the dish and brings a smile to the face.
CONNECT WITH SAVOR THE BEST!
Be sure to follow us on our social media accounts
Facebook * Instagram * Pinterest * Twitter * Youtube
Did you make this recipe? We would love to hear from you. Drop us a comment below.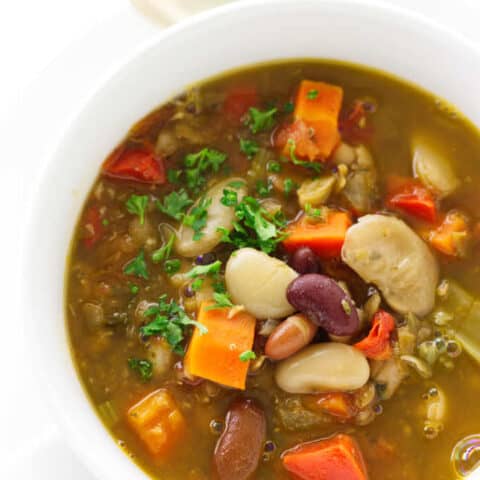 15 Bean Soup
Yield: 16 servings
Prep Time: 30 minutes
Cook Time: 2 hours 30 minutes
Total Time: 3 hours
A hearty, healthy and fill-you-up big bean soup which is a variety of 15 beans, chopped vegetables and herbs.
Ingredients
1 package (20-ounce) of 15-bean soup mix
Ham hock or ham shank
2 quarts water
10 cups chicken broth
1 large onion, diced
2 cans (16-ounces each) diced tomatoes
1 red or yellow bell pepper, diced
4 cloves garlic, finely chopped
3 stalks (8" long) of celery, diced
1 cup celery leaves, chopped
1/2 cup chopped parsley
4 carrots, (8" long) diced
2 bay leaves
6 sprigs of fresh thyme, tied together with string
1 teaspoon table salt (See Notes)
1/2 teaspoon black pepper
1 tablespoon ground coriander
2 tablespoons lemon juice, freshly squeezed
8 ounces diced lean ham (optional
Instructions
The Beans:
Spread the bean mix out on a tray or large plate and sort through them, removing and tossing out any small rocks that may have been packaged with the beans.
Place the sorted beans in a strainer and rinse with cold water. Add the beans to a large bowl and add enough cold water to cover the beans by 4 inches. Soak the beans uncovered for 2 hours.
While the beans are soaking,
In a large heavy-bottomed soup pot, add the ham hock, cover with the 2 quarts of water and bring to a boil over medium-high heat. Reduce the heat to medium and simmer, uncovered, for two hours.
Drain the beans and add them to the soup pot with the cooked ham hock, add the chicken broth and bring to a boil, then reduce to a simmer. Cook for about one hour.
Add the diced vegetables, bay leaves, thyme, coriander, salt and black pepper to the soup pot. Stir to combine and bring to a boil; then reduce the heat to simmer and cook for another 45 minutes or until the largest beans of the bean mix is tender.
Remove the bay leaves and the thyme bundle and discard.
Transfer the ham bone to a cutting board and when it is cool, remove as much of the meat as possible and reserve.
Ladle out 4 cups of the beans and vegetables and pulse them in a blender or food processor, being careful to not over fill the container with the hot beans, process in batches if necessary.
Return the processed beans to the soup pot and stir to combine with the remaining beans. Stir in the lemon juice and the reserved chopped ham, adjust the seasoning if necessary, serve and enjoy!
Notes
Beans are notoriously known for causing bloating and gas. You can cut down on this a little by holding back the salt until the beans are almost tender and stirring it in with 2-3 tablespoons of apple cider vinegar. The apple cider vinegar breaks down the indigestible sugars to help digestion.
Nutrition Information:
Yield: 12
Serving Size: 1
Amount Per Serving:
Calories: 227
Total Fat: 5g
Saturated Fat: 1g
Trans Fat: 0g
Unsaturated Fat: 3g
Cholesterol: 27mg
Sodium: 2777mg
Carbohydrates: 30g
Fiber: 12g
Sugar: 7g
Protein: 17g
Nutrition information is a guideline only, is calculated automatically by third-party software, and absolute accuracy is not guaranteed.
This recipe was first published on November 12, 2014. We updated the post with new photos. One of the original photos is below.