I hope you all have a nice stash of dry beans in your pantry as you can use a package for this Chipotle Black Bean Soup. This is a delicious vegetarian version that gets a little kick from the adobo-style chipotle chiles. It is thick with whole black beans but has a smooth texture to the broth from some smashed beans. I know you will love this flavorful soup!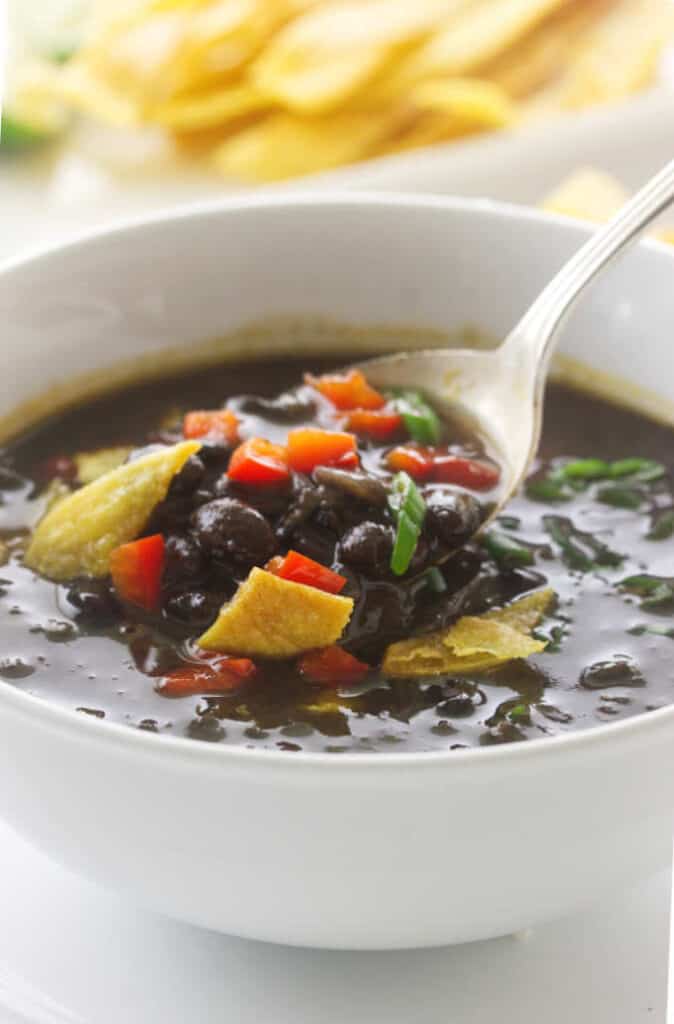 This is a great one-pot, Meatless Monday meal that is budget-friendly, nutritionally dense and high in fiber. Combine it with crisp fried corn tortilla strips and a salad for a complete meal!
What are Black Beans?
These small pea-sized, oval-shaped beans are part of the legume family. Black beans are also known as turtle beans or caviar beans. They are dense with nutrition, easy on the budget and can be incorporated into a variety of recipes.
Canned black beans are also available. They are a quick and easy way to up the nutritional value of a dish but require more storage space than the dried beans. Dried beans take up only a small portion of pantry storage space.
Like most legumes, black beans in their dried form can be stored for several years and still maintain their nutritional value. They are an excellent resource to have in supply in the event of an emergency!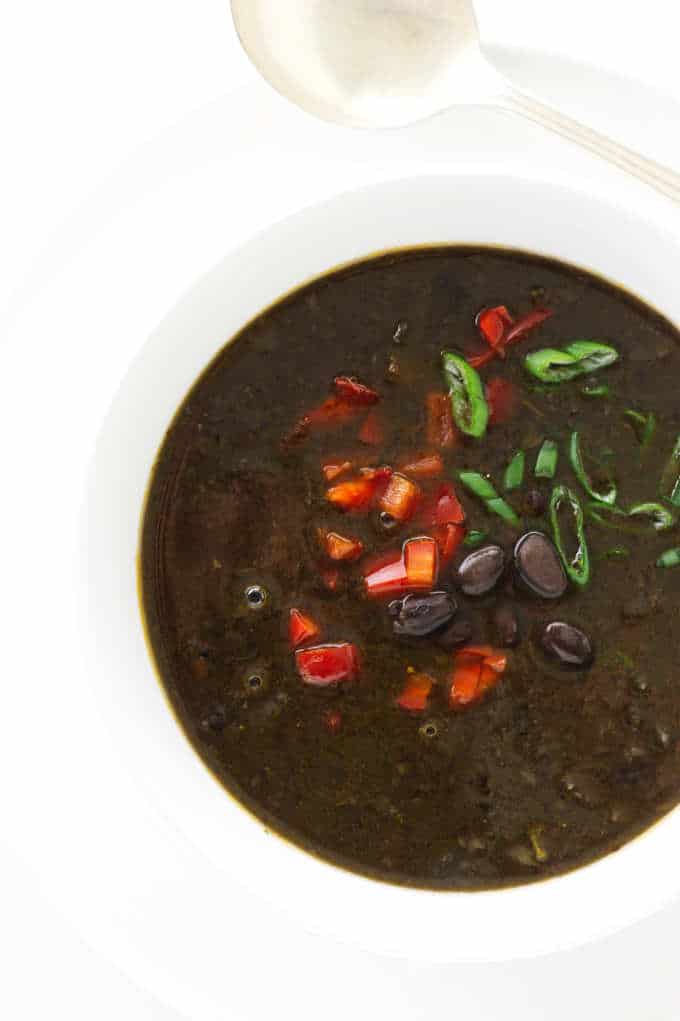 Ideas to use Black Beans:
Black beans do not need to have a soaking first, although a short soak will reduce the cooking time. They are fantastic in all kinds of dishes. Here are a few ideas to use black beans:
Ingredients for Chipotle Black Bean Soup?
Carrots
Onions
Red bell pepper
Jalapeno peppers
Garlic
Red wine
Vegetable broth
Salt/pepper
Bay leaves
Dried black beans
About chipotle peppers in adobo sauce.
Chipotle's in adobo sauce comes in a small 7-ounce can. It has a rich, smokey flavor with a spicy kick. The flavor is deep, complex, and pretty powerful. One can of chipotle is almost always too much for most recipes.
This recipe calls for an entire can of chipotle in adobo sauce. Yes, you read that right but I will clarify. The chipotles are puréed in a blender or food processor, then transferred to a small dish. The actual recipe uses only one tablespoon of the purée in the soup.
You have the option of increasing the amount of heat and smokey flavor by adding more puree at the end of the cooking.
Pro-tip: Spoon tablespoons of chipotle puree onto parchment paper, or into an ice cube tray and freeze for later use.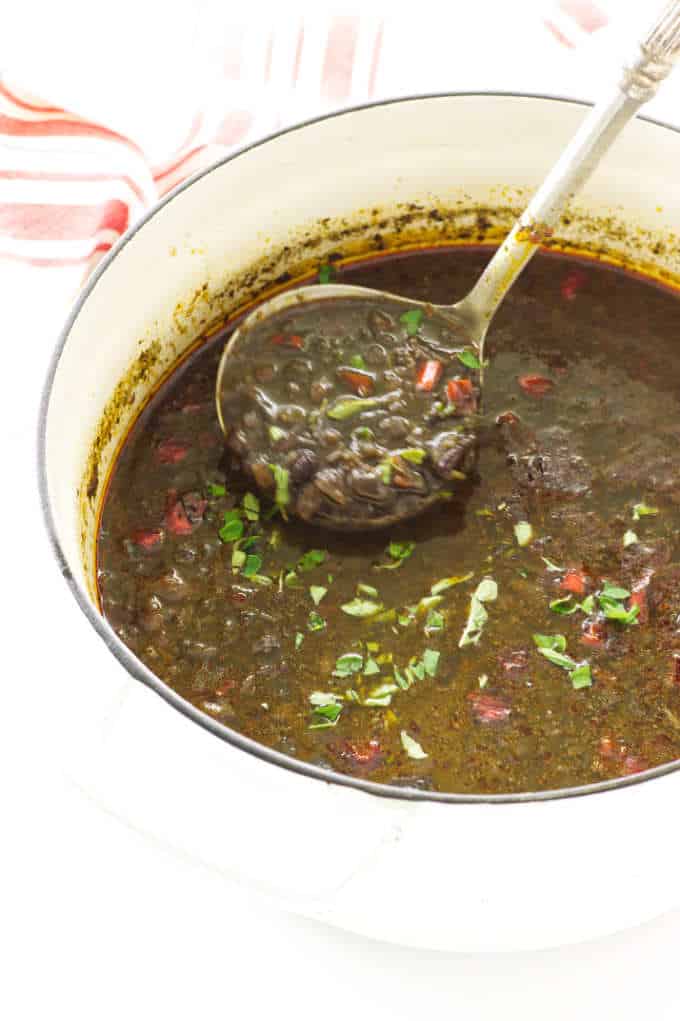 How to make Chipotle Black Bean Soup:
Please scroll to the recipe card below for detailed instructions for the soup.
Sauté the chopped onions, carrots, garlic and part of the bell pepper. Save a quarter of the bell pepper for a garnish when serving the soup.
Pour in the wine, puréed chipotle, beans, vegetable broth and the seasonings.
Bring the soup to a boil and cook for 10 minutes, then reduce the heat to low, cover the pot partially and simmer for 1-1/2 hours.
You will need to give the soup a stir occasionally and add additional broth as necessary to keep it soupy.
Once the beans are tender, scoop out about two cups and process them in a blender or food processor until smooth. Stir the processed beans back into the soup.
Give the soup a taste and add additional pureed chipotle for more smoky heat if you like.
Tips for making this soup.
Use your favorite heavy-bottomed soup pot. I like my cast iron Dutch oven as it retains the heat so well.
If you don't have the Mexican seasoning blend, combine 1 teaspoon each of chili powder, cumin, and oregano. It will make a reasonable substitution.
An immersion blender makes it easy to puree some of the beans right in the pot.
If you don't have an immersion blender use a regular blender but don't put the lid on tightly. A tight lid will trap the steam and cause an eruption of hot liquid. You can even place a towel over the top instead of the lid.
You will have extra chipotle with adobo sauce. Just freeze it and use the leftovers for some spicy, smokey flavor in other dishes.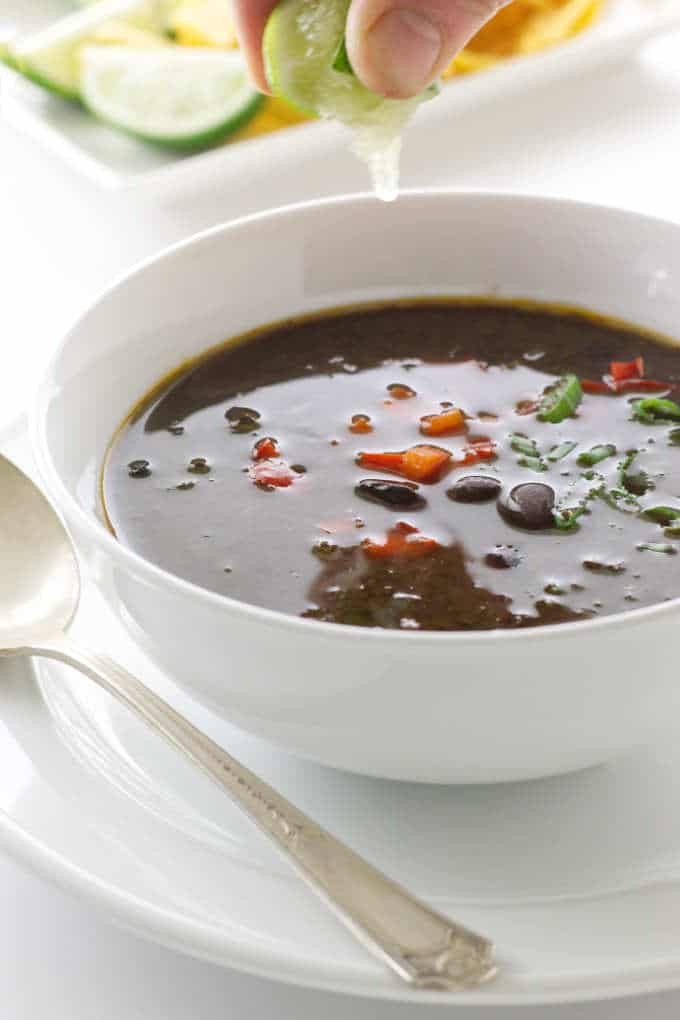 I served this chipotle black bean soup topped with chopped red bell pepper, sliced green onions, lime wedges and fried corn tortilla strips.
Other options to garnish this black bean soup:
Sour cream
Cilantro
Shredded cheese
Avocado cubes
Cotija cheese crumbles
Corn chips
Pickled jalapeno slices
This soup keeps well in the fridge IF you have any leftovers. 😊 It also freezes well. Freeze it for up to 6 months in freezer-proof containers.
SOME OTHER RECIPES WE ARE SURE YOU WILL LOVE:
Chipotle Chicken Tortilla Soup: This zesty chipotle chicken tortilla soup is easy to prepare with rotisserie chicken and will be on the table in 30-minutes. Crisp tortilla strips slightly thicken the soup, giving it a unique flavor.
Beefy French Onion Soup: This classic Beefy French Onion Soup is thick with caramelized onions in a rich, beef and wine broth. Each serving of soup is topped with a slice of toasted bread and gooey melted Gruyère cheese.
Red Beans and Ham: Healthy and nutritious red beans are low in calories, zero fat, and packed with protein and fiber. This is budget-friendly and an easy main meal, just add a nice green salad.
CONNECT WITH SAVOR THE BEST!
Be sure to follow us on our social media accounts
Facebook * Instagram * Pinterest * Twitter * Youtube
Did you make this recipe? We would love to hear from you. Drop us a comment below.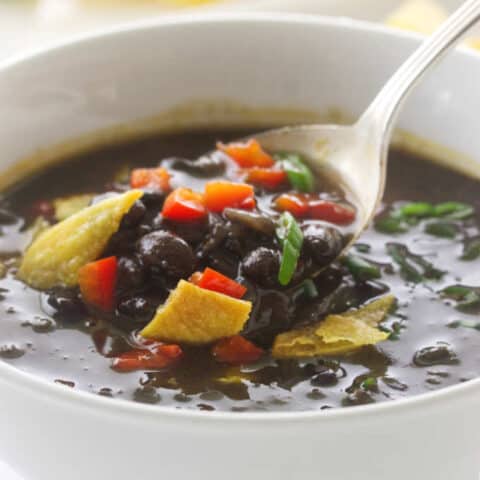 Chipotle Black Bean Soup
Yield: 8 to 10 servings
Prep Time: 20 minutes
Cook Time: 2 hours
Total Time: 2 hours 20 minutes
A budget-friendly, delicious vegetarian version that gets a little kick from the adobo-style chipotle chiles. It is thick with whole black beans but has a smooth texture to the broth from smashed some of the beans.
Ingredients
1 can (7 oz.) chipotle chiles in adobo sauce
2 tablespoons olive oil
2 carrots, peeled and chopped
2 onions, peeled and chopped
1 red bell pepper, diced -divided
2 jalapeño peppers, seeded and chopped
4 garlic cloves, grated or minced
1/2 cup red wine
1 pound dry black beens, sorted and rinsed, (no need to soak)
2 quarts vegetable broth
1 tablespoon dried Mexican herb seasoning mix
2 bay leaves
1 teaspoon table salt
1/2 teaspoon ground black pepper
2 teaspoons chopped fresh oregano
Garnishes
Reserved chopped red bell pepper
2 green onions, green parts only, sliced
Lime wedges
Fried corn tortilla strips
Instructions
Purée the can of chipotle chiles and their sauce in a blender or mini-food processor. Transfer the puree to a small dish and reserve.
In a Dutch oven or heavy bottomed large pot, heat the oil over medium heat and when it is hot add the carrots, onions, 3/4 of the bell pepper and the jalapeño peppers. Sauté until the onions are soft, about 5 minutes; then stir in the garlic and cook an additional 30 seconds.
Pour in the red wine and boil for 1-2 minutes to burn off the alcohol. Add 1 tablespoon of the reserved puréed chipotle mixture and stir in the black beans, vegetable broth, seasoning mix, bay leaves, salt and pepper. Increase the heat and boil for 10 minutes; then reduce the heat to low and simmer, partly covered, for 1-1/2 hours, stirring occasionally until the beans are soft but not mushy. Add additional chicken broth or water as needed for a soupy consistency.
Remove 2 cups of the beans and pulse in the food processor or use an immersion blender. Add the mix back into the soup and stir to combine. Taste and add additional puréed chipotle chiles according to your personal preference.

To Serve:
Ladle soup into serving bowls and garnish with the remaining red pepper bits, sliced green onion, lime wedges and crispy corn tortilla strips.
Notes
Sort and rinse the beans, they do not need to be pre-soaked.
Spoon leftover chipotle puree onto parchment paper, or into an ice cube tray and freeze for another use.
For a thicker texture soup, increase the amount of beans to process.
To make the soup spicier add additional chipotle purée.

To make the crispy corn tortilla strips:
Use 12 tortillas, 6-inch in diameter
Stack the tortillas about 4 tortillas per stack and slice them into strips of 1/4-inch wide.
Heat 1/4 cup oil in a skillet set over medium-high heat. Working in batches, fry the tortilla strips in the oil until lightly browned and crisp. Transfer each batch of the tortilla strips to a paper-towel-lined plate to drain.
Recommended Products
As an Amazon Associate and member of other affiliate programs, I earn from qualifying purchases.
Nutrition Information:
Yield: 10
Serving Size: 1
Amount Per Serving:
Calories: 74
Total Fat: 3g
Saturated Fat: 0g
Trans Fat: 0g
Unsaturated Fat: 3g
Cholesterol: 0mg
Sodium: 799mg
Carbohydrates: 9g
Fiber: 1g
Sugar: 4g
Protein: 1g
Nutrition information is a guideline only, is calculated automatically by third-party software, and absolute accuracy is not guaranteed.