This classic Beefy French Onion Soup is thick with caramelized onions in a rich, beef and wine broth. Each serving of soup is topped with a slice of toasted bread and gooey melted Gruyère cheese.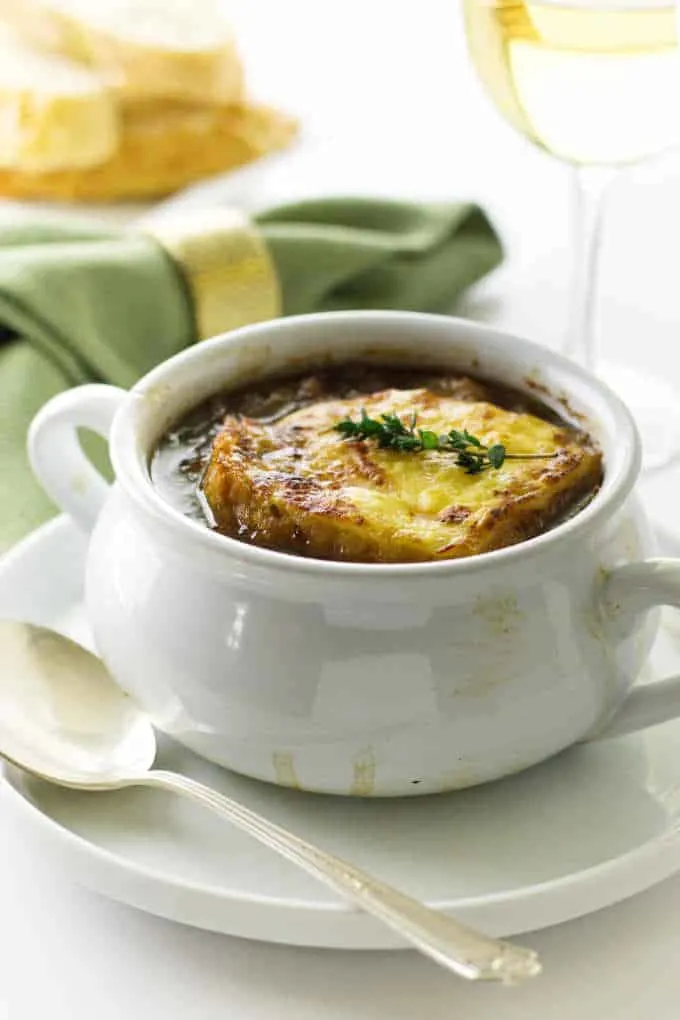 It is the long, slow cooking process under low heat that creates the caramelizing of the onions and their complex flavors. This soup is one of life's simple pleasures.
How do you make Beefy French Onion Soup?
As one would rightly assume, this soup originated in France and includes beef broth along with wine and fresh thyme. Here is the short version of how to make this soup. Be sure to scroll to the bottom of the page for the full recipe plus additional tips in the Notes section.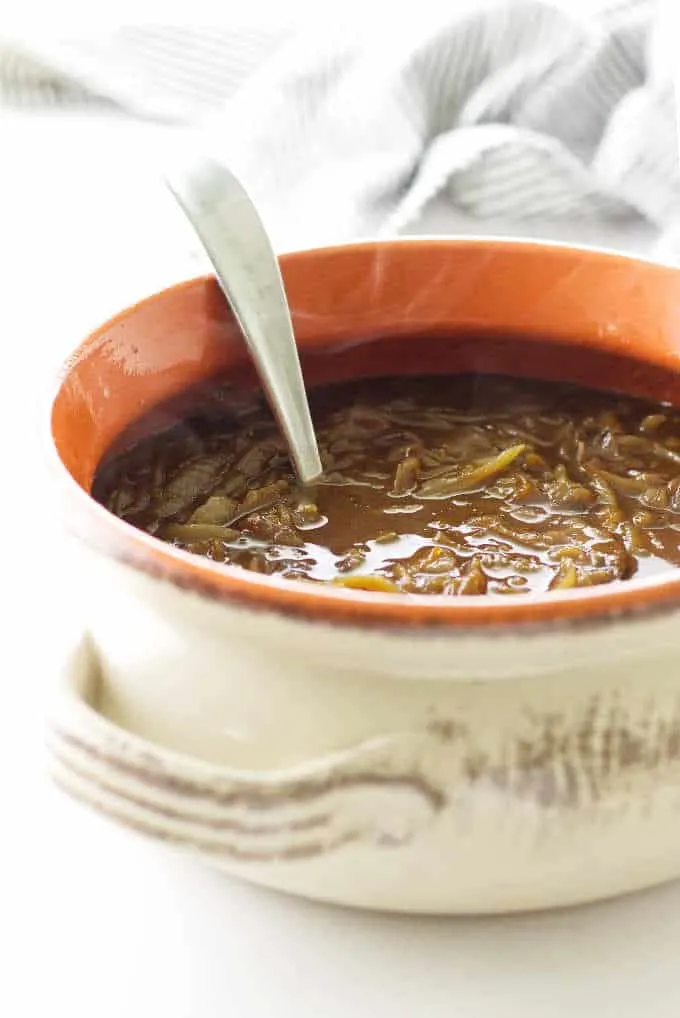 Tips for Making Our Beefy French Onion Soup.
Take your time when you caramelize the onions. The onions are the backbone of this soup. It takes time for the sugar molecules to break down and develop the intense flavor that this soup is all about.
Deglaze the pan with the wine scraping up the bits stuck on the pan bottom until the wine evaporates. This is an important step as the wine not only deglazes the pan, but it adds another layer of flavor to the soup. If you prefer not to use wine just sub it with a cup of broth.
Add the brandy after you remove the pot from the heat. It is amazing how that splash of brandy enhances the flavor.
Use broiler-safe soup bowls so you can melt the cheese under the broiler without cracking the bowls.
How to Slice Onions Without Crying.
If you tear up every time you slice onions, try chilling the onions before you take a knife to them. You could dunk them in cold water, stick them in the fridge for a few hours, or stick them in the freezer for 10 minutes.
There are compounds in the onions that release gasses when you slice them open. When the compounds are cold, they are less likely to release that eye-burning gas.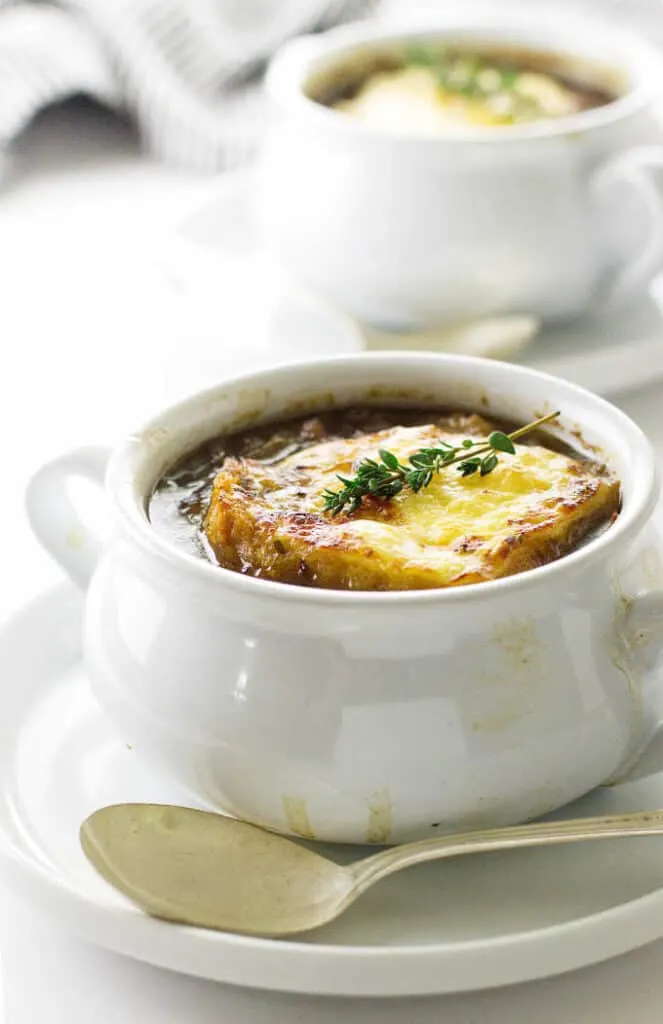 The Best Bread to Use for French Onion Soup.
As much as I love a good sourdough bread I don't use it with this beefy French onion soup. That delicious artisan sourdough bread is dense and takes time to soak up in the soup. It is also more troublesome to cut with a spoon.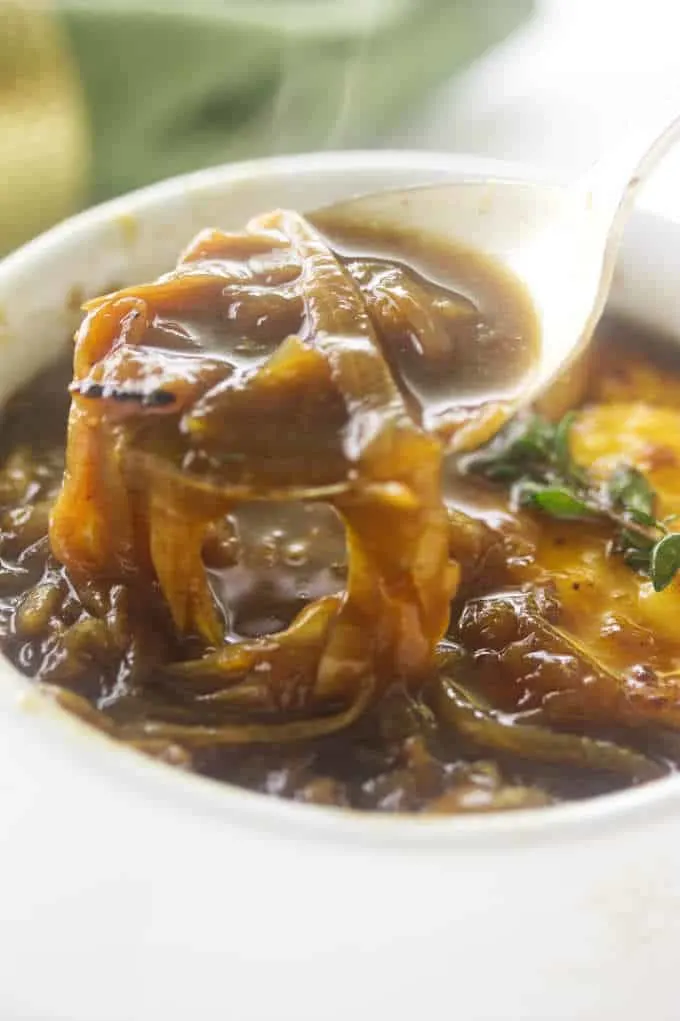 I buy a nice soft loaf of French or Italian bread that soaks up that rich broth and is easily cut with the spoon. Sourdough bread is another option, although it is a little denser and doesn't soak the broth up as quick. ?
The classic French onion soup is made with beef broth, although it is great when made with chicken broth as in our French Onion Soup recipe.
Whether you use beef broth or chicken broth your soup it will have a decidedly superior flavor if you take the time to make a homemade beef broth or chicken broth.
SOME OTHER RECIPES WE ARE SURE YOU WILL LOVE:
Creamy Potato Leek Soup with Chive Blossoms: The delicate flavor of leek is a perfect match for potatoes in this Creamy Potato Leek Soup. Chive blossoms elevate this soup to a beautiful and sophisticated meal and make a stunning appearance on your table.
Minestrone Soup: A traditional Italian minestrone soup recipe that is full of vegetables and flavor. This is a healthy one-pot, low-calorie meal!
Garlic Bread: Crunchy Garlic Bread! Full of garlic-y flavor and hot from the oven! This classic garlic bread is so simple to make, just 3-ingredients, bread, garlic, and butter.
Connect With Savor the Best:
Please follow us on our social media accounts
Facebook * Instagram * Pinterest * Youtube * Twitter
Did you make this recipe? We would love to hear from you. Drop us a comment below.
Check out our soup cookbook. It is filled with wholesome and hearty soups. Each soup recipe is from scratch with real ingredients and filling enough to be enjoyed as a main-course meal.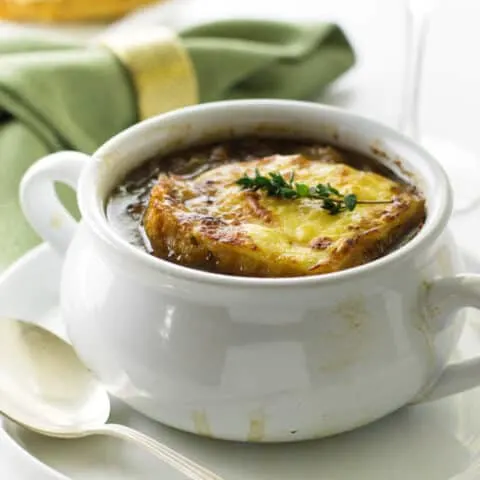 Beefy French Onion Soup
Cook Time:
1 hour
30 minutes
Total Time:
1 hour
45 minutes
This classic Beefy French Onion Soup is thick with caramelized onions in a rich, beef and wine broth. Each serving of soup is topped with a slice of toasted bread and gooey melted Gruyère cheese.
Ingredients
1 recipe Caramelize Onions
1 cup dry white wine or additional broth (see notes)
3 tablespoons all-purpose flour
6 cups beef broth, homemade or store bought
1 bay leaf
2 or three sprigs of thyme (tied together with a string)
Salt and pepper to taste
1/4 cup brandy (optional)
6 slices soft regular sandwich bread, toasted and cut to fit the bowl.
1-1/2 to 2 cups shredded Gruyère cheese
Instructions
Prepare the Caramelized Onions
Adjust the heat to medium under the Dutch oven containing the caramelized onions. Pour the wine into the pot to deglaze the pan, stirring and scraping loose the bits stuck to the pan bottom. Cook for 1 or 2 minutes to reduce. Sprinkle the flour over the caramelized onions, stir and cook for 1 minutes so the flour loses it's starch taste.
Add the beef broth, bay leaf and the thyme and bring to a boil, then immediately reduce the heat to low.
Cover the pot and simmer for 30 minutes.
Transfer from the heat and remove and discard the bay leaf and the thyme. Season the soup with salt and pepper and stir in the brandy if using.
Ladle the soup into oven-proof bowls and add 1 slice of toast topped with cheese to each bowl.
Set the oven to 'Broil' and adjust the rack to the upper position.
Place the bowls on a rimmed baking sheet and slide them under the broiler and heat until the cheese is melted, bubbly and has a little brown coloring.
Remove from the oven and serve immediately with warm garlic bread slices.
Notes
Homemade beef broth adds huge flavor to this soup. If homemade is not an option buy the best beef broth you can afford.
We used a dry Sauvignon Blanc wine. Another option would be Pinot Grigio.
If you choose not to use wine, add another cup of broth.
Use a bread that is soft and will quickly absorb the soup and be easy to eat with the spoon. A firm sourdough or artisan bread will be difficult to manipulate into bites.
Gruyère cheese can be substituted with Swiss, Fontina or another easy melting cheese.
Brandy is optional but it adds a nice finish. If using, stir it in at the end of cooking.
Nutrition Information:
Yield:

8
Serving Size:

1
Amount Per Serving:
Calories:

230
Total Fat:

12g
Saturated Fat:

4.5g
Trans Fat:

0g
Cholesterol:

67mg
Sodium:

758mg
Carbohydrates:

28.5g
Fiber:

4.2g
Sugar:

9g
Protein:

4.2g
Nutrition information is a guideline only, is calculated automatically by third-party software, and absolute accuracy is not guaranteed.