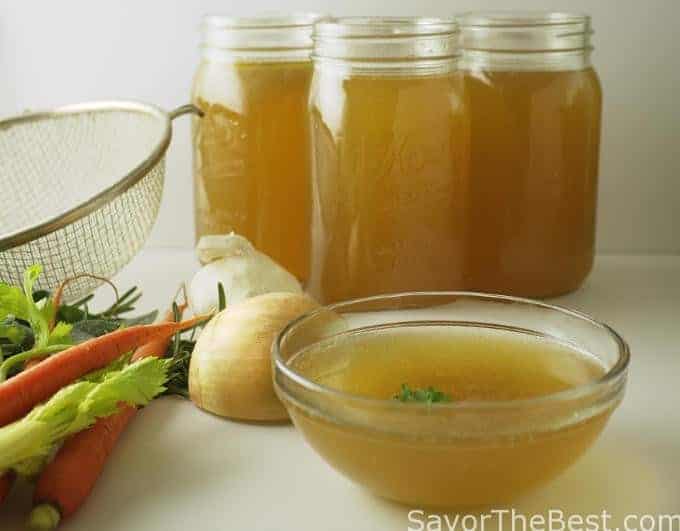 Chicken broth is a great basis for soups, stews and numerous recipes. It can replace water when you cook rice and other grains and it can be used in sauces and casseroles to boost the flavor.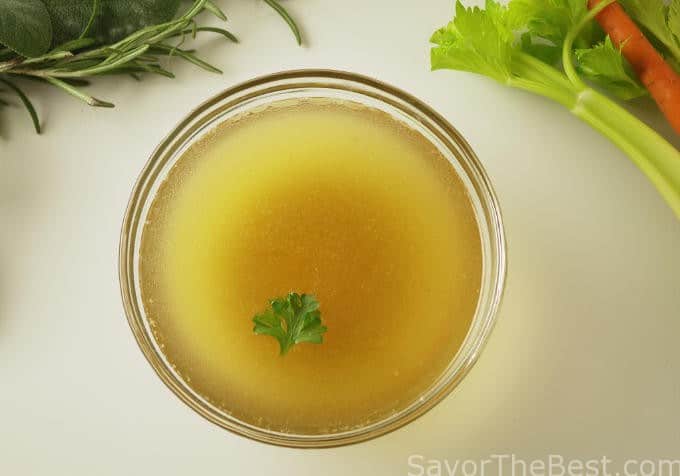 I generally save the carcass from a roasted chicken to make fresh chicken broth. I usually cook the broth for a good 24 hours to extract the nutrients and flavors from the bones. It's easy to do and if it is done in a slow cooker it will save room on the stove. Just throw everything in the slow cooker, turn it on and forget about it until the next day.
The difference between chicken broth and bone broth is the amount of time you cook the broth and the nutrients and flavors you extract from the bones. You can stop after just a couple of hours and you will have a pretty tasty chicken broth but if you let it cook all day until the bones crumble, you will have a rich, healthy broth with the collagen and minerals released from the bones as well as amino acids that have anti-inflammatory affects.
The few vegetables thrown in the pot don't cost much but if I have vegetable scraps and peels I will use them instead and the broth doesn't cost anything to make since I'm using what I would have thrown into the compost anyway. This is frugal cooking at it's best.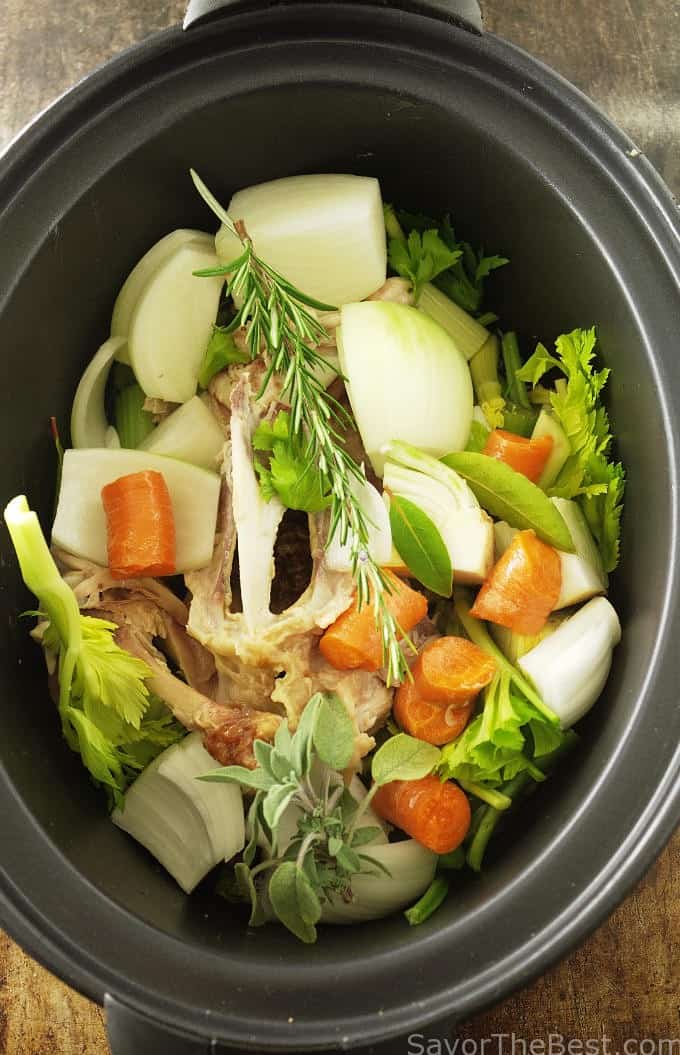 CONNECT WITH SAVOR THE BEST!
Be sure to follow us on our social media accounts
Facebook * Instagram * Pinterest * Twitter * Youtube
Did you make this recipe? We would love to hear from you. Drop us a comment below.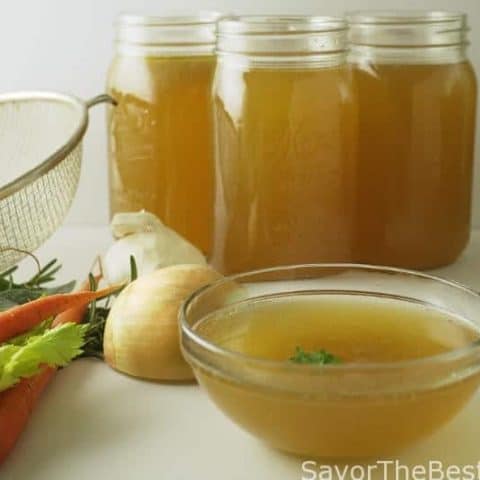 Chicken Broth (Bone Broth)
Yield: 3 quarts
Prep Time: 12 minutes
Cook Time: 1 day
Total Time: 1 day 12 minutes
A flavorful basis for soups, stews, sauces and numerous other recipes. Chicken broth is inexpensive to make but adds a rich flavor to any recipe.
Ingredients
1 chicken carcass from a 4 to 5 pound roasted chicken
4 celery stalks, roughly chopped
2 medium carrots, roughly chopped
2 medium yellow onions, quartered
2 tablespoons cider vinegar (optional but helps extract the minerals from the bones)
1 teaspoon whole peppercorns
1/2 teaspoon salt
3 to 5 cloves of garlic
2 bay leafs
1 sprig of fresh rosemary
4 fresh sage leaves
3 1/2 to 4 quarts water
Instructions
Place all the ingredients in a large slow cooker, cover with water and cook on high for 1 hour then reduce to low and cook 12 to 24 hours. The bones will get soft and crumble if you cook it long enough.
Strain everything through a fine mesh strainer and discard the solids.
Season with salt and pepper as desired.
Store in the refrigerator for 3 days or the freezer for up to 3 months.
Nutrition Information:
Yield: 48
Serving Size: 1
Amount Per Serving:
Calories: 113
Total Fat: 7g
Saturated Fat: 2g
Trans Fat: 0g
Unsaturated Fat: 4g
Cholesterol: 38mg
Sodium: 66mg
Carbohydrates: 1g
Fiber: 0g
Sugar: 0g
Protein: 12g
Nutrition information is a guideline only, is calculated automatically by third-party software, and absolute accuracy is not guaranteed.