A moist, juicy roast turkey with crisp skin that produced rich drippings for a flavorful, rich gravy.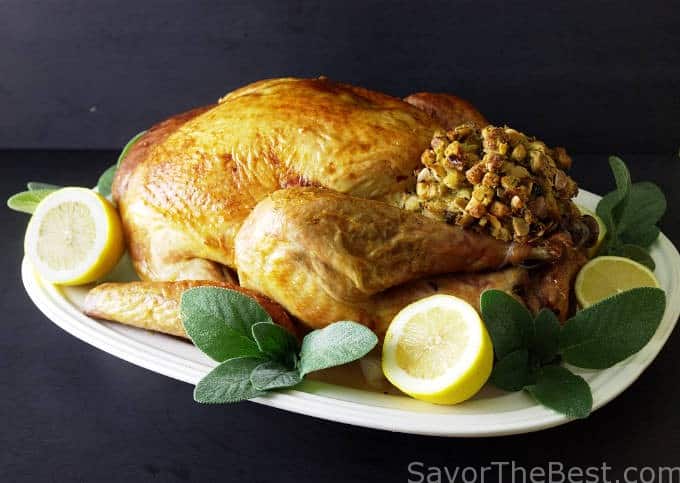 How quickly this year has progressed, here we are marching along to the end of 2015 and Thanksgiving is upon us.
For our family, roast turkey is traditionally the main event for Thanksgiving along with all the trimming of stuffing, mashed potatoes, gravy and cranberry sauce. And, of course, pumpkin pie!
Methods of Roasting the Turkey:
There are so many ideas for preparing 'the bird' for roasting such as:
Deep frying
Grilled
Crockpot
Deconstructed
Brined, wet and dry
Smoked
Roasted it breast side down
Roasted it in an oven bag
Mostly, though, I just buy a frozen turkey, stuff it and roast it. Maybe I should try some of the more non-conventional ways to roast Mr. Turkey. How about a sous-vide bird? Or, we could do the scalding trick or even deep-fry it or roast it in a brown-paper bag. I have heard of cooking it at 500 degrees for one hour, turn off the oven and leave it there for several hours. Hmmmm….
Fresh or Frozen:
Usually, I buy one of those frozen turkeys that the grocery store offers a great discount for if you spend the magic number of dollars on groceries as advertised. They always tasted just like turkey, sometimes better, sometimes worse.
This year, I bought a fresh turkey for the first time and it had not been injected with fluid. It was more expensive but it also was the moistest, juiciest turkey I think I have ever roasted.
I used the drippings for gravy with some white wine and it produced a rich, dark, flavorful gravy, although there was a lot less of the drippings than I had expected. That may have been because it was a fresh turkey and had not been injected with fluid.
I prepared Mr. Turkey by first preheating the oven to 425°F. But then reduced it to 325°F after the turkey had been in the oven for 30 minutes.
The total roasting time was a little more than three hours, (13 minutes per pound). A good reliable meat thermometer should register 165°F in the thigh and stuffing indicating the turkey is cooked.
How to Get a Crispy Skin on the Roast Turkey:
I wanted a crispy skin so reluctantly passed on basting it. By allowing the unwrapped turkey to sit at room temperature for 30 minutes prior to preparing it for roasting, the skin had dried out just enough so it roasted up crisp and tasty.
I did cover the breast area half-way through the cooking time to prevent that area from over-browning. And, to keep the skin crisp I did not cover it with aluminum foil while resting because the steam will soften the skin.
When we sliced into the turkey breast it was moist, tender and delicious, I will definitely go the 'fresh' turkey route again.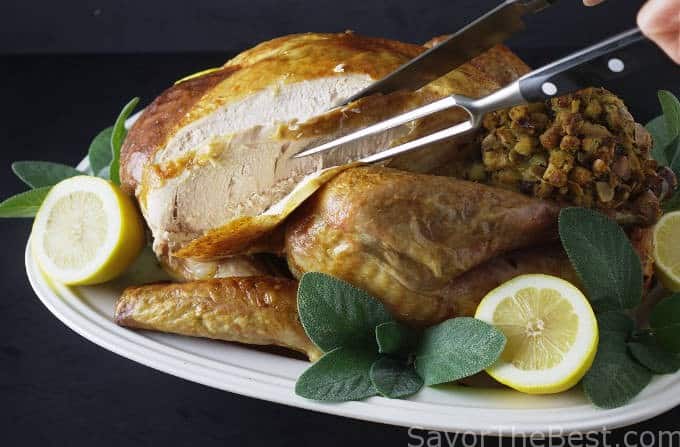 About the Stuffing:
Fresh sage has a unique flavor that enhances the stuffing. There is a large bush of sage growing in my garden and I picked a nice bunch which was chopped and added to a sage, lemon and mushroom stuffing.
Most of the stuffing went into a baking dish which was baked separately and I just lightly stuffed the main cavity of the turkey with part of it.
There is a health safety reason why the turkey should not be stuffed and that is the stuffing may not be fully cooked by the time the turkey reaches temperature.
However, I solve that issue by transferring the stuffing to a serving dish after the turkey has rested. Then I zap it in the microwave long enough to reach the safe 165°F temperature.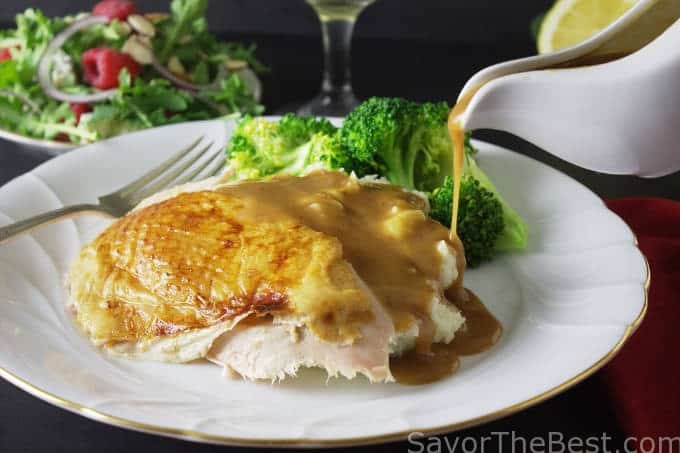 You might also like:
CONNECT WITH SAVOR THE BEST!
Be sure to follow us on our social media accounts
Facebook * Instagram * Pinterest * Twitter * Youtube
Did you make this recipe? We would love to hear from you. Drop us a comment below.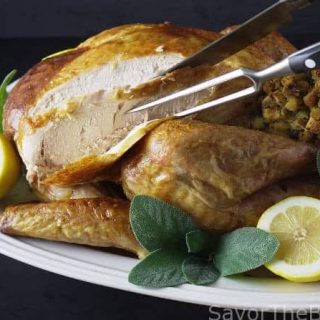 Roast Turkey
Yield: 10 to 12 servings
Prep Time: 30 minutes
Cook Time: 1 hour 30 minutes
Total Time: 2 hours
A moist, juicy roast turkey basted with white wine that produced dripping for a flavorful, rich gravy.
Ingredients
1- 13 to13.5 pound turkey
1 tablespoon olive oil
1 teaspoon salt
1/4 teaspoon pepper
1 tablespoon finely chopped fresh thyme, rosemary or sage
1 lemon cut in half
1 orange cut in half
Oven-safe meat thermometer
Instructions
Preheat oven to 425° F.
Unwrap the turkey and remove the giblet and neck packages from inside and reserve for another use. Rinse inside and outside. Check over the outside and remove any pinfeathers left by the packers. Pat the outside dry with paper towels.
Season the inside with salt and add herbs and lemons/oranges or, if you are planning to use a dressing, stuff the inside and neck cavity very lightly.
Place turkey breast side up on a flat rack in a shallow roasting pan 2 to 2½ inches deep.
Turn the wings back to hold the neck skin in place. Brush the skin lightly with olive oil and sprinkle salt, pepper and thyme over the outside of the turkey. Insert an oven-safe meat thermometer into the lower part of the thigh without touching the bone.
Place the turkey in the oven and roast until the skin begins to be brown and crisp, about 30 minutes. Reduce the heat to 325°F. Remove the turkey when the thermometer reads 170°F, (about 3½ hours). Let the bird rest for at least 30 minutes before carving and serving.
Nutrition Information:
Yield: 20
Serving Size: 1
Amount Per Serving:
Calories: 581
Total Fat: 23g
Saturated Fat: 7g
Trans Fat: 0g
Unsaturated Fat: 15g
Cholesterol: 327mg
Sodium: 414mg
Carbohydrates: 2g
Fiber: 0g
Sugar: 1g
Protein: 86g
Nutrition information is a guideline only, is calculated automatically by third-party software, and absolute accuracy is not guaranteed.