Is your turkey still frozen and your looking for a fast way to get dinner on the table? This recipe for an instant pot frozen turkey breast can save your day.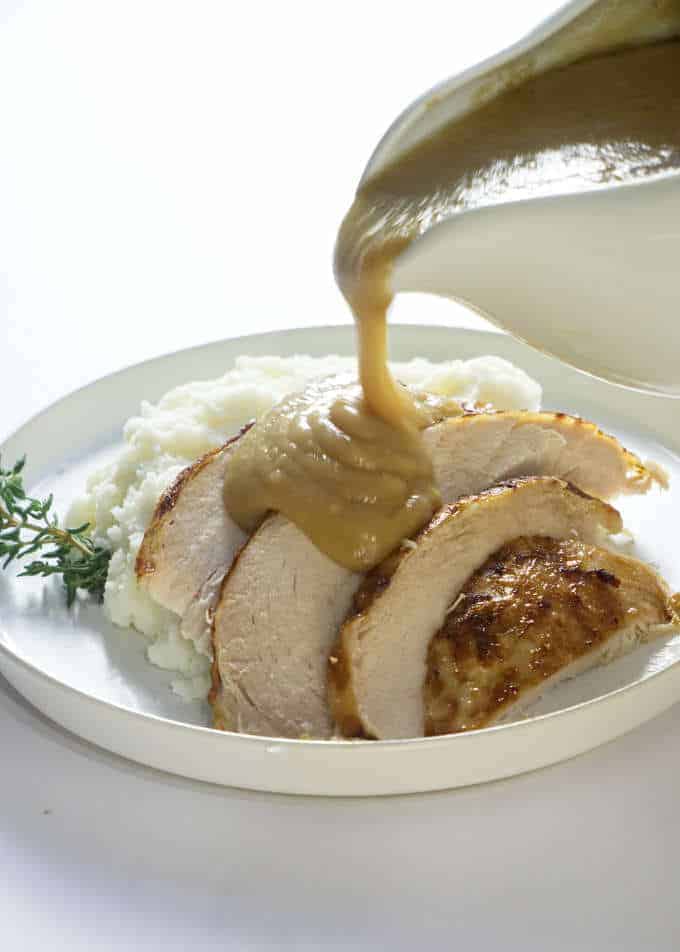 Save a bunch of time and space in the oven by cooking a turkey breast in the instant pot. And don't worry if you didn't thaw the turkey breast. You can cook a turkey breast from frozen to perfectly cooked and juicy in an hour.
HOW TO COOK A FROZEN TURKEY BREAST IN A PRESSURE COOKER
A pressure cooker can create a tender, juicy piece of meat as long as it doesn't get over-cooked. You might be tempted to add a few minutes of extra time just to be certain that the turkey breast gets completely cooked. However, if you add unnecessary time, even a pressure cooker will cook out all the yummy juices from the meat.
So don't over-think it and don't over-cook it. The process is really very easy. All you have to do is add the trivet to the bottom of the instant pot (or whatever pressure cooker you are using).
Next, add some herbs and veggies for flavoring. We added onion, celery, carrot, garlic, thyme, and sage. Set the frozen turkey breast on top of the veggies then pour in a little chicken broth.
Now all you have to do is select high pressure and set the timer. The instant pot will take about 12 to 15 minutes to come up to pressure then the cook time will begin.
When it is finished cooking, release the pressure and check the internal temperature of the turkey.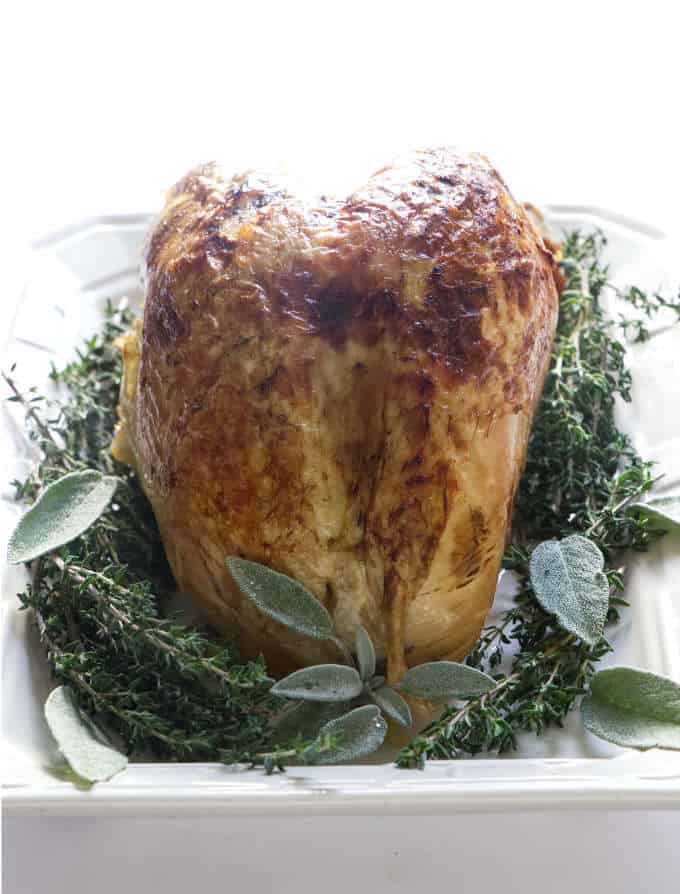 HOW LONG DO YOU COOK A FROZEN TURKEY BREAST IN THE PRESSURE COOKER
The cooking time will depend on how big your turkey breast is. For a bone-in turkey breast, it will take 12 minutes per pound on high pressure. That cooking time is for sea level. If you live at higher altitudes, you will need to adjust the cooking time.
If you live at 4,000 feet you will need to cook the frozen turkey breast for 14 minutes per pound and if you live at 5,000 feet you will need to cook it for 15 minutes per pound. Basically, you need to increase the cooking time by 5% for every 1,000 feet of elevation.
Regardless of how long you cook the frozen turkey breast, make sure you check the temperature when it is finished. Once the pressure has been released, remove the lid and stick an instant-read thermometer into the thickest part of the turkey breast.
If the thermometer does not register at least 165°F, you will need to put the lid back on and set the instant pot back to high pressure for at least another 5 minutes. It will really depend on how close the turkey was to the proper temperature.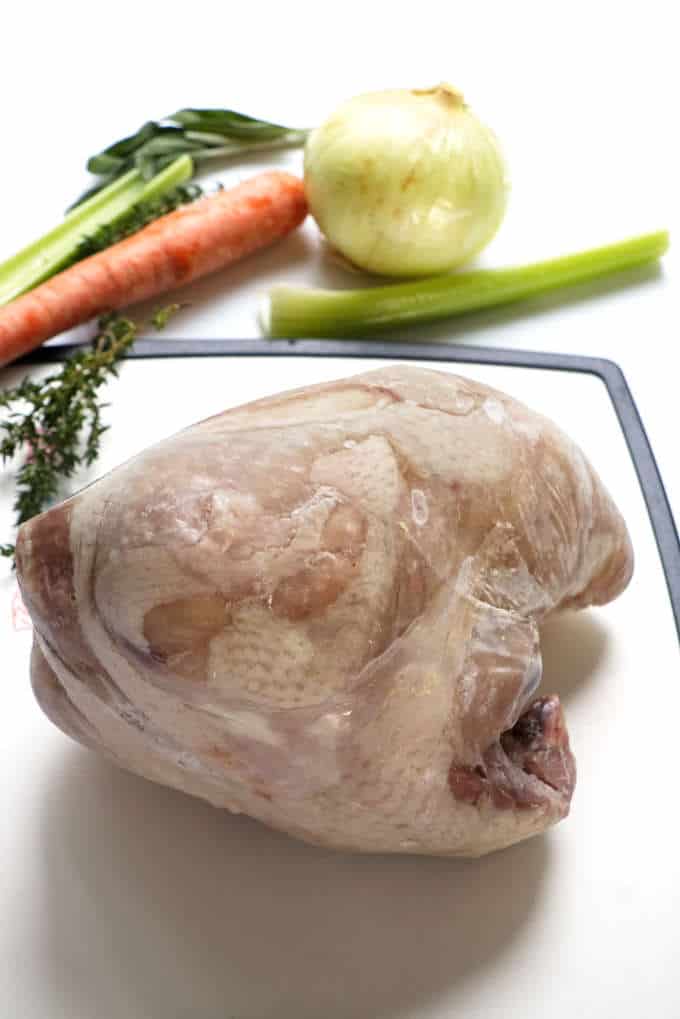 HOW TO GET CRISPY BROWN SKIN AFTER COOKING IN AN INSTANT POT
The downside to cooking a turkey breast in the instant pot is that you won't get a crisp brown skin. If you want a pretty brown and crisp skin then place the turkey breast under the broiler. It will only take 3 or 4 minutes to brown the skin.
WHAT SIZE TURKEY BREAST FITS IN AN INSTANT POT?
That all depends on the size of your instant pot. Obviously, a larger instant pot will hold a larger turkey breast. I have this 6-quart Instant Pot. The inner diameter of the pot is 8.5 inches across and it is 6 inches tall.
The absolute largest frozen turkey breast that would fit in my 6-quart Instant Pot was a 4-1/2 pound turkey breast.
Now, I suppose a larger turkey breast would fit in the pot if the turkey breast had a different shape but I doubt you could get too much larger than 4-1/2 pounds in a 6-quart pot.
How to get the frozen gravy packet out
Some frozen turkey breasts come with a packet of gravy stuffed inside them. You will need to remove that packet before you cook the turkey. In order to do that, run the turkey under a stream of water for a few minutes. That should loosen the meat around the packet enough to pull it out.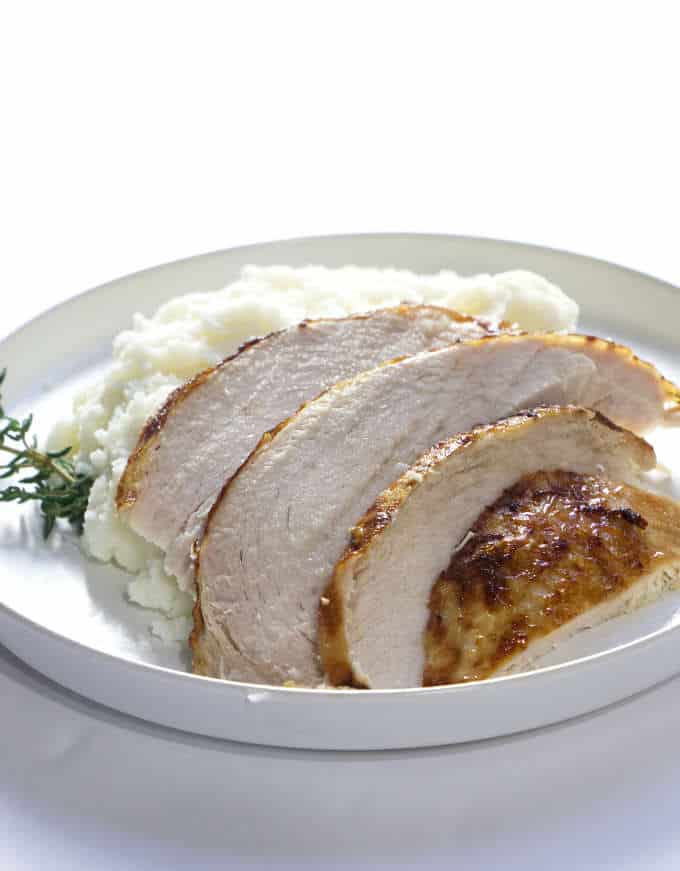 SOME OTHER RECIPES WE ARE SURE YOU WILL LOVE: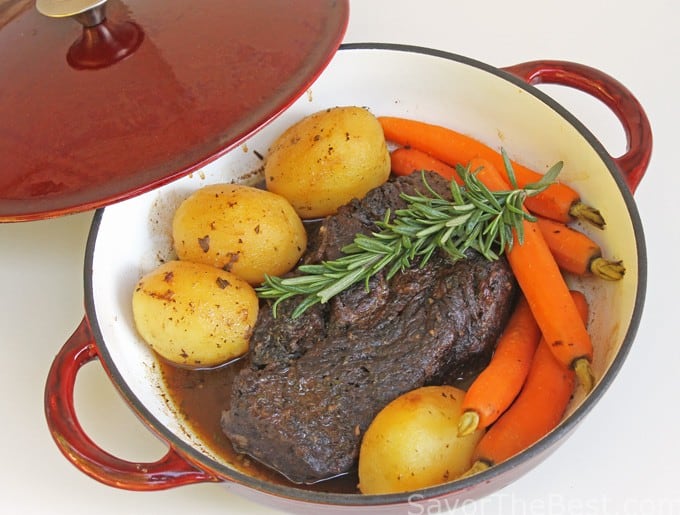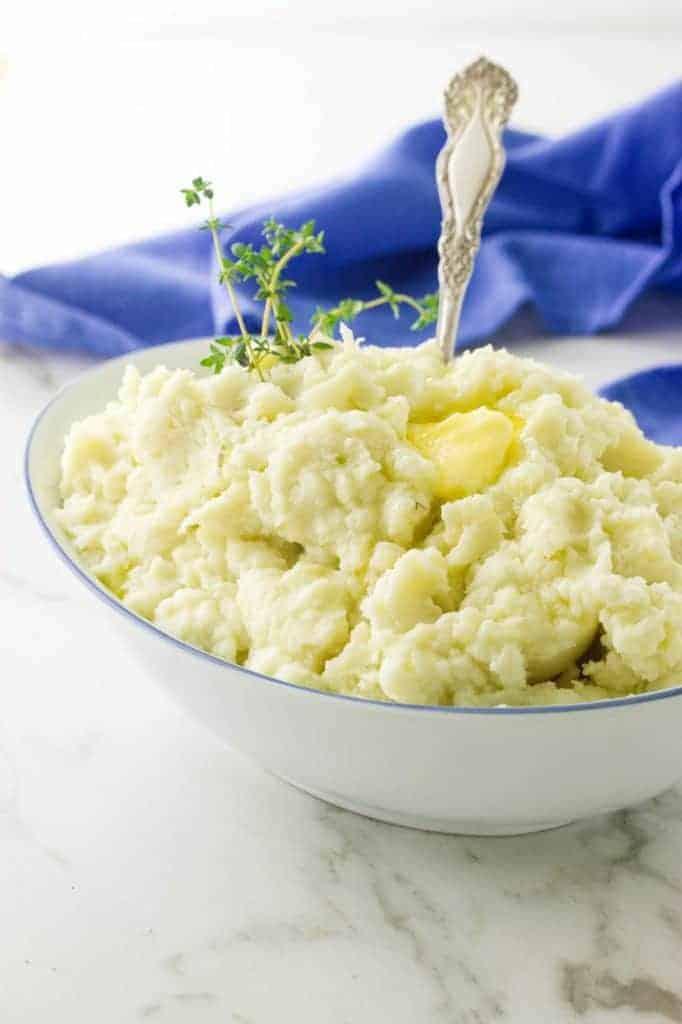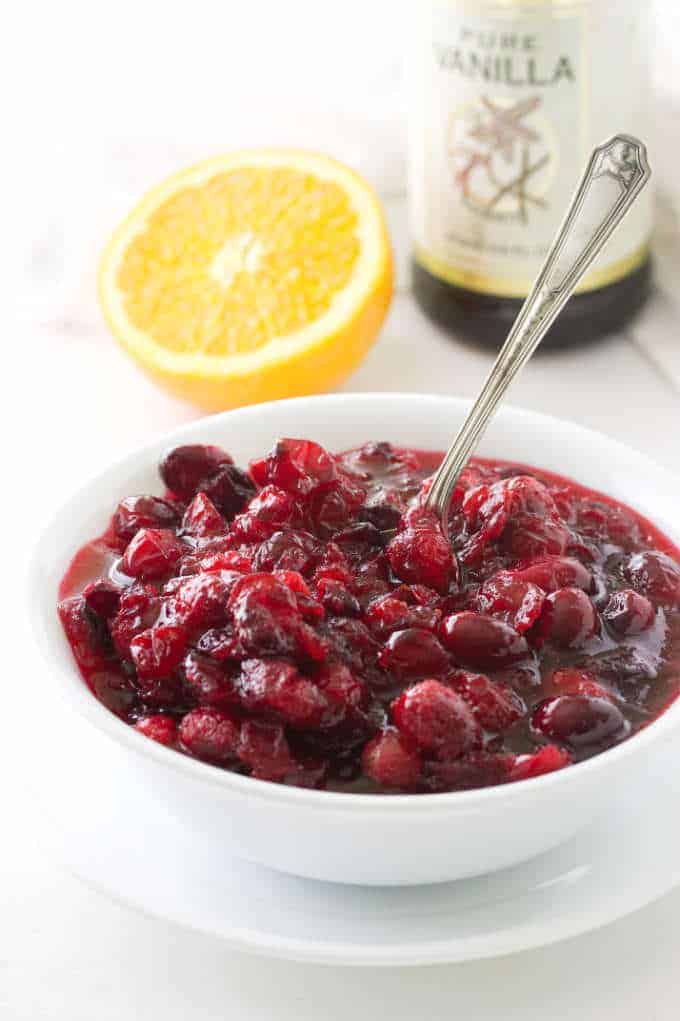 Pumpkin Flan Napolitano with Rum Caramel Sauce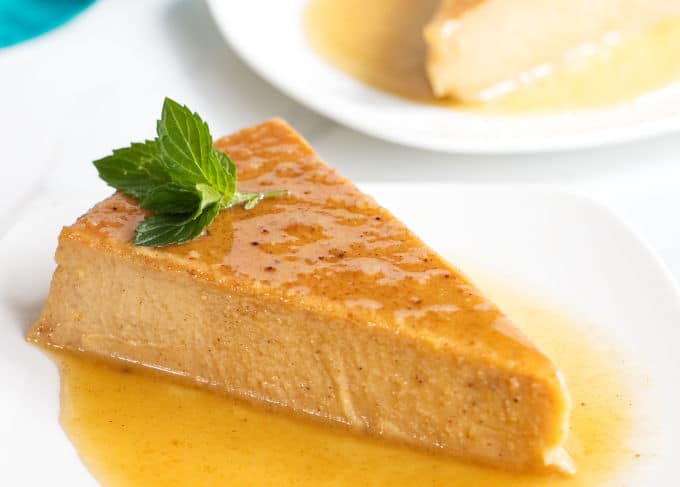 Connect With Savor the Best:
Please follow us on our social media accounts
Facebook * Instagram * Pinterest * Youtube * Twitter
Did you make this recipe? We would love to hear from you. Drop us a comment below.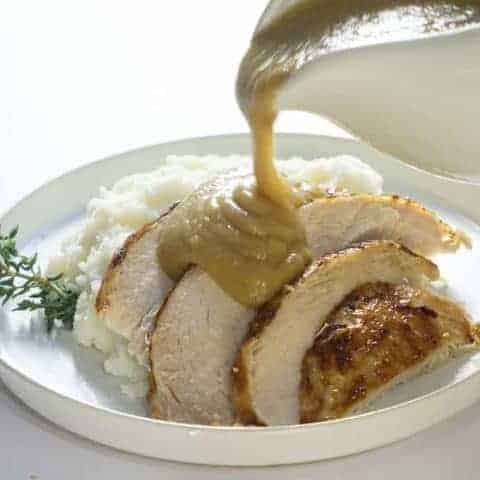 Instant Pot Frozen Turkey Breast
Yield: 4-1/2 pound turkey breast
Prep Time: 15 minutes
Cook Time: 1 hour
Total Time: 1 hour 15 minutes
Cook a frozen turkey breast in an hour with your instant pot.
Ingredients
4-1/2 pound frozen turkey breast (bone in)
2 tablespoons butter
2 teaspoons salt
1/2 teaspoon pepper
1 cup chicken broth
1 onion quartered
1 carrot, sliced into large chunks
2 celery ribs, sliced into large chunks
5 to 6 garlic cloves
1 sprig of fresh sage.
Instructions
Rub the turkey with butter then sprinkle it with the salt and pepper. Place the trivet in the bottom of the instant pot and add the broth, onion, carrots, celery, garlic, and herbs.
Place the turkey on top of the veggies. Put the lid on the instant pot and select high pressure for 60 minutes.
When it is done cooking, allow the pressure to release naturally for about 5 minutes then manually release the rest of the pressure.
The turkey skin will not brown in the pressure cooker. If you want crispy brown skin then turn the oven broiler on high. Set the turkey under the broiler for 3 to 5 minutes until the skin is brown.
Notes
If your turkey breast has a gravy packet then run the breast under cold water to loosen the opening of the breast enough to remove the gravy packet.
When the pressure is released from the instant pot, check the internal temperature of the turkey with a meat thermometer. It should read at least 165°F. If it is lower than that then replace the lid and cook under high pressure for 5 to 10 more minutes.
If you have a different sized turkey breast adjust the cooking time accordingly. It will take 12 minutes per pound to cook your frozen turkey breast.
If your turkey is already thawed it will only need to cook for 6 minutes per pound.
Recommended Products
As an Amazon Associate and member of other affiliate programs, I earn from qualifying purchases.
Nutrition Information:
Yield: 6
Serving Size: 3/4 of a pound
Amount Per Serving:
Calories: 389
Total Fat: 12g
Cholesterol: 180mg
Sodium: 1800mg
Carbohydrates: 2g
Fiber: 0.4g
Protein: 65g