Potatoes! There are so many ways to prepare this much-loved tuber but mashed is at the top of the list. We are excited to share this version of creamy Ricotta Mashed Potatoes with you. The ricotta cheese adds an extra creaminess and a subtle cheesy flavor to this old-time favorite.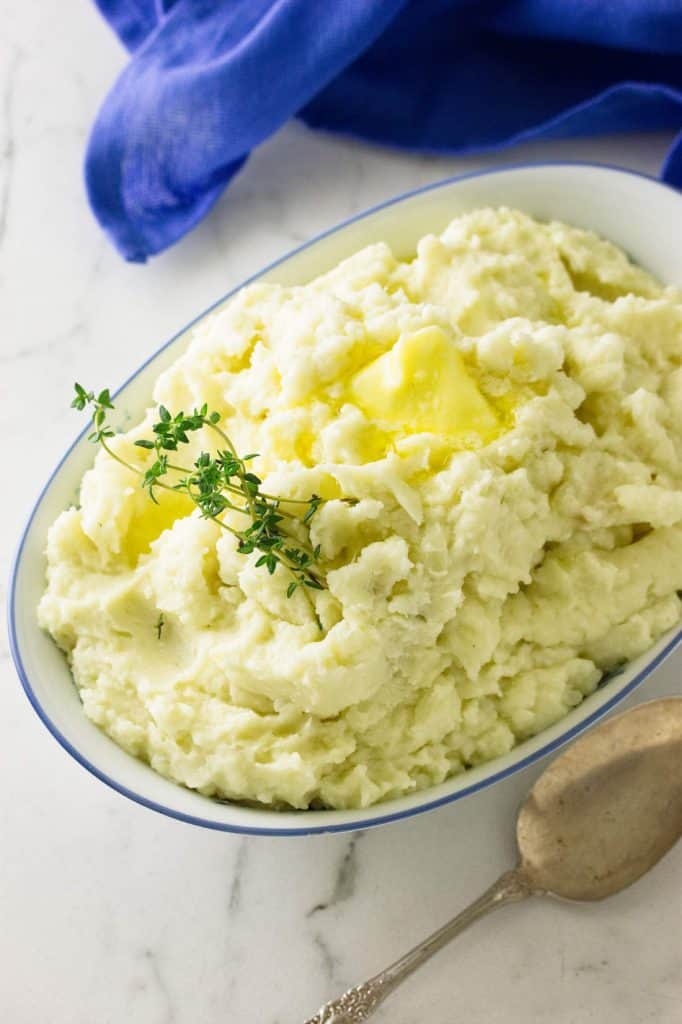 Fluffy ricotta mashed potatoes! Rich with butter and cream are enhanced with a measure of ricotta cheese which adds additional creaminess and a slightly tangy flavor.
Ricotta mashed potatoes were served with our dinner recently at a fancy Seattle restaurant, and they were so tasty and creamy! I asked the waitstaff how they were made and she said: "just regular mashed potatoes with ricotta cheese blended in". Well, that certainly sounded do-able so here we go…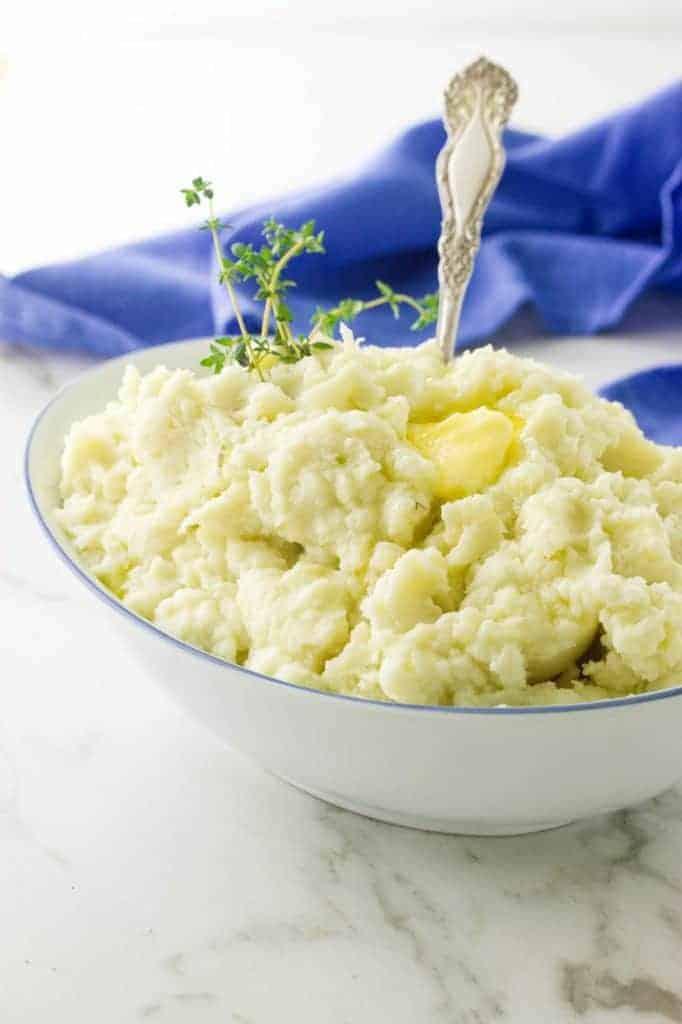 Ideas to enhance the ricotta mashed potatoes:
You could also add fresh grated garlic to the mash that would give a unique flavor. Or try stirring in chopped fresh herbs such as:
Parsley
Rosemary
Chives
Thyme
The best potato for creamy mashed potatoes
Did you know that the type of potato you use will determine how smooth and creamy your mashed potatoes will be? Russet potatoes are the cheapest and most readily available potato. They will do fine for mashed potatoes if that is all you can find.
However, if you are after some super creamy mashers, then we recommend Yukon Gold potatoes. Yukon Golds have a naturally creamy texture and an almost buttery flavor. When they are mashed, they are smoother, creamier, and richer than Russet potatoes.
Yes, Yukon Golds are a bit more expensive. However, if you're looking for the ultimate creamy ricotta mashed potatoes, then we recommend you spend a few pennies more and get the Yukon Golds.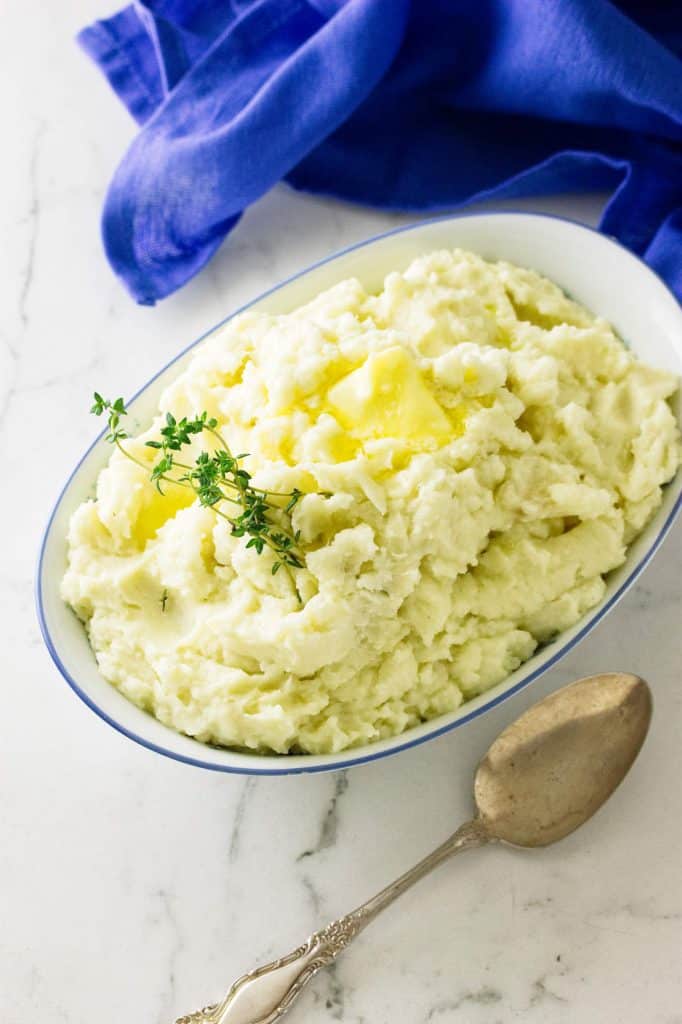 If you can make regular mashed potatoes, you can easily convert them into a creamy, unique, classy mash!
Some other recipes you might like:
Connect With Savor the Best:
Please follow us on our social media accounts
Facebook * Instagram * Pinterest * Youtube * Twitter
Did you make this recipe? We would love to hear from you. Drop us a comment below.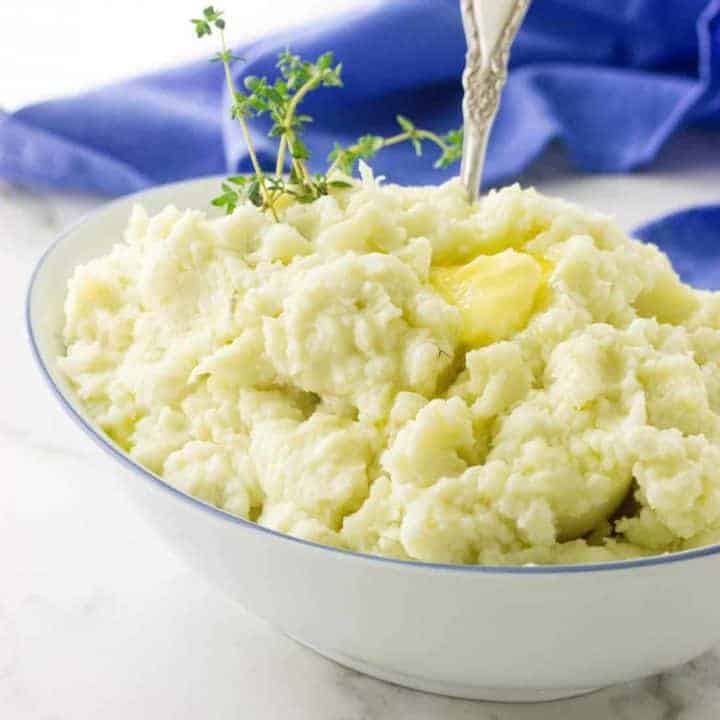 Ricotta Mashed Potatoes
Creamy mashed potatoes with the unique tang of ricotta cheese added.
Ingredients
3 pounds Yukon gold potatoes
2 teaspoons sea salt
6 tablespoons butter
1/2 cup heavy cream
1 cup ricotta
Instructions
Peel the potatoes and cut them in half or to a uniform size. Add the potatoes to a large saucepan of water with the salt. Bring to a boil, then reduce the heat to medium and cook until tender but not falling apart. About 25 minutes.
Drain the potatoes and place the pan back on the lowest heat setting until any remaining water has steamed off and disappeared. The potatoes should look dry and floury.
Add the butter and when it has melted, mash the potatoes.
Heat the cream in the microwave for 30 seconds and add to the potatoes, mash until smooth and creamy.
Add the ricotta cheese and blend until completely incorporated.
Notes
Let the butter melt in the pan of hot potatoes before mashing. Alternatively, you can melt the butter in the microwave and add to the potatoes.
Adding the hot cream will keep the potatoes from lumping.
Nutrition Information:
Yield:

10
Serving Size:

1
Amount Per Serving:
Calories:

155
Total Fat:

11g
Saturated Fat:

7g
Cholesterol:

34mg
Sodium:

462mg
Carbohydrates:

10g
Protein:

4g