Our smoked salmon crostini is THE starter to make if you're entertaining and need to subdue hunger for a bit with an elegant-yet-effortless party starter. Who hasn't been there? Crostini to the rescue, always.
Our smoked salmon crostini is a delectable combination: rich and zesty goat cheese/cream cheese spread on toasted sourdough bites, topped with a slice of smoked salmon. It's so easy to prepare and will have everyone coming back for more!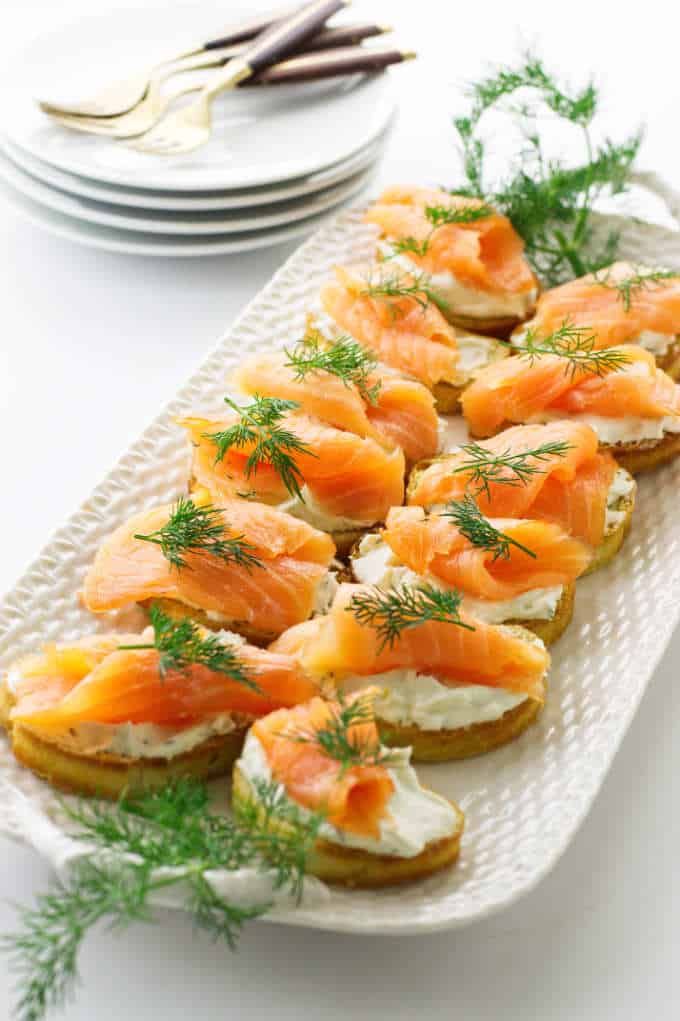 how to make smoked salmon crostini
I absolutely LOVE smoked salmon and therefore love any recipe that incorporates it.
That intense, smoky flavor, the perfect amount of saltiness, the fact that it's an excellent source of protein and already cooked (let's just take a moment to really appreciate that for a second) — smoked salmon has everything I need.
Pair it with this cream cheese/goat cheese spread and the unbeatable flavor combination of fresh dill, garlic and lemon and I'm one happy camper (your dinner guests will be, too).
These smoked salmon crostini are incredibly simple to make. Here's the highlight reel of the whole process but make sure to scroll down to view the full recipe at the bottom of the page!
First, make the toast.
Cut the bread into slices, brush each slice with olive oil (get both sides!) and toast on a baking sheet in the oven until crisp.
Transfer to a wire rack and allow the toasts to cool.
Next, make the spread.
Blend the softened goat cheese, cream cheese and cream together until smooth and spreadable.
Stir in the garlic, preserved lemon peel and fresh dill.
What cheese goes with smoked salmon?
In our experience, soft cheeses- cream cheese, goat cheese, Neufchatel, or Gruyere- always pair well with smoked salmon. We chose a combination of goat cheese and cream cheese for the crostini spread. The goat cheese has a nice, rich flavor that is toned down slightly by mixing in the cream cheese.
Assemble your smoked salmon crostini.
On each cooled slice of toast, spread a thick layer of the cheese mixture.
Arrange portions of salmon on top.
Garnish each crostini with dill sprigs and arrange on a serving dish.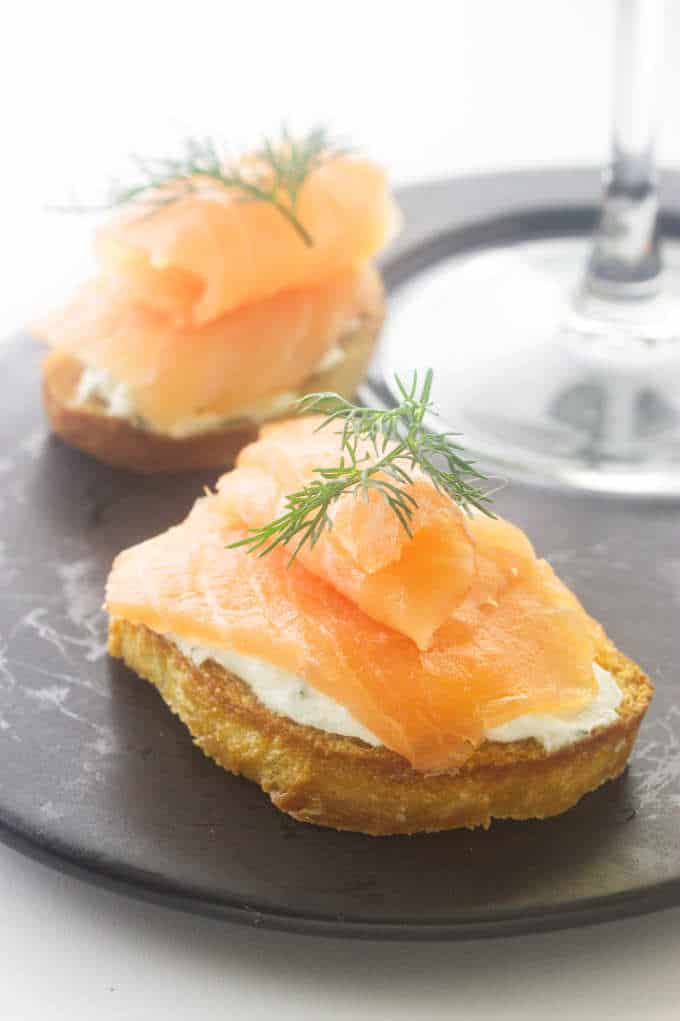 What smoked salmon is best?
We always recommend wild-caught fish over farmed (wild-caught tastes better and is much healthier for you), and that remains true when it comes to buying smoked salmon.
It's usually pretty easy to find and most grocery stores that stock smoked salmon usually have a wild-caught product. It is also what we used in our smoked salmon bruschetta and our Philadelphia rolls.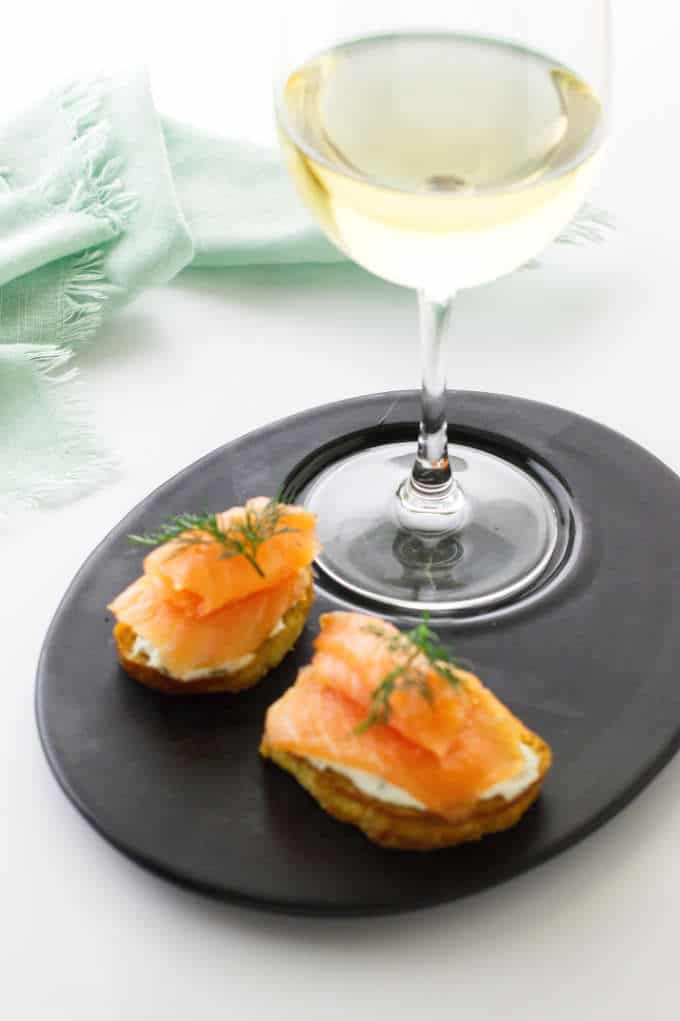 What to serve with smoked salmon crostini
This crowd-pleaser of a starter is so good it can stand alone! If you want to serve it with other appetizers, consider serving them with a lovely cheese platter, an herbed olive oil dip or watermelon radish and goat cheese crostini. Oh, and also a lovely WHITE WINE is never a bad idea. 😉
This dish is so flavorful and borderline addicting! Seriously, you can't stop with just one. I hope you love them, I'm sure they'll be just as big of a hit as they are in my home!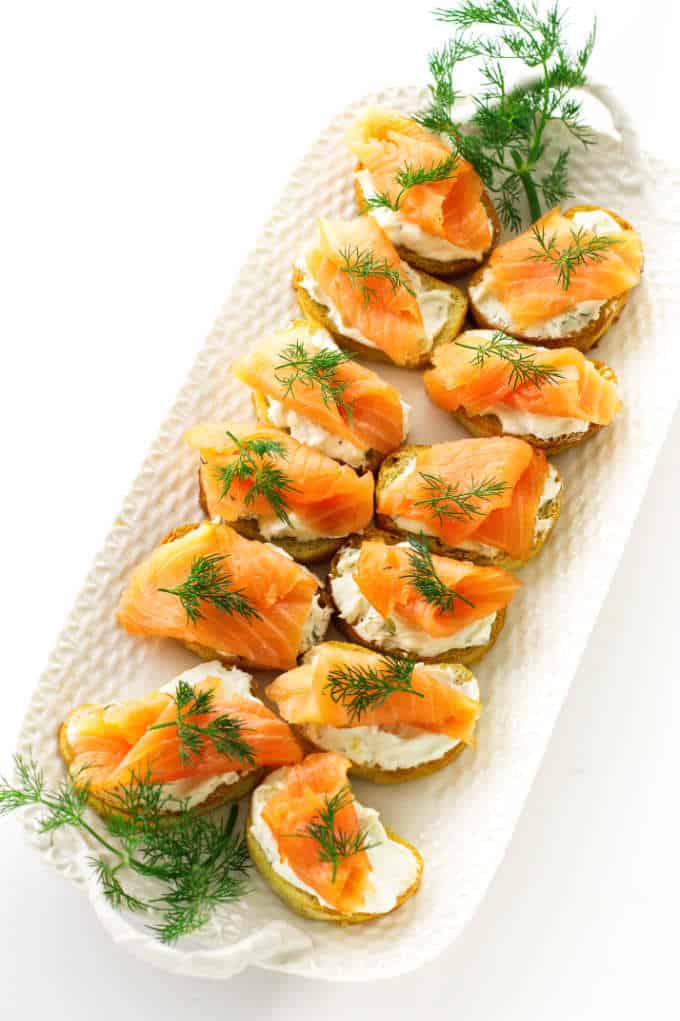 OTHER RECIPES WE ARE SURE YOU WILL LOVE!
Our list of healthy dinner ideas was compiled to make life (or at least dinnertime) easier! From sheet pan dinners to slow-cooker and Instant Pot ideas, each recipe is under 400 calories and fits busy schedules!
This lemongrass chicken satay is a complex flavor blend of sweet, sour, salty and spicy! Whip this up in no time for a meal on its own or serve as a tasty starter.
Wild Alaskan smoked salmon chowder is delicious and everything a seafood chowder should be. Creamy and flavorful, it'll certainly warm you up on a chilly day.
CONNECT WITH SAVOR THE BEST
Be sure to follow us on our social media accounts:
Facebook * Instagram * Pinterest * Twitter * Youtube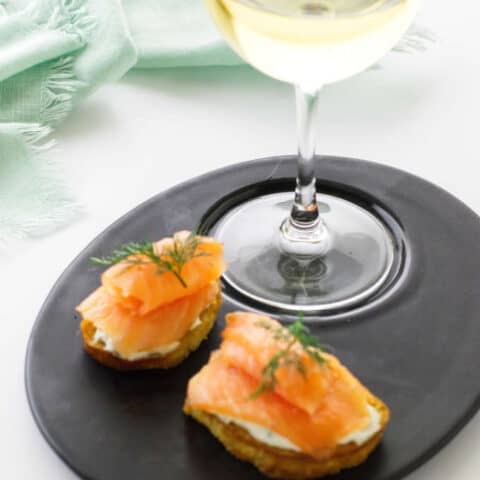 Smoked Salmon Crostini
Yield: 8 Servings
Prep Time: 30 minutes
Total Time: 30 minutes
Easy smoked salmon crostini made with creamy goat cheese, bits of preserved lemon peel and fresh dill. Each crostini-nibble is topped with slices of Norwegian-style smoked salmon.
Ingredients
One long baguette
Extra virgin olive oil
10 oz. log soft goat cheese, softened
4 oz. cream cheese, softened
2 tablespoons heavy cream
1 clove garlic, grated
1/2 preserved lemon peel, rinsed and finely chopped (see notes)
8 ounces pre-sliced smoked salmon, each slice cut into portions
2 tablespoons snipped fresh dill
Dill sprigs for garnish
Instructions
For the Toast:
Cut the bread into 1/4 to 1/2-inch slices. Brush bread slices lightly on both sides with olive oil and arrange on a baking sheet. Toast until golden and crisp, 12-15 minutes, flipping over halfway through. Transfer to a wire rack and allow to cool.
To Make the Spread:
Blend the softened goat cheese, cream cheese and cream together until smooth. Stir in the garlic, preserved lemon peel and the fresh dill.
To Assemble:
Spread a thick layer of the goat cheese mixture on each slice of toast. Arrange portions of salmon on top of the goat cheese mixture and garnish with dill sprigs and arrange on a serving dish.
Notes
The preserved lemon can be substituted with a tablespoon of lemon zest.
We recommend Wild-Caught Smoked Salmon
Nutrition Information:
Yield: 15
Serving Size: 2 Crostini
Amount Per Serving:
Calories: 168
Total Fat: 9g
Saturated Fat: 5g
Trans Fat: 0g
Unsaturated Fat: 3g
Cholesterol: 22mg
Sodium: 555mg
Carbohydrates: 12g
Fiber: 1g
Sugar: 1g
Protein: 9g
Nutrition information is a guideline only, is calculated automatically by third-party software, and absolute accuracy is not guaranteed.