Our Cheese Stuffed Pasta Shells are comforting, delicious, and super easy to whip up, especially on a busy weeknight. This dish is guaranteed to become a staple in your household. The pasta shells are the perfect vehicle for our creamy, gooey cheese mixture. The top crisps up under the broiler, while the filling is tender. The marinara adds a nice tanginess to the dish. It's a perfect weeknight meal that your whole family will love.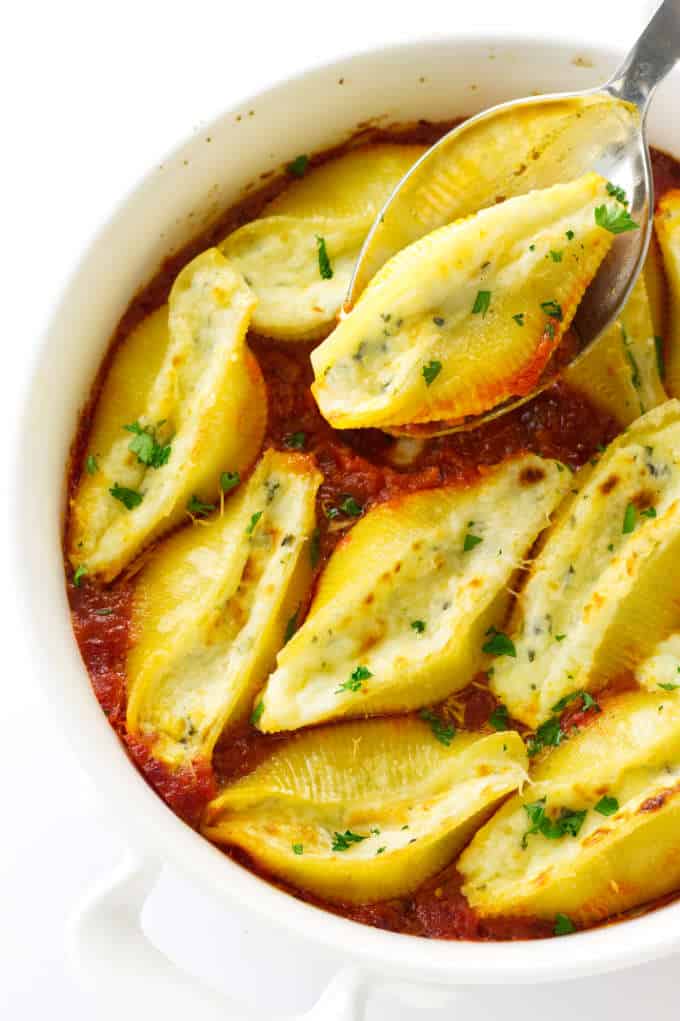 These ricotta stuffed pasta shells make a kid-friendly comfort recipe that is easy on the budget. It may even become a favorite at your house.
Why you'll love cheese stuffed pasta shells
We love hearty recipes that are easy to make, especially when you're short on time on a weeknight. We know you'll love this one as much as we do, and here's why:
You only need 10 ingredients
It's a comforting and flavorful dish guaranteed to please your whole family (who doesn't love cheese?)
It's a completely vegetarian meal that is satisfying, especially for families cutting down on meat consumption or observing meatless Mondays
The ingredients are budget-friendly
The leftovers are a great next-day lunch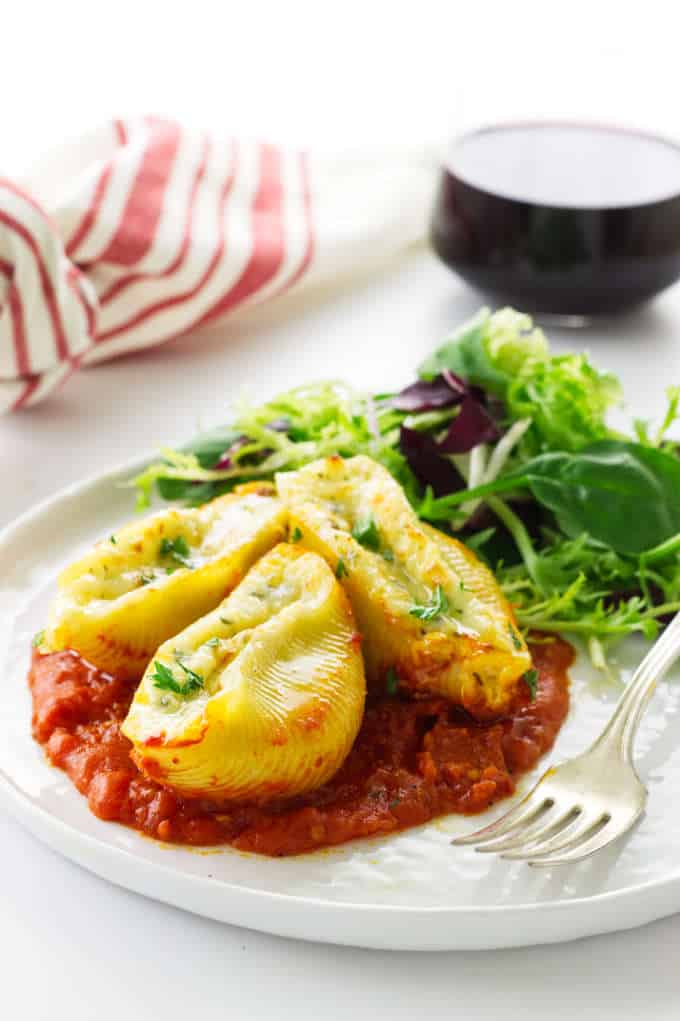 Ingredients needed for cheese stuffed pasta shells
Here's a quick shopping list for all the items you'll need to make this dish:
Box of jumbo pasta shells: You want jumbo shells so there's a lot of room for the filling.
Marinara sauce: Your favorite store-bought jar works great and cuts down on prep time. If you have time, whip up a batch of tomato garlic sauce in advance.
Cream cheese: Adds a smooth creaminess to the mixture
Egg: A binder for the cheesy mixture.
Ricotta cheese: Tangy and creamy. Save some ricotta to make these pillowy soft Malfatti dumplings too. You won't' regret it.
Garlic: Enhances the flavor.
Basil: For freshness and added flavor in the filling.
Mozzarella: For a gooey filling.
Parmigiano-Reggiano: For some umami.
Parsley: Adds a fresh garnish.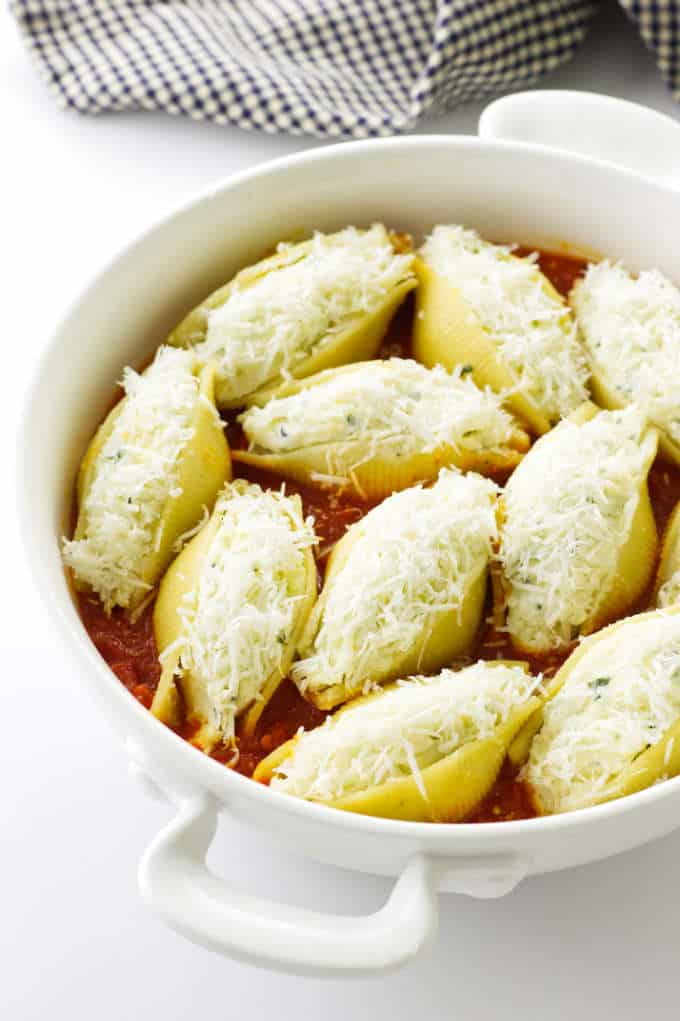 How to make cheese stuffed pasta shells
Here are the basic steps to make this dish. A detailed, printable version is available below.
Boil pasta: Cook the pasta shells in salted water for 7 minutes to a perfect al dente. Remove the cooked pasta shells, set aside, and toss in some olive oil to prevent the cooked shells from sticking.
Make filling: Beat the cream cheese, egg, and ricotta cheese in a medium-sized bowl using an electric mixer. Stir in minced garlic, chopped basil, and shredded mozzarella.
Fill shells: Fill each shell with two tablespoons of the cheese mixture. Sprinkle with some Parmigiano-Reggiano.
Lay shells in a dish: Pour all the marinara sauce into a 9×13 ovenproof casserole dish. Place the filled shells into the dish.
Bake: Cover the dish with foil and bake in the oven for 20 minutes. Remove the foil, then broil for another 3-4 minutes to brown the cheese.
Serve: Serve with a garnish of chopped basil or parsley.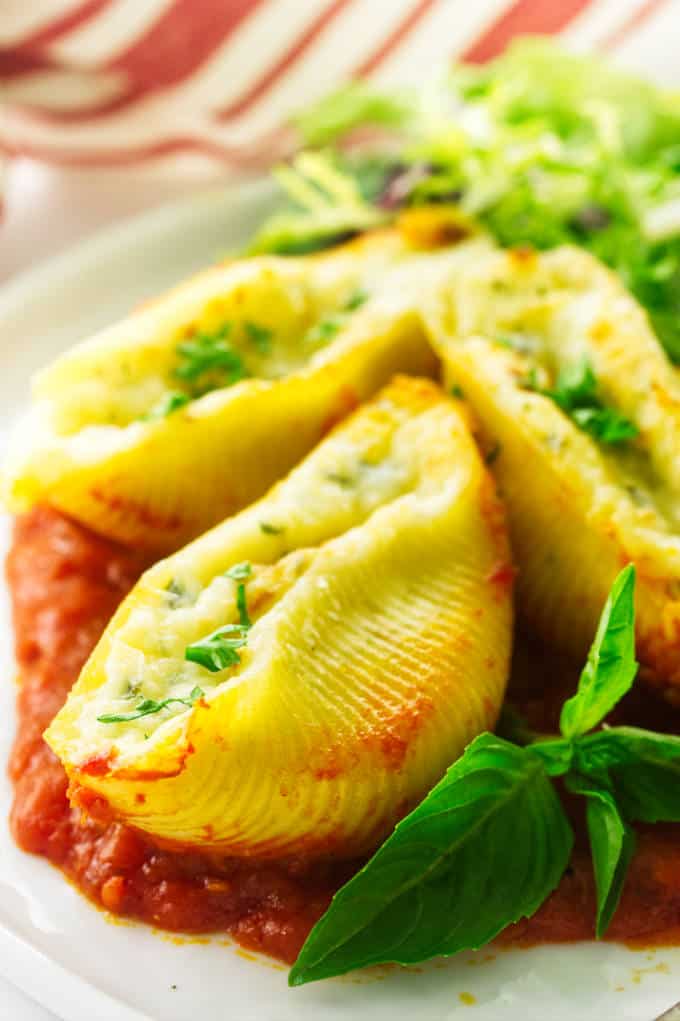 Tips for recipe success
To nail the pasta:
Avoid overcooking your pasta shells. If you boil them past the al dente point, they may fall apart as you fill them or after baking when you serve them.
Prevent the pasta shells from sticking to each other while you prepare the filling by tossing them in olive oil.
Filling the shells:
Use a standard tablespoon to fill the shells.
You could also fill a plastic sandwich bag with the cheese mixture, cut the corner, and pipe the stuffing into the shells. If you're an avid baker and have a piping bag handy, you can use that as well.
Frequently asked questions:
How long can you store leftover stuffed pasta shells?

If you make a big batch, you can keep leftovers in the refrigerator in an airtight container for up to 3 days. Alternatively, you can store leftovers in the freezer for up to 3 months. This dish is a great next-day lunch!
Can you make any components of the dish ahead of time?

Yes! You can prepare your cheese filling ahead of time and store it in an airtight container in the refrigerator. You can do this up to one day ahead of cooking.

We would not recommend boiling the pasta ahead of time. Even with a drizzle of olive oil, eventually the pasta will stick. Olive oil is a great short-term solution to preventing the shells from sticking.
Can I substitute the pasta shells for a gluten-free version?

Yes! There are a number of gluten-free jumbo pasta shells available in stores. Many are brown rice based. They would make for a great substitute if you require a gluten-free version of this recipe. It'll taste just as delicious! Make sure you follow the recommended cook time on the box to cook the shells to al dente
How much should I salt my pasta water?

To properly salt your pasta water, you'll need more salt than you think. You may have heard it should taste like the sea! That's true. For every gallon of water, you want to add about two tablespoons of course salt or one tablespoon of fine salt.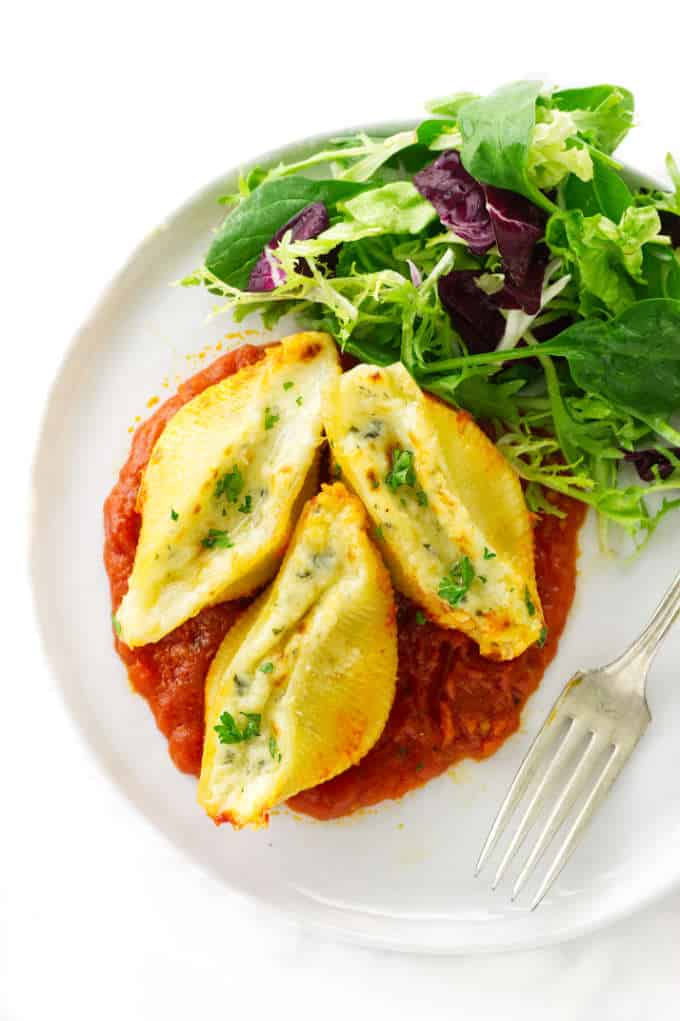 Helpful Tools
Some of the following links are affiliates. If you click on these links and purchase something, we may receive a small commission. You don't pay any extra but it will help us keep the lights on.
Large pot to boil the pasta.
9×13 casserole dish. Every kitchen needs one of these all-purpose baking pans.
Hand mixer. This will make it a breeze to blend the cheese filling but you could also use a wooden spoon and good old fashioned "elbow grease".
SOME OTHER RECIPES WE ARE SURE YOU WILL LOVE:
Creamy Garlic Butter Shrimp Pasta: This simple pasta recipe hits all the right notes. Sweet succulent shrimp, immersed in a creamy garlicky sauce and tossed with thick strands of fettuccine pasta. Plus delicious and quick, start to finish thirty minutes max.
Italian Meatballs and Spaghetti with Tomato-Garlic Sauce: Skip the Little Italy restaurant tonight. Instead, create Italian meatballs and spaghetti with tomato-garlic sauce in your own kitchen! These Italian-style meatballs are awash in a killer tomato sauce then, spooned over a heap of al-dente spaghetti.
Crunchy Garlic Bread: Crunchy Garlic Bread! Full of garlic-y flavor and hot from the oven! This classic garlic bread is so simple to make, just 3-ingredients, bread, garlic and butter.
CONNECT WITH SAVOR THE BEST!
Be sure to follow us on our social media accounts
Facebook * Instagram * Pinterest * Twitter * Youtube
Did you make this recipe? We would love to hear from you. Drop us a comment below.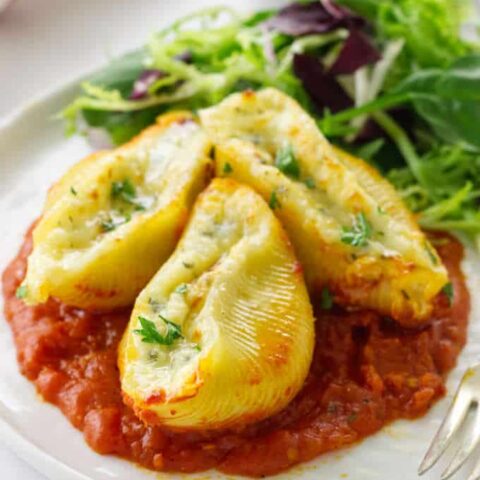 Cheese Stuffed Pasta Shells
Yield: 8 servings
Prep Time: 20 minutes
Cook Time: 25 minutes
Total Time: 45 minutes
Jumbo cheese stuffed pasta shells are stuffed with three cheeses! Ricotta , cream cheese and mozzarella and topped with parmesan cheese. Adding to the 'easy' we nestled the stuffed shells in a layer of jarred marinara sauce and baked them to a delicious creaminess. Yum!
Ingredients
12 oz. box of dry jumbo pasta shells
1 jar (24 oz.) marinara sauce (your favorite)
12 oz. cream cheese
1 egg
15 oz. ricotta cheese
2 garlic cloves, grated or minced
1/4 cup chopped fresh basil
8 oz. (2 cups) shredded Mozzarella cheese
4 oz. (1 cup) grated Parmigiano-Reggiano cheese
2 tablespoons chopped parsley
Instructions
Preheat the oven to 375°F.
Bring a large pot of salted water to a boil and cook the pasta shells to the al dente stage, about 7 minutes. Drain the cooked shells in a colander and rinse with cold water. Return the shells to the pot and toss with 1 tablespoon olive oil to keep from sticking together.
Coat a 9x13-inch ovenproof casserole dish with non-stick oil spray. Add all of the marinara sauce to the bottom of the dish. Set aside.
In a medium-size bowl and using an electric hand mixer, beat the cream cheese and the egg together, add the ricotta cheese and blend until smooth.
With a spoon or spatula, stir in the garlic, basil and the Mozzarella cheese until evenly blended.
To fill the shells: Hold a shell open and spoon about 2 tablespoons of the cheese mixture into the shell. Add a teaspoon or more of grated Parmigiano-Reggiano cheese on the top, pressing to adhere to the filling. Place the filled shell in the dish of sauce, repeat with the remaining shells.
Cover the dish with foil and transfer to the oven and bake for 20 minutes. Remove the foil, turn the heating unit to 'broil' and cook for another 3-4 minutes to brown the cheese.
Serve hot with a garnish of chopped basil or parsley.
Notes
When boiling the pasta shells, do not overcook them as they will be easier to fill with a spoon and they will continue cooking in the sauce.
Tossing the cooked, unstuffed shells with a bit of olive oil will prevent them from sticking together.
Use a standard tablespoon to fill the shells.
Alternatively, place the cheese stuffing into a large closable plastic food bag, clip off the corner and pipe the stuffing directly into the shells.
Nutrition Information:
Yield: 8
Serving Size: 3
Amount Per Serving:
Calories: 404
Total Fat: 27g
Saturated Fat: 16g
Trans Fat: 0g
Unsaturated Fat: 9g
Cholesterol: 108mg
Sodium: 491mg
Carbohydrates: 21g
Fiber: 1g
Sugar: 3g
Protein: 19g
Nutrition information is a guideline only, is calculated automatically by third-party software, and absolute accuracy is not guaranteed.