How often do you buy a jar of Italian tomato sauce? You won't believe how easy it is to make this Tomato-Garlic Sauce yourself. This made-from-scratch sauce has an incredibly fresh taste that is better than any store-bought sauce. You will be using this on all your Italian-inspired dishes.
You can make this rich, versatile tomato-garlic sauce from scratch at a considerably less cost than a jar of store-bought sauce.
Is Italian tomato-garlic sauce the same as a Marinara sauce?
While both sauces are tomato based and used interchangeably there are some difference in their ingredients, texture and preparation methods.
Italian tomato sauce is a time-intense sauce. It is a combination of tomatoes, onions, garlic, and fresh or dried herbs. The sauce simmers for several hours which thickens it into a rich, deep flavor. Either a food mill or food processor transforms the sauce into a thick, smooth purée.
Marinara is a simple, quick-cooking sauce. The tomatoes are left chunky and the sauce is juicier than it's cousin the tomato sauce. Tomatoes are seasoned with olive oil, garlic, and basil. Marinara sauce is cooked and ready to enjoy in less than thirty minutes.
What causes Italian Tomato Sauce to have a bitter taste?
Making a good tomato sauce requires a balancing act between acidity and sweetness.
Tomatoes are a high acidic food with a good portion of that acid contained in their seeds. The long cooking time required for making Italian tomato sauce can concentrate the acidic flavor. There are a couple of tricks to prevent or correct the balance of the sauce.
Add a touch of sugar and/or a chopped carrot in the initial process may prevent bitterness.
Cooking the sauce for no more than 1-1/2 hours.
A pinch of baking soda will change the pH of the sauce and make it less acidic.
Stir a teaspoon of butter into the hot sauce
Making Tomato-Garlic Sauce:
Get out your Dutch oven or a heavy-bottomed large pot….this will make two quarts of sauce. Store the sauce in Mason jars in the fridge for up to ten days. You can also freeze some for a future yummy dinner.
Sauté the onions and garlic in olive oil.
Stir in two large cans of diced tomatoes, tomato paste, red wine, dried oregano, basil, sugar, seasoning and a bay leaf.
Bring the sauce to boil.
Reduce heat to low.
Cover and simmer for 1-1/2 hours.
Puree with an immersion blender or a food blender.
This sauce is really delicious, you can use it in all your favorite recipes that call for tomato sauce. Try some on pizza, spaghetti, lasagna or pasta or as a dipper for breadsticks. It's even good on spaghetti squash and other types of veggies.
Pasta with tomato-garlic sauce and garlic bread
I know it is pretty easy and convenient to just open a jar of store-bought tomato sauce but we hope you try this recipe. Taste and see how delicious and easy it is to make tomato sauce from scratch.
We would love to hear what your favorite tomato-based Italian dish is.
SOME OTHER ITALIAN RECIPES WE ARE SURE YOU WILL LOVE:
CONNECT WITH SAVOR THE BEST!
Be sure to follow us on our social media accounts
Facebook * Instagram * Pinterest * Twitter * Youtube
Did you make this recipe? We would love to hear from you. Drop us a comment below.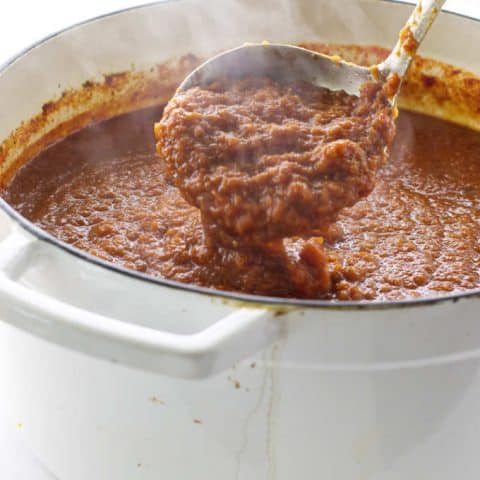 Tomato-Garlic Sauce
Yield: 8 cups
Prep Time: 10 minutes
Cook Time: 1 hour 30 minutes
Total Time: 1 hour 40 minutes
This thick Italian tomato-garlic sauce is perfect on top of pasta and as a pizza sauce. It is delicious with meatballs and spaghetti or as a dip for crusty bread.
Ingredients
3 tablespoons olive oil
2 medium onions, finely chopped
8-10 garlic cloves, minced
2 (28-oz) cans diced tomatoes, not drained
1 six-ounce can tomato paste
1 cup red wine
1 teaspoon dried thyme
1 tablespoons dried oregano
1-1/2 tablespoons dried basil
1 bay leaf
2 teaspoons sugar
1/2 teaspoons sea salt
1/2 teaspoon freshly ground black pepper
Instructions
In a large saucepan, heat the olive oil and cook the onions over medium heat, stirring frequently, for 7-8 minutes.
When the onions are soft and transparent but not brown, add the garlic and cook for another 1-2 minutes, stirring constantly.
Stir in the diced tomatoes and their liquid, the tomato paste, the red wine, thyme, oregano, basil, bay leaf, sugar, salt and pepper. Bring the sauce to a boil, turn the heat to low and simmer for one hour.
Transfer from the heat, remove and discard the bay leaf.
Use an immersion blender or kitchen blender and process until the sauce is smooth (if using a kitchen blender, do not fill the container more than 2/3 full and do not cover with the lid.
Notes
This sauce can be stored in a covered container in the fridge for 5 to 10 days, or in the freezer for 3-months.
This is a gluten-free tomato-garlic sauce
Add additional garlic cloves for a more pronounced garlic flavor.
If using a food blender, allow the sauce to cool before blending and do not overfill the container.
Nutrition Information:
Yield: 16
Serving Size: 1/2 cup
Amount Per Serving:
Calories: 59
Total Fat: 3g
Saturated Fat: 0g
Trans Fat: 0g
Unsaturated Fat: 2g
Cholesterol: 0mg
Sodium: 101mg
Carbohydrates: 6g
Fiber: 1g
Sugar: 3g
Protein: 1g
Nutrition information is a guideline only, is calculated automatically by third party software, and absolute accuracy is not guaranteed.