Panzanella is a classic summertime salad in Italy as they produce so many tomatoes, and of course the Italians are known for their fine bread-making skills so there is always a lot of bread there. This is a wonderful salad that will use all those extra tomatoes and day-old bread.
Panzanella is a simple salad made with stale bread, tomatoes, onions and fresh basil and is served with an oil and vinegar dressing. Our garden is overflowing with produce this year and the juicy, red, vine-ripened tomatoes are one of our favorite parts of summer. We are enjoying this salad!
Often other vegetables are included in Panzanella such as cucumbers, radishes or chunks of zucchini but we like just plain, bread, tomatoes, onions and lots of basil. The dressing couldn't be simpler….olive oil and red wine vinegar, salt and pepper.
This is a recipe from the cookbook, Italy Today, the Beautiful Cookbook and it uses a coarse rye day-old stale bread. We are using Pugliese which is a coarse bread that will really soak up all the flavors from the juicy tomatoes and the dressing. You will not need to squish the tomatoes or let the bread soak in advance. This is an easy-peasy delicious salad.
Try this salad today while the wonderful vine-ripened tomatoes are still available. Ummmm good!
Take a look at these salad ideas: Heirloom Tomato Salad with Aged Goat Cheese Butter Lettuce, Strawberries and Cocoa Nibs Garden Purslane Salad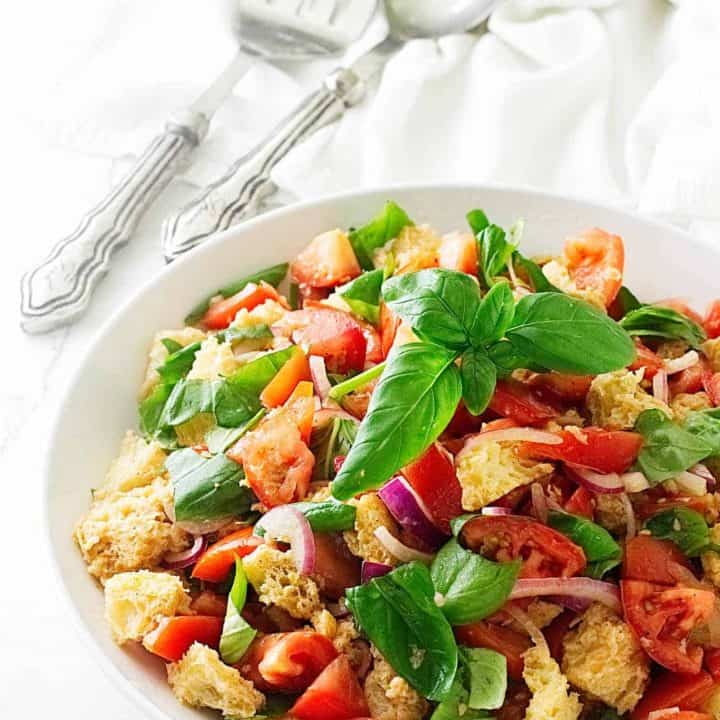 Panzanella
Yield: 6 servings
Prep Time: 15 minutes
Total Time: 15 minutes
A classic Italian summertime salad made with bread, tomatoes, onions and basil with a simple vinaigrette dressing made with olive oil, red-wine vinegar, salt and pepper.
Ingredients
For the Red Wine Vinaigrette:
1/2 teaspoon sea salt
1/4 teaspoon freshly ground black pepper
1/4 cup red wine vinegar
1/2 cup olive oil
For the Panzanella Salad:
1 1/4 pound coarse day-old bread, (choose any kind ) crusts removed and cut or torn into 1/2-inch cubes about 10 ounces of bread cubes
3 pounds large ripe tomatoes, cut into 1/2-inch chunks
1 large red onion, sliced thin
2-3 ounces of fresh basil leaves, (or as much as you prefer), torn into bite-size pieces
Instructions
For the Red Wine Vinaigrette:
Add the salt and vinegar to a small dish and whisk together. When the salt is dissolved, add the olive oil and whisk to combine. Set aside.
For the Panzanella Salad:
Add the bread cubes, tomatoes and onion slices to a large salad bowl. Drizzle the vinaigrette over the top and toss to combine. Allow to sit for at least 1/2 hour and up to 4 hours. Add the torn basil and toss again just before ready to serve. Serves 6-8
Nutrition Information:
Yield: 6
Serving Size: 1
Amount Per Serving:
Calories: 445
Total Fat: 23g
Saturated Fat: 3g
Trans Fat: 0g
Unsaturated Fat: 18g
Cholesterol: 0mg
Sodium: 792mg
Carbohydrates: 73g
Fiber: 7g
Sugar: 14g
Protein: 14g
Nutrition information is a guideline only, is calculated automatically by third party software, and absolute accuracy is not guaranteed.