Who does not love the fragrance and taste of freshly picked tomatoes! This heirloom tomato salad with aged goat cheese has the taste of summer. With just a few components of tomatoes, goat cheese and crisp prosciutto you can toss it together in minutes.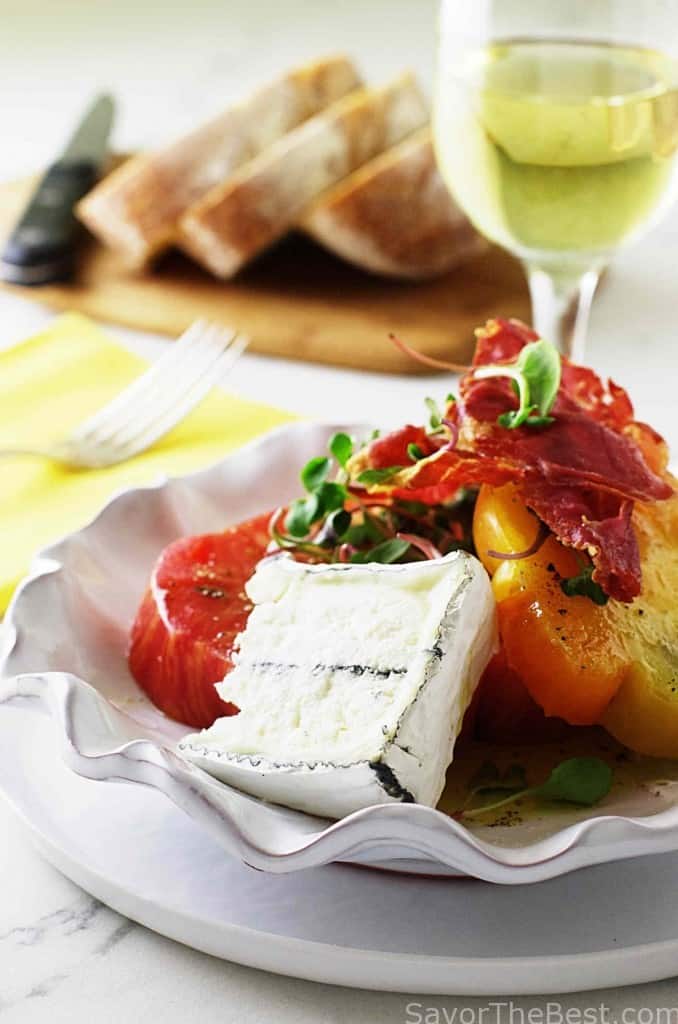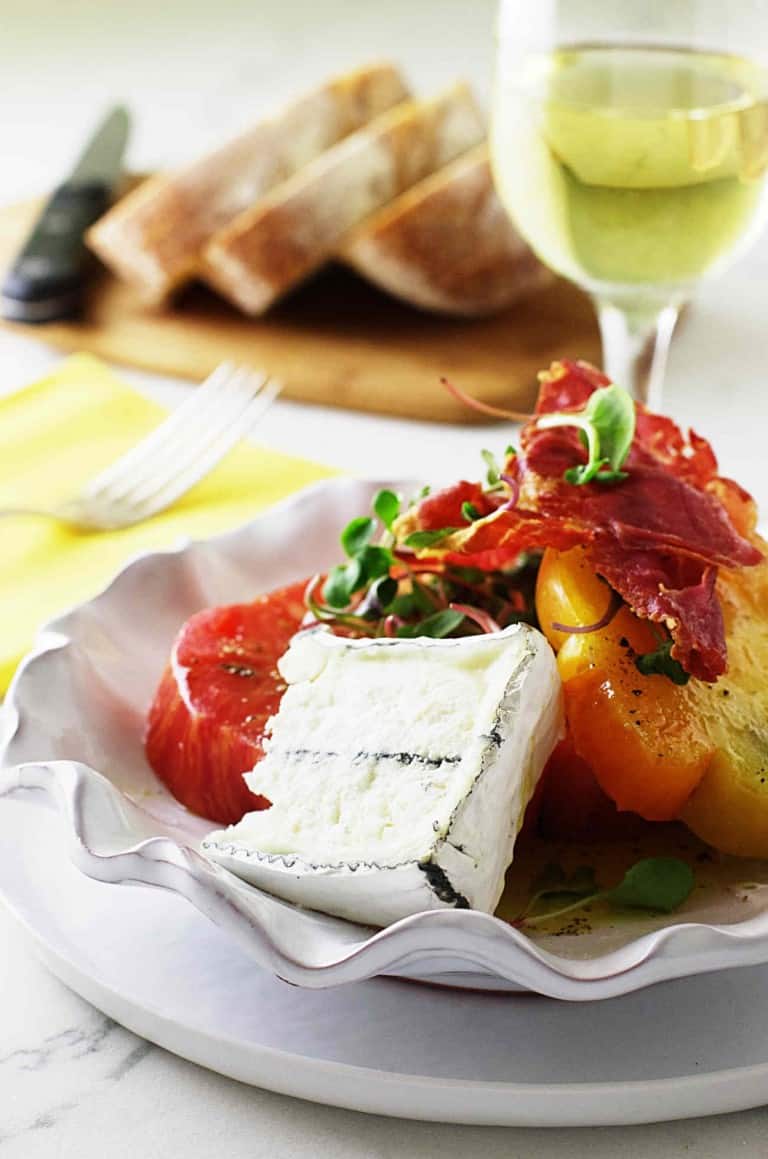 Heirloom tomatoes are so interesting, they grow in a variety of shapes, colors and sizes and the flavors are different as well. For example in this salad the red tomato is more acidic than the yellow tomato and the yellow has a slight sweetness to it.
I do not know the names of these particular heirloom tomatoes but I liked the shapes and colors and they smelled like they had just been picked from the vine. Look for heirloom tomatoes in the local farmers' markets and treat yourself to a taste of summer.
Goat cheese can be aged into hard cheeses that you can slice like an aged cheddar or the soft spreadable cheese that we are so familiar with. The shorter aging process produces a tangy delightful cheese that we usually see shaped into small logs to be spread on crackers.
Humboldt Fog® is an aged goat cheese that is firmer than the creamy logs and it slices up nicely. It is formed into a small, round, thick cake with a layer of ash in the middle that shows in slices and adds an element of mystery and uniqueness. Humboldt Fog® lends well to most fruits and is always a favorite on our cheese boards.
To create this wonderful and beautiful salad we combined thick slices of the two varieties of heirloom tomatoes and added a thick slice of the creamy aged Humboldt Fog® aged goat cheese, several crisp 'shingles' of salty prosciutto and a handful of spicy radish microgreens. The flavors of juicy/sweet, creamy/tangy, crisp/salty and crunchy/spicy all compliment each other deliciously. The golden balsamic vinaigrette brings it all together in one of summers best tasting salads.
You might also like these salads:
Butter Lettuce, Strawberries and Cocoa Nibs,
Roasted Baby Beet Salad with Feta Cheese,
Grilled Eggplant Salad with Balsamic Vinaigrette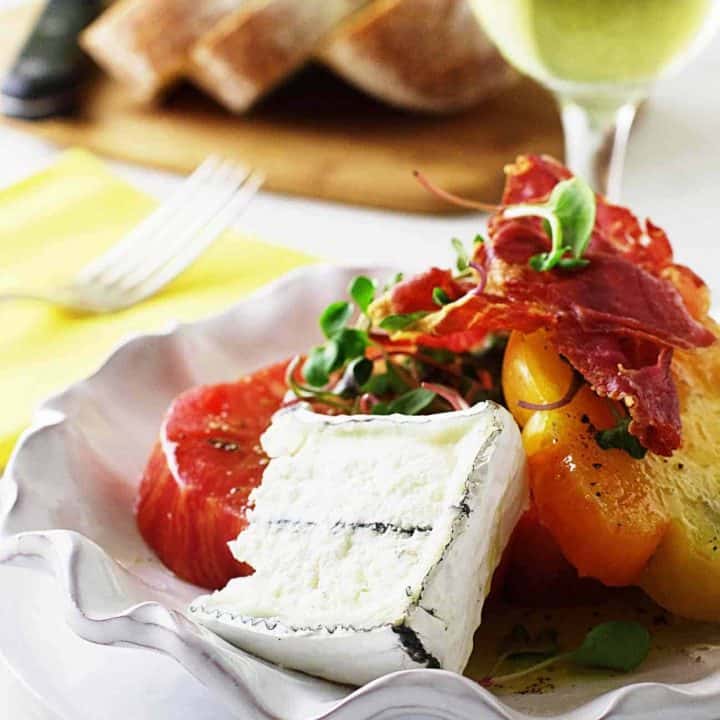 Heirloom Tomato Salad with Aged Goat Cheese
Yield: 4 servings
Prep Time: 14 minutes
Cook Time: 5 minutes
Total Time: 19 minutes
This heirloom tomato salad with aged goat cheese combines the flavors of juicy, creamy, crunchy, salty and spicy that all compliment each other deliciously. A simple vinaigrette of golden balsamic vinegar and olive oil is the perfect dressing.
Ingredients
6 ounces prosciutto
2 large fresh red heirloom tomatoes
2 medium fresh yellow tomatoes
4 thick slices Humboldt Fog® aged goat cheese
1 cup fresh radish microgreens
For the Golden Balsamic Vinaigrette:
1/4 cup golden balsamic vinegar
1/2 cup olive oil
1 garlic clove, grated or minced
Salt and freshly ground pepper to taste
Instructions
Preheat the oven to 425°F and line a small baking sheet with foil. Set a wire rack on the foil and lay the thin slices of prosciutto on the rack. Roast for about 5 minutes or until crisp. Transfer from the oven and place on paper towels to absorb any oil residue.
For the Vinaigrette:
Add the vinegar, oil, garlic, salt and pepper to a mason jar, put the lid on and shake to blend.
To assemble the individual salads:
Cut each tomato crosswise into four thick slices. Arrange one slice of the red tomato on each of four salad plates. Arrange a yellow tomato slice on top of the red tomato at an angle. Spoon a portion of vinaigrette on each serving of tomatoes and add a generous slice of the aged goat cheese alongside. Add an equal portion of the prosciutto 'shingles' to the top of each salad and garnish with 1/4 cup of the radish microgreens.
Nutrition Information:
Yield: 4
Serving Size: 1
Amount Per Serving:
Calories: 281
Total Fat: 18g
Sodium: 1315mg
Carbohydrates: 12g
Fiber: 2g
Sugar: 3g
Protein: 19g