Fresh and light with a crunchy texture is how we'd describe this Jicama Slaw, and it's perfect as a side salad or spooned into fish tacos! Six ingredients is all you need to make this easy slaw. And the fact that it's simple and healthy is an extra bonus, but we can assure you that it doesn't skimp on flavor.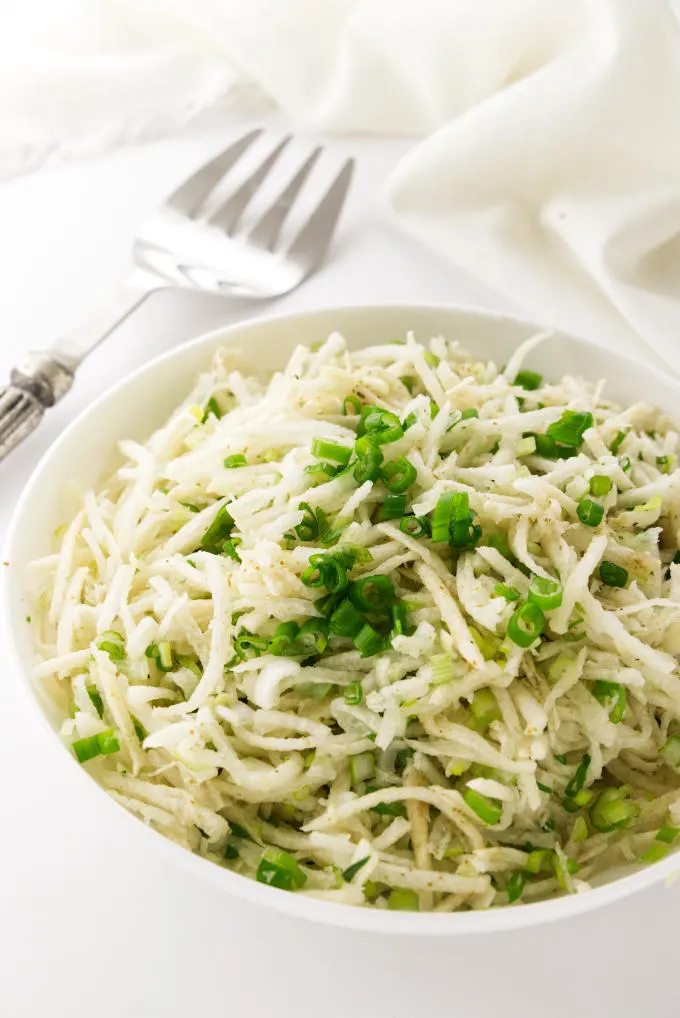 Instead of a thick, creamy dressing, we went with fresh lime juice to give this jicama slaw a little tang and keep it on the lighter side. That also makes it a slaw for all eaters!
This jicama slaw is:
low-carb and keto-friendly
gluten-free
vegan
ready in 15 minutes!
What is jicama?
Have you ever used jicama before? This root vegetable has a thick brown skin and firm and crunchy inside. Texture-wise, it falls somewhere between a raw potato and a crisp apple, with a slightly sweet and nutty flavor. Jicama is low in carbohydrates and high in dietary fiber, which is what makes this root vegetable low-carb and even keto-friendly.
How to Make Jicama Slaw:
To make this simple jicama slaw, you will need:
Jicama. Peeled and shredded to make the slaw base.
Green scallions. Chopped small and tossed with the jicama for a nice onion flavor.
Lime, juiced. The fresh lime juice adds a nice tang to the slaw.
Ground cumin. A go-to seasoning! We love the smokiness and flavor that cumin adds.
Salt and pepper. Add this to taste for a little extra seasoning.
Jicama is really versatile and goes with many different flavors, so feel free to change up this recipe to your taste buds' delight! You can add in different vegetables or spices to make your own adaptation.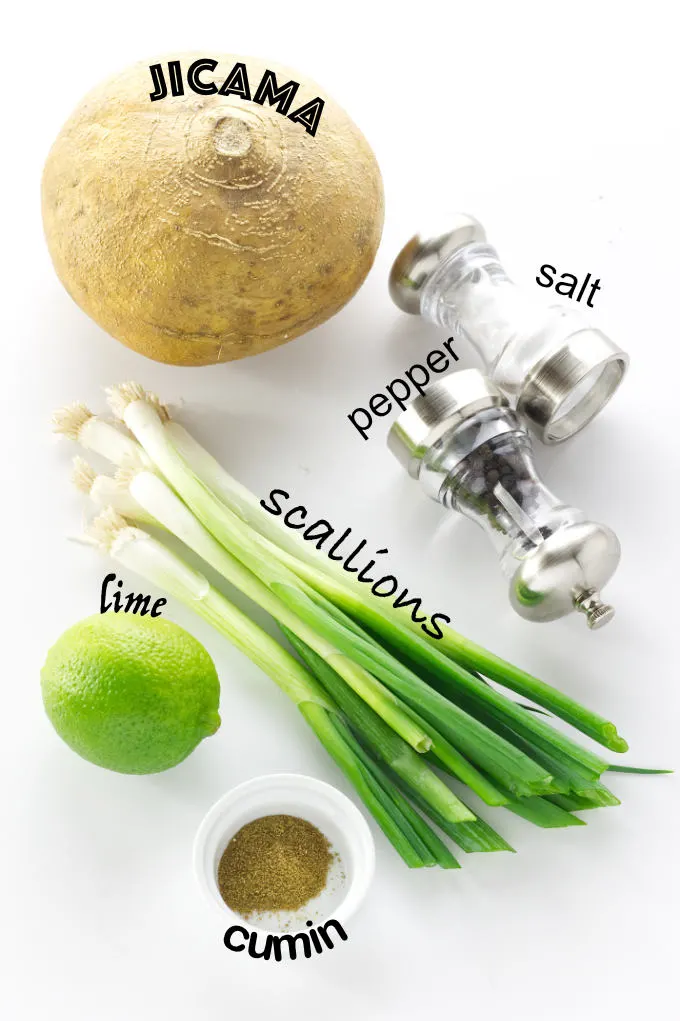 When making this jicama slaw, we highly recommend using a box grater or mandoline. This makes the process of shredding the jicama incredibly easy. It will be so much faster than cutting the vegetable into thin slices, plus they will all be uniform.
Peel and shred the jicama: Peel the outer brown skin off the jicama, then slice it in half so it's easier to handle (jicama can be quite large!). Use a box grater or mandoline to shred 2 cups of jicama, then place it into a bowl.
Mix the ingredients: Add the chopped scallions, cumin and lime juice. Toss to combine, then add salt and pepper to taste. Serve the slaw immediately or refrigerate for up to 6 hours before serving.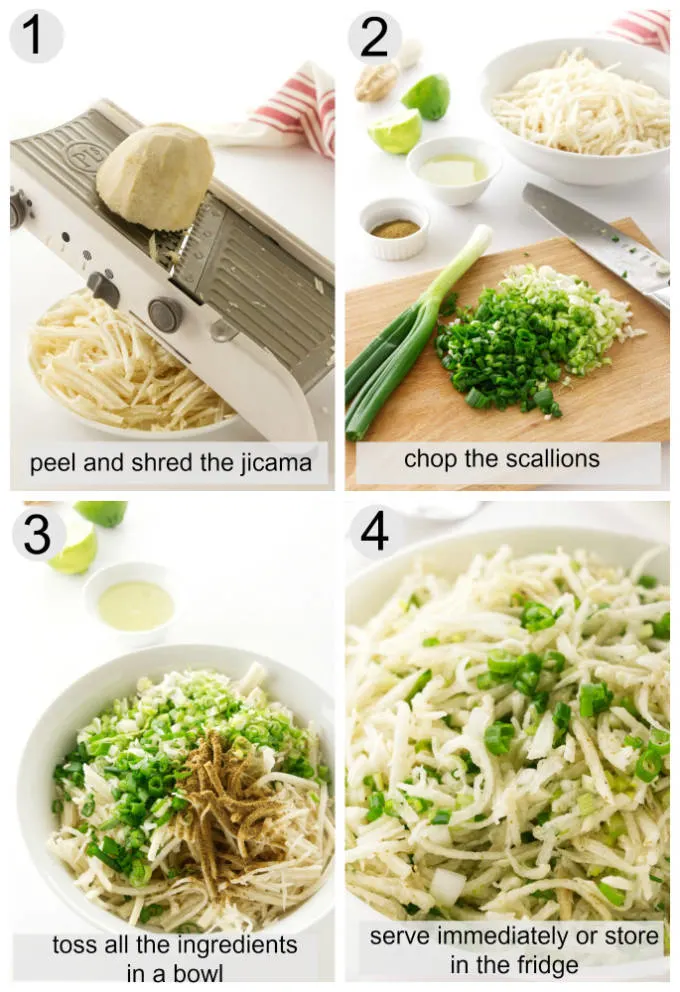 Wrap any unused jicama with plastic wrap and store it in the fridge for later. Jicama is also delicious on its own, sliced thin and used as a snacking vegetable with a veggie dip (like this Fast and Easy French Onion Soup Dip or our Greek Yogurt Dip)!
What to Serve with Jicama Slaw:
Since jicama has a really light flavor that doesn't overpower a dish, it's especially delicious in fish tacos and as a side with roasted pork.
And as a side dish, try our jicama slaw with:
You will also love our Tex Mex fish tacos with chipotle slaw.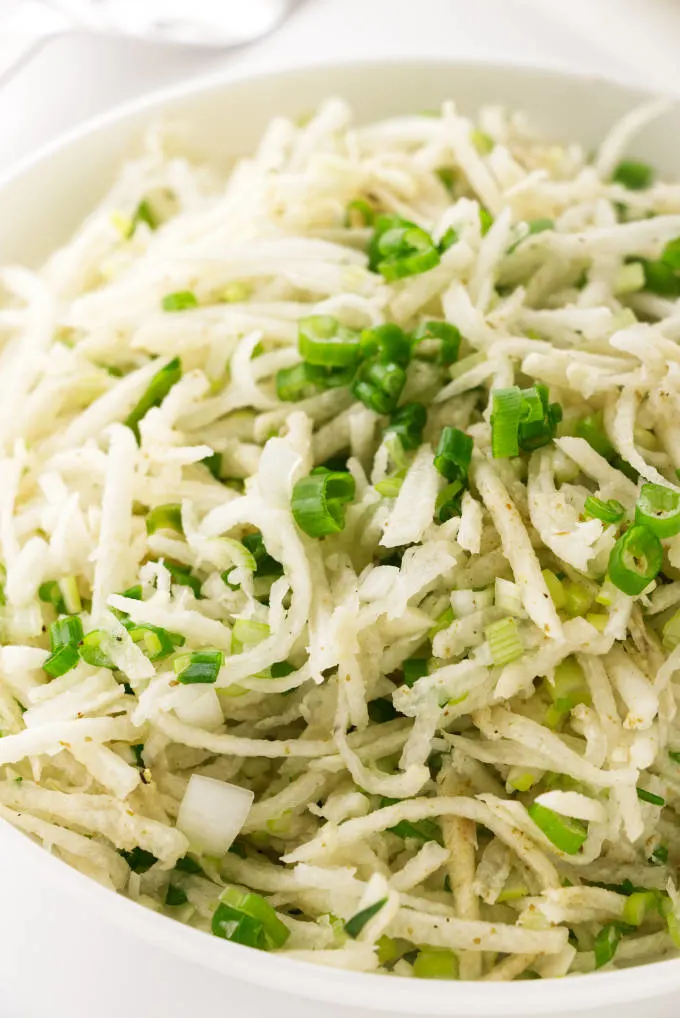 We love when simple ingredients come together for a flavorful dish that is good for you, too! Our jicama slaw is incredibly easy to make and can take your next taco night to a new level!
SOME OTHER RECIPES WE ARE SURE YOU WILL LOVE:
Kimchee Slaw A fusion of flavors and a rainbow of colors! This Korean-inspired Kimchee Slaw is crisp, crunchy and refreshing! Vibrant, thinly sliced vegetables combine with the bold flavor of kimchee.
Black Rice Salad with Tomatoes and Basil: Our beautiful rainbow salad is a healthy bowl of wholesome goodness! Black rice, tomatoes, zesty red onion, crunchy pine nuts and chunks of mozzarella cheese. This easy nutritious salad can be a full meal or a delightful side salad.
Green Salad with Avocado and Chicken: A simple lunch time salad that can use up left over grilled or baked chicken. Creamy avocado slices compliment the crisp greens while the easy lemon-Dijon dressing is spooned on the salad.
CONNECT WITH SAVOR THE BEST!
Be sure to follow us on our social media accounts
Facebook * Instagram * Pinterest * Twitter * Youtube
Did you make this recipe? We would love to hear from you. Drop us a comment below.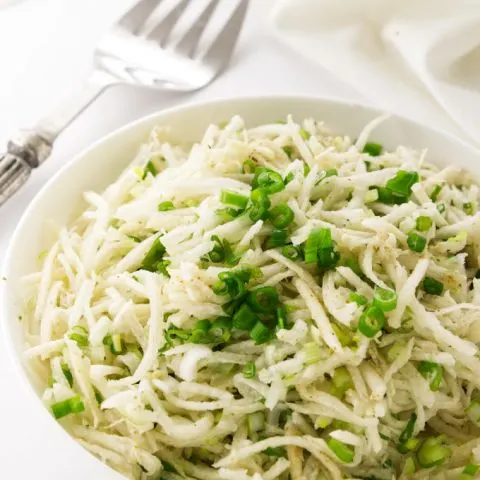 Jicama Slaw
The light, sweet flavor and crunchy texture of Jicama make a perfect slaw for fish tacos or a simple side salad. No thick, creamy dressing here. We added fresh lime juice to give it a little tang.
Ingredients
2 cups shredded jicama
6 green scallions, chopped
1 large lime, juiced
1 tablespoon ground cumin
Salt/pepper to taste
Instructions
Peel the jicama and slice in half.
Using a box grater or mandoline, shred enough of the jicama to measure 2 cups, place into a bowl and add the chopped scallions, cumin and lime juice.
Toss to combine, add salt and pepper to taste. Serve immediately or cover with plastic wrap and refrigerate for up to 6 hours.
Notes
Wrap any unused jicama in plastic film and store in the refrigerator.
This simple, crunchy slaw is light and will not over power the flavors in our fish tacos. Jicama is a versatile vegetable and our slaw can easily include different components to compliment what it will be used for.
Nutrition Information:
Yield:

4
Serving Size:

1
Amount Per Serving:
Calories:

40
Total Fat:

0g
Saturated Fat:

0g
Trans Fat:

0g
Unsaturated Fat:

0g
Cholesterol:

0mg
Sodium:

154mg
Carbohydrates:

9g
Fiber:

4g
Sugar:

2g
Protein:

1g
Nutrition information is a guideline only, is calculated automatically by third-party software, and absolute accuracy is not guaranteed.