Crunchy, crisp and refreshing! It is all here in this colorful Korean-inspired Kimchee Slaw. The thinly sliced, vibrant vegetables combined with the bold flavor of kimchee and dressed with a sweet and sour vinaigrette.
This light and flavorful slaw is easy to put together and makes a great side dish to include with a Korean-night meal.
The pungent flavor of kimchee harmonizes well with these simple ingredients. You can adjust the amount of kimchee with a little more or a little less, according to your personal preference. We have also included some of the flavorful kimchee juice in our sweet and zesty vinaigrette.
What is kimchee?
First off….this pungent condiment seems to have two spellings, kimchee and kimchi. Koreans in South Korea consider the correct pronunciation as kimchee. The spelling, kimchi, is the Japanese variant. Either way of the spelling the ingredients and process is the same.
Kimchee is a fermented food made with vegetables, salt and a Korean red pepper powder called gochugaru
.
There are many variations of kimchee that use different varieties of cabbage, radishes, bok choy and carrots
. Dried shrimp or fish is another ingredient to increase the flavor and complexity of the kimchee.
Kimchee is having a hey-day in America right now. Magazines, newspapers, cookbooks and the internet have been developing new and exciting recipes. The complex flavor of kimchee adds an interesting peppery flavor to our kimchee slaw. For more of our recipes using kimchee check out our Kimchee-Pork Pancakes and our Kimchi Fried Rice.
Fermented foods have healthy probiotics that have various health benefits, including digestion and helping with weight loss. You can learn more about these health benefits at Healthline.
If you are into fermented foods and have never attempted kimchee-making, we would like to invite you to try our
kimchee recipe
. Most of the ingredients are
easily
found in the average grocery store. If the red pepper powder, gochugaru is not available it will definitely be found at any Asian market.
What is in Kimchee Slaw:
The colorful mix of sliced red and green cabbage and bean sprouts, matchsticks of carrots, Daikon radish and sliced green onions make up this unique slaw. We squeezed the juices out of a portion of our homemade kimchee then chopped and added it to the mix with a generous sprinkling of bright green sliced scallions.
The dressing for our kimchee slaw is an easy vinaigrette and includes kimchee juice for flavor. It is light and keeps the slaw crisp and crunchy. None of the thick, heavy, mayo dressing for this slaw!
Slicing the red and green cabbage is a breeze when using a mandolin or even a #4 blade of a food processor. If that is not an option you can slice the red and green cabbage
manually
with a sharp knife and a steady hand.
Matchstick vegetables are also known as julienning and can be made on a mandolin. There are some inexpensive julienning peelers available in the kitchen shops or online. You may even have one in your kitchen cabinet drawers. This handy tool will produce the cutest little matchsticks of uniform size.
How to julienne vegetables:
Here's how to make matchstick carrots by hand without a julienne peeler or a mandoline.
First, peel the carrot and cut it into 4-inch lengths. Trim one side and turn it to lie flat. Repeat on the other three sides, making a square-log shape.
Carefully cut the trimmed carrot piece lengthways into 1/8-inch thick slices. Then stack the slice together.
Next, slice the stack of carrots lengthwise into matchsticks. Repeat this process with all the remaining carrots pieces, then proceed to the Daikon radish.
How to make Kimchee Slaw:
Place the shredded red and green cabbage in a large salad bowl. Add the bean sprouts and the carrot and radish matchsticks.
Measure one cup of kimchee from the jar and place in a mesh strainer set over a dish. Press down on the kimchee firmly to remove as much of the juice as possible. Chop the squeezed kimchee and add to the salad bowl.
Slice the green onions and sprinkle over the mixture.
Toss to combine.
The dressing for our kimchee slaw:
We made a simple vinaigrette by combining kimchee juice, honey, rice vinegar, regular sesame oil and toasted sesame oil
. This zesty vinaigrette has a little kick from the Korean chili pepper powder, Gochugaru, the seasoning used to make kimchi. You can either add the ingredients to a jelly jar, put the lid on and shake it up….or
whisk it all together in a dish. Easy!
Not only is this colorful slaw a great side dish but by adding shredded rotisserie chicken you have a complete meal! Or, you can serve it with these Korean style pork ribs. Yum!
SOME OTHER RECIPES WE ARE SURE YOU WILL LOVE:
Kimchi Fried Rice: Kimchi adds a delicious pungent flavor to the Kimchi Fried Rice mix giving it a rich umami taste. Top the rice with a poached egg and you have a meal!
Kimchee-Pork Pancakes: Savory appetizers made from mung beans, pork, kimchee and chives. Served with a spicy chili dipping sauce and chopped kimchee.
Beef Pho: A rich, piping hot beef broth is ladled into bowls over thin slices of beef and layers of vegetables. Served with Thai basil, mint, jalapeño and lime wedges
CONNECT WITH SAVOR THE BEST!
Be sure to follow us on our social media accounts
Facebook * Instagram * Pinterest * Twitter * Youtube
Did you make this kimchee slaw recipe? We would love to hear from you. Drop us a comment below.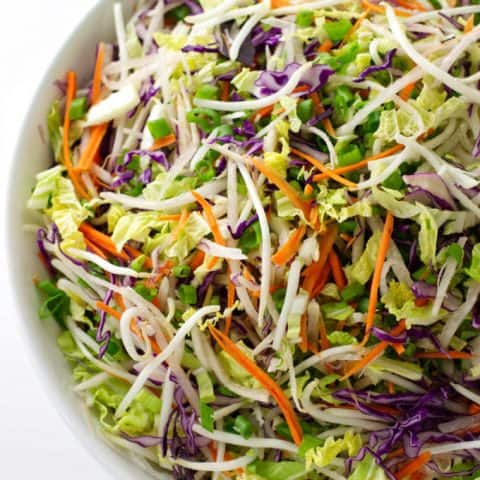 Kimchee Slaw
Yield: 6 Servings
Prep Time: 30 minutes
Total Time: 30 minutes
A Korean-inspired Kimchee Slaw of thinly sliced, vibrant vegetables combined with the bold flavor of kimchee and dressed with a zesty sweet and sour kimchee vinaigrette. This crunchy, crisp slaw is a great side dish. It can also be a full meal by simply adding cooked shrimp or shredded rotisserie chicken
Ingredients
For the Slaw:
3 cups shredded red cabbage
4 cups shredded Napa cabbage
3 cups bean sprouts
2 carrots, peeled and cut into matchsticks
1 Daikon radish (6-inches long) peeled and cut into matchsticks
1-1/2 cup kimchi, squeezed dry and chopped
6 green onions, thinly sliced
For the Dressing:
1/2 cup kimchee juice
3-4 tablespoons honey
1/2 cup rice vinegar
Few grindings of black pepper
1 teaspoon Korean chili powder (Gochugaru)
3/4 cup regular sesame oil or mild vegetable oil
1/4 toasted sesame oil
Instructions
Mix the cabbage, bean sprouts kimchee, carrots, radish and green onion in a large bowl and toss to combine.
Combine the kimchi juice, honey, vinegar, pepper chili powder and oils in a small dish and whisk until blended.
Pour half of the vinaigrette over the slaw and toss to combine. Add additional vinaigrette if needed.
Notes
Keep the slaw in a bowl, covered with plastic wrap until ready to serve and then add the vinaigrette when ready to serve.
The vinaigrette can be made in advance and refrigerated. The vinaigrette can also be made in a small, lidded Mason jar and shaken to blend.
The vegetables can be prepared in advance and kept in a covered container WITHOUT the vinaigrette for up to 2 days.
Jars of kimchee can be found in most grocery stores where they are sometimes located in the produce section. They can also be found in any Asian markets.
If you are unfamiliar with the pungent flavor of kimchee, feel free to adjust the proportions in the slaw and the vinaigrette.
Salt has not been added to the vinaigrette as the kimchee juice is salty. Some commercial jars of kimchee are saltier than others. Taste the vinaigrette and add salt if needed.
Add cooked shrimp, shredded rotisserie chicken or cooked, chopped pork to the salad for a full meal.
Nutritional values are based on using 1/2 of the vinaigrette.
Recommended Products
As an Amazon Associate and member of other affiliate programs, I earn from qualifying purchases.
Nutrition Information:
Yield: 6
Serving Size: 1-1/2 Cups
Amount Per Serving:
Calories: 297
Total Fat: 21g
Saturated Fat: 3g
Trans Fat: 0g
Unsaturated Fat: 17g
Cholesterol: 0mg
Sodium: 146mg
Carbohydrates: 26g
Fiber: 7g
Sugar: 15g
Protein: 3g
Nutrition information is a guideline only, is calculated automatically by third party software, and absolute accuracy is not guaranteed.