The Korean cuisine has many varieties of pancakes and these savory Kimchee-Pork Pancakes are a delicious example. We made these kimchee pancakes with ground pork, fresh chives, bean sprouts and kimchee. The ingredients are mixed into a mush of rehydrated dried peeled mung beans.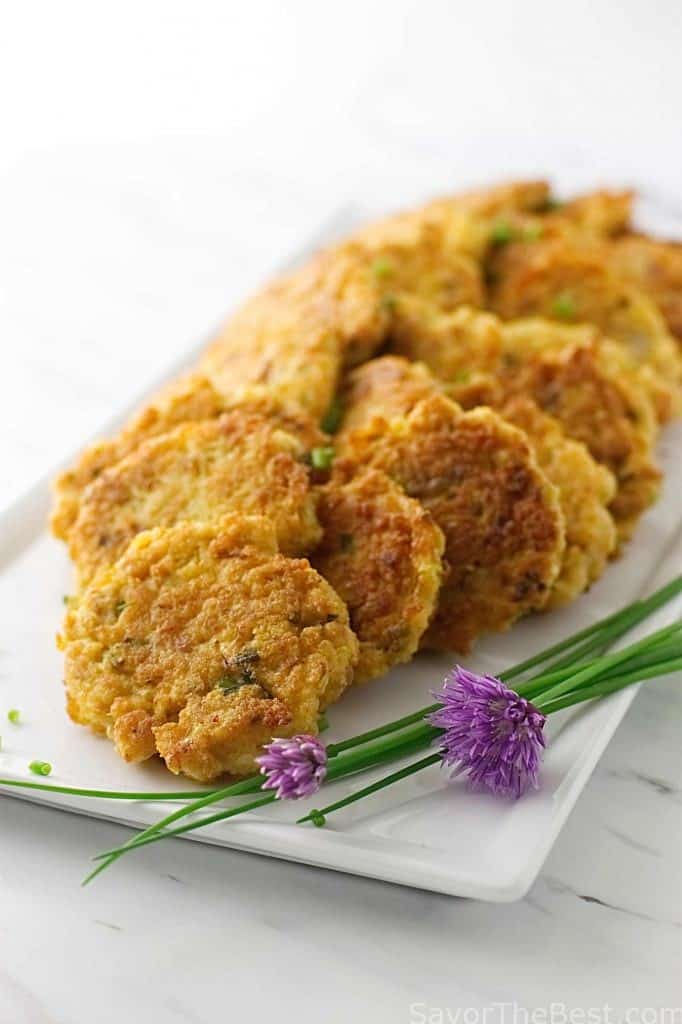 Pancakes are a big deal in Korea. They include any fish, meat and/or vegetables mixed with a base of flour and eggs. Some pancakes are small appetizer-size, while others are huge, pan-sized cakes cut into wedges.
Korean pancakes are nothing like our American-style pancakes. Americans flood our pancakes with maple syrup and enjoy them mostly for breakfast.
The chili dip goes wonderfully with these kimchi pancakes.
OUR KIMCHEE-PORK PANCAKES INCLUDE MUNG BEANS:
If you are unfamiliar with the peeled mung beans they look like small yellow split peas and you will most likely need to visit an Asian market to buy them. Mung beans are inexpensive and to cook them they need to soak for at least an hour to rehydrate.
They will double in volume after a good soak. Older mung beans do not soften up as well and may need a much longer soak. We recommend soaking the beans in boiling water to help speed up the time it takes to soften them.
It only takes 30 minutes to an hour to soak them if you use very hot water. However, older mung beans may need to soak overnight. To use them in this kimchee pancakes recipe we rinsed them after they softened and pureed them in the blender to a thick mush.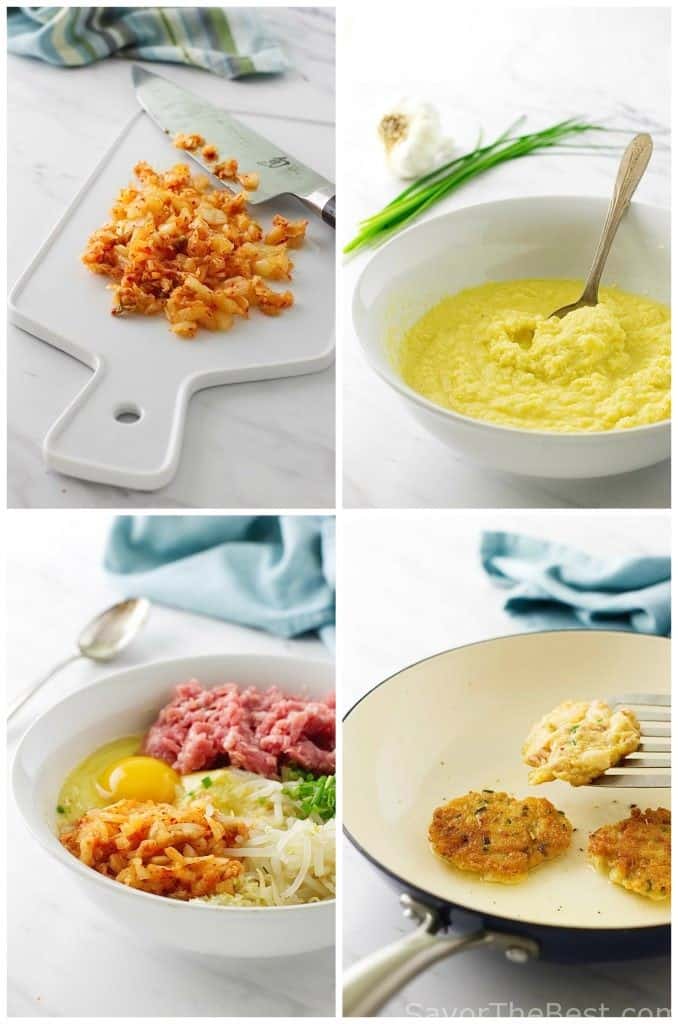 WHAT IS KIMCHEE?
Kimchee (also spelled Kimchi) is a pungent traditional condiment in the Korean cuisine. Kimchee is a staple condiment made from salted and fermented vegetables. It consists mainly of napa cabbage, Korean radishes and a variety of seasonings including chili powder, scallions, garlic, ginger. Kimchee is on the table of every Korean household at every meal.
WHERE DO I BUY KIMCHEE?
You should be able to find kimchee in your regular grocery store but it is definitely a product in the Asian markets. There is nothing like homemade kimchee though, and we like it with Pork Fried Rice. It is easy to make kimchee from scratch, you can get our recipe for kimchee here, it will keep for months in the fridge.
It takes only a small bit of chopped kimchee to add the unique flavor to these pancakes and it compliments the garlic and chives.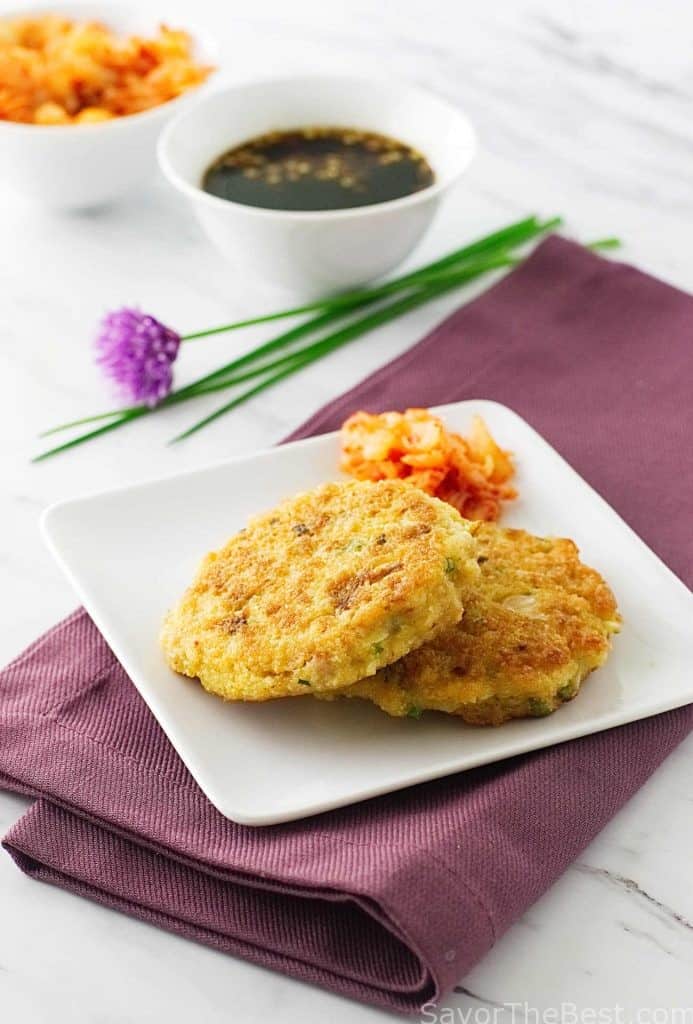 We also used a half-cup of blanched bean sprouts in our recipe which adds texture to the pancakes. Pork is another frequent ingredient in Korean cuisine and we included a four-ounce portion here. We combined the flavorful mix with the thick pureed mung beans along with an egg to give it structure.
We formed our appetizer pancakes by dropping a generous tablespoon mound of the batter into an oiled non-stick skillet, flattening it out with the back of the spoon to a two-inch cake. After a minute or two, the bottom edge looked golden and crisp and the pancake was flipped to cook the other side.
You will need to cook these pancakes in batches of three or four at a time and are most delicious served warm. Transfer each cooked batch to a warm oven until they are all cooked.
How to store extra kimchee pancakes (kimchi pancakes)
You can store the kimchee pancakes in a covered container in the fridge and warm them up when you are ready to eat. They are great as leftovers so make a bunch.
If you want to keep them for longer than 2 to 3 days then wrap them up and store them in the freezer. They will keep well in the freezer for 3 months.
We served these kimchee-pork pancakes with a spicy chili dipping sauce made by combining soy sauce, rice wine vinegar, mirin and a small portion of hot chili oil. Oh, yes….don't forget to add a small dish of chopped kimchee as a condiment.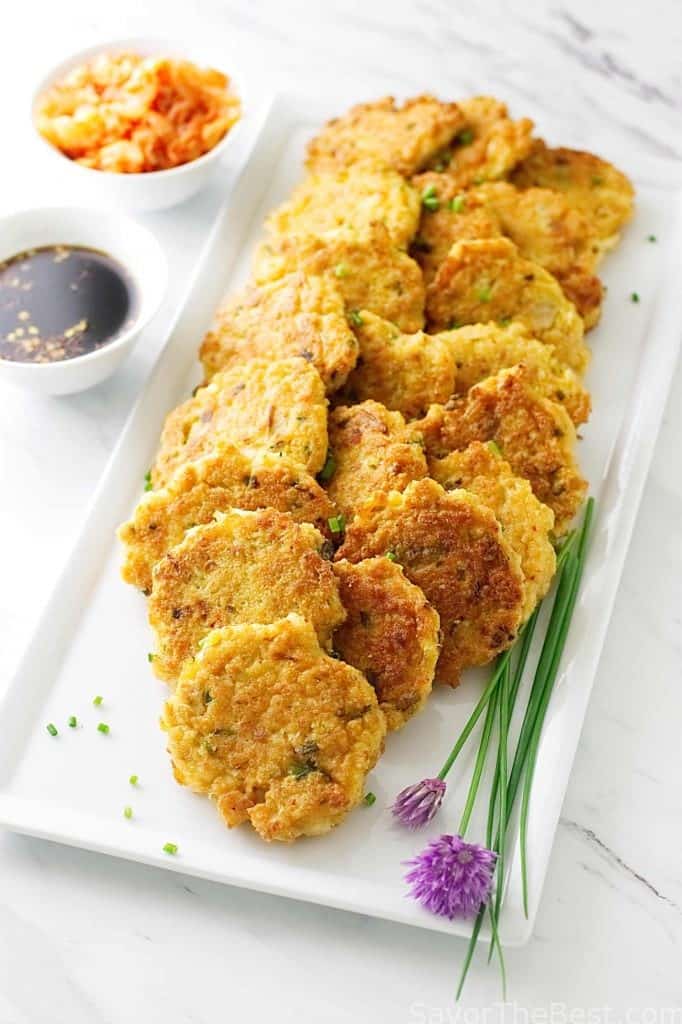 Kimchee is also spelled kimchi but both spellings are pronounced the same way.
More Asian Appetizers:
CONNECT WITH SAVOR THE BEST!
Be sure to follow us on our social media accounts
Facebook * Instagram * Pinterest * Twitter * Youtube
Did you make this recipe for kimchee pancakes? We would love to hear from you. Drop us a comment below.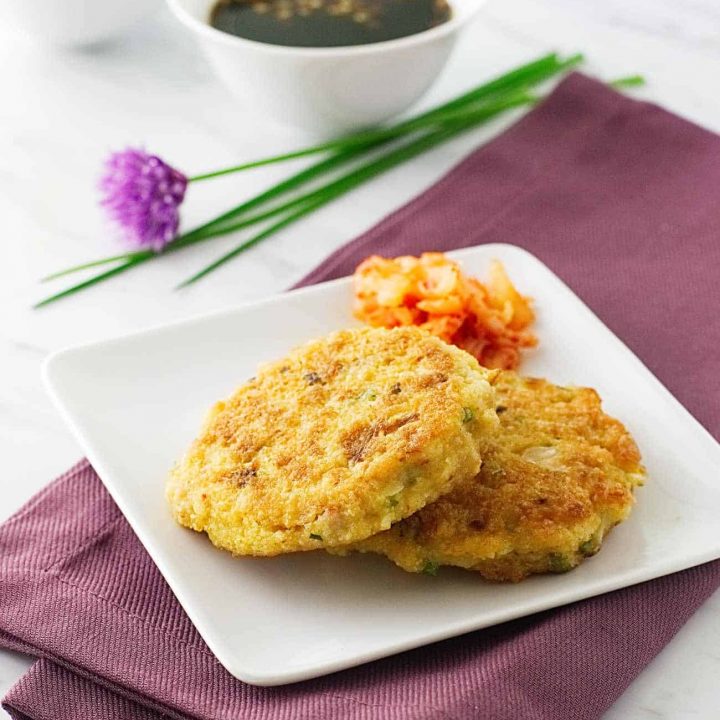 Kimchee-Pork Pancakes
Yield: 20-22 pancakes
Prep Time: 20 minutes
Active Time: 30 minutes
Total Time: 50 minutes
Kimchee-Pork Pancakes are savory appetizers made from mung beans, pork, kimchee and chives. They are formed into small 2-inch cakes and served with a spicy chili dipping sauce and chopped kimchee.
Ingredients
For the Pancakes:
1 cup peeled dried mung beans
1 cup boiling water
4 ounces ground pork
l large egg
3/4 cup kimchee, squeezed of excess water and chopped
2-3 tablespoons snipped fresh chives or green onion tops
1/2 cup bean sprouts, blanched and chopped (optional)
4 garlic cloves, minced
1 teaspoon sea salt
2 or 3 tablespoons vegetable oil
Chopped kimchee for serving
For the Chili Dipping Sauce:
1/4 cup soy sauce
1/4 cup rice wine vinegar
1 teaspoon chili oil
1/4 teaspoon dried red pepper flakes
Instructions
For the Pancakes:
Put the dried mung beans in a medium-size bowl and cover with boiling water. Let sit for 1 hour, stirring occasionally. Drain through a fine mesh strainer and rinse throughly.
Preheat the oven to the 'warm' setting or the lowest setting possible.
Add the rinsed beans to a blender and puree until smooth. Transfer the puree to a large bowl and add the pork, egg, kimchee, chives, bean sprouts, garlic and sea salt, stirring well to mix. Be sure to break up the ground pork so that it will be well incorporated.
Heat the oil in a large non-stick skillet set over medium heat. Cook the pancakes in batches by forming and cooking 3 or 4 pancakes at a time using a heaping tablespoon of the batter and flattening it out into a 2-inch pancake. Cook until nicely browned, about 2 minutes. When you see the edge around the bottom beginning to turn crisp and a golden brown, flip it over and cook the other side, about another minute.
Place the pancakes to paper towel-lined plate and transfer to the oven to keep warm while cooking the remaining pancakes.
For the Chili Dipping Sauce:
Add all the ingredients together in a small dish and whisk to combine.
Notes
Older mung beans will take longer to soften. If you have older mung beans you may need to soak them overnight to soften them sufficiently. You could also boil them on the stovetop for 45 minutes.
Peeled dried mung beans resemble small yellow split peas and we have found them only in the Asian markets.
Mirin is a sweet rice wine, sold in most grocery stores and Asian markets
The green tops of scallions may be substituted for chives
When cooking the pancakes, wipe the skillet with a paper towel after cooking several batches, adding a teaspoon or so more oil.
The chili oil can be found in most grocery stores, adjust according to taste. It has a good kick to it.
This recipe has been adapted from Chef Rachel Yang of the Joule restaurant in Seattle, WA
Nutrition Information:
Yield: 20
Serving Size: 1
Amount Per Serving:
Calories: 154
Total Fat: 8g
Saturated Fat: 2g
Trans Fat: 0g
Unsaturated Fat: 6g
Cholesterol: 196mg
Sodium: 397mg
Carbohydrates: 8g
Fiber: 2g
Sugar: 1g
Protein: 11g
Nutrition information is a guideline only, is calculated automatically by third party software, and absolute accuracy is not guaranteed.