Yummy! This appetizer recipe for savory French Onion-Gruyere Mini Boules is a take-off from the classic French onion soup. You will enjoy the taste of French Onion Soup with these caramelized onions, fresh thyme and creamy gruyere cheese. Each bite-size bomb will fill your mouth with savory, creamy goodness.
What is not to love about sweet caramelized onions and creamy Gruyere cheese! I brought these appetizers to a family birthday bash last weekend and they were devoured!
We made these yummy appetizers from pre-made, frozen bread dough rolls that are available in the grocery frozen foods. We cut them to size, baked them and hollowed them out. Next they we stuffed them with a thick creamy Gruyere cheese sauce and topped them off with caramelized onions.
Onion Soup Appetizers:
These little guys do take some time to put together, but don't let that put you off because it can all be done in one grand project or in stages as a make-ahead. The bread boules can be baked, hollowed out and frozen until ready to fill. The onions can also be made way in advance as they will keep refrigerated for days. And… the cheese sauce is a breeze to put together.
If you are feeling adventurous you can make the mini bread boules from scratch. Click here for a recipe using our Einkorn Milk and Honey bread recipe. Or, you can take the more convenient route like we did for our appetizers. We used the pre-made yeast dinner roll dough that you can find in your grocery store freezer. Sometimes we really need to take some short cuts and these appetizers qualify.
How we made the French Onion-Gruyere Mini Boules:
After the bread dough was thawed each ball was divided in half, shaped into a round ball, placed into a mini-muffin parchment paper and allowed to rise before baking to a golden brown. When the baked bread balls had cooled completely their tops were sliced off, the inside hollowed out leaving nice little shells.
To caramelize onions and bring out their sweetness and flavor they are best cooked in a heavy-bottomed skillet long and slow. We used three large onions, and it took almost an hour to get that intense sweet onion flavor and rich caramelized color.
While the onions slow-cooked and cooled the cheese sauce was prepared with cream, white wine and a lot of Gruyere cheese. As the mixture cooled to room temperature it became a thick, creamy and luscious sauce.
Fill 'em up!
Filling the bread shells was the fun part of making these French Onion-Gruyere Mini Boules. Each hollowed out bread ball was stuffed with the creamy cheese sauce and topped with caramelized onions and a garnish of fresh thyme sprigs and served at room temperature.
After filling all 24 of these mini boules we still had half-a-cup of caramelized onions and a couple tablespoons of the cheese sauce left over. This made a really good snack spread on a slice of toasted sour dough bread! 🙂
Check out more appetizers: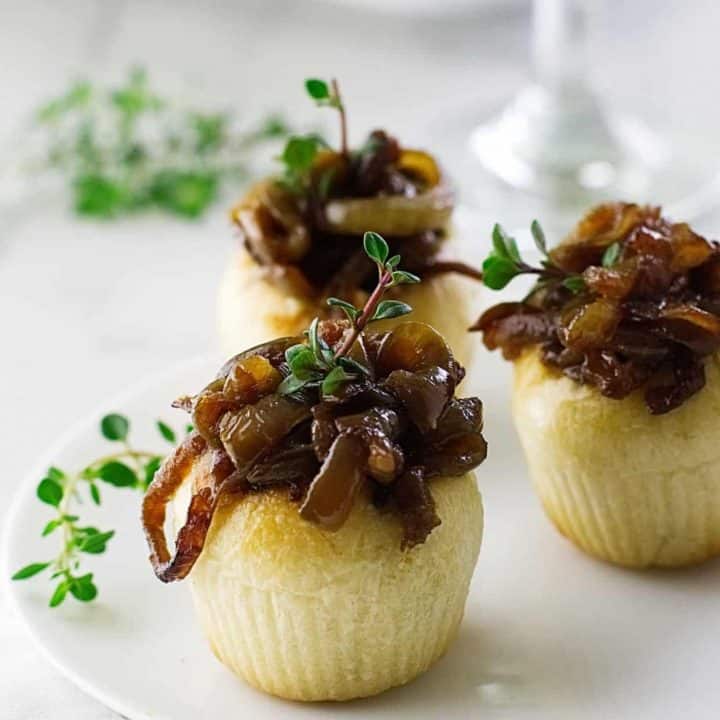 French Onion-Gruyere Mini Boules
Yield: 24 appetizers
Prep Time: 2 hours
Cook Time: 24 minutes
Total Time: 2 hours 24 minutes
French Onion-Gruyere Mini Boules, a taste of that classic French onion soup! These are hollowed out bread balls stuffed with a creamy Gruyere cheese sauce and topped with sweet caramelized onions.
Ingredients
12 Rhodes frozen yeast dinner rolls, thawed
2 tablespoons coconut or vegetable oil
3 large onions, sliced in half-rounds of 1/4-inch thick
1/2 teaspoon dry thyme
2 tablespoons fresh thyme leaves
To Make the Gruyere Sauce:
2 tablespoons butter
2 tablespoons flour
1 cup whole milk
1/2 cup heavy cream
1/2 cup dry white wine
1/4 teaspoon sea salt (or to taste)
1/4 teaspoon freshly ground white pepper
8 ounces gruyere cheese, grated
Fresh thyme leaves, snipped chives or parsley for garnish
Instructions
To Make the Mini Boules:
Line a mini muffin pan with 24 mini parchment papers
Cut each yeast roll in half and form each half into small balls and place, seam side down, in the parchment papers.
Cover the pan of yeast balls with plastic wrap and set in a draft-free space until they have risen to twice their size. About 45 minutes. (My favorite spot is the top of the refrigerator) Meanwhile cook the onions.
To Caramelize the Onions:
In a large, wide cast iron or stainless steel skillet set over medium heat, add the oil and when it is hot add the sliced onions and herbs, tossing to coat them with the oil. Cook the onions, stirring them every 5 or 6 minutes, scraping up the fond from the bottom as it forms. Adjust the heat as necessary if you see they begin to brown to quickly. The onions should cook slowly to the tender stage which will release their sugars and cause them to caramelize. Do not stir too often or they will not brown properly and could become too soft. When they have reached a dark golden brown, about 45-50 minutes, add a couple tablespoons of wine or water to deglaze, scraping the fond goodies from the bottom of the skillet. Remove the skillet from the heat, sprinkle the onions with salt and transfer them to a bowl and allow to cool to room temperature.
Preheat the oven to 350°F
Transfer the muffin tin to the center rack of the preheated oven and bake the boules for 12-15 minutes until they are golden brown. Transfer them to a cooling rack and allow to cool.
To Make the Gruyere Sauce:
In a medium size saucepan set over medium heat, add the butter and when it has melted stir in the flour and cook until the mixture is a light golden color. Do not allow the butter-flour mixture to brown.
Whisk in the milk and cream. Increase the heat to medium-high and bring the sauce to a boil, whisking constantly, until the sauce becomes thick and smooth, about 2 minutes. Whisk in the wine, and cook another minute to burn off the alcohol in the wine.
Remove the sauce from the heat and stir in the grated gruyere cheese, add the salt and pepper to taste. Transfer the cheese sauce to a dish, spray the top with cooking spray to prevent a skin from forming and allow the sauce to cool. The sauce will become very thick and cheesy when it is cool.
To Assemble the Mini-Boules:
With a small sharp knife cut the tops off of each boule and pick out the inside using a small appetizer fork and creating a bread shell.
With a small appetizer spoon, fill each mini boule 1/2-3/4 full with a scoop of the cheese sauce. Add a portion of the caramelized onions, heaping them on top. Garnish with fresh herbs before serving at room temperature.
Notes
There are many choices of bread dough available, the package I used says each frozen bread ball weighs 1.3 ounce (38 grams).
When cooking the onions, use a large pronged fork such as a salad-bowl mixing fork to lift and stir the onions. I found that a wooden spoon mashed the onions a bit. A flat, stiff pancake turner works great for scraping the fond from the bottom.
An appetizer fork does a great job in hollowing out the bread balls.
Use an appetizer spoon and be generous when you scoop the cheese sauce into the hollowed ball.
Nutrition Information:
Yield: 24
Serving Size: 1
Amount Per Serving:
Calories: 101
Total Fat: 7g
Saturated Fat: 4g
Trans Fat: 0g
Unsaturated Fat: 3g
Cholesterol: 20mg
Sodium: 112mg
Carbohydrates: 5g
Fiber: 1g
Sugar: 2g
Protein: 5g
Nutrition information is a guideline only, is calculated automatically by third party software, and absolute accuracy is not guaranteed.