This savory French Onion Soup Casserole has all the goodness and flavors of your favorite French onion soup. Sweet caramelized onions, Gruyère cheese, fresh thyme leaves and sourdough French bread. All layered together in a casserole, then soaked with a rich flavorful broth.
The very thought of anything involving caramelized onions and I begin drooling. Just imagine what happens when the tantalizing fragrance of simmering onions fills my kitchen!
Our savory bread-base French onion soup casserole is also known as a panade. This type of dish was originally considered as 'poor man's food' and a way of feeding large families with hungry tummies. It incorporated the hard, stale bread with meat and/or vegetables and a liquid to soften the bread and bring it all together.
What is a Panade?
A panade is a rustic, bread-based casserole made with dry bread, vegetables and/or meat layered together and soaked in a rich, flavorful broth. It usually has a generous chunk of cheese grated between the layers and over the top. It will be soft, creamy and drippy with broth.
Is a Panade the Same as a Bread Pudding or a Strata?
A panade, bread pudding, and a strata are similar in that they are all made with stale, dry bread. But the differences are in the liquid used to soak into that dry bread.
A panade has a soaking liquid of hot broth, either chicken or beef with maybe some wine mixed into the broth. Hard grated cheese such as Parmesan on top makes a crisp, crunchy top.
Bread puddings are usually always sweet desserts. Our Pumpkin Bread Pudding and creamy Bananas Foster Bread Pudding are good examples. When making bread pudding, the liquid is a combination of sugar, eggs, milk, and cream with the eggs and milk in equal proportions. This makes a soft, custardy interior. Butter brushed on top gives the dessert a nice toasty crust.
A strata is also an egg-milk concoction that is savory rather than sweet. There are more eggs than milk to the mixture. There may also be a creamy cheese blended into the mixture like in our Asparagus-Ham and Gouda Breakfast Strata. The high egg/cheese protein makes a strata a great brunch entree.
These old-fashioned bread-based dishes have come full-circle and are now elevated to fashionable status with many creative ideas of deliciousness.
How to make a French Onion Soup Casserole:
We used 10 slices of Francisco International® Extra Sourdough Sliced Bread 24 oz bread. I know this sounds like a lot of bread but after it is dry and toasty from the oven it has a lot less volume and able to absorb the delicious broth.
The Bread:
Cut the crusts off the bread slices and toast the bread in the oven on a baking sheet until golden on both sides until the the slices are crisp and dried out. Transfer to a cooling rack and reserve.
The Onions:
While the bread is toasting slice up those onions and get them cooking. This is a heap of sliced onions and you will need to use a large Dutch oven or pot but they gradually cook down to a more manageable mass.
First, melt the butter, then add the onions and salt, toss them together. Put a lid on the pot and cook for 15 minutes so they release their juices. Lift the lid occasionally and give them a stir so they do not burn. Once the onions cook down a bit and release some liquid, remove the lid and increase the heat to medium-high. Continue cooking and stirring regularly until onions are tender and dark golden brown.
It is going to take about 45 minutes to get a nice caramelization to the onions. Then take them off the heat and add a good white wine. Be sure to scrape up all the brown bits of onion stuck to the pan bottom, then stir in the fresh thyme leaves. The onions will be savory, sweet and yummy!
The Broth:
While the onions are cooking, heat about two quarts of beef broth in a saucepan and keep it simmering on a back burner. If you have a homemade beef broth it will really enhance the flavor of French onion soup casserole but the canned broth works great as well. You can also use a canned or homemade chicken broth rather than beef broth.
The Cheese:
Gruyère is the classic cheese used for French onion soup and it melts smooth and creamy. The Parmesan cheese adds a tangy taste to the panade casserole. Add the grated cheeses to a bowl and toss them to combine.
Assemble the French Onion Soup Casserole:
Okay, now we are ready to assemble the panade casserole! Be sure to first coat your 9x13x2-inch casserole dish with non-stick spray. Then, add slices of the crisp bread slices to the bottom of the dish in one layer. Break pieces of bread to fill in any spaces so the bottom is covered. Spoon half of the onions over the bread, then sprinkle a third of the cheese over the onions and season with the pepper.
Add another layer of bread, onions, cheese, and pepper. Add one more layer of bread then ladle three cups of the hot beef broth over the top. When the broth appears to be absorbed, press down the top with a spatula. Add additional broth a cup at a time allowing absorption before adding the next cup. Add as much broth as the bread will absorb without overflowing.
Distribute the butter pieces over the top of the panade. Coat one side of a sheet of foil with oil spray and cover the casserole. Set the dish on a baking sheet and bake in a 400°F oven for 30 minutes.
Remove the foil and cover the panade with the remaining cheese. Return to the oven and bake for another 15-minutes until the cheese on top is melted and golden brown. Let the dish cool for about 10-minutes and garnish with fresh thyme sprigs before serving.
The classic French onion soup has been transformed!
This French onion soup casserole is best served in a shallow soup bowl with any remaining hot broth. Serve with a green salad and a crisp glass of your favorite white wine.
SOME OTHER RECIPES WE ARE SURE YOU WILL LOVE:
Baked Turkey Burrito Casserole
CONNECT WITH SAVOR THE BEST!
Be sure to follow us on our social media accounts
Facebook * Instagram * Pinterest * Twitter * Youtube
Did you make this recipe? We would love to hear from you. Drop us a comment below.
Yield: 8-10
French Onion Soup Casserole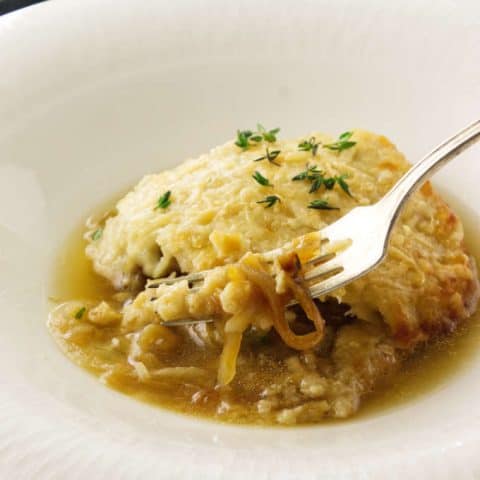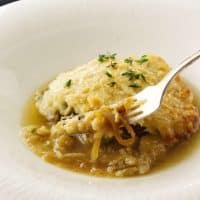 This savory French Onion Soup Casserole has all the goodness and flavors of your favorite French onion soup. Sweet caramelized onions, Gruyère cheese, fresh thyme leaves and sourdough French bread. All layered together in a casserole, then soaked with a rich flavor broth.
Prep Time 1 hour
Cook Time 55 minutes
Total Time 1 hour 55 minutes
Ingredients
1 large, 24-ounce loaf French sourdough bread, pre-sliced
8 tablespoons (4 ounces) unsalted butter, divided
2 tablespoons extra-virgin olive oil
5 pounds (about 6 large) yellow onions, thinly sliced
Sea salt
1/2 cup white wine
1/4 cup fresh thyme leaves
12 ounces Gruyère cheese, grated (about 3 cups)
3 ounces Parmesan, finely grated (about 1 1/3 cups)
5 to 6 cups beef stock
Freshly ground white pepper
2 tablespoons butter, cut into small cubes
Instructions
Preheat the oven to 325°F
Cut the crusts off the bread slices then place the slices in single layers on 2 or 3 sheet pans. Toast the bread for 20 minutes, then flip slices, and rotate pans to ensure even toasting. 
Toast until dried out and lightly golden, about 35-40 minutes total. Set aside. 
Turn oven off until later.
While the bread is toasting:
Set a large Dutch oven or large pot over medium heat. Add 4 tablespoons butter and olive oil. When butter has melted, add onions and 1-1/2 teaspoons salt. Cook covered for 15 minutes, stirring occasionally with a wooden spoon and scraping up bits from the bottom.
Once the onions cook down they will release some liquid, remove lid and increase heat to medium high. Continue cooking and stirring occasionally until onions are golden brown, about 45 minutes total. 
Turn off heat, add the wine and stir to deglaze the pan. Taste, and adjust salt as needed, stir in the fresh thyme leaves and set aside.
Place both cheeses in a medium bowl, and mix to combine.
Heat the oven to 400°F and adjust oven rack to center position.
Coat the inside of a deep 9-by-13-inch baking dish with oil spray. Line the bottom with a layer of toasted bread, breaking up pieces as needed to form a solid layer. 
Spoon half the onion mixture evenly over the bread. Sprinkle with 1/3 of the cheese mixture, and season with pepper. Continue layering with bread, the remainder of the onions and another 1/3 of the cheese. Top off with a final layer of bread.
Ladle 3 cups of hot broth over the panade, then wait a minute, and allow the bread to absorb the liquid. Press down on panade with a metal spatula, add as much broth as the panade will absorb without overflowing. 
Dot the top layer with remaining butter, then cover with a piece of oil-sprayed foil. 
Place casserole dish on a baking sheet to catch any overflow, then transfer to the center rack.
Bake for 30 minutes, then remove foil and sprinkle with remaining 1/3 of cheese and return to oven for 15 minutes more. Bake until golden brown.
Remove casserole from the oven, and allow it to cool for 10 minutes before serving.
Notes
You may not need all of the bread slices. We used 10 slices total.
Turn the oven off after toasting the bread. Preheat to 400°f after the onions have cooked.
Allow the panade to rest for 10 minutes before serving.
Reheat any remaining broth and serve in the dish with each portion.
Nutrition Information
Yield
8
Serving Size
1 3x4-inch Square
Amount Per Serving
Calories 606
Total Fat 36g
Saturated Fat 20g
Trans Fat 0g
Unsaturated Fat 14g
Cholesterol 94mg
Sodium 1306mg
Carbohydrates 42g
Fiber 3g
Sugar 7g
Protein 27g
Nutrition information is a guideline only, is calculated automatically by third party software, and absolute accuracy is not guaranteed.