Your dinner guests will go bananas over this dessert of Bananas Foster Bread Pudding with Rum Sauce. A crisp crust on the outside, creamy banana-y custard topped off with a warm rum sauce.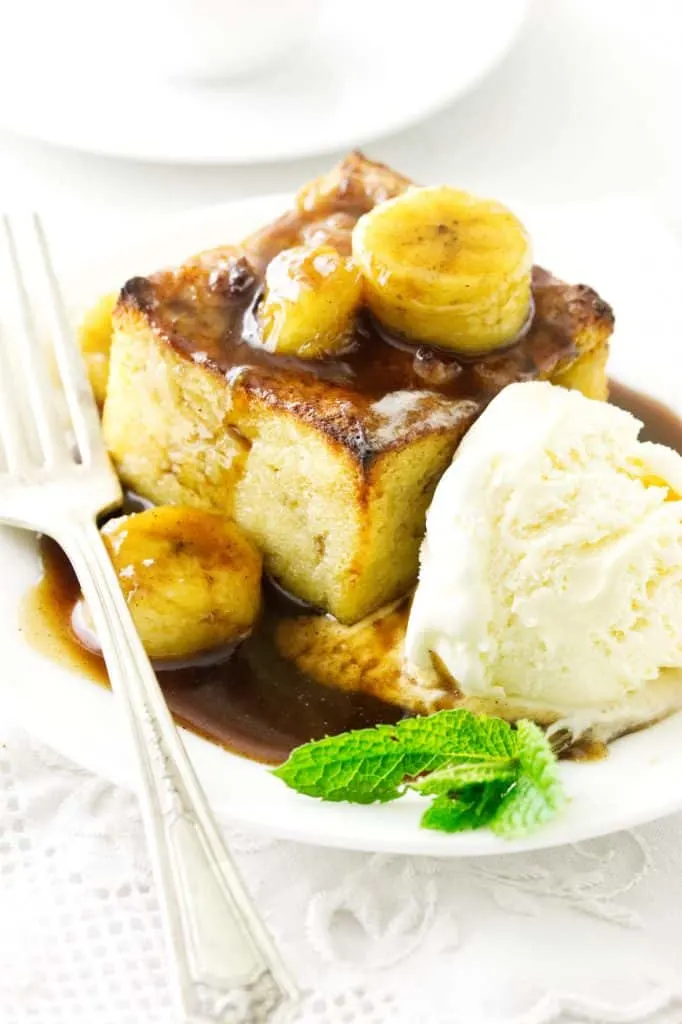 In days past, bread pudding was considered a 'poor man's dessert' and a way to use stale bread. This rendition is a 'royal dessert' made with brioche soaked with a creamy banana custard and crowned with a sweet rum sauce.
Our Bananas Foster Bread Pudding with Rum Sauce is a sophisticated twist on the New Orleans creation of Bananas Foster. However, it is served with a caveat…."Eat at your own risk" as it is loaded with calories. But for everything, there is a season and this is the holiday season so abandon your diet and go for it!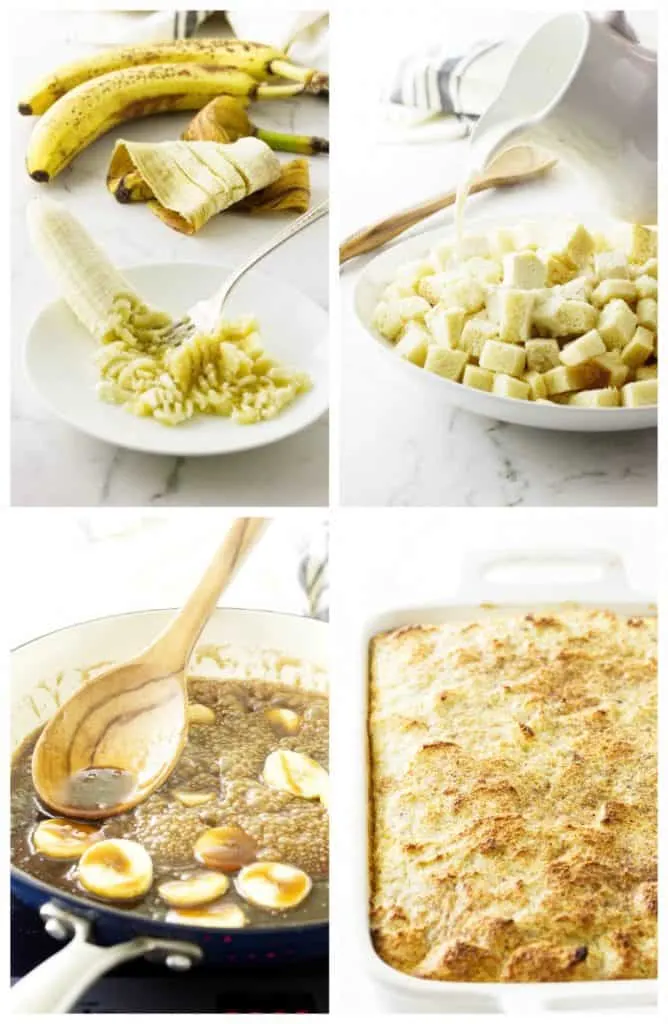 I was inspired to make this dessert when we went to a local restaurant. The warm bread pudding was cut into a square. There was a crisp crust surrounding it which appeared suspiciously deep fried. Then it was topped with the rum sauce and a scoop of vanilla ice cream.
You can imagine the calories in that serving even when shared by the two of us!
Well, this recipe does have a crisp crust on the top, but for the sake of saving a few calories, we are not deep-frying it.
One convenience of serving this bread pudding is that it is made in advance, refrigerated, then reheated and crisped up when ready to serve.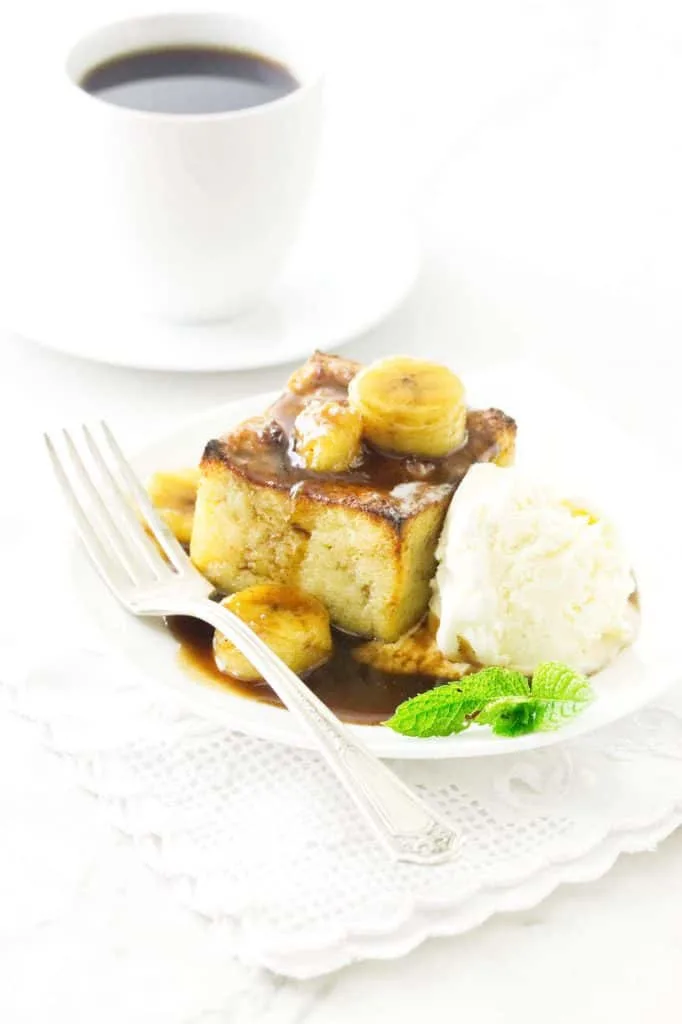 Our Version of Bananas Foster Bread Pudding with Rum Sauce:
We enhanced the moist, creaminess of this fantasy dessert with an entire cup of mashed bananas!
A warm rum sauce with sliced bananas is spooned on each serving and topped with a cool scoop of vanilla ice cream. This dessert is to die for.
When making bread pudding, there is a wide variety of bread to choose from. For the pudding base, we wanted the rich, eggy brioche for its slight sweetness and fine texture. We removed the crust from the slices and cut them into cubes that dried out in a warm oven.
After the bread cubes were dry and cool, a warm cream-milk mixture was poured over them to saturate those bread cubes.
Next, we stirred a custard of mashed bananas, egg yolks, sugar, butter, and vanilla into the soaked bread cubes. We did keep the sugar to a minimum as that sauce and ice cream will provide all the sweetness it needs.
The reserved egg whites were whipped to soft peaks then folded into the custard mixture. Beating the egg whites and folding them into the custard is key to the light, creamy texture of the dessert.
Since this is an egg-based custard a simple water bath was used to control the temperature for an even baking. After baking and cooling the bread pudding was covered with plastic wrap and refrigerated.
Serving the Bananas Foster Bread Pudding with Rum Sauce: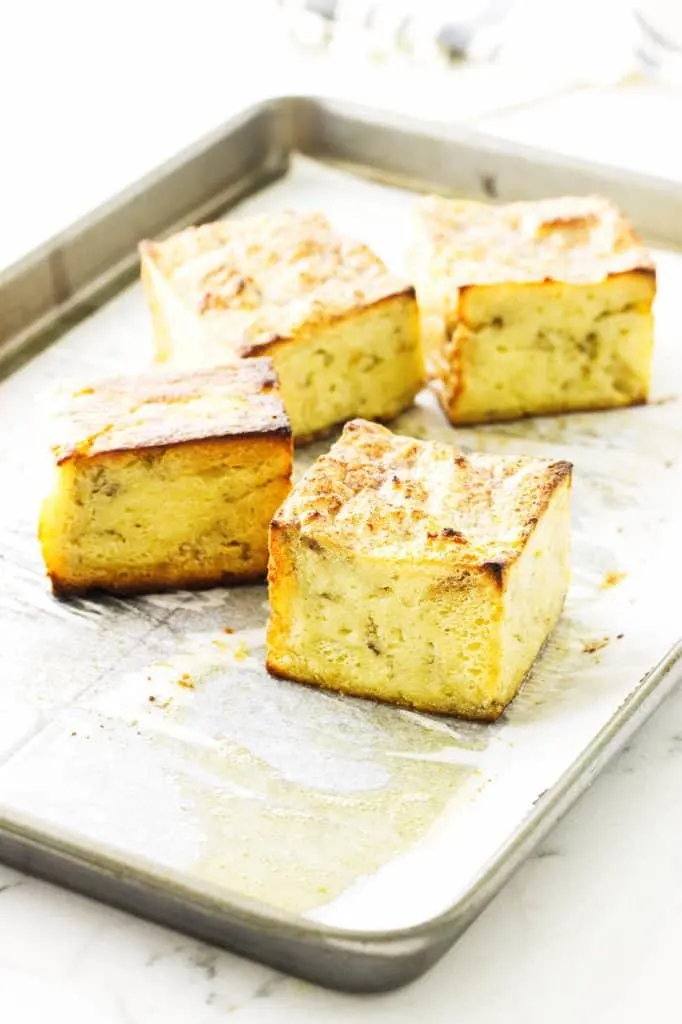 When ready to serve, we sliced the pudding into squares, placed on a baking sheet and toasted it in a hot oven. While the squares were toasting, the simple rum sauce was cooked with sliced bananas.
Finally, we spooned the warm sauce over each dessert and topped it with a scoop of vanilla ice cream.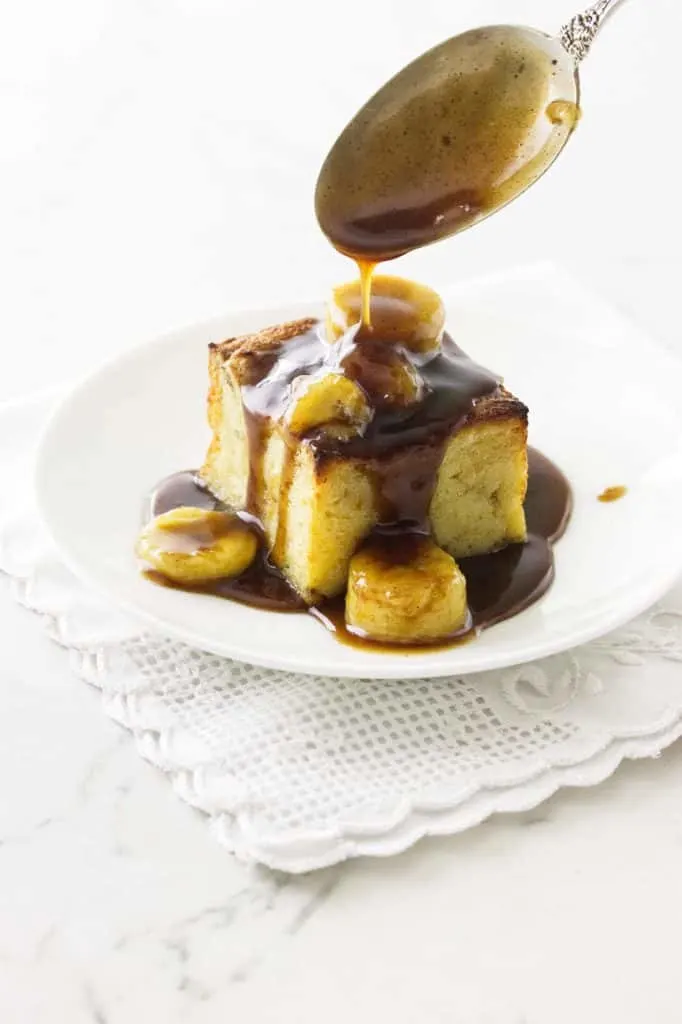 Another serving option is to skip the refrigerating and reheating process and to serve the bread pudding directly from the oven with the rum sauce over the top and a scoop of ice cream. However, that crisp crust on those moist, creamy banana squares tastes so good!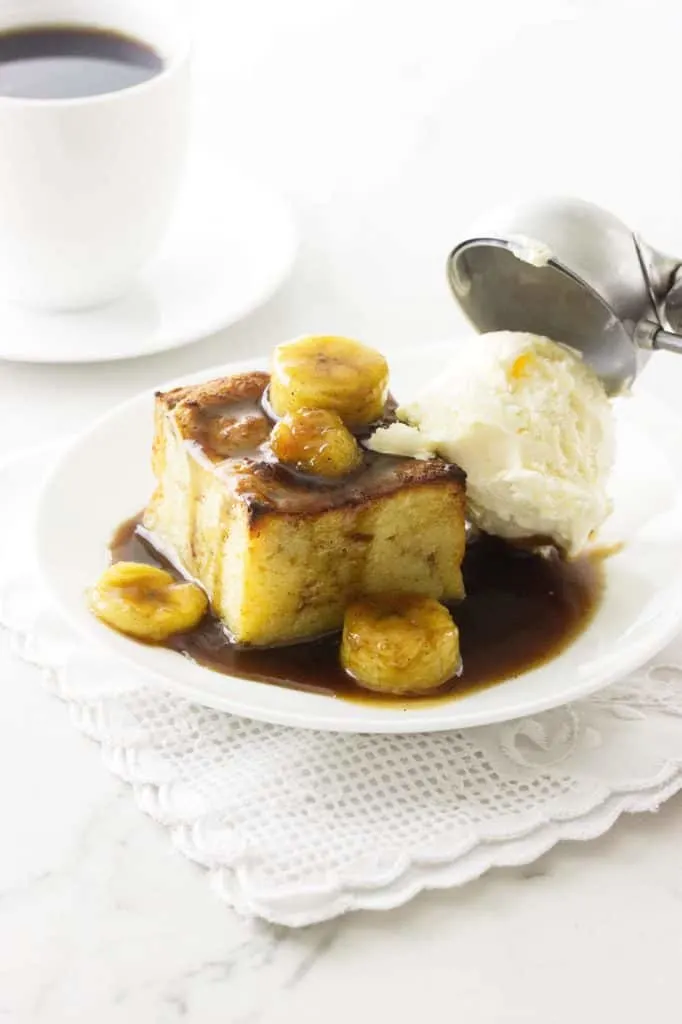 You're going to love this bread pudding. Make it today and tell us about it.
Check out our Pumpkin Bread Pudding or our Tiramisu for some more incredible desserts.
Have you made Bananas Foster Bread Pudding?
We would love to hear from you. Drop us a comment below or snap a photo and hashtag it to #savorthebest on Instagram.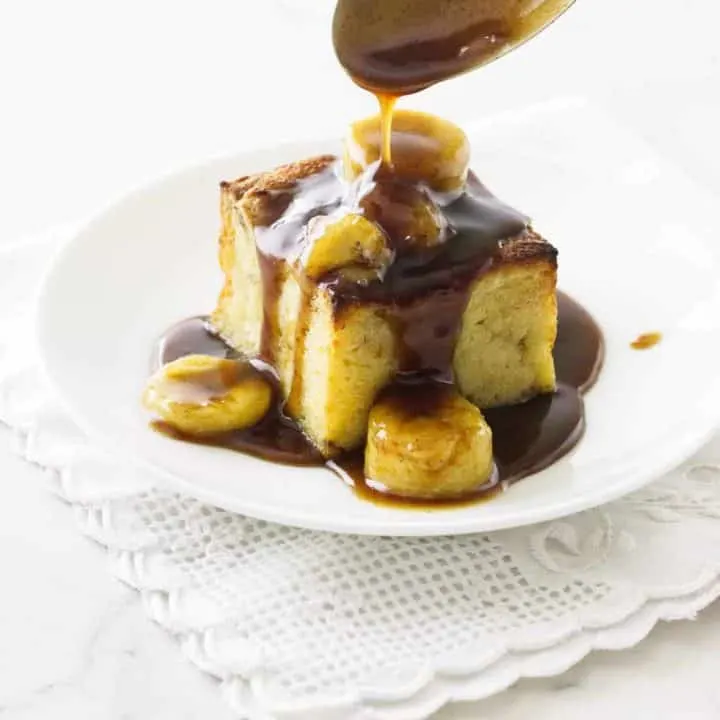 Bananas Foster Bread Pudding with Rum Sauce
Total Time:
1 hour
20 minutes
Bananas Foster Bread Pudding with Rum Sauce is crunchy on the outside, smooth and creamy inside with a delicious banana-y flavor and topped with a rum sauce and vanilla ice cream.
Ingredients
For The Banana Bread Pudding:
12 ounces brioche, cut into 1/2 inch cubes
2 cups heavy cream
1 cup whole milk
1/2 cup butter, melted and cooled
1/4 cup sugar
6 eggs, separated
1 teaspoon vanilla
1/4 teaspoon sea salt
1 cup banana mash, (from about 2 large bananas)
freshly grated nutmeg
For the Rum Sauce:
3/4 cup packed dark brown sugar
1/3 cup water
1/2 cup butter (1 stick)
1/2 teaspoon cinnamon
1 teaspoon vanilla
Pinch of salt
1/4 cup dark rum
1 or 2 sliced ripe bananas
Vanilla Ice Cream (optional)
Instructions
Dry the Bread Cubes:
Preheat the oven to 175°F and line a baking sheet with parchment paper. Add the brioche cubes to the baking sheet and transfer to the oven to dry for 30-45 minutes. Remove from the oven and allow to cool.
For the banana bread pudding:
Increase the oven temperature to 325°F, prepare a 2-quart baking dish with oil spray and reserve.
Place the cooled bread cubes in a large mixing bowl. Combine the cream and milk in a small saucepan and warm gently over medium heat. Pour the warm cream mixture over the bread cubes, stirring to coat well. Set aside to cool to room temperature.
Whisk together the melted butter and sugar until well blended. Add the egg yolks, vanilla, salt and banana mash, blend until smooth and creamy. Gently stir this mixture into the brioche mixture.
Whip the egg whites until soft peaks form, then fold them into the brioche mixture. Transfer the mixture into the prepared baking dish. Finish with a grating of nutmeg over the top.
Set the dish into a larger roasting pan. Pour hot water into the roasting pan to come halfway up the sides of the baking dish.
Bake the bread pudding until the top is golden brown and a knife inserted in the center comes out clean, about 35-55 minutes (see notes). Remove from the oven and transfer the dish from the hot water to a cooling rack. When cool, cover with plastic wrap and refrigerate.
To Serve:
Preheat the oven to 425°F and prepare a baking sheet with parchment paper
Cut the cold bread pudding into 2-1/2 inch squares and place on the parchment-lined baking sheet.
Add 2 tablespoons of butter to a small dish and melt in the microwave
Brush the top and sides of each bread square with melted butter and transfer to the oven. Bake for 10 minutes until the tops are crisp and golden. Transfer to serving plates.
Meanwhile, Make the Rum Sauce:
In a skillet set over medium heat, add the brown sugar, water, butter, cinnamon, vanilla, and salt. Boil gently for about 8 to 10 minutes. The sauce will start to thicken.
Add the rum and sliced bananas. Cook for 1 more minute to burn off the alcohol. Transfer the sauce to a small pitcher and spoon over each serving.
Notes
Alternative serving option: Serve scoops of the banana bread pudding hot from the oven with rum sauce and ice cream and skip the cooling/reheating process.
The baking time will vary depending on the shape of your casserole dish. A standard 8-inch by 8-inch baking dish will require more baking time than a shallow but long oblong or rectangular dish.
Nutrition Information:
Yield:

12
Serving Size:

1
Amount Per Serving:
Calories:

545
Total Fat:

39g
Saturated Fat:

24g
Trans Fat:

1g
Unsaturated Fat:

12g
Cholesterol:

224mg
Sodium:

350mg
Carbohydrates:

41g
Fiber:

2g
Sugar:

27g
Protein:

8g
Nutrition information is a guideline only, is calculated automatically by third party software, and absolute accuracy is not guaranteed.