Tiramisu is a classic Italian creation and one of the most loved Italian desserts in all of Italy. Every bite of this ultra-creamy tiramisu is pure bliss. Rich, sweetened mascarpone cream is layered between coffee-drenched lady fingers, dustings of cocoa powder and garnished with chocolate curls.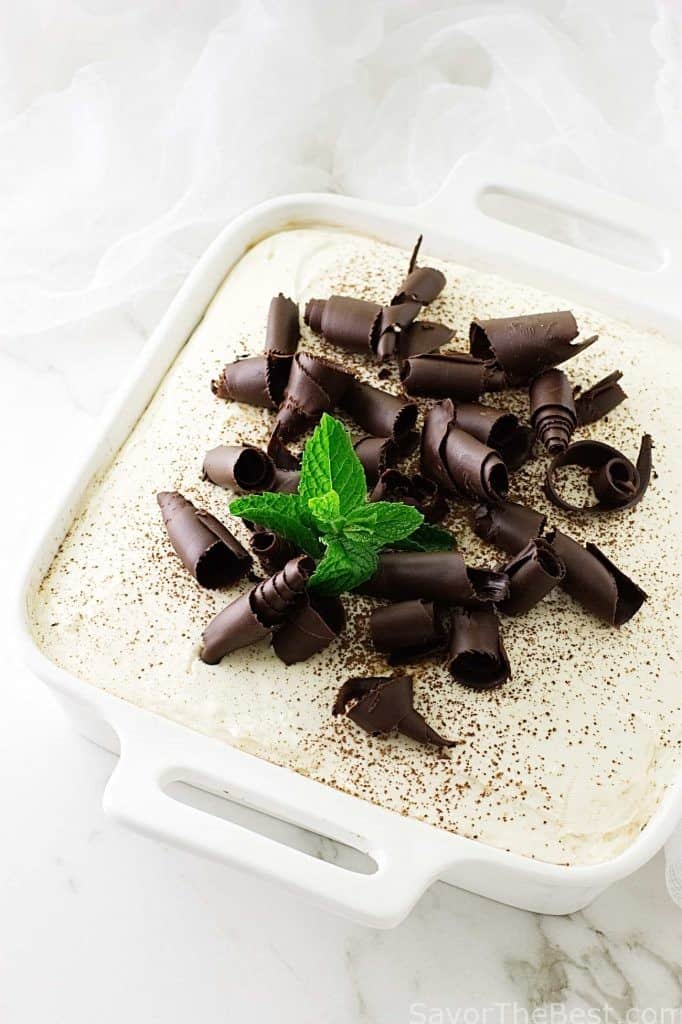 There is a lovely little restaurant in Poulsbo, Washington, called Sogno di Vino, which means, Dream of Wine. It is our favorite local Italian restaurant! Tiramisu is always on their dessert menu and it is a wonderful goodness of mascapone and whipped cream with layers of coffee-flavored cake/cookies dipped in coffee and a touch of amaretto. When we asked if they would consider sharing their recipe, we were pleasantly surprised when they agreed.
Traditionally, the creamy custard mixture in tiramisu is made with mascarpone cheese, sugar, egg yolks and whipped heavy cream. This recipe is 'not quite traditional' as it eliminates the egg yolks and lets the flavor of the mascarpone really shines through. The mascarpone is whisked together with sugar until smooth then the cream is added and whipped into a light, fluffy froth.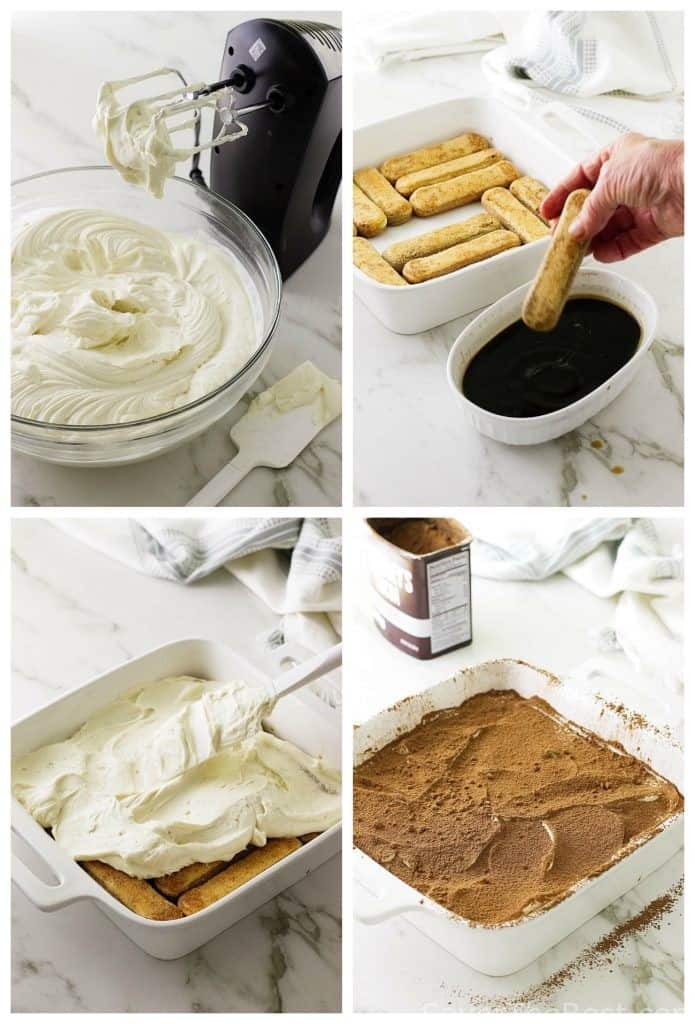 Lady fingers are crisp little sponge cakes made with eggs, sugar, flour and eggs. The batter is piped into small 'finger' shaped cookies and baked until crisp. They are relatively easy to bake but we are using store-bought lady fingers for this dessert which are crisper. We dip them in a mixture of espresso coffee and almond extract. If you are so inclined you can jazz this up a bit by substituting Amaretto, rum or Marsala wine for the almond extract.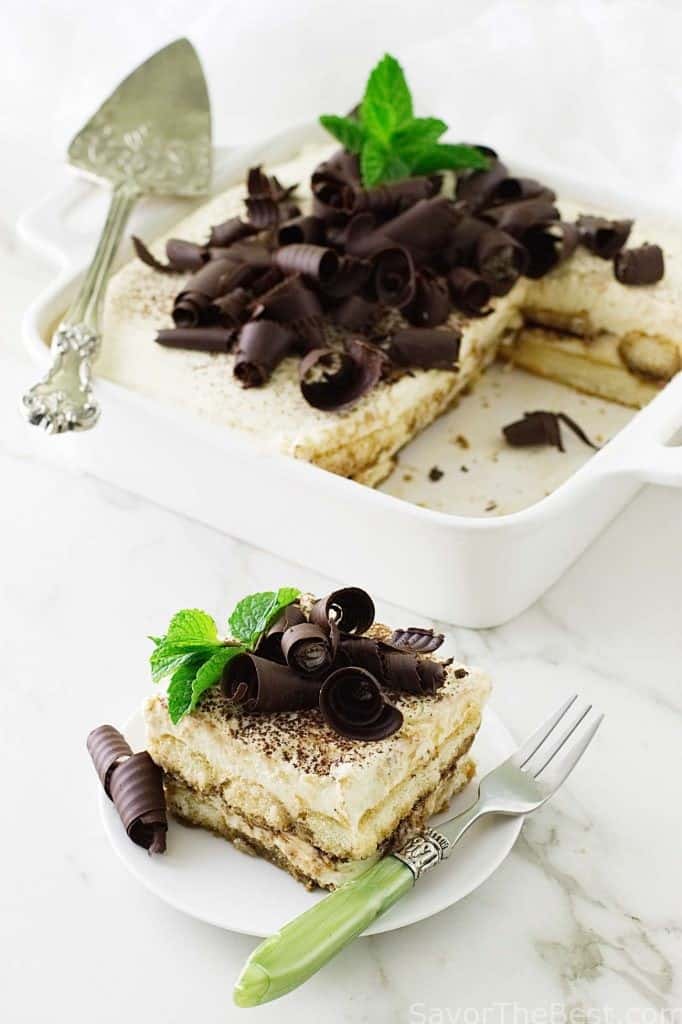 After the lady fingers are dipped into the coffee liquid they are arranged on the bottom of the dish. The secret to making a really, really good tiramisu is that no matter how tempted you are, do not let the lady finger get soggy in the mixture. Just a quick dip will do it as they will soften during the 'resting' time.
A thick layer of the fluffy cream mixture is spread on top of the dipped lady fingers and a heavy dusting of cocoa powder is sifted on. Another layer of lady fingers and the cream mixture is added spreading the cream mixture to a smooth flat surface. Just a very light sifting of cocoa powder is dusted over the top of the tiramisu and the dish is transferred to the refrigerator to rest for at least six-hours. Overnight is best to give a good firm 'set' to the dessert.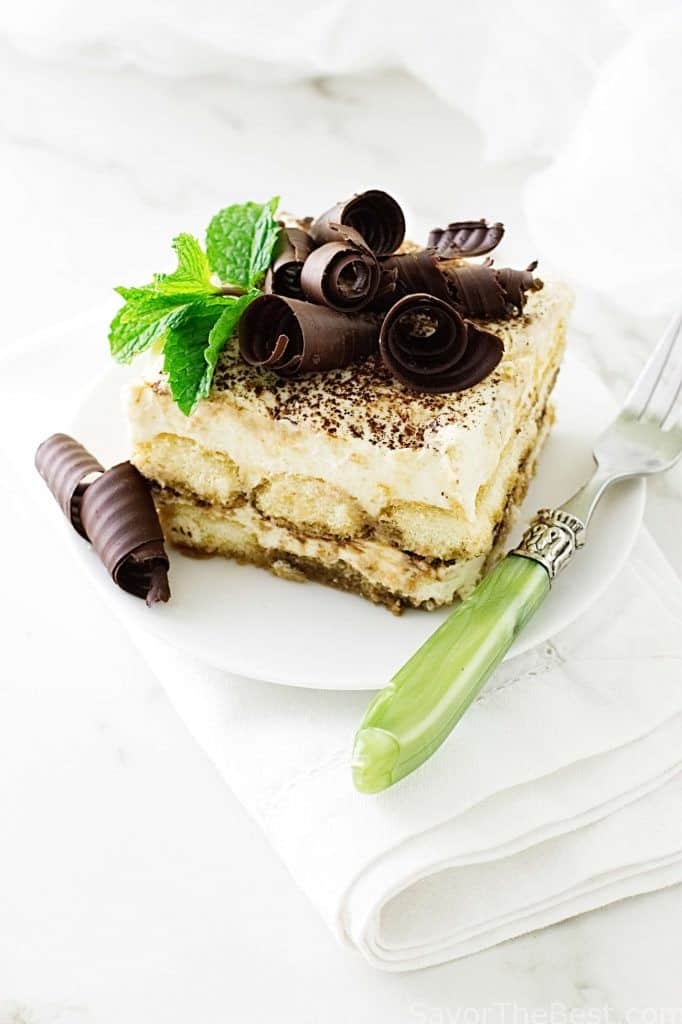 Chocolate curls and a sprig of mint add a dramatic finish to this awesome tasting tiramisu dessert. The chocolate curls are made by spreading melted chocolate on the bottom of a sheet pan. When it is firm scrape it with a metal spatula. If it is at the right temperature, it will turn into curls. This is a wonderful way to make chocolate curls to garnish the top any dessert.
Tiramisu is a really sinfully delicious dessert that will add a new dimension to your dinner party.
Other recipes you might like on Savor the Best:
Watch the Video: How to make Tiramisu: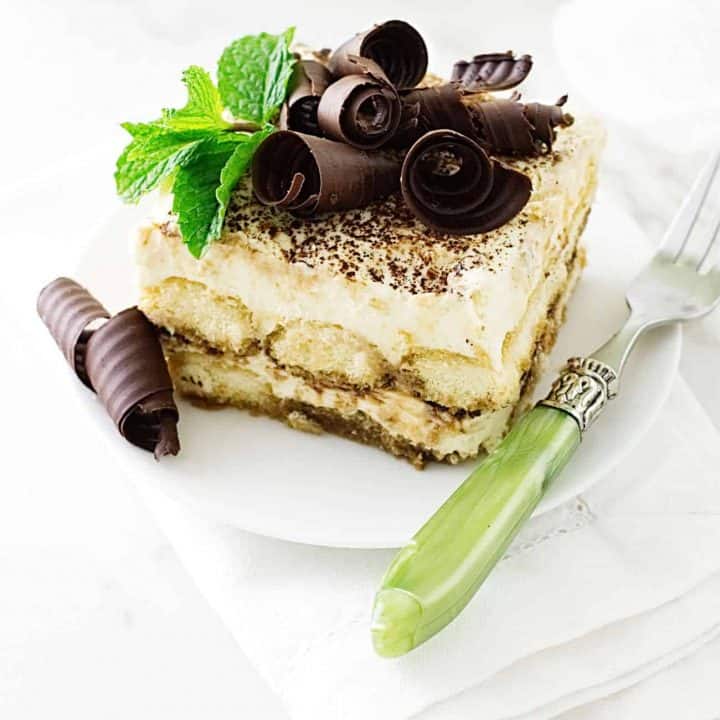 Tiramisu
Yield: 9 servings
Prep Time: 30 minutes
Total Time: 30 minutes
A light, creamy, coffee-flavored Italian dessert that is made of ladyfingers dipped in coffee, layered with a whipped mixture of sugar, cream, mascarpone cheese and garnished with beautiful chocolate curls and sprigs of mint.
Ingredients
1 1/2 cups extra strong coffee
1 tablespoon instant espresso powder
24 to 36 lady fingers (depending on their size) *see notes
2 pounds mascarpone cheese
1 1/2 cups heavy cream
1 cup sugar
1/2 teaspoon almond extract
2 teaspoons vanilla
2 tablespoons cocoa powder, divided
Chocolate curls for garnish (see notes)
Mint sprigs for garnish
Instructions
Mix coffee and espresso powder together until the espresso powder dissolves. Set the coffee mixture aside for later.
With a hand mixer or stand mixer, mix the mascarpone, sugar, almond extract and vanilla in a large bowl until smooth and well incorporated. Add the cream and whip until thick and the mixture holds stiff peaks.
Dip half of the lady fingers, one at a time into the coffee mixture and place them into the bottom of an 8 by 8 inch pan, forming a single layer. Work quickly and do not let the lady fingers become soggy (see notes).
Cover the lady fingers with 1/2 of mascarpone mixture. Sprinkle or sift 2 tablespoons of cocoa powder on top.
Dip the remaining lady fingers in the coffee mixture and arrange in another layer in the serving dish. Spread the rest of the mascarpone mixture on top of the lady fingers.
Transfer to the refrigerator and chill for 4-6 hours or overnight. Before serving dust the top with a very light dusting of cocoa powder and the prepared chocolate curls.
Notes
Lady Fingers are sold in specialty stores and in the bakery section of many grocery stores. The bakery sections often have soft, spongy Lady Fingers and the commercial brands are usually hard and crispy. If you use a brand that is soft and spongy, dry them out in the oven at 200°F for 20 minutes prior to dipping them in the coffee mixture. If you dip them while they are still soft and fresh, they will turn into a soggy mess and fall apart.
When dipping the lady fingers in the coffee mixture, do not submerge them or it will soak into the entire cookie and make it soggy. Simply drop them in for a second or two then roll them to the other side for 1 or 2 seconds.
If you want an "adult" version with alcohol then add a tablespoon of amaretto or rum to the coffee mixture as well as the mascarpone mixture.
Tiramisu can be prepared and refrigerated up to 2 days.
For easy chocolate curls melt 4 to 5 ounces of chocolate with a tablespoon of vegetable shortening or coconut oil. Spread it on the back of a cookie sheet. Cool in the fridge until the chocolate is firm then use a metal spatula or bench scraper to push/scrape the chocolate off the cookie sheet. If the chocolate is at the right temperature and firmness it will curl up as you scrape it off the sheet.

Nutrition Information:
Yield: 9
Serving Size: 1
Amount Per Serving:
Calories: 433
Total Fat: 65g
Saturated Fat: 38g
Trans Fat: 1g
Unsaturated Fat: 20g
Cholesterol: 280mg
Sodium: 515mg
Carbohydrates: 54g
Fiber: 1g
Sugar: 26g
Protein: 11g
Nutrition information is a guideline only, is calculated automatically by third party software, and absolute accuracy is not guaranteed.