Happy St. Patrick's Day, everybody! Finish off your St. Pat's celebration dinner with this No-Bake chocolate Bailey's Cheesecake. With sweet chocolate cookie crust and a touch of Irish cream, this cheesecake is rich, creamy and undeniably delicious! No baking required and no gelatin to help it set as there is enough chocolate to do the trick! Woohoo!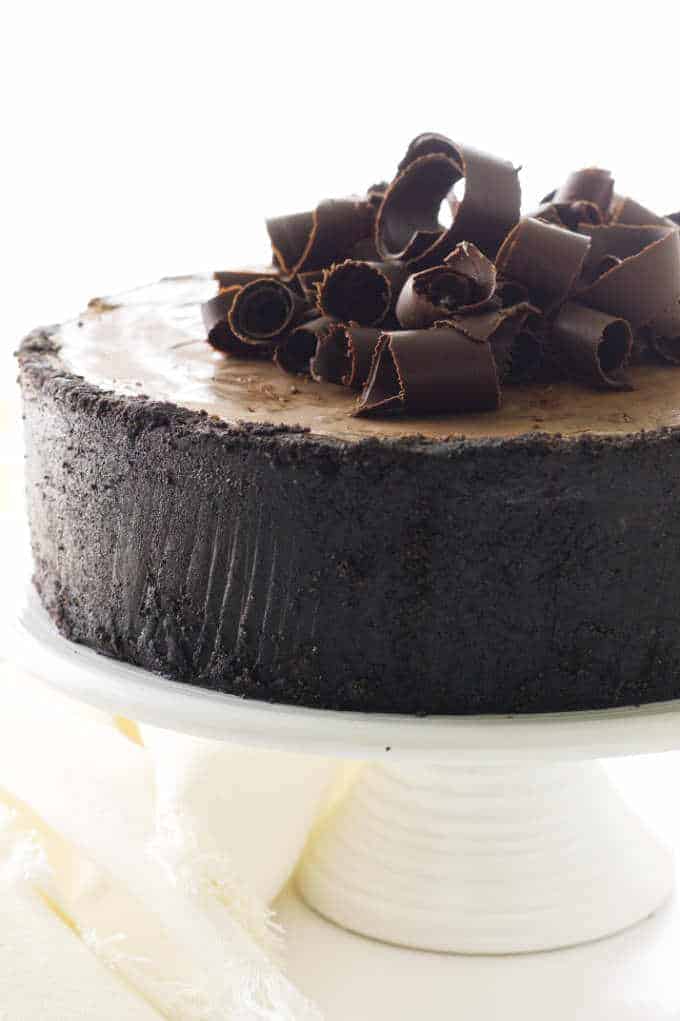 There is not a hint of green in this St. Patrick's dessert, as it is chocolate, chocolate, chocolate. A crunchy chocolate cookie crust, thick creamy chocolate cheesecake and a garnish of chocolate curls. And of course, some Irish cream to give it a special touch of Ireland.
Is Bailey's Irish Cream really from Ireland?
Bailey's Irish Cream really is from Ireland. It is an alcoholic liqueur made from cream, cocoa, and smooth Irish whiskey. It has an alcohol content of 17% by volume and it is the original Irish cream. This creamy concoction is at it's best served in a small glass over a couple of ice cubes. It is like sipping a milkshake with a kick!
If you love Bailey's Irish cream as much as we do then check out our chocolate Guinness cake with Bailey's cream cheese frosting.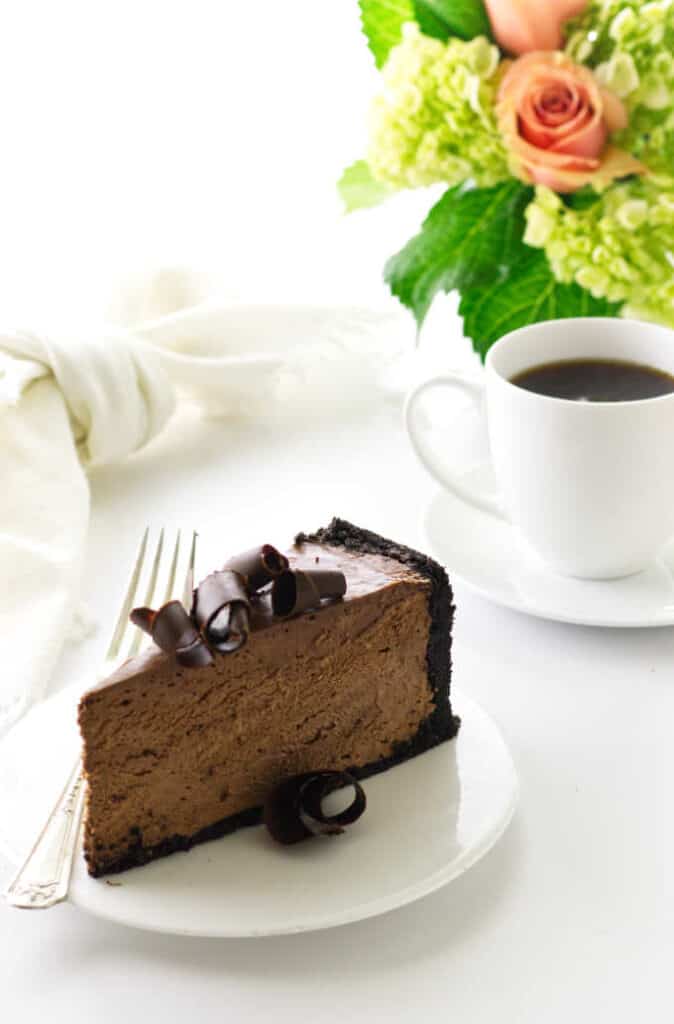 What you need to make this No-Bake Chocolate Bailey's Cheesecake:
Crushed chocolate wafers or chocolate graham crackers.
Butter
Brown Sugar
Semi-sweet chocolate (not chocolate chips)
Full-fat cream cheese
Sugar
Vanilla extract
Bailey's Irish Cream
Heavy whipping cream
It is amazing how easy it is to make this Irish cream, no-bake cheesecake! You don't have to deal with a hot oven, wrapping the pan in aluminum foil or that bothersome pan of water. This is easy peasy, creamy and delicious!
There is nothing difficult to the process and you can have it chilling in the fridge in 30 minutes. The most time is spent forming the chocolate crust up the sides of the springform pan.
You have options though. The crust can just go partway up the side or you can just make a bottom crust. In either of these options you will want to reduce the amount of cookie crumbs.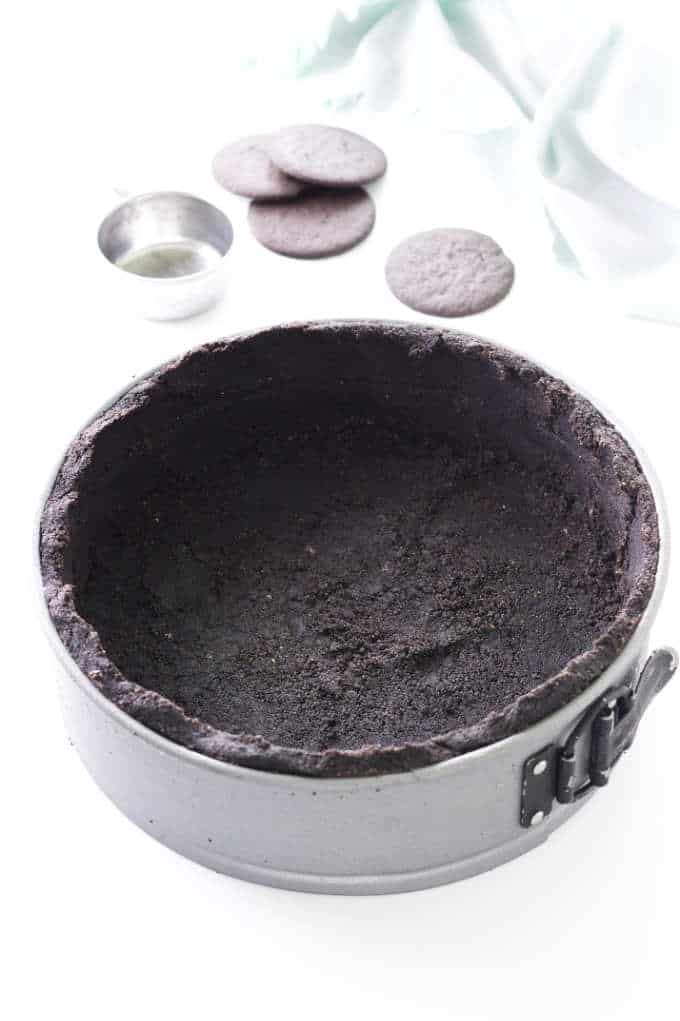 How do you make a No-Bake Chocolate Bailey's Cheesecake?
Here is a brief scenario to make this delicious cheesecake. Be sure to scroll to the recipe card for the entire recipe.
Line the bottom of a 9-inch springform pan with parchment paper. I like to cut a strip of parchment paper and line the side of the pan as well. This is a really good idea if you are only making a bottom crust as the cake will have a neat finished look when removed from the pan.
A food processor makes easy work to finely chop the chocolate wafers and mix with the sugar. I like to stir the melted butter into the cookie crumbs so I can control the texture better.
Next, pour the crumb mixture into the prepared pan and use your fingers and the bottom of a measuring cup to form the crust.
Melt the chopped chocolate together in a bowl over hot water, then let it cool to room temperature.
Beat the cream cheese and sugar together until smooth. Add in the vanilla, Irish cream and the cooled chocolate and beat to a smooth, creamy mixture.
It is a good idea to taste-test the chocolate before adding it to the cream cheese mixture as it should be about room temperature. Do not try cooling it in the fridge though as it will firm up quickly and be difficult to mix.
Whip the cream in a separate bowl to the soft-peak stage and fold it into the chocolate mixture.
Spoon the mixture into the prepared pan and smooth out the top. Place the cheesecake into the fridge to chill for at least two or three hours before serving.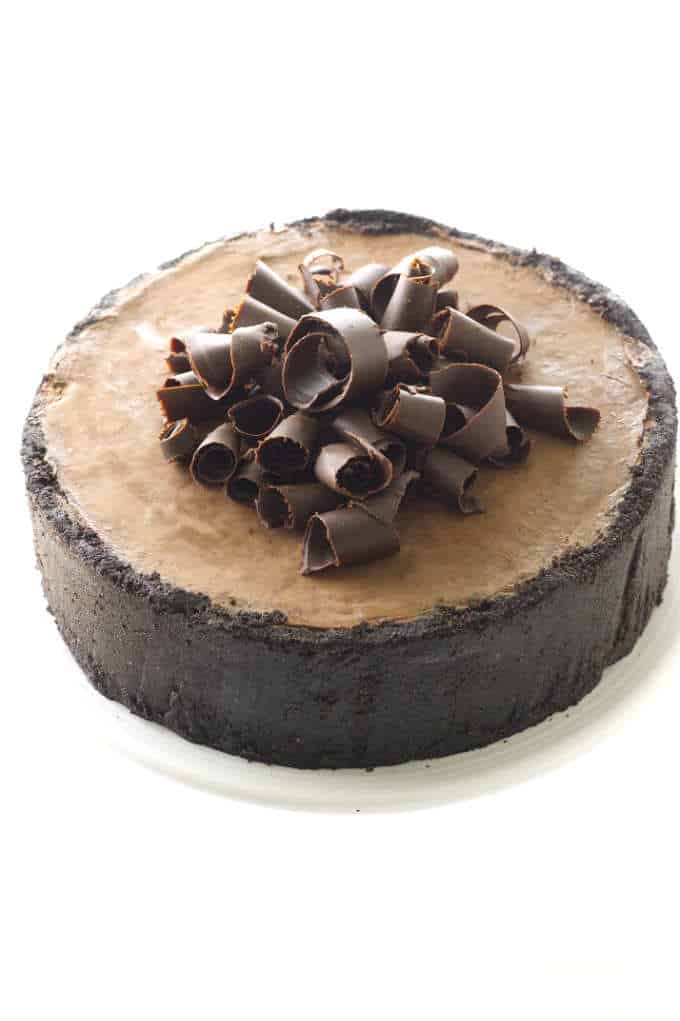 Can you freeze a no-bake cheesecake?
Yes, this is a dessert that can be made way in advance of a planned event. It will free up time and fridge space until ready to serve.
After the cake has set completely, wrap it in plastic wrap and again in aluminum foil and freeze it. It will keep in the frozen for up to 3 months. To serve, unwrap the cake and thaw it in the refrigerator. Add garnishes before serving.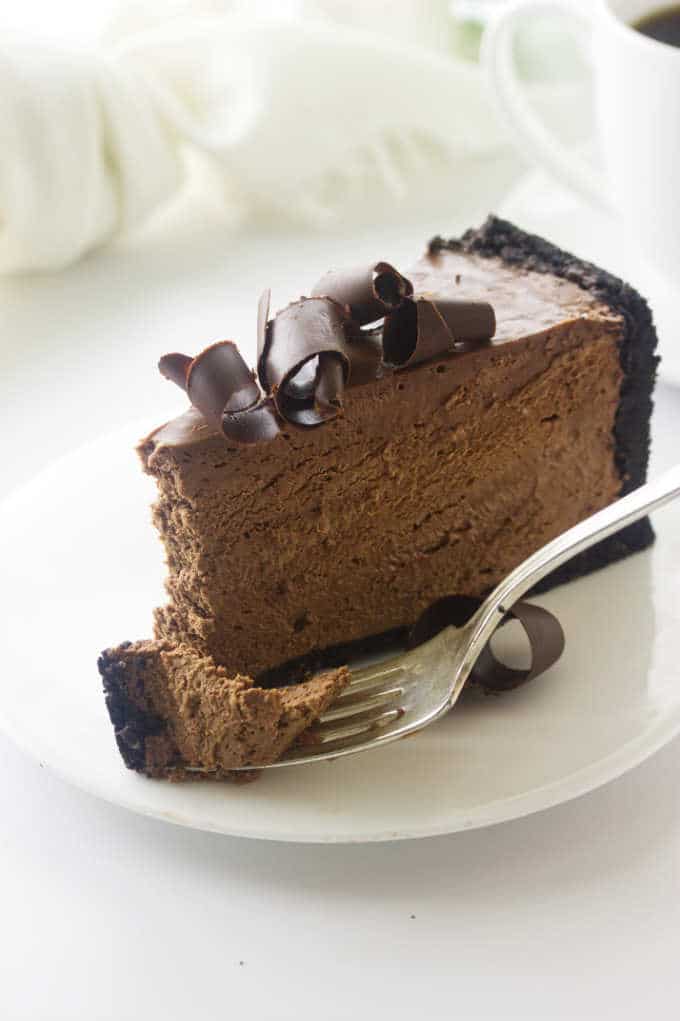 To Garnish or Not to Garnish:
This no-bake Irish cream cheesecake would look beautiful completely naked without any garnishments. I finished our cheesecake with a crown of chocolate curls which is a quick and easy application.
The cake would also look pretty with a garland of piped whip cream around the top edge or just add a heap of fresh berries on top.
Another idea is to place a lacy paper doily on top of the cake and sift cocoa powder or confectioners' sugar on the doily; then remove the doily leaving a pretty design on top of the cake.
However you decide to finish off the cake I promise, promise, promise you will love this easy, no-bake chocolate Bailey's cheesecake!
Have a wonderful St. Patrick's Day! 🍀
SOME OTHER RECIPES WE ARE SURE YOU WILL LOVE:
No Bake Cheesecake Chocolate Covered Strawberry Cheesecake: A sweet strawberry puree gives this cheesecake a bright pink color. When the cheesecake is firm, a rich chocolate ganache covers it like a blanket. This is a delicious spin on a chocolate-covered strawberry.
No Bake Cheesecake with a Surprise Inside: These delightful, individual cheesecakes have a sweet surprise inside them. Serve them to guests and watch their faces when they slice into the center to find a chocolate covered strawberry. The strawberry is covered with a thick, soft, chocolate ganache that is easy to slice with a fork.
Chocolate Amaretto-Espresso Mousse Cake: A decadent layered chocolate amaretto-espresso mousse cake with a fudgy gooey brownie base. This recipe can be adapted into individual mini-tower desserts.
CONNECT WITH SAVOR THE BEST!
Be sure to follow us on our social media accounts
Facebook * Instagram * Pinterest * Twitter * Youtube
Did you make this recipe? We would love to hear from you. Drop us a comment below.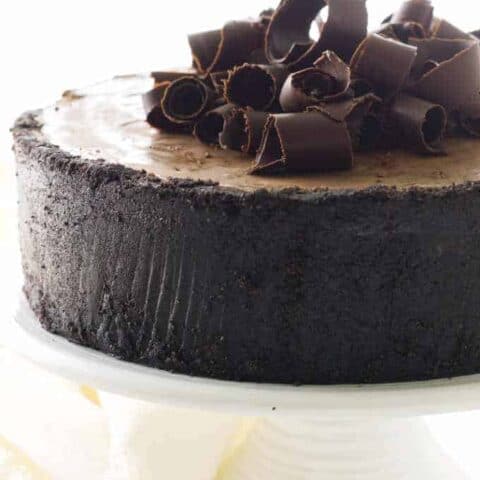 No-Bake Chocolate Bailey's Cheesecake
Yield: 12 Servings
Prep Time: 30 minutes
Total Time: 30 minutes
This creamy, decadent, No-Bake Chocolate Bailey's Cheesecake is made with Ireland's popular Bailey's Irish Cream liqueur and has a mousse-like texture. The chocolate crust is made with crushed chocolate wafers. This unbaked cheesecake does not contain gelatin as there is enough chocolate for a perfect set.
Ingredients
For the Chocolate Crust:
2 cups chocolate wafer crumbs
3/4 cup butter (1-1/2 sticks) melted
1/2 cup brown sugar
For the Filling:
12 ounces semi-sweet chocolate
8 ounces milk chocolate
2 (8 ounce) packages of cream cheese, softened
2/3 cup granulated sugar
1 teaspoon vanilla extract
1/4 cup Irish cream liqueur
2-1/2 cups heavy cream
Instructions
For the Crust:
Cut a circle of parchment paper to fit the bottom of a 9-inch springform pan. As an option you can also line the inside of the pan with a strip of parchment paper. Set aside.
Put the chocolate wafers into a food processor and pulse until they are very fine. (Optionally you can place the wafers in a sealable bag and pound them with a rolling pin then pour them into a bowl.)
Add the butter and the sugar to the food processor; then pulse the food processor (or stir them) until well combined. Press mixture firmly onto the bottom and up the side of the prepared springform pan. Transfer the pan to the freezer for 20 minutes.
For the Filling:
Chop the chocolate into pieces and add to the top of a double boiler which is set over barely simmering water and allow to melt undisturbed. Remove from the heat and set aside to cool.
Put the cream cheese and the sugar in the bowl of an electric mixer. If you have a stand mixer, use the paddle attachment. On medium speed, beat the mixture until smooth, about 4 minutes. Add the vanilla extract, the Irish cream liqueur and the cooled chocolate, beat together until fully incorporated.
In a separate bowl lightly whip the cream to the soft-peak stage (until it has thickened and increased in volume slightly and will just hold its shape if you lift the whisk out of the cream). Gently fold the whipped cream into the chocolate mixture.
Remove the pan with the crust from the refrigerator or freezer and spoon the cheesecake mixture into the chocolate crust and smoothing the top. Drape a sheet of plastic wrap lightly over the cake and refrigerate until firm. About 2 hours.
When ready to serve:
Run a thin sharp knife around the inside of the pan between the crust and the metal, flip the metal side ring latch loose and lift off the side ring. Slide the knife under the bottom crust to loosen from the metal pan bottom and transfer the cake to a serving plate.
Optional: Garnish the cake with chocolate curls or dust lightly with cocoa powder.
For each slice, use a thin sharp knife dipped in hot water then wiped dry.
Notes
To make this cheesecake "kid-friendly' omit the Irish cream liqueur and substitute with the same amount of cream.
Recommended Products
As an Amazon Associate and member of other affiliate programs, I earn from qualifying purchases.
Nutrition Information:
Yield: 12
Serving Size: 1
Amount Per Serving:
Calories: 583
Total Fat: 36g
Saturated Fat: 22g
Trans Fat: 0g
Unsaturated Fat: 13g
Cholesterol: 48mg
Sodium: 137mg
Carbohydrates: 60g
Fiber: 5g
Sugar: 45g
Protein: 6g
Nutrition information is a guideline only, is calculated automatically by third-party software, and absolute accuracy is not guaranteed.