This is the perfect no-bake cheesecake recipe that delivers decadent flavors in every bite without the hassle and time of a traditional cheesecake. With a buttery, graham cracker crust, a delicious strawberry puree, and a rich chocolate ganache, this no-bake chocolate covered strawberry cheesecake is sure to wow your guests.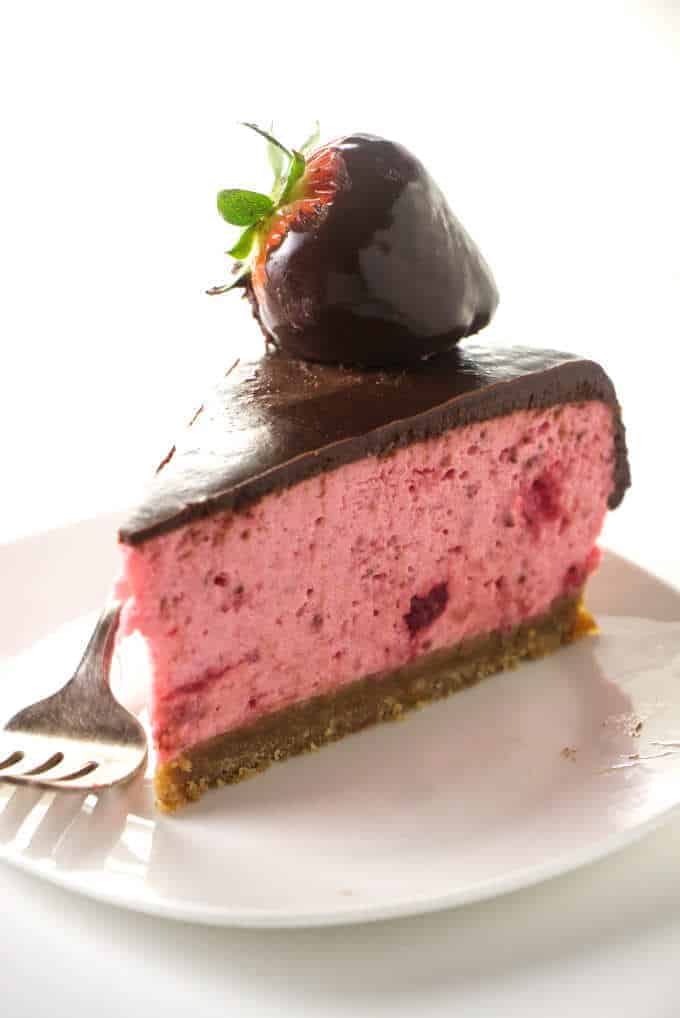 A great cheesecake is the perfect sinful pleasure from the very first bite to the last. But it can take a lot of time and effort to make. So what's a person to do without cranking up the oven for hours? Make a no-bake cheesecake of course.
This no-bake strawberry cheesecake is the perfect way to end a meal. Or to start one if your sweet buds are difficult to restrain. No judgment here because, well….been there, done that.
It starts with a graham cracker crust that firmly gets pressed into your pan. In goes the beautifully married strawberry puree and cream cheese mixture. Once set, the cheesecake gets covered with a blanket of irresistibly rich, dark chocolate ganache that perfectly balances the sweet, yet tangy base.
Shh, do you hear that? It's your taste buds begging you for a bite.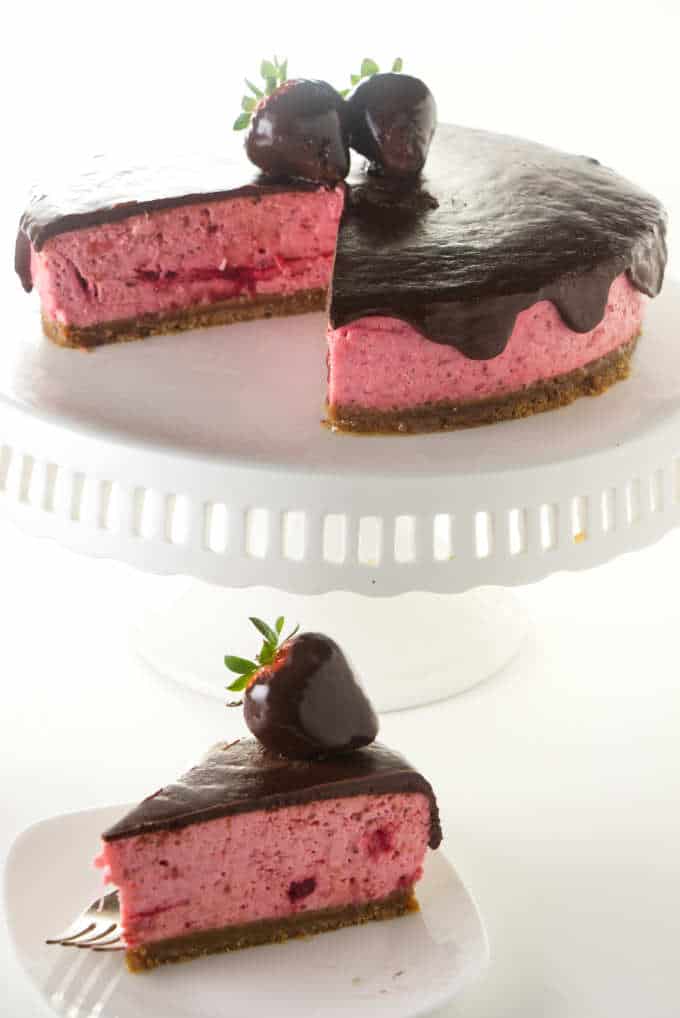 We received a request to make this cheesecake after we posted our drool-worthy no-bake cheesecake with a surprise inside. They're individually served and make the perfect party dessert. And the surprise?
Spoiler alert: it's a yummy, classy, chocolate covered strawberry.
You can even use the ganache called for in this recipe to dip and cover your strawberry. We're all about efficiency here.
If you're looking for an incredibly easy dessert that looks and tastes like a recipe passed down from your great-grandmother, look no further. This cheesecake is definitely a winner.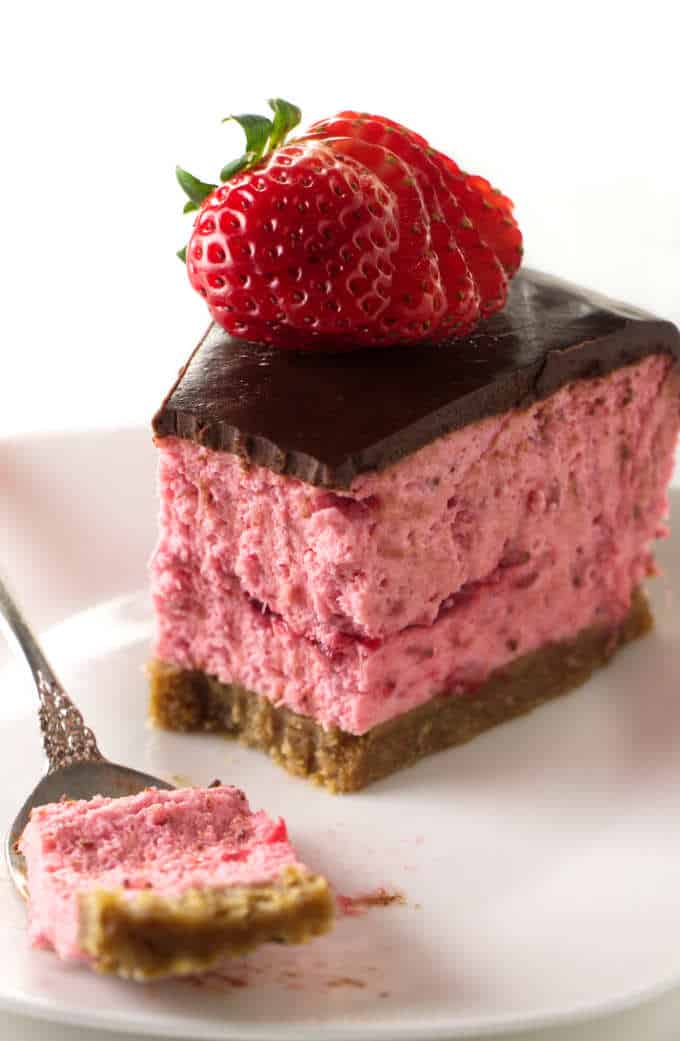 How to make our chocolate covered strawberry cheesecake.
There are a few things that will help you before you get started with this recipe. We will give you all the tips and tricks you need to make this recipe successful so make sure to read the post because we just might answer your questions. But be sure to scroll all the way down to the printable recipe card for the final details.
Here are the basic steps:
Make the crust.
Make the strawberry puree.
Whip up the cheesecake batter.
Fold the strawberry puree into the batter.
Let the cheesecake firm up in the fridge.
Make the chocolate ganache and pour over the top of the cheesecake.
Garnish with chocolate-covered strawberries (if desired).
Get the right supplies:
Use a 9-inch springform pan for this recipe. A smaller springform pan will not hold all the batter.
Parchment paper. We highly recommend lining the bottom of the cheesecake with parchment paper. Parchment will help you easily slide the cheesecake off the bottom of the pan. However, since you are not baking this cheesecake then you can get away with using wax paper.
Make the crust:
Our graham cracker crust works great for a no-bake cheesecake. The most important tip for the crust is to pack it down firmly. After you stick it in the fridge it will get crisp.
Make the Strawberry Puree:
You can use fresh or frozen strawberries here. The important thing is to smash the strawberries as they cook and to simmer them until they thicken up a bit.
About the cheesecake batter:
This no-bake strawberry cheesecake gets its structure from gelatin. It is important to let the gelatin bloom or soften before you heat it up to dissolve it. Just let it sit in some cold water for a few minutes. That is the 'bloom' stage. Next, when you are ready to add the gelatin to the cheesecake batter, just heat it up until it dissolves and turns liquid.
Make sure you don't let the gelatin get too hot when you warm it up. It only takes 15 to 20 seconds to dissolve in the microwave.
It will take about 6 to 8 hours for the cheesecake to firm up in the fridge after you stir in the gelatin.
The chocolate ganache:
This chocolate covered strawberry cheesecake needs a great chocolate coating. A rich chocolate ganache is the perfect covering. All you have to do is pour hot cream over some chocolate. After the cream melts the chocolate then stir it until it is smooth and creamy.
A tip for the ganache is to make sure the cream does not boil.
That's all there is to an amazing chocolate covered strawberry cheesecake! If you want to use a little bit of the ganache to coat a few strawberries then you will have a great garnish.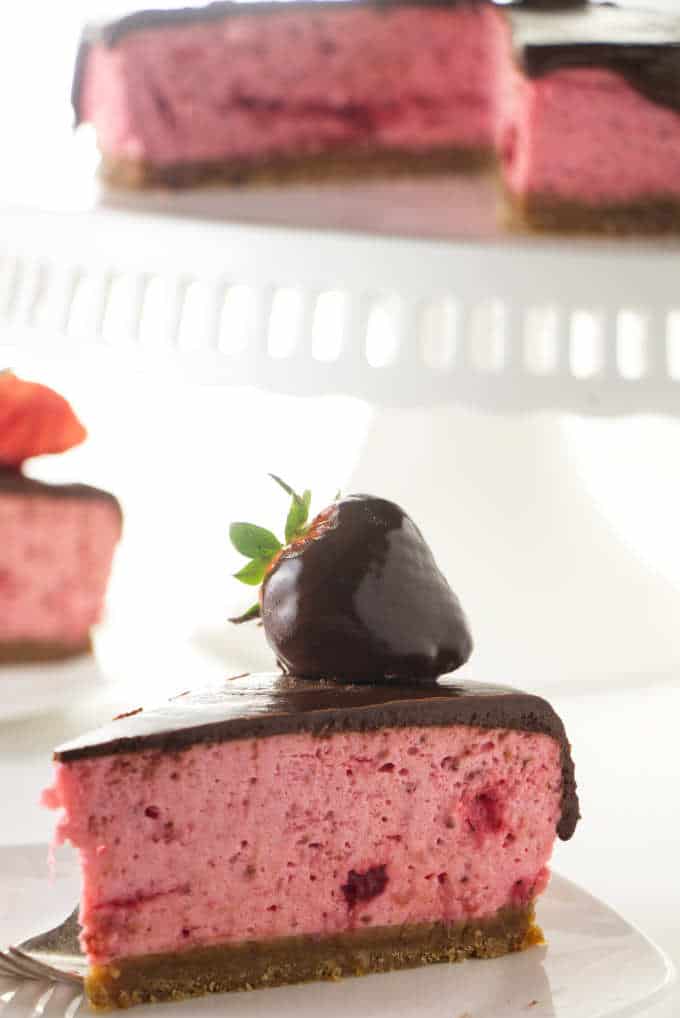 SOME OTHER RECIPES WE ARE SURE YOU WILL LOVE:
Chocolate on chocolate on chocolate! That's what this triple chocolate brownie cheesecake is all about! We combined two dessert favorites and created a chocolate lover's dream. It's true decadence.
This chocolate caramel swirl cheesecake sits on a brownie base and the creamy cheesecake is swirled with chocolate fudge and caramel sauce.
Our chocolate amaretto espresso mousse cake consists of three decadent layers. The base is a fudgy brownie. Next, there is a fluffy amaretto mousse and finally, the top layer is a chocolate espresso mousse. Add this dreamy cake to your weekend plans.
Connect With Savor the Best:
Please follow us on our social media accounts
Facebook * Instagram * Pinterest * Youtube * Twitter
Did you make this recipe? We would love to hear from you. Drop us a comment below.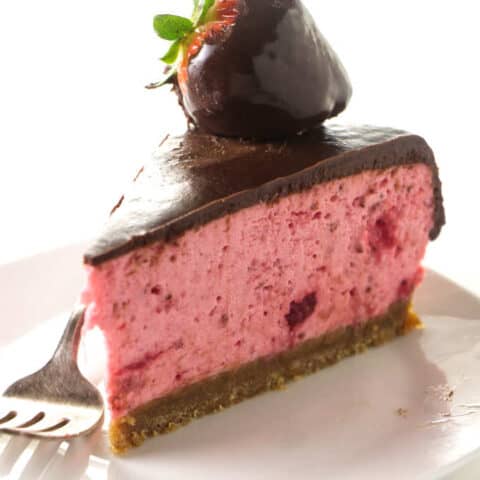 No Bake Chocolate Covered Strawberry Cheesecake
Total Time:
8 hours
50 minutes
A sweet strawberry puree gives this cheesecake a bright pink color. More of the strawberry puree gets swirled into the cheesecake and leaves beautiful red ribbons and a delicious strawberry flavor. When the cheesecake is firm, a rich chocolate ganache covers it like a blanket. This is a delicious spin on a chocolate-covered strawberry.
Ingredients
Graham cracker crust:
14 whole graham crackers (about 2-1/3 cups crumbs)
12 tablespoons butter, melted
1/2 cup brown sugar
Pinch of salt
Strawberry puree:
2-1/2 pounds strawberries, leaves removed
1 cup sugar
Cheesecake
1/3 cup cold water
1 tablespoon unflavored powdered gelatin (1-1/2 packages)
16 ounces cream cheese, room temperature
1 cup sugar
1 cup heavy whipping cream, chilled
2 tablespoons lemon juice
1 teaspoon vanilla extract
1/2 teaspoon salt
Chocolate ganache
1 cup heavy cream
8 ounces dark chocolate, finely chopped
Instructions
Spray a 9-inch springform pan with non-stick spray and line the bottom of the pan with parchment paper or wax paper.
Make the graham cracker crust:
Place the graham crackers in a sealable bag and pound them with a rolling pin until you have fine, even crumbs. Dump the graham cracker crumbs into a mixing bowl and add the butter, sugar, and salt then stir until well combined. (Alternatively, use a food processor to make the crumbs).
Spread the mixture evenly into the bottom of the springform pan and press it down firmly.
Strawberry puree:
Slice the strawberries in half and place them in a saucepan along with 1 cup sugar.
Bring to a simmer and cook while you smash the strawberries with a fork or potato masher. Cook for about 15 to 20 minutes until the strawberries break down and the juices thicken and reduce a bit which will make the strawberry flavor more concentrated.
Set aside to cool (make sure the strawberry puree cools to room temperature).
Cheesecake:
Place the cold water in a microwavable bowl and sprinkle the gelatin over the water. Give it a stir to combine it and set it aside to soften (or bloom) for 5 minutes.
Combine the cream cheese and 1 cup sugar in a mixing bowl. Beat on medium speed until smooth and creamy, about 2 minutes. Make sure to scrape the sides of the bowl.
Add the heavy cream and beat for 4 or 5 minutes until thick and fluffy. Add the lemon juice, vanilla extract, and salt and beat until well blended.
Set aside 1/2 cup of the strawberry puree. Fold the rest of the strawberry puree into the batter
Place the softened gelatin in the microwave for 15 to 20 seconds, stirring at 5 to 10-second intervals. Heat it until it is completely dissolved and liquid.
Pour the warm gelatin into the cream cheese mixture and stir it until it is well incorporated.
Pour half of the cheesecake filling over the prepared crust. Swirl in the reserved strawberry puree then pour the rest of the filling on top.
Refrigerate for 8 to 12 hours.
Chocolate ganache to cover the cheesecake
Heat the heavy cream in the microwave or in a saucepan on the stovetop. Only heat it until it gently simmers and don't let it boil.
Place the chopped chocolate in a medium bowl. Pour the hot cream over the chocolate and let it sit for a couple of minutes to melt.
Once the chocolate melts, stir the mixture until it is smooth.
Pour the chocolate over the cheesecake. Store in the fridge until ready to serve.
Garnish with additional strawberries if desired.
Notes
This recipe works with fresh or frozen strawberries.
In order to get the strawberry sauce reduced to a thick puree, you will need to simmer it for at least 15 to 20 minutes. I used an 11-inch skillet to reduce the sauce. If you use a smaller pan then you will need to simmer it for longer because the sauce will be deeper in a smaller pan.
Make sure the strawberry puree cools down to at least room temperature before you add it to the cream cheese mixture. You can place it in the fridge or set it in a bowl of ice to cool it down faster.
You can add 1 to 2 drops of red food coloring to the cheesecake mixture if you want a brighter red cheesecake.
Recommended Products
As an Amazon Associate and member of other affiliate programs, I earn from qualifying purchases.
Nutrition Information:
Yield:

12
Serving Size:

1
Amount Per Serving:
Calories:

735
Total Fat:

47g
Saturated Fat:

28g
Trans Fat:

1g
Unsaturated Fat:

15g
Cholesterol:

115mg
Sodium:

411mg
Carbohydrates:

75g
Fiber:

3g
Sugar:

60g
Protein:

7g
Nutrition information is a guideline only, is calculated automatically by third-party software, and absolute accuracy is not guaranteed.