Liquid nitrogen ice cream dots: almost as much fun to eat as they are to make! This dessert is a combination of the things that make life fun. The recipe involves delicious ice cream, fun textures, playing with food, and best of all, an element of danger. It's a science project that is enough to make me feel like a kid again. It's a throwback to my favorite part of going to a baseball game. It is enriching for the mind and the palette. Let's talk about it.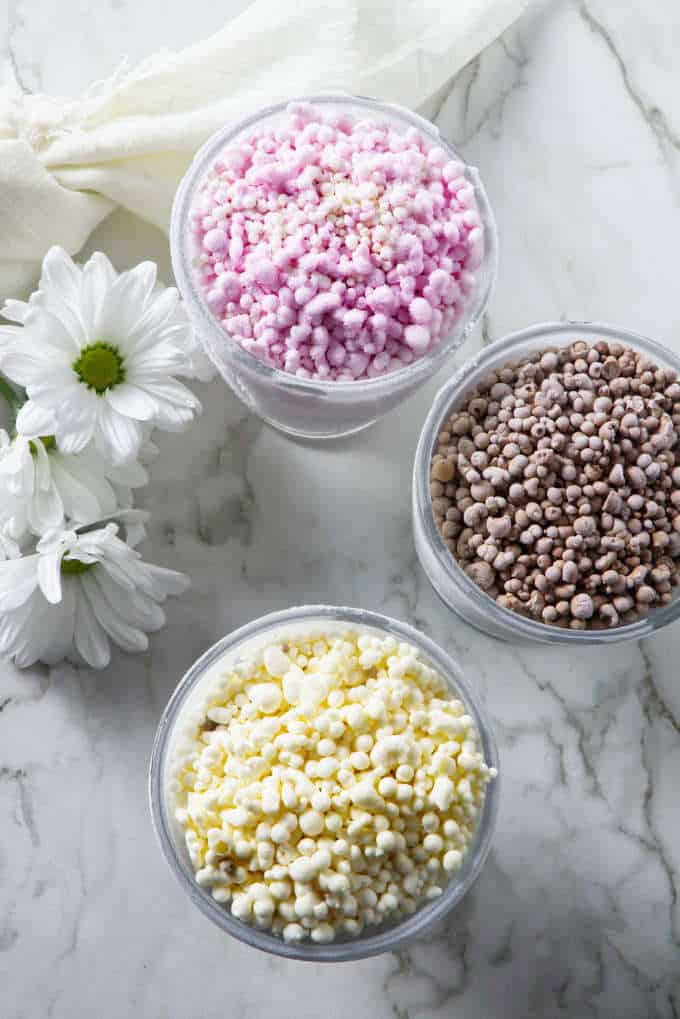 Hi! I'm Sara, Dahn's daughter-in-law and the co-star of the video featured in this post. I was exceptionally happy to participate in this video because, as anybody who knows me is aware, I just love Dippin' Dots. When I first tried them at a baseball game during my youth, I knew I was hooked. But then I went through a long period of time not eating them until I saw those Dippin' Dots pouches that are sold in some gas stations. Now I don't even have to go to a baseball game to eat the ice cream of the future. Seems like a win-win.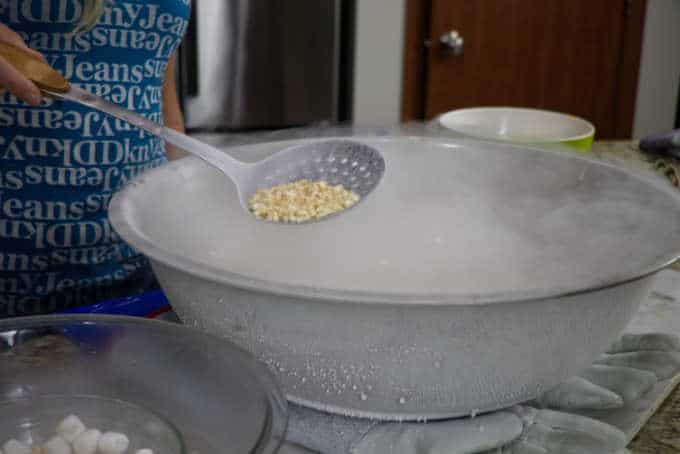 But alas, even Dippin' Dots are not perfect. Once these frozen ice cream beads, these flavored hailstones, became more available to me, I started to see a problem. They just don't have very many good flavors! What if I want to eat the ice cream of the future but don't want to buy the banana split flavor (the best flavor) every time? What if I want the best form of ice cream to come in whatever flavor I want? "I just can't have it all," I told myself. But I was wrong.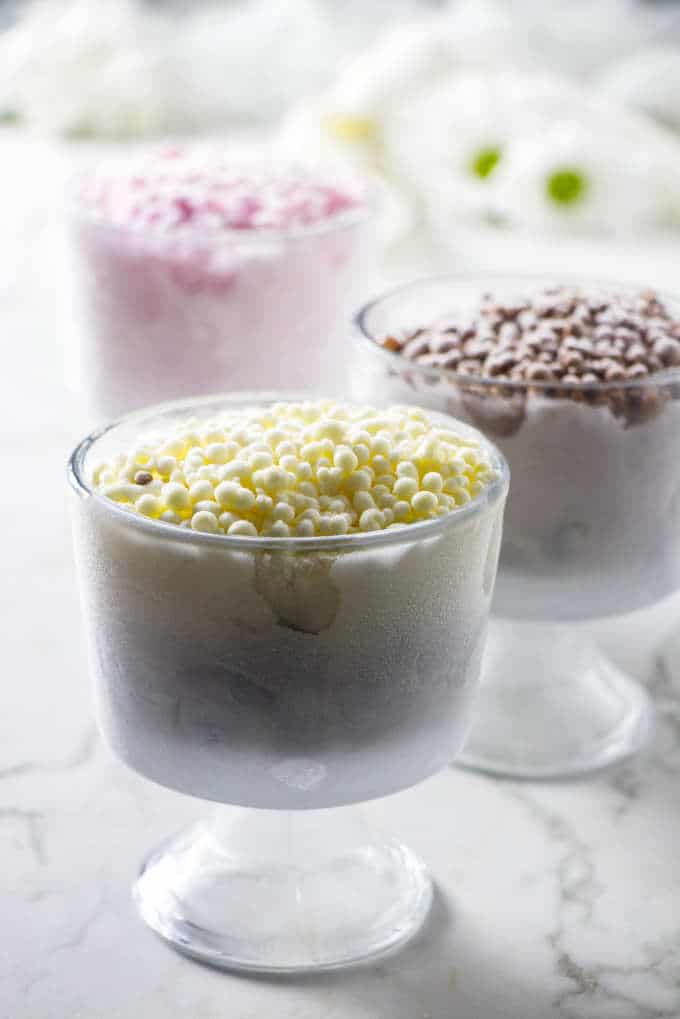 Endless Possibilities!
Now I know that you can have liquid nitrogen ice cream dots in whatever flavor excites you. All you need to do is find some liquid nitrogen, which is not an easy task (check out our post on 'how to make liquid nitrogen ice cream' to see where we got ours), and make some ice cream custard, which is much easier than I thought. Did you see how we made chocolate stout ice cream?
You can also take your favorite ice cream, melt it, and refreeze it in the nitrogen. You can throw mini marshmallows in the liquid nitrogen along with the ice cream and make s'mores dots. Yum! You can add tiny nitrogen-frozen fruits. Or you could make dots out of your three favorite ice creams and mix them all together afterward for a combination that uniquely preserves the integrity of each individual flavor but allows you to taste them simultaneously. Yes, I am talking about making your own gourmet banana split ice cream dots at home. The possibilities are endless.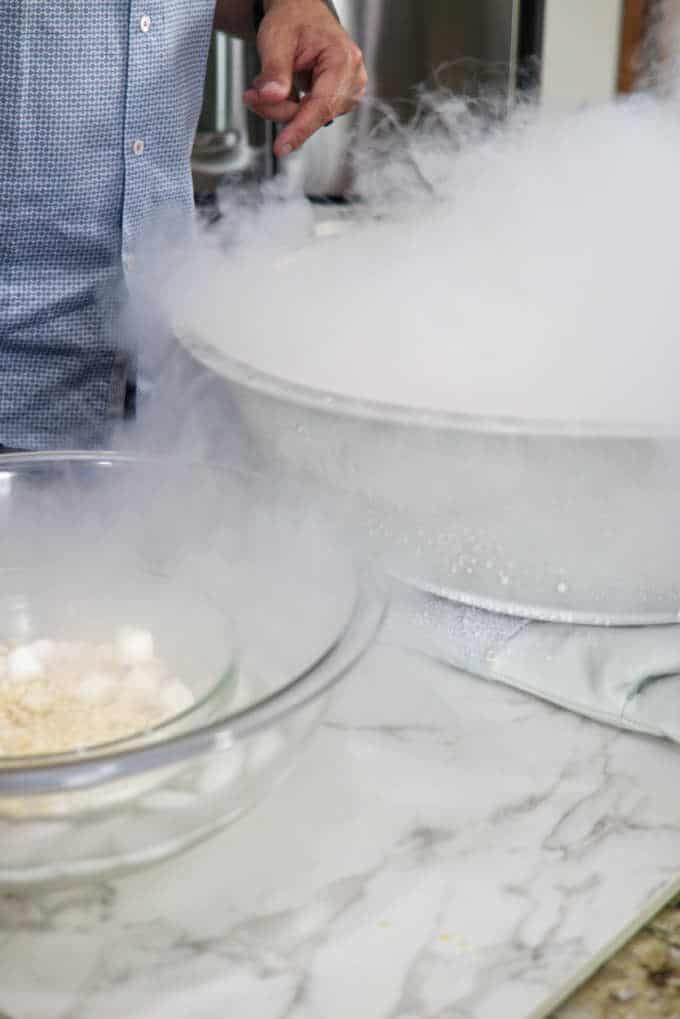 How to make liquid nitrogen ice cream dots.
Gather your equipment:
So, let's talk about how to make the dots. All you need are liquid nitrogen, a metal bowl, a turkey baster, a skimming spoon (spoon with little holes to allow the liquid nitrogen to drain out), and whatever ice cream base you want to use.
We used a wide bowl so that we would have a larger surface area to keep the dots separated while they froze, which only took a few seconds. We also used a turkey baster with a narrow end so that we could make smaller drops. However, a regular baster also works fine.
It's a good idea to put a couple folded towels under the metal bowl to protect the countertop since the entire outside of the bowl becomes frozen due to the impossibly cold temperature of the nitrogen inside it (-320 degrees Fahrenheit!). Finally, for safety we wore thick gloves and eye shields while pouring the liquid nitrogen.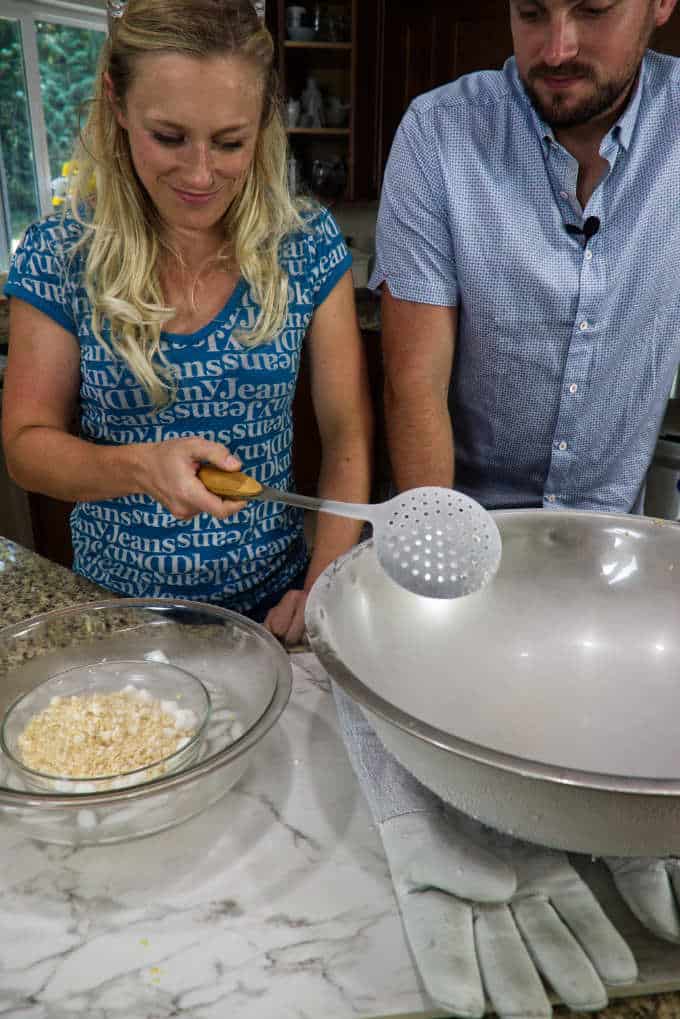 Once everything is set up and you are donning gloves and protective eyewear, pour the liquid nitrogen into the bowl until it is 1-2" deep. We took our gloves off at this point. When it is in an area of normal temperature and pressure, such as your kitchen, liquid nitrogen instantly starts turning into a gas at its surface.
Any drops that spill out onto you do not cause a problem for your skin as they so quickly "boil" and become gas! That's also part of the fun of this recipe – the liquid nitrogen makes massive clouds of harmless vapor that spill over the edges of the bowl the entire time. We found ourselves periodically blowing into the bowl to clear the vapor so we could see what we were doing!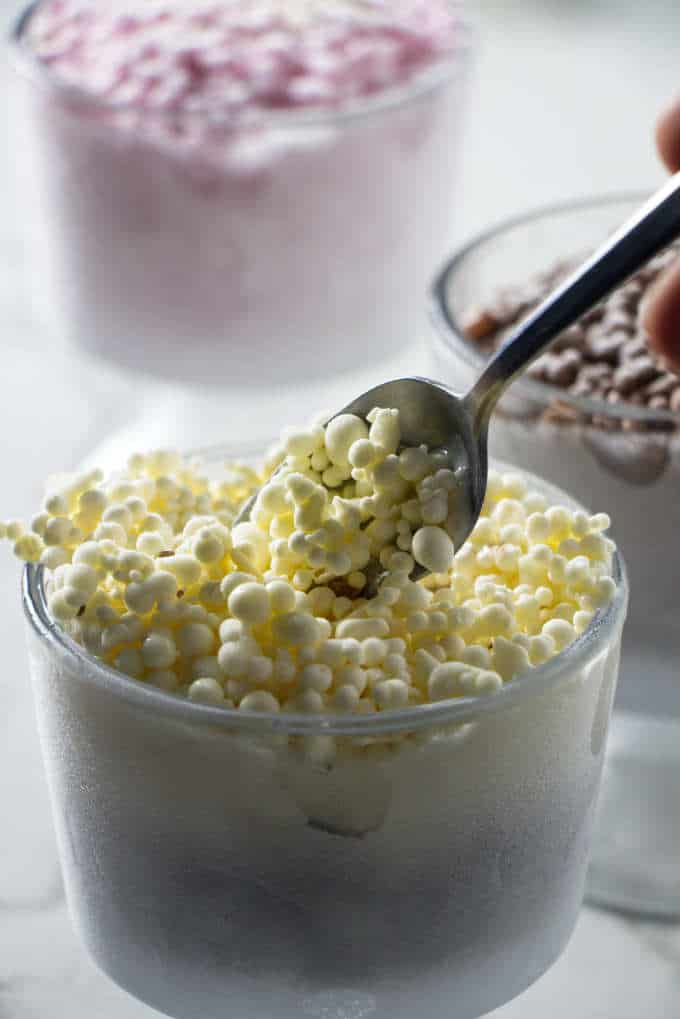 Make your ice cream dots:
Once your liquid nitrogen is ready, fill a turkey baster with ice cream custard and use it to drip the ice cream into the liquid nitrogen. Move the baster constantly to keep the drops separate. They freeze in a matter of seconds and then sink to the bottom and gather in a cluster, where they can easily be scooped up with the skimming spoon. We used an ice bath to keep the bowl cold as we scooped more and more dots into it. Since they are small and have a lot of surface area, they will melt somewhat quickly if they are left sitting at room temperature.
That's it! Just wait a minute or so before eating the ice cream dots, as they are a little too cold right after being removed from the liquid nitrogen. You can dress up the liquid nitrogen ice cream dots with toppings or just enjoy the amazing texture on its own. Enjoy!
SOME OTHER RECIPES WE ARE SURE YOU WILL LOVE:
This vanilla lavender ice cream is infused with the fresh floral essence of lavender. It's a flavor that will transport you to the serene lavender fields of France.
Our Passion fruit ice cream has an intense sweet-tart flavor of tropical passion fruit. It's a creamy, dreamy flavor you have to try.
This mango "ice cream" is a healthy fat-free treat. All you need to make this frozen delight are some mangoes and a food processor.
CONNECT WITH SAVOR THE BEST!
Be sure to follow us on our social media accounts
Facebook * Instagram * Pinterest * Twitter * Youtube
Did you make this recipe? We would love to hear from you. Drop us a comment below.
Yield: 1 quart of liquid nitrogen ice cream dots
How to Make Liquid Nitrogen Ice Cream Dots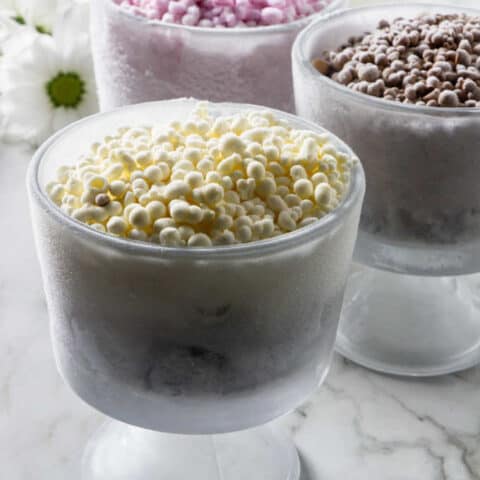 Learn how to make your own liquid nitrogen ice cream dots. These fun little beads of frozen ice cream are like a taste of the future.
Prep Time 15 minutes
Active Time 15 minutes
Total Time 30 minutes
Difficulty moderate
Estimated Cost $50
Materials
1 ice cream recipe
Liquid nitrogen
Tools
Loose-fitting gloves
Eye protection
Stainless steel mixing bowl
Slotted spoon
Turkey Baster
Instructions
Pour some liquid nitrogen into a large stainless steel bowl. We recommend using a wide bowl so you have more room to spread the drops of ice cream around.
Put some of the ice cream mixture into a turkey syringe. We used a turkey syringe with a meat injector needle which gave us smaller, more uniform dots of ice cream. Moving the syringe in a circular pattern, drip the ice cream into the liquid nitrogen. When the dots freeze they will fall to the bottom of the bowl.
Use a stainless steel slotted spoon to scoop the ice cream dots out of the liquid nitrogen. Wait at least a minute before you put the liquid nitrogen ice cream dots in your mouth. You need to let all the liquid nitrogen evaporate off the ice cream dots or it could give you frostbite.
Notes
Do not pour the liquid nitrogen into a glass bowl.
Wear loose-fitting gloves that you can remove quickly if liquid nitrogen splashes inside them.
You should have eye protection in case liquid nitrogen splatters.
Make sure you are in a well-ventilated area when you work with the liquid nitrogen.
Only use approved containers to store liquid nitrogen. Never keep liquid nitrogen in a sealed container. Approved containers have a special cap that allows the gas to escape.