This ultra-creamy no-bake pumpkin cheesecake is easy to make and will be your favorite dessert this holiday season. You will love how this recipe comes together and how creamy, rich, and smooth the filling tastes.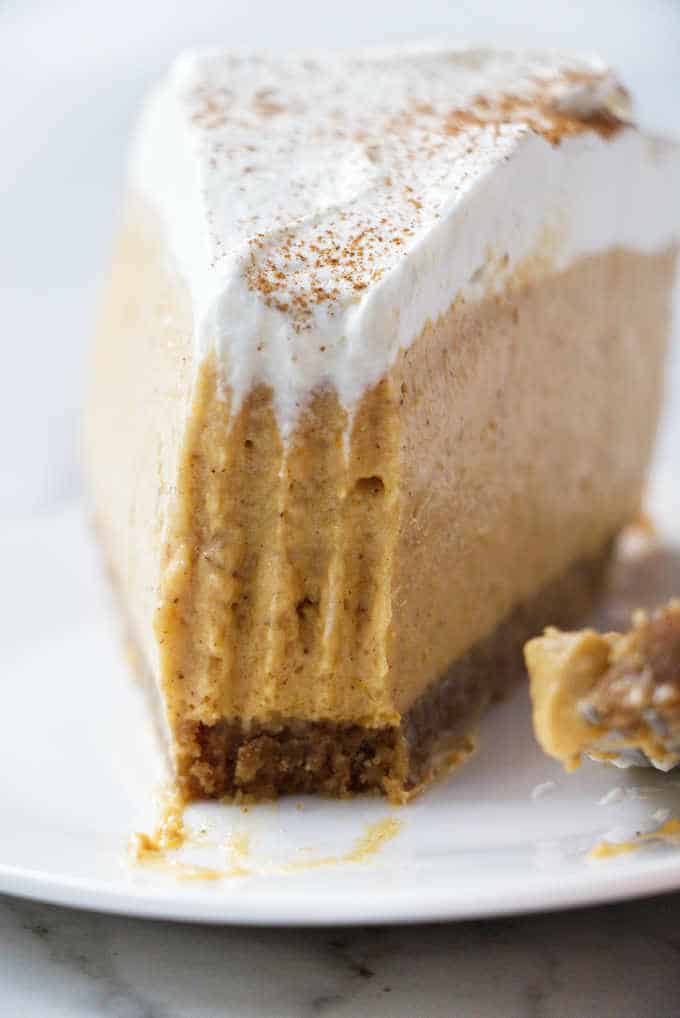 This is pumpkin spice perfection right here and you don't even have to turn the oven on for this dessert. But don't think that a no-bake dessert is boring or bland. This is the creamiest, dreamiest, most luxurious pumpkin cheesecake ever.
No-Bake Pumpkin Cheesecake.
This isn't heavy and dense like a lot of baked cheesecakes. It is smooth, creamy, and almost fluffy.
There are 3 components to this recipe:
Graham cracker crust.
No-bake pumpkin cheesecake filling.
Sweet whipped cream topping.
The graham cracker crust.
The crunchy, buttery graham cracker crust is so good. It's easy to make and only takes about 5 minutes. You will need 4 ingredients:
Graham crackers. A classic for cheesecakes.
Brown sugar. Brown sugar adds a rich molasses-like flavor.
Melted butter. Use real butter. No imposters here.
Salt. Just a pinch of salt for depth of flavor.
It takes about 14 graham crackers to make the crust. Just stick the graham crackers in a plastic bag and bash them with a rolling pin until you have fine crumbs.
If you have a food processor then it's even easier and you can blend all the ingredients in the food processor bowl.
After you make the graham cracker crust press it down firmly into the bottom of the springform pan. Since this crust doesn't get baked, it is really important to pack the crumbs down. I use the bottom of a measuring cup to press the crumbs down.
What about pre-made graham cracker crumbs?
If you purchase graham cracker crumbs then you will need 2-1/3 cups of crumbs.
The No-Bake Pumpkin Cheesecake Filling:
Heavy whipping cream helps thicken this cheesecake but the bulk of the structure comes from gelatin.
We use powdered gelatin in this recipe. Make sure you buy the unflavored gelatin powder. It is sold in individual packets or in a scoop-able jug. I prefer to buy the jug and just measure out what I need.
How to use powdered gelatin.
There are two important steps that you need to take for the powdered gelatin to work in recipes.
Bloom or soften the granules.
Dissolve the granules.
First, add the powdered gelatin to cold water and let it sit for a few minutes. The dry granules of gelatin will soak up the liquid, get soft and swell. This is the blooming step. The gelatin will look like a thick sponge when it softens in liquid.
Next, dissolve the granules by heating them up. If you use the microwave, it only takes about 20 seconds to dissolve the gelatin. Check it after 10 seconds and give it another blast in the microwave if it isn't completely dissolved. You will know it is dissolved when it turns into a liquid.
It is actually quite easy to work with gelatin but if you skip these 2 steps then the gelatin will not work and your cheesecake will not set.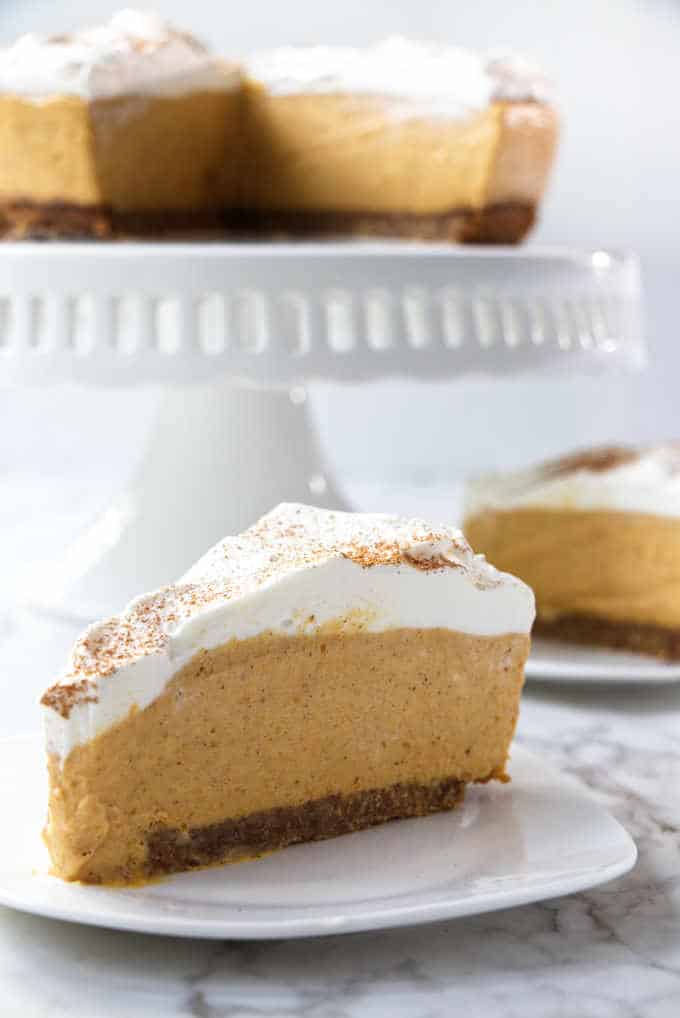 About the cream cheese.
Make sure you use block cream cheese and NOT cream cheese spread. Cream cheese spread is sold in a tub and it is softer than blocks of cream cheese.
Let the blocks of cream cheese sit at room temperature to soften. If you use them straight out of the cold fridge, it will be lumpy when you whip it.
About the whipping cream:
You should use heavy whipping cream in this recipe. Try to find cream that has at least 30% fat.
Keep the whipping cream in the fridge until it is time to use it. Cold whipping cream will aerate better than room temperature cream.
About the pumpkin puree:
Pumpkin puree and canned pumpkin pie filling look very similar on the store shelves but they are not the same. Make sure you get the pumpkin puree.
How to remove a cheesecake from the pan.
Use a 9-inch springform cheesecake pan for this recipe.
Here is a tip to make it easy to remove the no-bake pumpkin cheesecake from the springform pan. If you flip the base of the springform pan upside down then the lip won't get in the way when you slide the cheesecake off. It will be even easier to remove if you place some parchment paper or wax paper on top of the base.
You can freeze this no-bake pumpkin cheesecake.
If you want to make this cheesecake in advance it will store in the freezer for 3 months. To thaw it out, let it sit in the fridge overnight. As a matter of fact, most no-bake cheesecakes will freeze well. One exception is our no-bake cheesecake with a chocolate-covered strawberry inside. If you freeze that cheesecake the fresh strawberry will get mushy after it thaws.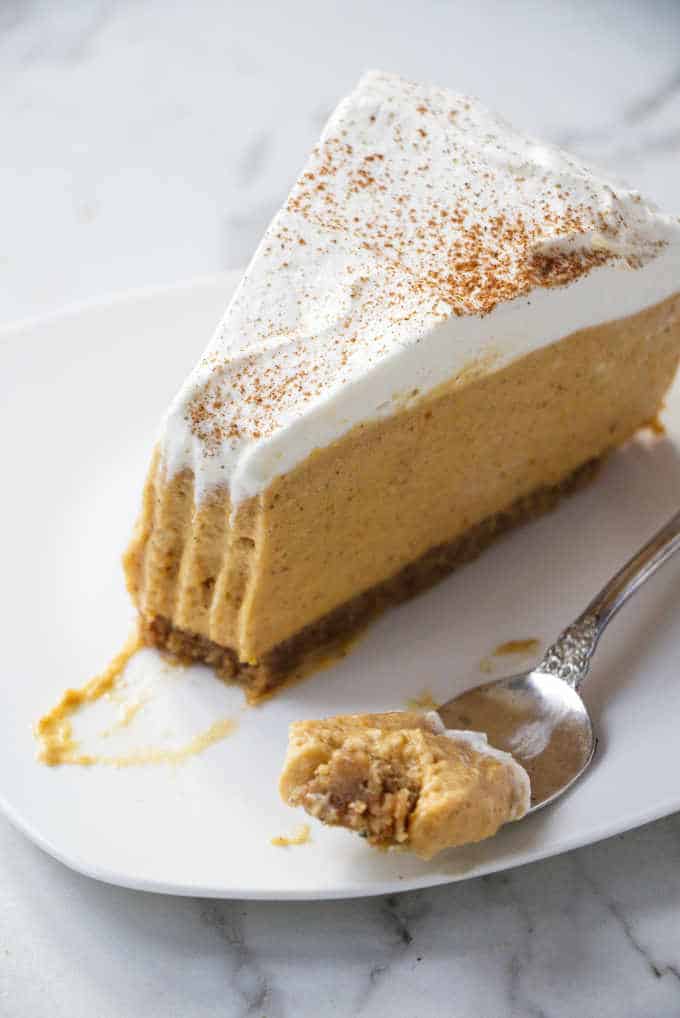 SOME OTHER RECIPES WE ARE SURE YOU WILL LOVE:
No-bake cheesecakes are delicious but we have some pretty incredible baked cheesecakes too. This spiced pumpkin cheesecake is super creamy thanks to some sour cream that we add to the batter.
If you have ever had a Costco pumpkin pie, you will know why they sell out EVERY year. We created a copy-cat version of their pie but we made it fit in a standard-sized pie dish instead of the large pie tin that Costco uses.
This pumpkin flan Napolitano with rum caramel sauce will have you swooning with joy when you bite into it. Heck, we don't mean to make your choices so hard but all these desserts are incredible. You might need to have a few holiday parties so you have an excuse to make them all.
Connect With Savor the Best:
Please follow us on our social media accounts
Facebook * Instagram * Pinterest * Youtube * Twitter
Did you make this recipe? We would love to hear from you. Drop us a comment below.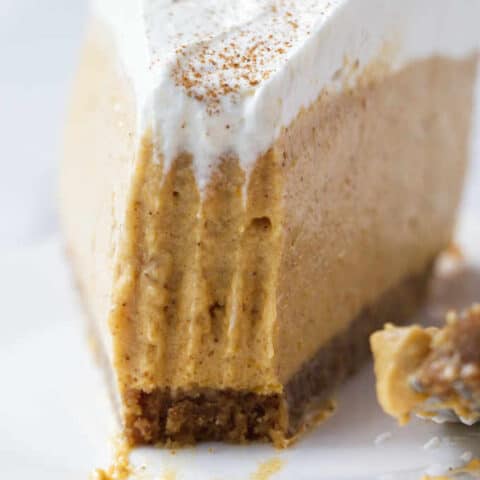 No-Bake Pumpkin Cheesecake
Total Time:
8 hours
20 minutes
This ultra-creamy no-bake pumpkin cheesecake is easy to make and will be your favorite dessert this holiday season. You will love how this recipe comes together and how creamy, rich, and smooth the filling tastes.
Ingredients
Graham cracker crust:
14 whole graham crackers (about 2 cups crumbs)
12 tablespoons butter, melted
1/2 cup brown sugar
Pinch of salt
No-Bake Pumpkin Cheesecake Filling:
3 tablespoons cold water
1 tablespoon of powdered gelatin (1-1/2 packages)
3 (8-ounce) packages cream cheese, softened
1-1/4 cups granulated sugar
3/4 cup brown sugar
1-1/4 cups heavy whipping cream
1 can (15 ounces) pumpkin puree
1 tablespoon pumpkin pie spice
1 teaspoon cinnamon
1-1/2 teaspoons vanilla extract
Whipped Cream topping:
1 cup heavy whipping cream
2 teaspoons powdered sugar
1/2 teaspoon vanilla extract
Instructions
Spray a 9-inch springform pan with non-stick spray and line the bottom of the pan with parchment paper or wax paper.
Make the graham cracker crust:
Place the graham crackers in a sealable bag and pound them with a rolling pin until you have fine, even crumbs. Dump the graham cracker crumbs into a mixing bowl and add the butter, sugar, and salt then stir until well combined.
Spread the mixture evenly into the bottom of the springform pan and press it down firmly.
Place in the fridge to chill and firm up.
Make the No-Bake Pumpkin Cheesecake filling:
Put the cold water in a microwavable bowl and sprinkle the gelatin over the water and give it a good stir. Set the gelatin aside to soften (or bloom) for at least 5 minutes while you prepare the cheesecake filling.
Place the cream cheese granulated sugar and brown sugar in a large mixing bowl and beat on medium speed until very smooth. Scrape the bowl down a couple of times to get it all mixed.
Add the whipping cream and beat for another 1 to 2 minutes until well combined and smooth. Make sure you stop the mixer and scrape the bowl down once or twice.
Add the pumpkin, spices and vanilla extract and beat on high speed until the filling is thick and fluffy, about 1 to 2 minutes.
By now the gelatin mixture should look firm. Stick the bowl of gelatin in the microwave for 20 two 30 seconds. Stop to stir it every 10 seconds until it is completely dissolved and liquid. If it gets too hot let it sit for a couple of minutes until it is comfortably warm.
Add the dissolved gelatin to the cheesecake mixture and beat on medium speed.
Spread the filling over the graham cracker crust and place it in the fridge for 6 to 8 hours to set up.
Whipped cream topping:
Add the whipped cream, sugar, and vanilla extract to a mixing bowl and beat on medium speed until combined then increase the speed to high and beat until stiff peaks form.
Spread or pipe on top of the cheesecake.
Sprinkle with cinnamon or nutmeg if desired.
Notes
Use pumpkin puree and not pumpkin pie filling.
Pack the graham cracker crust down very firmly before adding the filling.
Tips to make sure a no-bake cheesecake sets up and gets firm
Use full-fat cream cheese.
Get heavy whipping cream. Do not use half and half or non-dairy creamer.
Make sure the cream is cold.
Let the powdered gelatin soften (bloom) in water first then heat it up until it is liquid and completely dissolved.
Refridgerate for at least 6 hours.
Nutrition Information:
Yield:

12
Serving Size:

1
Amount Per Serving:
Calories:

861
Total Fat:

50g
Saturated Fat:

31g
Trans Fat:

2g
Unsaturated Fat:

16g
Cholesterol:

145mg
Sodium:

225mg
Carbohydrates:

103g
Fiber:

1g
Sugar:

93g
Protein:

5g
Nutrition information is a guideline only, is calculated automatically by third-party software, and absolute accuracy is not guaranteed.